*This site uses affiliate links; if you make a purchase through these, I may receive a small commission at no cost to you.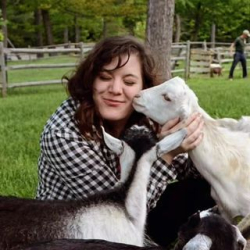 Latest posts by Amy Hartle
(see all)
Massachusetts is a New England state filled with history and natural beauty. Head to the western part of the Bay State and you'll find the Berkshires, a beautiful, mountainous region that's a popular vacation spot for many. If you're taking a trip in the Berkshires, be sure to visit the largest city in Berkshire County: Pittsfield.
Pittsfield is a city with a population of nearly 44,000 people and plenty of activities to do, from visiting museums to taking in a local show. If you're interested in taking a day trip sometime soon, here are the best things to do in Pittsfield MA.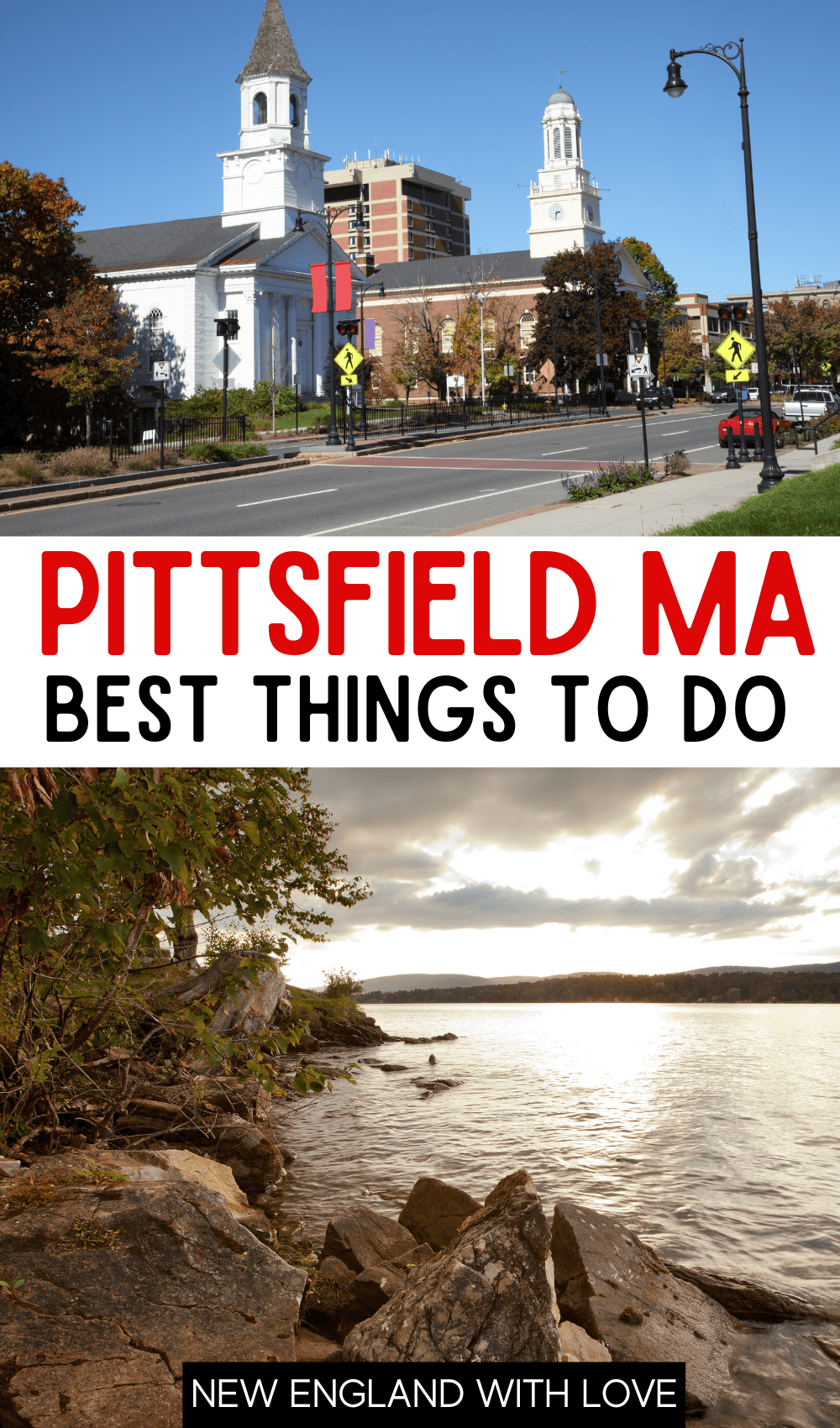 Is Pittsfield MA Worth Visiting?
Absolutely! Pittsfield is a hidden gem in the heart of the Berkshires, and it's definitely worth a visit. Whether you're into outdoor adventures, arts and culture, or just want to explore a charming New England town, Pittsfield has something for everyone. From the scenic beauty of Mass Audubon's Canoe Meadows Wildlife Sanctuary to the lively downtown scene, there's no shortage of things to see and do.
What is Pittsfield MA Famous For?
Pittsfield is famous for being the gateway to the Berkshires, a region renowned for its natural beauty and cultural richness. It's famous for its stunning landscapes, vibrant arts scene, and the historic Hancock Shaker Village. Plus, it's known for being home to some fantastic dining options, perfect for foodies looking to savor the local flavors.
Is Pittsfield MA Walkable?
Yes, Pittsfield's downtown area is wonderfully walkable. You can easily explore the city center on foot, with shops, restaurants, and historic sites all within walking distance. It's a great way to soak up the local atmosphere and discover the town's unique charm. Plus, the walkability makes it a convenient and enjoyable destination for visitors.
Things to Do in Pittsfield MA
Visit the Berkshire Museum
Address: 39 South Street
Hours: Monday through Saturday, 10 a.m. to 5 p.m.; Sunday, 12 p.m. to 5 p.m.
One of the best things to do in Pittsfield MA is visit the Berkshire Museum, where you'll be immersed in the worlds of art, natural history, and ancient civilizations. There's a little bit of something for everyone at the museum, making it a great place to bring the whole family.
Some of the current exhibits you can check out include The Rocks and Minerals Gallery, Objects and Their Stories, and Animals of the World in Miniature. The museum also hosts fun and educational events year-round.
Children ages 3 and under can visit the museum free; children ages 4 to 17 can get in for $8, and it's $15 for adult admission. It's also a good idea to make an online reservation ahead of time so you can get it without an issue. Get ready to have a ball while learning something new!
Hike in Pittsfield State Forest
Address: 1041 Cascade Street
Open: Sunrise to Sunset
Looking to get lost in nature for a bit during your trip to Pittsfield? Head to Pittsfield State Forest for a wonderful and refreshing hike. The 11,000-acre forest has 30 miles of trails you can hike, run, or bike along.
The trails have different difficulty levels, so you can pick a trail that's best for you. Tranquility Trail, for instance, is only a little more than a half mile long and is considered easy to hike, whereas Turner Trail is more than 5 miles long and is considered moderate to hike.
You can do other activities in Pittsfield State Forest, like fishing, canoeing, and cross-country skiing. There are also plenty of campsites where you can set up a tent and spend time in the great outdoors. If you can, try to set up a campsite at the top of Berry Mountain; you'll love the view!
Read Next: 15 Best Hikes in the Berkshires
Catch a show at Colonial Theatre
Address: 111 South Street
Ticket Office Hours: Tuesday through Sunday, 12 p.m. to 5 p.m.; closed Monday; open 12 p.m. to curtain on performance days
Take in a local show at the Colonial Theatre while visiting Pittsfield. It was built in 1903 and has hosted nearly 120 years of live performances. The well-reviewed Berkshire Theatre Group performs at the Colonial Theatre, along with musical acts.
You can see when the performances will be by checking out the theatre's full calendar. It's a great place to go if you're looking for local art and entertainment in the Berkshires. Book your tickets in advance so you'll secure your spot during your Pittsfield trip.
Visit Hancock Shaker Village
Address: 1843 West Housatonic Street
Hours: Friday through Sunday, 11 a.m. to 4 p.m.
Step back in time while in Pittsfield by visiting Hancock Shaker Village, a 750-acre space filled with 20 historic Shaker buildings. The village's mission is to preserve the Shaker lifestyle and bring the story of the Shakers (who came to America in the 18th century) to life. According to its website, it's the most comprehensively interpreted Shaker site in the world and the oldest working farm in the Berkshires.
There's plenty to see at Hancock Shaker Village, including more than 22,000 Shaker artifacts, including furniture, crafts, and pieces of art. You can also see gardens, exhibits, galleries, and replicas of actual Shaker rooms.
There's also an option to hike along trails in the village, where you can take in the beauty of the Berkshires. Hancock Shaker Village is a unique, educational, and fascinating place to visit in Pittsfield, and it's an experience you won't soon forget.
Read Next: Top 20 Historic Sites in Massachusetts
Hit the slopes at Bousquet Mountain
Address: 101 Dan Fox Drive
Hours: See website for seasonal hours
Skiers and snowboarders, rejoice! Pittsfield has a place where you can enjoy your favorite winter activities. Bousquet Mountain is a 200-acre ski area on the northern summit of Yokun Ridge within the Taconic Mountain Range. Fun fact: it was the first ski area in the United States to offer night skiing!
Once you arrive, you have your choice of 23 trails to go down. These trails range in difficulty ( from beginner to expert), making it a perfect place to bring skiers and snowboarders of all ages and levels. If you don't have the equipment you need to enjoy the slopes, don't worry—you can rent things like skis, boots, poles, snowboards, and helmets.
And if you aren't into snowboarding or skiing, you can tube instead. No matter what you do, you'll have a blast and look forward to hitting the slopes again ASAP.
Visit Arrowhead
Address: 780 Holmes Road
Hours: Vary by season, see website for seasonal hours
Arrowhead, also known as the Herman Melville House, is a historic spot in Pittsfield you have to see. It was the home of author Herman Melville from 1850 to 1863, and it's actually the place he called home when he wrote Moby Dick. You can walk through it and see how the Melville family lived their lives in the Berkshires.
You'll walk through the home and see what Melville saw while he was writing a classic American novel. The home is designated as a National Historic Landmark and is run by the Berkshire County Historical Society. Take a tour and see a piece of history!
Read Next: 11 Lovely Things To Do in Lenox MA
See downtown art
Location: Downtown Pittsfield
One of the coolest things about Pittsfield is that you can walk downtown and see some beautiful artwork. Artscape, a volunteer-led committee, oversees this public exhibit and promotes art throughout the Cultural District. Take a walk downtown to see gorgeous outdoor sculptures and murals—and don't forget to bring a camera to take plenty of pictures.
Check out Lake Onota
Launch Address: 309 Lakeway Drive
You don't have to leave Pittsfield to get some nice views of the water. Lake Onota is a 617-acre pond in Pittsfield where you can boat, swim, and fish. The pond has numerous fish populations in it, including Northern Pike, Rainbow Smelt and, occasionally, White Catfish.
It's a great spot to stroll along while admiring the natural beauty of the Berkshires. Head there in the summer to enjoy some fun water activities and catch some sun.
Visit Guido's Fresh Marketplace
Address: 1020 South Street
Hours: Monday through Saturday, 9 a.m. to 7 p.m.; Sunday, 10 a.m. to 6 p.m.
There's nothing like stopping into a local establishment and seeing what it serves the community. When you're in Pittsfield, make sure to stop by Guido's Fresh Marketplace on South Street to pick up some delicious food. This family-owned marketplace has fresh produce and quality prepared foods for you to pick up during your trip. Stop into the market and see all it has to offer.
Enjoy a Show at Barrington Stage Company
Address: 30 Union Street
Barrington Stage Company is Pittsfield's premier destination for outstanding live theater performances. The theater presents a compelling mix of classic and contemporary plays that captivate audiences with their storytelling and artistic prowess. A night at Barrington Stage Company promises an enchanting and memorable cultural experience.
Mass Audubon's Canoe Meadows Wildlife Sanctuary
Address:309 Holmes Rd
Hours: Dawn to Dusk
Nature lovers exploring Pittsfield MA have got to put Mass Audubon's Canoe Meadows Wildlife Sanctuary on your must-do list. Nestled in the heart of this charming town, Canoe Meadows is a slice of natural paradise.
You can wander through tranquil wetlands and lush meadows, where the views alone are worth the visit. This place is an absolute haven for nature lovers, birdwatchers, and anyone in need of some outdoor serenity. The trails are perfect for a leisurely stroll, and the wildlife you'll spot along the way is the real showstopper.
So, grab your walking shoes, a pair of binoculars, and your sense of wonder, and let Canoe Meadows whisk you away to a world of local natural beauty in Pittsfield.
——-
So there you have it – a fun-filled list of awesome things to do in Pittsfield MA! Whether you're a nature enthusiast, a history buff, or a foodie on the hunt for some delicious bites, Pittsfield's got you covered. From the serene Canoe Meadows Wildlife Sanctuary to the vibrant downtown scene, this town's got a little something for everyone.
So, go ahead, plan your visit, and get ready to make some incredible memories in this charming corner of Massachusetts. Pittsfield is ready to show you a good time, and I'm pretty sure you won't be disappointed!
---
You might also like:
---