Have you been planning a getaway to Maine? Look no further than Old Orchard Beach! This cute New England beach town is located right on Saco Bay, and as the name suggests, it's home to a great beach… seven miles of beach! Plus, there are many great things to do in Old Orchard Beach that are sure to keep you busy.
Old Orchard Beach was founded in the late nineteenth century and isn't that far from Biddeford and Portland, which is why it's usually a day trip in Maine. Why not make it your end destination while visiting this great state?
Without further ado, here are all of the best things to do in Old Orchard Beach. Hopefully, this helps you plan your next favorite vacation!
Golf at the Dunegrass Golf Club.
If you're the kind of person who loves golfing and being outdoors, then you'll have so much fun at the Dunegrass Golf Club. There are more than three hundred acres of outdoor golfing area here, in addition to a restaurant (called Grill 65) in case you get hungry while you're having fun.
Rates are pretty affordable and are based on the number of holes you'd like to do. Prices also increase if you'd like to rent a golf cart. As you might assume, walking versus renting a golf cart will save you a bit of money!
Get food from the Ocean Park Soda Fountain.
Think of Ocean Park Soda Fountain as a traditional New England summer restaurant. They serve various dishes, including ice cream, breakfast sandwiches, muffins, cheeseburgers, french fries… pretty much anything you could think of!
Of course, their ice cream flavors are over the top, which is why it's what they're most well known for. You'll find flavors like Red Raspberry Revolution, Dinosaur Crunch, and Graham Central Station on the menu.
If you're visiting during the summer, this can be the perfect place to visit when you need to cool off.
Have fun at Palace Playland.
One of the most fun things to do in Old Orchard Beach is to head to Palace Playland! Whether you're traveling with children or not, you'll have a blast at Palace Playland. This amusement park opened in 1902 and is open seasonally right near the oceanfront.
The park is open from May to September but has different opening and closing times depending on the time of year. Some of the most fun rides here include the Electra Wheel, Drop Zone, and the Sea Viper, a brand new roller coast that goes forty-two miles per hour.
At Palace Playland, there's also an arcade with tons of fun games!
Go camping.
To enjoy the weather and explore the outdoors a bit, consider going camping while visiting Old Orchard Beach! There are, luckily, quite a few different campgrounds in the area, so you can pick whatever one is best suited for you.
Some of the most popular campgrounds here include Ne're Beach Family Campground, Old Orchard Beach Campground, and Paradise Park Resort Campground. All of them are located near the beach and Saco Bay, so you'll be near all of the best parts of Old Orchard Beach.
If you don't have an RV, make sure you do your research to see which ones allow you to pitch a tent.
Have breakfast at Cafe 64.
The best place to grab breakfast in all of Old Orchard Beach is Cafe 64! They're also open for lunch, but nothing hits the spot like a fresh cinnamon bun in the early morning with a cup of hot coffee.
The menu is pretty abundant for a cafe, so even the pickiest of eaters can find a place to eat here. Some of the food on the menu includes bagels, breakfast burritos, huevos rancheros, acai bowls, muffins, croissants, and their famous "Ocean Park Cinnamon Bun."
Relax at the beach.
In Old Orchard Beach, there are seven miles of beaches! What more could you possibly ask for? There are tons of spots for swimming, kayaking, playing sports, and relaxing near the water.
The waterfront is also breathtaking, so you can enjoy the view while walking along the coast.
At the beach, there's a pier/boardwalk that you can visit too. The boardwalk has lots of great restaurants, shops, and even a carousel, so it's definitely an area that you'll want to explore while at the beach.
Try your hand at mini-golfing at Pirates Cove Adventure Golf.
Pirates Cove Adventure Park is easily the most popular mini-golfing destination in Old Orchard Beach. If golfing at Dunegrass Golf Club isn't your thing, golfing at Pirate's Cove definitely will be!
The entire golf course is, you guessed it, pirate-themed. Each course has eighteen holes, and you can golf here between May and October.
You can pay $8.95 per course (there are two), or you can pay $12.95 to do both courses. Prices for children to golf are $1 lower than the adult prices.
Go kayaking.
Because Old Orchard Beach is right on the coast, one of the best things to do here is go kayaking! Don't worry; you won't have to bring your own kayak. There are quite a few places around the town that you can rent from because they're used to having tourists!
Most of the rentals are relatively affordable, though you may have to put down an initial deposit to rent. You usually get the deposit back after you return the kayak. This can be an excellent activity for visitors of all ages, making it one of the most fun things to do in Old Orchard Beach! Of course, this is more of a seasonal activity.
Eat some seafood.
Seafood is an absolute must while visiting Old Orchard Beach! Restaurants that serve seafood as their specialty are abundant here, so you will not have any trouble finding one. Some of the most popular places include The Shack, Surf 6, Jumpin Jake's, and Bell Buoy Restaurant.
None of the seafood restaurants are particularly expensive unless you're going out of your way to find more of a luxurious dining experience, like at Joseph's By the Sea. Remember that sometimes the restaurants that look the most "normal" and "unassuming" tend to serve the best food in New England!
Bike the Eastern Trail.
The Eastern Trail goes through Portland, Scarborough, Old Orchard Beach, and Saco, Maine. It is a little over twenty-eight miles long and is considered an easy trail because there isn't that much elevation difference, and the terrain isn't rugged compared to other trails in the area.
One of the best things to do in Old Orchard Beach is rent a bike and cycle along the trail. Along the way, you'll get incredibly epic and breathtaking views, so you won't want to forget your camera.
The trail is also great for walking, bird watching, and it's kid and dog-friendly. Because it's relatively flat, strollers are also allowed.
Have a pint at GFB Scottish Pub.
No trip to anywhere is complete without a night out! So, head to GFB Scottish Pub, a popular bar, and restaurant in Old Orchard Beach. Prices are super affordable, and there is often live entertainment, which only adds to the fun.
The GFB Scottish Pub is the only brewpub in Old Orchard Beach, and they have many specials throughout the week. They also have particular events that they host on certain days of the week, so be sure to check their website to learn about them. Their menu also includes some Scottish classics, like Scotch Eggs.
Attend the Sandcastle Contest.
Every summer in July, Old Orchard Beach is home to the Sandcastle Contest! People travel from far and wide to witness some of the artistry from these sandcastles, and it's perfect fun for all ages of travelers. It's often held on the fourth of July weekend.
Other festivities usually the same weekend include live music, dancing, parades, fireworks, and more. Plus, the event is entirely free! If you have excellent skills with building sandcastles, you could even join in on the fun and participate in the contest. Who knows, maybe you'll win!
Try french fries from Pier French Fries.
Pier French Fries has been a staple in Old Orchard Beach since 1932 when the town first found out about french fries! Fries can be ordered by the bulk in either cups, pints, or boxes, and you might not even want to share them!
While the plain fries are what they're most well-known for, Pier French Fries also serves an abundance of fries with other toppings. You can find Poutine, nacho cheese, and even chili as toppings here.
If you aren't a fan of fries, consider ordering fried dough, hot dogs, or even mozzarella sticks from their menu!
—
Now you know all of the best things to do in Old Orchard Beach! This is truly an epic destination in Maine that has no shortage of fun attractions and activities, no matter the time of year.
Which one of these things would you most like to do in Old Orchard Beach?
---
You might also like:
---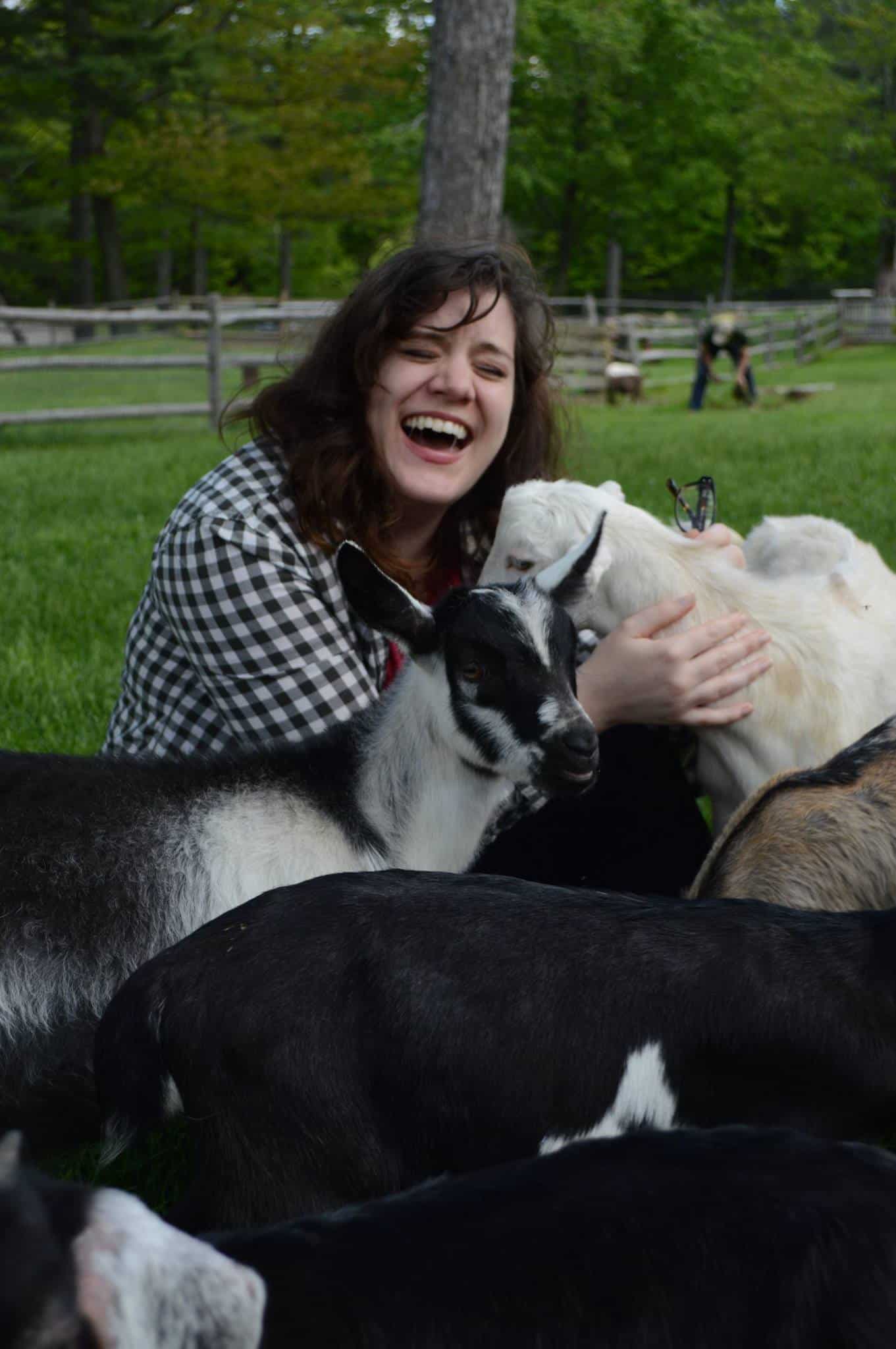 Amy Hartle is the founder and Editor-in-Chief of New England With Love, a comprehensive resource for travel in the New England region. Amy has been exploring New England since 2001. She lived in Vermont for many years and is a graduate of Plymouth State University in New Hampshire. On this site, Amy aims to share her love of New England and help you to have the best possible adventures!
Amy has been writing about travel for over a decade, and is a full time blogger, publishing both Two Drifters and Let's Adventure Baby. When not traveling the world or creating epic blog content, Amy can be found cuddling with her husband, son, and cats, & drinking a maple latte.