*This site uses affiliate links; if you make a purchase through these, I may receive a small commission at no cost to you.
Latest posts by Amanda Ghanbarpour
(see all)
New Haven, Connecticut, perhaps not a place that normally rolls off the tongue when you think of the top destinations in New England. Nestled right along Long Island Sound and just a little over an hour away from New York City, this town is definitely worth visiting because there are so many great things to do in New Haven CT.
My husband and I moved to New Haven almost two years ago and have enjoyed exploring all the city has to offer. Did you know New Haven is actually the OG of U.S. cities? Yep, it was the very first planned city in the United States, founded in 1638. It began with eight streets that were laid out in a four-by-four grid, which is now the historic New Haven Green.
Today, the city is a cultural epicenter, with a rich food and arts scene. It was named Best Foodie City in the country in 2014. Restaurants feature food from across the globe, including China, France, Greece, Thailand, India, South Korea, and many more. Several music and arts festivals take place in New Haven as well, like the New Haven Jazz Festival.
When is the Best Time to Visit New Haven?
There's no bad time to visit New Haven, since the winters are rather mild here compared to elsewhere in New England. We don't get nearly as much snow as in northern Connecticut or Boston. (I'm sure there's science behind it, perhaps something to do with the water along the Sound tempering our climate…but what do I know?)
Conversely, summers here are very hot, so to really enjoy being outdoors, I prefer spring or fall. The added bonus during those seasons is you get to enjoy the beautiful colors on all the trees.
Regardless of when you plan to come, I've compiled a list of top things to see and do in New Haven. These are all things you could experience any time of the year!
Best Things to do in New Haven CT
Yale University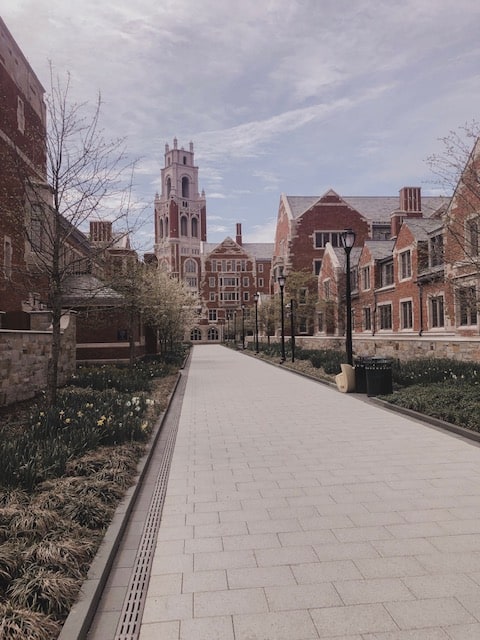 Yale University, one of the eight Ivy League schools and the third oldest educational institution in the United States, has a stunning campus. I could walk around it for hours. The central campus covers 260 acres in downtown New Haven and features many buildings in the traditional "Collegiate Gothic" architectural style.
Some notable sites and things to do at Yale include:
Sterling Memorial Library:

The largest of all Yale libraries. It might remind you of a European cathedral when you see it, with its dramatic arches, cloisters, and 60-foot ceiling.

Yale Center for British Art

: The largest collection of British art outside of the United Kingdom, featuring artwork from the Elizabethan period onward.

Yale University Art Gallery:

The oldest university art museum in the western hemisphere.
Read Next: 12 Charming Cabins in Connecticut to Book Now
Beinecke Rare Book and Manuscript Library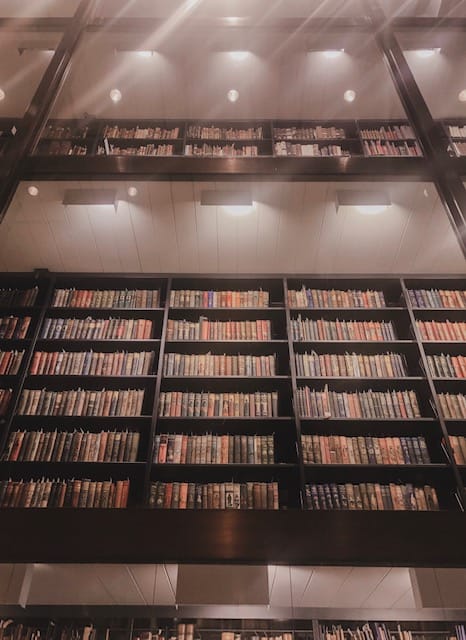 The Beinecke Rare Book and Manuscript Library is one of the largest buildings in the world reserved exclusively for the storage of rare books and manuscripts. The interior architecture is stunning, with its six-story glass-enclosed book display in the center. While that display is not open to the public, you can peer through the glass at various levels to see the hundreds of books housed on the shelves. I loved seeing some old classics there like Peter Pan.
The library has special exhibitions that are available for a limited time, as well as a few permanent exhibitions, including the Gutenberg Bible, which originated in Melk, Austria and was gifted to Yale in 1926; this is definitely one of those unique and interesting places to see in New Haven and should be added to any weekend in New Haven itinerary!

Peabody Museum of Natural History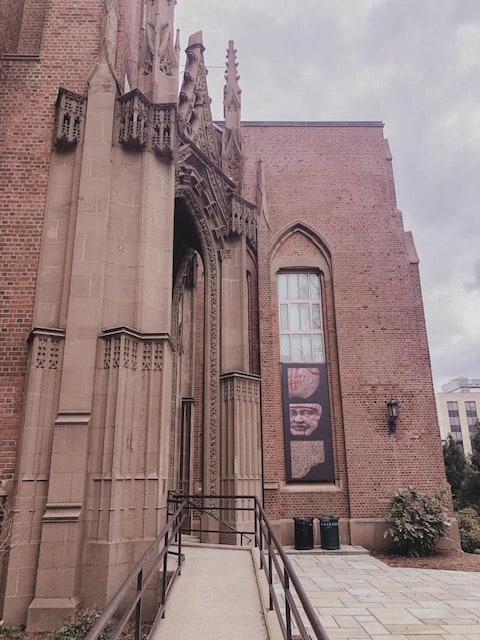 The Yale Peabody Museum of Natural History is one of the oldest and largest university natural history museums in the world, most known for its Great Hall of Dinosaurs with a giant mounted Brontosaurus. When we first moved to New Haven, this was one of the places most locals recommended we see, and it is definitely one of the top New Haven places to visit. It was easy to spend an afternoon here admiring the various exhibits.

Lighthouse Point Park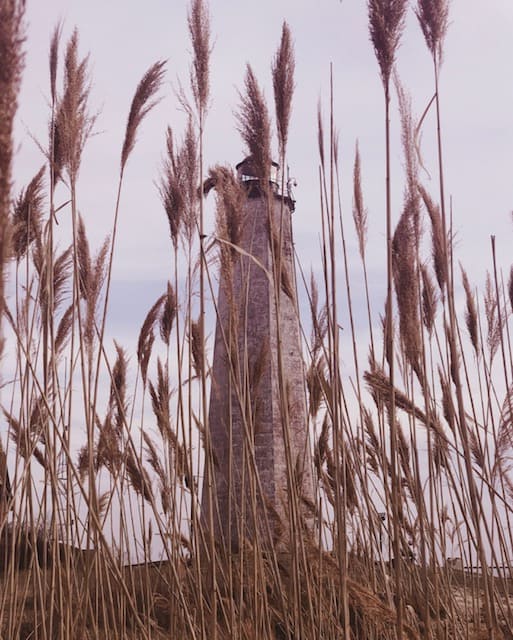 Lighthouse Point Park is a place we discovered shortly after moving to New Haven, and we immediately fell in love with it; we really love walking along the shore there to the Five Mile Point Light lighthouse. This park isn't far from downtown, but it makes you feel like you're miles from the city. It's a great place to enjoy some fresh air on Long Island Sound and is one of the best outdoor things to do in New Haven, CT.

The park also features the old Lighthouse Point Carousel, built in 1911, which is still in operation seasonally. Many people choose Lighthouse Point Park for special events, from birthday picnics to wedding celebrations inside the pavilion; a visit here is definitely one of the top things to do in New Haven with kids!

West Rock Ridge State Park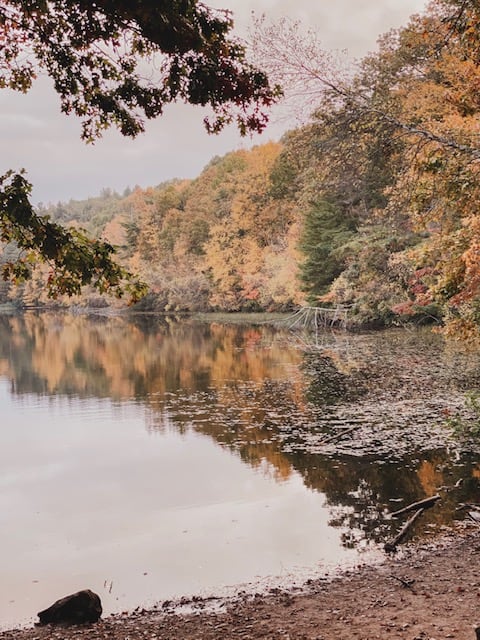 New Haven's iconic landmarks are its two reddish "trap rock" ridges known as East Rock and West Rock. We live not far from West Rock and enjoy the occasional hike in West Rock Ridge State Park, where you can walk all the way to the top of the ridge and enjoy panoramic views of the city.
One of our favorite parts of the park is Lake Wintergreen. The lake is surrounded by a trail that takes about 30-40 minutes to walk. It's a nice, scenic path with lake views almost the entire time. We especially enjoy coming here close to sunset — the colors reflecting on the water are stunning during golden hour; this is another one of the top outdoor New Haven activities.

Read Next: 12 Most Beautiful Lakes in Connecticut
East Rock Park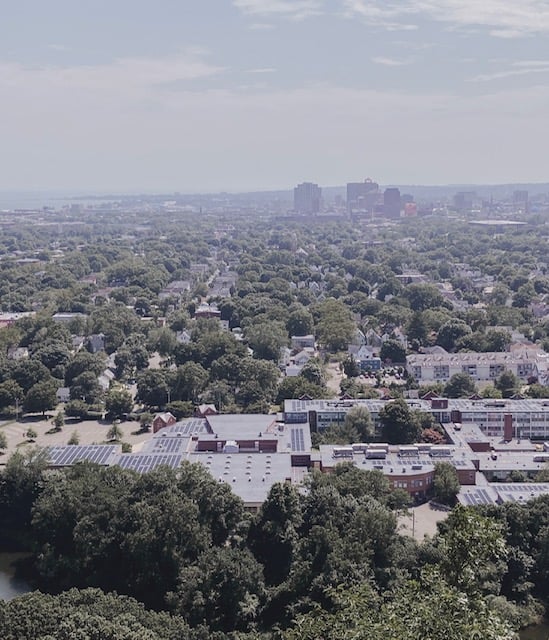 On the other side of New Haven is East Rock Park. At the top of the rock you'll find the Soldiers and Sailors war monument, built in 1887 to commemorate the lives of New Haven residents that were lost during the Revolutionary War, the War of 1812, the Mexican War, and the Civil War.
Just beyond the monument is an overlook with stunning views of downtown New Haven and Long Island Sound beyond. A grassy area nearby has picnic tables where you can enjoy a packed lunch after the hike up; a picnic with this view is one of the sweetest, most romantic things to do in New Haven, CT.
There are different trails to get to the top — so far we've only tried the main, paved trail that's open to both cars and pedestrians.
Read Next: 14 of the Best Hikes in Connecticut for an Outdoor Adventure
Little Italy & Other Food Highlights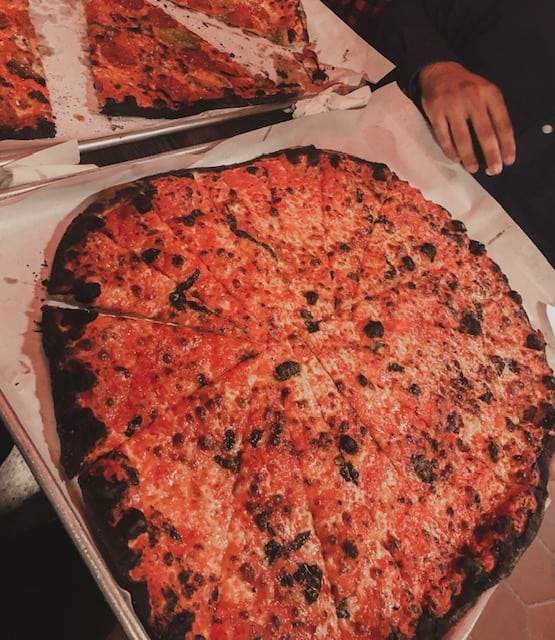 As mentioned earlier, New Haven is known for its food scene. Wooster Street is called New Haven's "Little Italy," boasting two popular pizzerias that have been around for quite some time: Pepe's, founded in 1925, and Sally's, founded in 1938. When we arrived, locals would argue about which pizzeria was better, so of course we had to visit both to decide for ourselves.
Ultimately, our favorite pizza is at Brazi's Italian Restaurant on the Long Wharf side of New Haven (shh, don't tell anyone), but we'd still recommend a visit to Little Italy while you're in town. It's definitely an interesting New Haven experience.
I'd be remiss if I didn't also mention my favorite Choupette Creperie & Cafe, serving authentic French crepes, both savory and sweet. The owner is a native Parisian who will make you feel right at home. His relative also owns the Swiss restaurant nextdoor, Au Chalet, which serves traditional Raclette meals.
There are lots of other restaurants to try as well, such as Taste of China and Koon Thai. Louis' Lunch is a famous fast food restaurant in a tiny brick building on Crown Street, serving food since 1895. Apparently the Library of Congress credited the owner with inventing the hamburger and steak sandwich; definitely a unique New Haven burger place!

Another notable culinary experience in New Haven is to eat from one (or more than one) of the 150 food carts that set up shop during weekday lunch hours in four locations around the city: Long Wharf Drive, Yale-New Haven Hospital (Cedar Street), Yale's Trumbull College (Elm and York Streets), and the intersection of Prospect and Sachem Streets by Yale's School of Management.
Read Next: 11 Best Airbnb Connecticut Vacation Rentals: CT VRBO Cabins, Treehouses & More
New Haven Green & Downtown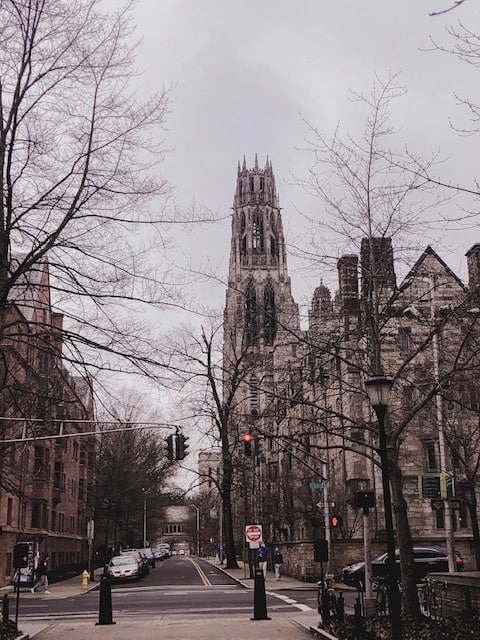 The New Haven Green feels like the heart of New Haven, perhaps because it truly is where the city first started. The 16-acre green is a National Historic Landmark and is one of the oldest town greens in the U.S. and today is a hot spot for many music and arts events.
Three historic New Haven churches are on the Green and are aptly named: United Church on the Green, Center Church on the Green, and Trinity Church on the Green.
Within easy walking distance of the New Haven Green are Broadway Avenue, Chapel Street, and Whitney Avenue, each with their own shops and restaurants. A few of the places I highlighted in this article are on these streets, such as the Yale Art Gallery and Choupette Creperie.
Read Next: 21 Small Towns in Connecticut You Might Fall in Love With
Grove Street Cemetery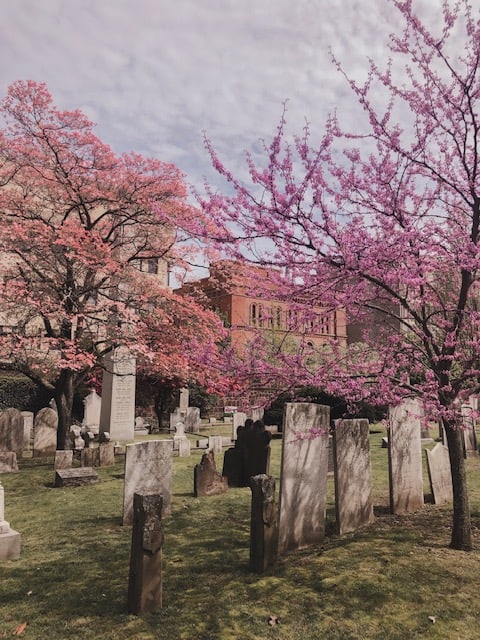 A cemetery may not typically be on your list when you visit a new place, but if you like history, you may enjoy a stroll through Grove Street Cemetery, which is a National Historic Landmark.
The cemetery became the New Haven Burying Ground in 1796 when the town was quickly running out of space to bury people on the New Haven Green. There you'll find the graves of 14 former Yale presidents along with other notable people.
The cemetery is especially nice to walk through during spring in New Haven when the many trees on the grounds are in full bloom.
Take in a New Haven Show
Of course New Haven has its fair share of fantastic theaters and event venues, so when you're looking for what to do in New Haven, seeing a great show is always an option!
There's the Yale Repertory Theatre, the Shubert Theatre, Long Wharf Theatre, and more, so check out this New Haven theater calendar to see what's running during your New Haven visit.
Read Next: 10 Fun Connecticut Day Trips
Grab a Beer at East Rock Brewing Company
A must do item in pretty much all New England college towns is to find a good brewery, and New Haven has one at East Rock Brewing Company, where you can enjoy one of their 12 handcrafted brews on tap in their family friendly beer hall.
Events like trivia nights and vendor markets provide fun for all, and the warm pretzels they serve are the perfect accompaniment for an ice cold brew! You can also order in from other restaurants or take advantage of food trucks that are occasionally onsite, too.
Read Next: The 12 Best Breweries in New England You Need to Visit
Listen to New Haven Jazz
If you're not already familiar, New Haven has an incredible jazz scene! You can find live jazz all around town throughout the year, including Jazz Haven's summer jazz events that happen all around New Haven.
Follow along with Jazz Haven to see where to go for live jazz in New Haven!
Read Next: 10 Summer in Connecticut Ideas: Where to Go and What to Do
Check Out Edgerton Park
Did you know that New Haven is home to a 25-acre historic estate turned gorgeous park that sits on the edge of town? You can stroll the grounds, tour the Carriage House and enjoy the horticultural library housed within today, and make your way around the estate's greenhouses and community gardens.
They also host fun events like Sunday in the Park in late summer, with live music, games, food and beverages, and more!
Read Next: 21 Best Places to Visit in New England: The Ultimate List 🍁
Visit the New Haven Museum
If you'd like to learn more about New Haven history, consider a visit to New Haven Museum, where you'll find collections focused on all things New Haven, including its rich manufacturing history, early Colonial life, and more interesting New Haven-centric exhibitions.
You can also find cool New Haven events hosted by the museum and its properties, like the Twilight Summer Concert Series at the Pardee-Morris House; check these out if you're looking for free things to do in New Haven!
Read Next: 60 Awesome Things to Do in New England with Kids
Stay at The Blake
Whether you're in New Haven with the whole family, taking a little well-earned sabbatical, or you're on a romantic getaway in New Haven, The Blake fits the bill for where to stay in New Haven!
This trendy boutique hotel is fairly new and offers that attainable luxury experience with enticing amenities like cute little kitchenettes in every room and an onsite restaurant featuring a Michelin Starred resident chef!
The Blake also hosts events throughout the year like art gallery expos and concert series, so be on the lookout for what's happening during your New Haven Connecticut vacation!
Click Here to Check Prices & Book!
Explore the Ely Center of Contemporary Art
If you're looking to browse an impressive art collection, check out Ely Center of Contemporary Art! The building alone is intriguing, it's an English Elizabethan style house originally built in 1901.
You'll find many various galleries to browse, exhibits that change frequently throughout the year, and different workshops and events to attend.
Work Together to Complete an Escape Room
Teams of two to five players will enjoy the challenge of solving the puzzles at Escape New Haven. You'll have 60 minutes to escape by solving series of puzzles from one or more of four themed games.
For a longer experience, try the two hour outdoor adventure and explore some of New Haven while you play.
This particular escape room was voted best in Connecticut! Whether you're an escape room enthusiast or are looking to try your first one, Escape New Haven will be a fun time!
Oh, and if you are looking for things to do in New Haven this weekend or things to do in New Haven CT today, be sure to check out this local events calendar to figure out what's happening in New Haven during your visit.
---
You might also like:
---