Head to southeastern Connecticut and you'll find the town of Madison. Located on Connecticut's Long Island Sound shoreline, this town of roughly 18,200 people has attractions both locals and tourists love. Luckily, many things to do in Madison are great for all travelers.
There's a little bit of something for everyone in Madison, from cute shops to incredible natural views.
So, where do you even start? Here are nine of the best things to do in Madison CT and why you should take the time to do them.
Visit Meigs Point Nature Center
Location: 1288 Boston Post Road
Open: Tuesday—Saturday, 10 a.m. to 4 p.m.
If you're stopping in Madison, make sure to stop by Meigs Point Nature Center. You'll find this family-friendly environmental learning center right in the middle of Hammonasset Beach State Park. The center is run by the Department of Environmental Protection and offers a number of family-friendly activities, including:
Virtual learning exhibits on birds, turtles, foxes, and other creatures

Tours through the center's 10 themed gardens

Numerous educational and summer programs
You can even have a birthday party at this lovely nature center! Bring the entire family to learn a thing or two about Connecticut's beautiful natural landscape.
Head to Hammonasset Beach State Park
Location: 1288 Boston Post Road
Open: Sunday—Saturday, 8 a.m. to 8:30 a.m.
If you're looking for a place to sit back and enjoy the ocean, head to Hammonasset Beach State Park. Enjoy the two-mile beach and enjoy numerous activities, including swimming, camping, picnicking, hiking, boating, and even scuba diving.
If you are heading here for some fun, make sure to bring money for entrance if you aren't a Connecticut resident. Connecticut vehicles can enter for free, but non-Connecticut vehicles have to pay $15 during the weekdays and $22 on the weekends. Head there after 4 p.m., though, and non-residents will only pay $7 during the week or on the weekend.
This is a great place to visit if you're traveling solo, with friends, or with family. There's plenty of activities to enjoy on this beautiful piece of Connecticut shoreline! Don't be surprised if you see many people there, though—it does have the state's longest public beach, after all.
Hike the Bauer Park Trails
Location: 245-323 Copse Road
Open: Sunday—Saturday, sunrise to sunset
Itching to get some hiking in while traveling to Madison? There are plenty of great hikes in Connecticut! Check out the Bauer Park Trails, located within Bauer Park. The park has a couple of trails to hike, including Woodland Trail, Hunters Trail, and Pond Wetland Trail. Dogs are allowed on the trails, as long as they're on leashes. And while it may be tempting to take a dip in the surrounding ponds, swimming isn't allowed.
The trails are actually part of Bauer Park, which features community gardens and hosts a harvest festival. Walk through this lovely park after hitting the trails to see a great little spot in Madison.
Walk Along the Shoreline Greenway Trail
Another great place to take a scenic hike in Madison is along the Hammonasset segment of the Shoreline Greenway Trail. This trail is nearly a mile long and features some incredible views of lush Connecticut forestry. If you're lucky, you may even see a bird or two—the trail is a popular spot for bird watching.
This portion of the trail is popular for bikers and hikers, so don't be surprised if you see quite a few people on the trail when you visit. The Shoreline Greenway Trail itself spans 25 miles and runs from New Haven to Madison. While the entire trail itself is impressive, the strip in Madison will leave an incredible impression.
Browse Through R.J. Julia Booksellers
Location: 768 Boston Post Road
Open: Sunday—Wednesday, 10 a.m. to 6 p.m.; Thursday—Saturday, 10 a.m. to 8 p.m.
If you're a bookworm, you have to check out R.J. Julia Booksellers in Madison. This cozy staple on Boston Post Road has it all: classic New England charm, a friendly staff, great food, and lovely reads!
Here, you can sift through the staff picks while enjoying a fresh coffee from RJ Cafe and Bistro. The bookstore also hosts a number of events the community can enjoy, from conversations with notable figures to school programs for kids. There's a reason this place has a 4.9-star rating on Google—pop in during your trip to Madison and see what it is for yourself!
Visit Deacon John Graves House
Location: 581 Boston Post Road
Places built in the 1680s (and are still standing) are hard to come by, but you'll find one in Madison. Head to Deacon John Graves House to see a piece of Madison history. It was built in 1685 and housed nine generations of the Grave family. It's one of the oldest homes in Madison and even has a foundation named after it, which helps preserve the home.
It serves as a museum, chronicling the lives of the Graves family and all they went through while living in the home. They saw so many versions of Madison—it's only natural that people in the area want to keep their memory alive.
Head to this historical Madison home to see accounts of how the Graves family lived in Madison over the centuries. Visitors can tour the home to admire its unique architecture and rich history. You may even learn a new thing or two about Madison during your visit.
Tour the Allis-Bushnell House and Museum
Location: 853 Boston Post Road
Open: May—October, request a tour
After visiting the Deacon John Graves House, continue your tour of historic Madison houses by stopping at the Allis-Bushnell House and Museum. The house was built in 1785 and was home to a couple of Madison's most prominent families. Step into this home and walk through rooms that depict what life was like in Madison through different time periods.
While you're there, take a stroll through the Allis-Bushnell House Garden and the Allis-Bushnell House Annex to get the full effect of the space. It's a great spot to learn more about Madison's history and the families that once called the house home.
Take a Cooking Class with Chef Paul Barron
Location: 837 Boston Post Road
Open: Sunday—Saturday, 9 a.m. to 8 p.m.
Of all the things to do in Madison, Connecticut, this has to be one of the coolest. You can actually take a cooking class with a chef! Chef Paul Barron will teach you how to cook a number of delicious dishes in downtown Madison. You can book a class on your own or get a group to go.
Chef Paul Barron does more than teach cooking, though. You can also book in-home dinner parties and arrange catering for an event. Or, if you feel like dining out but still want a private setting, book a private party at The Table. No matter which way you dice it, you'll get something scrumptious from Chef Paul Barron's services.
Visit Surf Club Park
Location: Surf Club Road
What's a trip to Madison without stopping at Surf Club Park? This 45-acre gem has 1,200 feet of sandy shoreline to enjoy. You can sit back in your beach chair and watch the Atlantic push and pull from the sand. You could even bring a beach game or two to enjoy!
Surf Club Park also has amenities to enjoy, including basketball courts, sand volleyball courts, and even pits to play horseshoes. The park also has playground areas for kids and picnic areas where you can grill and enjoy a meal by the ocean. You'll make memories at Surf Club Park you won't soon forget!
Overall, you'll find that Madison is a town where natural beauty meets cultural seaside living. It's a charming New England town with lots of history, character, and things to do. Bring your family here for a wonderful getaway, or book a solo trip and experience its magic for yourself!
---
You might also like:
---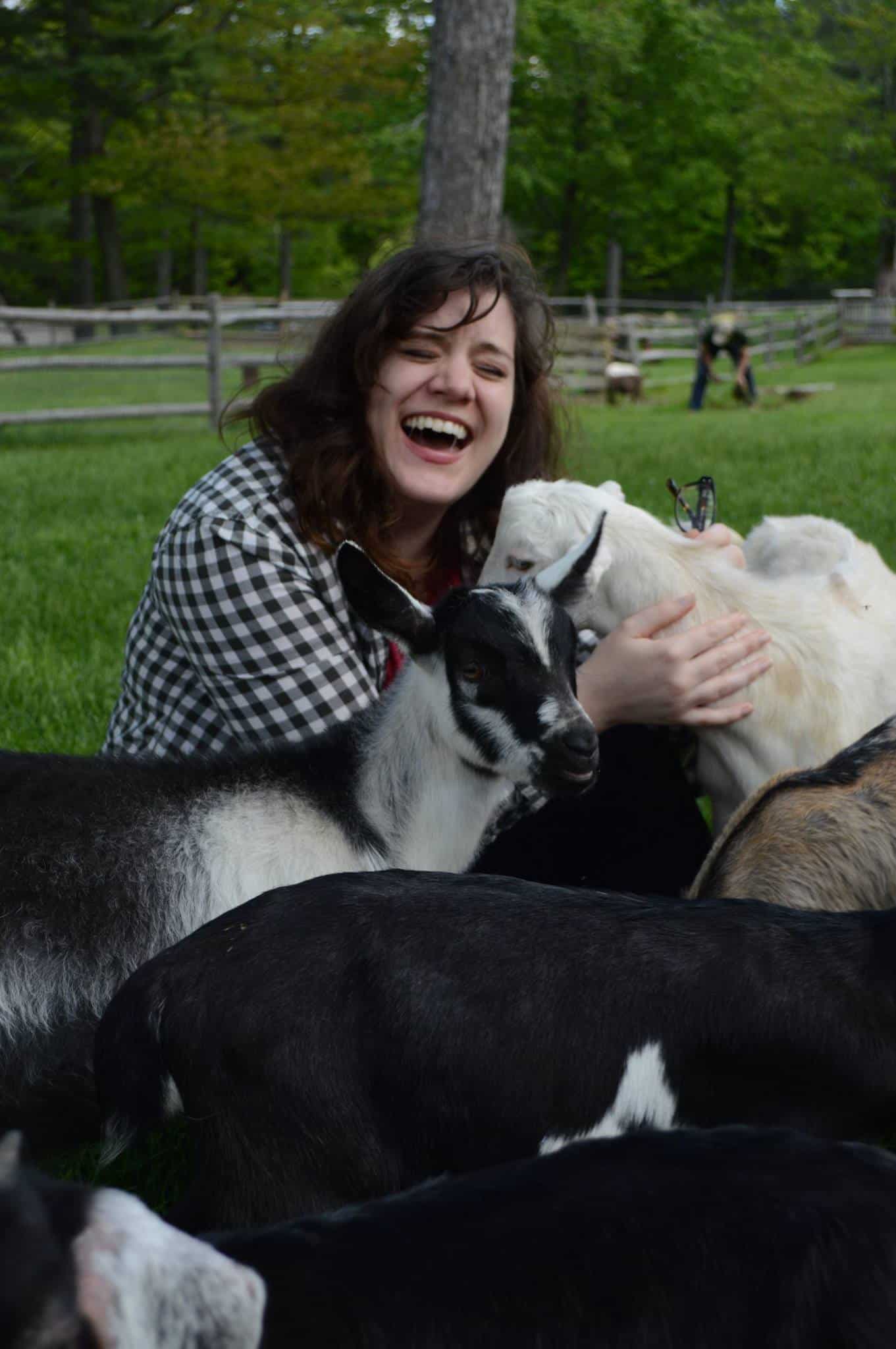 Amy Hartle is the founder and Editor-in-Chief of New England With Love, a comprehensive resource for travel in the New England region. Amy has been exploring New England since 2001. She lived in Vermont for many years and is a graduate of Plymouth State University in New Hampshire. Amy has been writing about travel for over a decade. On this site, Amy aims to share her love of New England and help you to have the best possible adventures!
Amy has been a full time blogger since 2012, and is also the publisher of Two Drifters, where she writes about couples travel and relationships, as well as Let's Adventure Baby, a family travel site. When not traveling the world or creating epic blog content, Amy can be found cuddling with her husband, son, and cats, & drinking a maple latte.