If you've been wanting to check out beautiful New Hampshire, look no further than the town of Hanover. It's situated right along the Connecticut River and is a traditional small town in the state, but it's home to none other than Dartmouth College.
There are tons of things to do in Hanover NH, from educating yourself at a local museum to going on a hike and exploring nature. No matter what you choose to do here, you're in for a treat. Hanover is an excellent location for families and couples looking to explore New England further.
Here are some of the best things to do in Hanover, New Hampshire!
Learn at the Montshire Museum of Science
One of the most popular things to do in Hanover is to drive across state lines to the Montshire Museum of Science. It's less than ten minutes to get from Hanover to Norwich, so don't worry! It's not a super long drive at all.
At the Montshire Museum of Science, guests can explore the interactive exhibits to learn more about different parts of the environment and science in general. There's also a fantastic aquarium here that you won't want to miss.
For a fun time, be sure to head outside of the Montshire Museum of Science too. There's an outdoor science park that is great for exploring as well as tons of nature trails in the area that you won't want to miss out on.
Hike on Moose Mountain
It really goes without saying that one of the best things to do in Hanover is to go on a hike! New England is known for its great hikes, so this one is no exception. The most popular way to do the hike is to go up Moose Mountain North Peak via Appalachian Trail.
It's a moderate trail that goes out and back, so you'll be following the same trail on your journey up and down. The trail itself is only about 4.5 miles, which isn't too bad for the incredible views you'll get at the top.
You'll gain around 1500 feet of elevation along the hike, which is something to keep in mind. The air may get slightly thinner on the way up, so just be prepared. The majority of the hike goes through the woods, so even if it is pretty warm, you'll be in the shade.
Marvel at masterpieces in Hood Museum of Art
Another one of the best things to do in Hanover is to head to the Hood Museum of Art. It's owned by Dartmouth College and is filled with great pieces of art that are worth seeing at least once in your life, especially if you're a huge fan of the arts.
The museum was opened in the 1980s and has a pretty extensive collection size of 60,000+. It's filled with many different kinds of art, including Native American and African. You can easily spend an hour or two here.
It was closed for a few years but recently reopened in 2019 and has been a popular spot to visit in Hanover ever since. Oh, and did I mention that admission is completely free? You don't even have to be a student to enjoy the museum!
Wander around Artisans Park
Next up is Artisans Park in Hanover, a great place to visit, especially if you're traveling with a significant other. You may be thinking that Artisans Park is probably just a huge green space since it has the word "park" in it, but it's a lot more than that.
In Artisans Park, you can find eight different businesses that make for a great day (or night) out. They're also all Vermont-owned businesses. You can find a distillery, fresh lunch place, outdoor adventure store, and even a sculpture garden called the Path of Life.
Like the Montshire Museum of Science, Artisans Park is located in Vermont, but it's only about twenty minutes away from downtown Hanover. It's close enough to consider it as one of the best things to do in Hanover!
Catch a show at Hopkins Center For The Arts
The Hopkins Center For The Arts is another fantastic place to visit when checking out Hanover, New Hampshire. It's also located in Dartmouth College and is truly a work of art. This is the place to go if you want to catch a show put on by the college, and the performances usually are pretty great.
To check out their shows, you'll want to visit their website and see what they'll be performing in the future. Tickets usually go on sale shortly before the actual dates are, which means they can go pretty fast.
In addition to being a great place to catch a show, the Hopkins Center For The Arts is also an architectural marvel. It was designed by Wallace Harrison, who was also the architect behind United Nations Building, which you can find in New York City.
Visit Harpoon Brewery
Harpoon Brewery is one of the most well-known breweries in New England, so one of the best things to do in Hanover is to stop on by! Even though it's located in Windsor, it's a short drive from Artisans Park.
This location, in particular, has a taproom and beer garden, making it a great spot to stop at for a little hangout in the evening, especially if you are visiting with your significant other. They also have excellent tours that you can enjoy so you can learn more about the brewing process.
The beer garden has tons of outdoor seating, making it great for enjoying the New England weather. The outdoor patio can get pretty busy in the summer, but the trick is to visit right before dinner time to secure your spot.
Have lunch at Molly's Restaurant & Bar
Easily one of the best things to do in Hanover, New Hampshire, is to grab a delicious bite to eat at Molly's Restaurant and Bar. It's the most popular spot to eat at in all of Hanover, so sometimes it can be hard to get seating. However, the wait is well worth it, promise!
Molly's Restaurant and Bar opened in the 1980s as a smaller restaurant, and it has easily grown in size over the years. It's a popular restaurant and a great bar often visited by college locals, primarily because of the great memorabilia from Ivy Leagues on the walls.
There are tons of delicious meals on the menu, so you really can't go wrong! There's french onion soup, avocado apple salads, chicken alfredo, Philly cheesesteaks, and more. One of the most popular things to order is the wood-fired thin-crust pizza, which is drool-worthy.
Tour Dartmouth College
No trip to Hanover, New Hampshire, is complete without stopping by Dartmouth College. There are student-led tours that happen throughout the week so that anyone can stop by and take a tour if they want.
You can also just visit the campus and visit the public areas on your own. Check out the outdoor spots, the sports facilities, and even the college buildings if you want. Of course, be respectful, especially if classes are going on!
Mingle with locals on Main Street
An easy way to get more involved with a town's culture is to check out Main Street. When checking out Hanover's Main Street, the same is true, so make sure you add it to your list of things to do when visiting.
The best thing about Main Street in Hanover is the restaurants. There are so many great places to eat, so if you're hungry, this is the place to go. Many of the restaurants' decor here is also filled with historical images of Hanover's past.
Another great spot to check out on Main Street is Ledyard Bank. It's a small-town bank that you may think nothing of, but it has a truly historic feel that you won't often find when exploring New England. It's worth stopping by.
Satisfy your sweet tooth at Lou's Restaurant and Bakery
Last but not least is Lou's Restaurant and Bakery, an absolute must-visit location when visiting Hanover, New Hampshire. It's a classic American restaurant and bakery that opened back in the 1940s. The inside is pretty reminiscent of a diner which will take you back in time!
If you have a sweet tooth, this is the place to go. They have cakes, pies, and other smaller bites to eat that you'll genuinely enjoy. They do close pretty early, though, so if you want a treat, make sure you buy it earlier in the day, or you'll risk not getting anything.
The menu here is pretty much everything you could imagine. The restaurant is open for breakfast and includes classic smoothie bowls, egg dishes and bowls, and even breakfast quesadillas. Like something a bit savory for breakfast? Don't worry; there's even chicken and waffles!
—
As you can see, there are tons of amazing things to do in Hanover. No matter what type of traveler you are or who you are traveling with, you'll have a blast visiting here. What thing from this list do you most want to do on your next trip to Hanover, New Hampshire?
---
You might also like:
---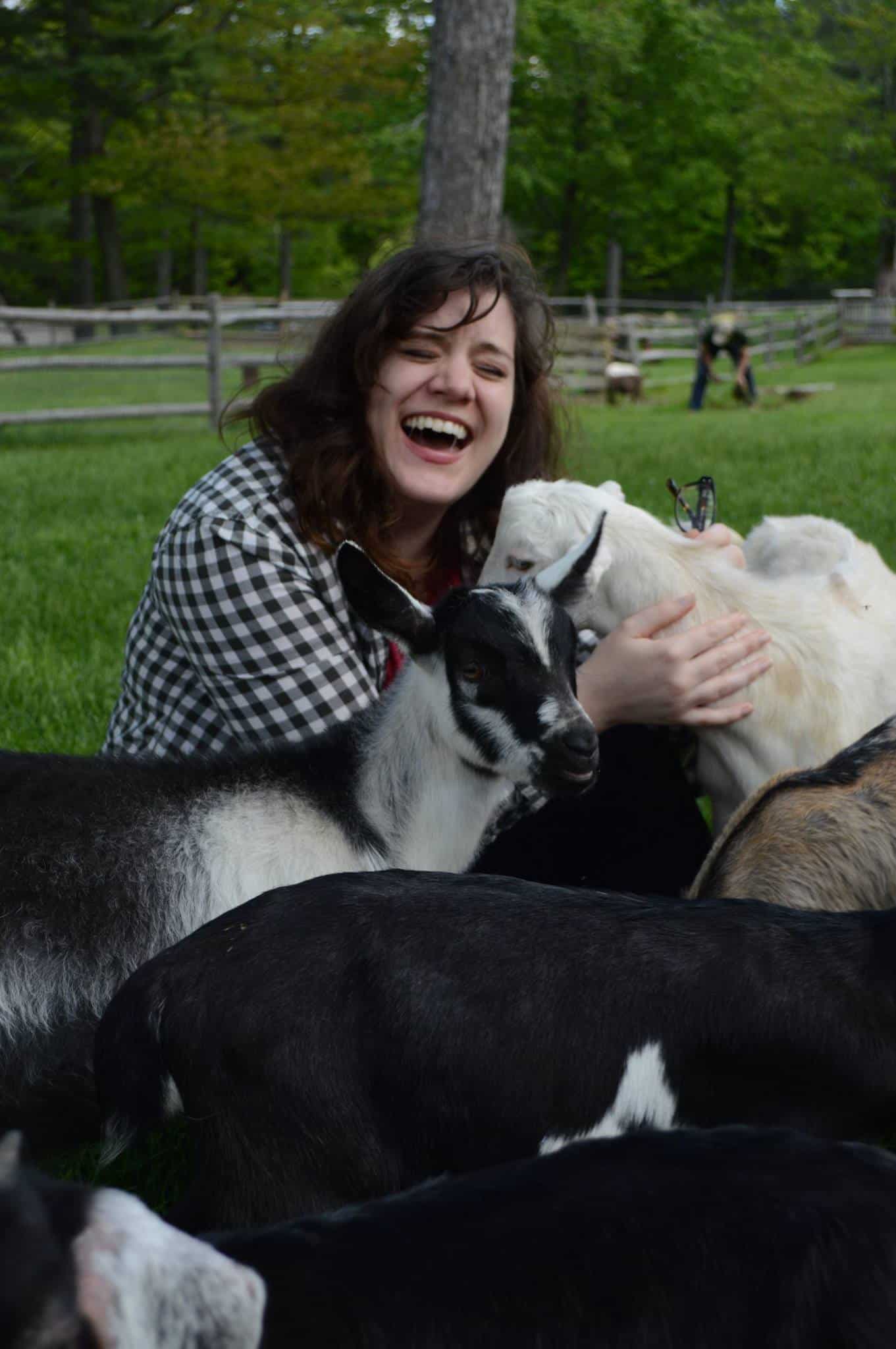 Amy Hartle is the founder and Editor-in-Chief of New England With Love, a comprehensive resource for travel in the New England region. Amy has been exploring New England since 2001. She lived in Vermont for many years and is a graduate of Plymouth State University in New Hampshire. On this site, Amy aims to share her love of New England and help you to have the best possible adventures!
Amy has been writing about travel for over a decade, and is a full time blogger, publishing both Two Drifters and Let's Adventure Baby. When not traveling the world or creating epic blog content, Amy can be found cuddling with her husband, son, and cats, & drinking a maple latte.