*This site uses affiliate links; if you make a purchase through these, I may receive a small commission at no cost to you.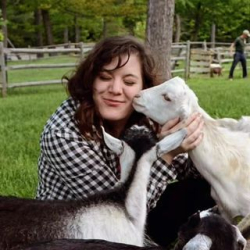 Latest posts by Amy Hartle
(see all)
Grafton is one of the most charming small towns in Vermont, with a population of less than 700 people as of 2020! Though the town is known for its Nordic trails and fun outdoor activities, there are many fun things to do in Grafton VT.
Whether you enjoy mountain biking or snowshoeing or anything in between, there's something for you to do in Grafton. Plus, there's quite the foodie scene too, from sugar houses (a must-visit in Vermont) to breweries and more. There's even some spots for dessert!
So, what are you waiting for? Let's start planning your trip to Grafton; here are the best things to do in the town so you can have the best trip possible!
PS: Read my Vermont bucket list if you're asking "what is there to do in Vermont?"
Learn at The Nature Museum
First up is The Nature Museum in Grafton, which is a highly underrated quaint museum. Mostly only locals know about it! The museum focuses on providing education about nature and the environment, and first opened back in the 1980s. It has a heavy focus on natural works like geology and plants, but also has programs and hands-on activities, that are especially fun for kids or hands-on learners.
The museum has limited hours depending on the time of year, but in winter, expect for it to just be open on Friday, Saturday, and Sunday, for a few hours each day. For an unforgettable time, be sure to check out their events to see if there are any fun ones that you can attend. These are normally open to the public and will allow you to learn or even discuss different topics with others.
Dine at 1801 Tavern & Pine Room Bar
This list would not be complete without including at least one place to eat! During a trip to Grafton, don't miss out on the 1801 Tavern & Pine Room Bar which is at the local Grafton Inn, one of the top places to stay in town.
1801 is casual dining and they have seasonal menus that have high-end touches, like cocktails, beers from local breweries, wines, and more. It's the perfect place to go on a date or even just have a night out with family and/or friends. This isn't a restaurant that has a dress code requirement, even though it may look pretty fancy and upscale from the outside!
The dining area itself feels quite regal with maroon walls and warm lighting that helps to accentuate the color palette of the room. Warm wooden tables are accompanied with old-style black chairs, and there's lots of windows for natural lighting, even in the winter months.
What makes 1801 so amazing too is that it's got a rotating seasonal farm-to-table menu, so you can be sure you're truly supporting other local New England businesses, farms, and gardens by dining here. Some menu items of the past include soups, salads, charcuterie boards, sandwiches, seafood, meats, and pasta.
Cross-Country Ski at Grafton Trails & Outdoor Center
Have you ever been Nordic skiing, or cross-country skiing? (Psst.. they are the same thing, everyone just calls it something different!) Well, one of the best places to do that is right in Grafton at the Grafton Trails & Outdoor Center.
For cross-country skiing in the winter, there's a trail fee and also ski rentals available, but these are complimentary for those who are staying at the Grafton Inn. There's also private group lessons if cross-country skiing is a skill you've been wanting to pick up.
Is cross country not your thing? No worries, they have other activities, too. Go on a sleigh ride, snowshoe, try tubing, mountain biking, hiking, boating, or even swimming. Pretty much any outdoor adventure you want to have, you can have at this location. It's why it's such a popular destination in Grafton year-round.
Visit Plummer's Sugar House
No trip to Vermont is complete without visiting a sugar house, and luckily there's one right in Grafton: Plummer's Sugar House! Plummer's has been making maple syrup for more than 40 years and counting, and it's been kept in the family; the current sugarmakers are third generation for their craft.
By visiting, you're able to learn about the maple sugar process in a few ways. The best option is to go on a free tour of the sugar house, which you can do by purchasing anything from their gift shop. Just be sure to ask and you'll be able to see a peek behind the scenes, and you can even ask any questions you have! Learn about how the sap is collected and the process it goes through until it's fit for your pancakes and waffles.
The gift shop itself is open for 7 days a week so you can visit at any time. The sugar season is normally between February and April, so for a real treat, be sure to visit during that time to really get an inside look at how everything works. You can call ahead of time to double-check that they'll be offering tours or even to see if they are collecting any asap during your visit.
Hike Big Bear Loop
What's better than enjoying a hike so you can get outdoors and smell the fresh Vermont air? One of the most popular trails in Grafton is the Big Bear Loop, which is moderate. It's only 2.5 miles long and has just shy of 500 feet of elevation gain. Plus, it's a loop trail, which means you'll get to see something new the whole, instead of backtracking like you do on an out-and-back trail.
The trail usually takes a little over an hour to complete, so it's the perfect leisurely activity. Some people even do this trail while cross country skiing or bird-watching. It's open year-round, but be sure to check the weather to make sure the trail won't be muddy or anything. In the summer, be on the lookout for beautiful wildflowers and great views!
Grab a Drink at Outer Limits Brewing
There's a lot of great breweries in Vermont, and one of the best is Outer Limits Brewing! It's right outside of Grafton in the nearby town of Proctorsville. This brewery has a fun, laid-back vibe about it; the perfect atmosphere for having a casual night (or afternoon) out.
Hours are normally between Wednesday and Sunday, with closures Monday and Tuesday for the taproom. They also occasionally have live music on Saturday nights.
Beers on tap may change throughout the year, but they normally have kinds like Light Speed, Immortal Beloved, and High Frequency. These range from Vienna lagers to cream ales and everything in between. They also have cans you can purchase to take home, but it's worth trying at least one of them on tap.
Of course, they also have food too that you can have to accompany your drink. Choose between charcuterie boards, salads, pretzels with dark mild mustard that's housemade, wings, or even the fan-favorite wood-fired pizza that comes in many flavors ranging from classic cheese to the Vermonter (a must-try; it has maple syrup).
Shop at Grafton Village Cheese Company
So, you probably know that Vermont is well-known for its ice cream (hello Ben & Jerry's) as well as its maple syrup, but it's known for it's cheese, too! The state even has its own Vermont Cheese Trail – yes, you read that right.
So while in Grafton, be sure to stop by the Grafton Village Cheese Company, which has been making handmade cheese since the 1800s, so you know they've got their recipes down right. They have all types of cheese, like reserve cheddar, shepshog, and everything in between. They also have a location in Brattleboro!
All cheese lovers will enjoy stopping by here. By visiting, you'll be able to purchase any cheeses to take home with you. Not sure which you'll like most? Chat with the workers, they're cheese connoisseurs and will gladly help you find the right fit for your palette! Hours are between Thursday through Sunday, with them being closed at the beginning of the week.
Psst… remember the Grafton Inn and 1801 Tavern & Pine Room Bar we mentioned earlier? This is their sister company!
Have a Sweet Treat at Southern Pie Cafe
Last but certainly not least is for all you sweet tooths out there – head to nearby Chester, Vermont to have a delicacy at Southern Pie Cafe. It's the best place to have dessert in the Grafton area, so you won't want to miss out on it!
The cafe is owned by two people who enjoy bringing the southern pie taste up to the north, and their signature pies are double crusted. Plus, they love using local ingredients in everything that they bake up.
Choose between pies like pumpkin sweet potato, sour cream fruit, bourbon pecan, and more, and pair it with one of their delicious coffees. They also have a great lunch menu featuring sandwiches and salads, as well as a menu for the kids.
Well, there you have it! This post was all about the best things to do in Grafton VT. No matter what you choose to do, we know you'll have the best time. Don't forget to share this post with others!
---
You might also like: