Just a 20-minute drive from Portland, Maine, the cute little town of Freeport stands on its own as a must-visit spot for anyone looking to enjoy a healthy dose of small-town Maine charm. Whether you're in Freeport as a side trip to a Portland weekend getaway or as its own vacation destination, you'll find plenty to do, both indoors and out, in this list of fun things to do in Freeport, Maine!
Marvel at the Desert of Maine
Open May through October, the Desert of Maine is the 40+ acre tourist attraction that is both a natural phenomenon and historic landmark, drawing fascination from all who come to see this natural "desert" in a very non-desert climate! The sand exposed today is glacial silt from ten thousand years ago that was exposed after several years of poor farming practices eroded the fertile soil of the area, revealing this sandy "desert" underneath.
Today you can see cool historical remains like the 1700s barn, the 1800s farmhouse, and a 1920s Model T in addition to all the other fun offerings at "the desert," like the 1930s-themed gift shop, hands-on fossil digging experience, natural playgrounds, nature trails, and coming in 2022, a mini-golf course and a concert venue!
Go Back in Time with the Freeport Historical Society
The Freeport Historical Society proudly performs as the "keepers of the stories" for this little coastal town and provides public access by appointment to two notable historic sites: the Harrington House and the Pettengill Farm. Built circa 1830, the Harrington House today contains the offices, records, archives, collections, and exhibits for the Freeport Historical Society, with past exhibits showcasing early industrial activity that helped to grow Freeport throughout its history.
Pettengill Farm is 140+ acres of salt marshes, antique apple orchards, woods, and a well-preserved saltbox house that is open to the public every year on Pettengill Farm Day. The gardens, grounds, and forest trails are open to the public year-round from dawn to dusk, so a visit to this beautifully preserved historical gem is warranted any time of year!
Experience Seacoast Tours of Freeport
What better way to appreciate the charm of this seacoast town than to take to the sea with Seacoast Tours of Freeport? Hop aboard a wildlife cruise that offers lobstering demos or take an oyster farm tour. You can even cross the Casco Bay to Eagle Island, a Registered National Historic Landmark and Maine state park for its years it served as the home of Admiral Robert E. Peary, the naval officer and Arctic explorer who spent several years pursuing his quest to become the first human to visit the North Pole.
Today, Eagle Island is a well-kept homage to Peary's work, with his home and a museum showcasing the way he lived and dedicated himself to the task of exploring the Arctic frontier. Whichever tour you choose, the Casco Bay views are hard to beat!
Make Memories at Maine Audubon's Mast Landing Sanctuary
With 145 acres of beautiful trails, tidal marsh, fields, forest, and orchards, Maine Audubon's Mast Landing Sanctuary is a little slice of heaven, right in town! Trails are ideal for cross-country skiing and hiking, and the Ridge Trail winds past an old dam and mill site and the old mill master's house.
This wildlife sanctuary is home to many of coastal Maine's mammalian residents, such as North American Porcupines, Snowshoe Hares, and White-Tailed Deer, and a quiet, contemplative walk through the woods is the perfect chance to spot these guys for yourself!
Get your Groove on at Cadenza
Cadenza is Freeport's premier music venue, with most shows happening on Fridays and Saturdays. Looking to grab a quick bite and hear some local music? This is the place!
Attracting a diverse range of performers of jazz, folk, country, rock, and more, the Cadenza has become Freeport's performance darling and was created by local artists and music-lovers who knew how to revamp this space to be welcoming and comfortable for performers and audiences alike. Check out their upcoming events calendar to plan what you'll see there next!
Learn at Wolfe's Neck Center for Agriculture & the Environment
Both a working farm and an educational resource center, Wolfe's Neck Center for Agriculture & the Environment offers more than just the usual "visit the farm" type activities, with kayaking, hiking, bicycling, and shopping available for guests throughout the year; there's also some of the best camping in New England at Wolfe's Neck Oceanfront Campground!
Wolfe's Neck Center also hosts regular community events like Arts & Culture weekend, Music Mayhem, and workshops that teach how to craft your own herbal salves and how to make your own kombucha! Whether you're heading out to hike, walk, bike, ski, or snowshoe through their miles of hiking trails or to meet some sweet little baby farm animals in the barn, Wolfe's Neck Center for Agriculture & the Environment is always an interesting spot.
Enjoy the L.L. Bean Flagship Store
Famous for the giant boot out in front (a size 410!!!), L.L. Bean Flagship Store is a whopping 220,000 sq ft and is open 24/7, 365 days a year, and a visit here is a part of this ultimate Maine Bucket List. In addition to the durable quality outdoor wear and accessories that L.L. Bean is known for, this store is also a part of why Freeport is such a fun and festive Maine Christmas destination!
As part of the town's Sparkle Celebration, L.L. Bean hosts Northern Lights, an immersive experience featuring a twinkle light tunnel, daily musical holiday light shows, and of course, all the shopping opportunities you could want! It is one of the most magical Christmas celebrations in New England, so if you're in the area during the holidays, it is an absolute must-visit!
Play at Wolfe's Neck Woods State Park
With over 200 acres of picturesque coastal Maine terrain, Wolfe's Neck Woods State Park is only 5-minutes away from downtown Freeport, but you'll feel like you are worlds away once you're tucked in among the white pine and hemlock forests or walking along the rugged shores of Casco Bay.
Explore the salt marsh estuary and then picnic in peace as you take in the sights and sounds of this natural paradise. Bring the camera, or just have your phone at the ready, because there will be photo op after photo op during your visit to this stunning state park!
Rest your Head at Harraseeket Inn
There are several choices for where to stay while in Freeport, but Harraseeket Inn offers award-winning amenities in a classic, down-to-earth Maine style while being perfectly located just steps away from L.L. Bean and the outlets!
Pick a room with a fireplace and a whirlpool tub to fully indulge in the comfortable luxury of this inn, and plan on eating at least a few meals onsite at the locally beloved Broad Arrow Tavern, open for lunch and dinner every day of the week. Swim a few laps in the indoor pool, and then enjoy a beverage or two at the firepit as a nice cap to your experience!
See What's Happening at the Arts & Cultural Alliance of Freeport
The Arts & Cultural Alliance of Freeport provides the community with engaging cultural events like history exhibits, concerts, art shows, theater, workshops, and so much more, featuring local Freeport talent. Check in with the community events calendar to see what's happening so you can sample a bit of the local arts and culture flavor for yourself!
Some events are recurring, like Makers on Main, held the first Saturday of the month, May through September, featuring arts, crafts, foods, and the local artists who make them.
Have a Brew or Two at Stars & Stripes Brewing Company
Veteran-owned, Stars & Stripes Brewing Company wants you to "Enjoy your beer, that's an order!" With offerings like "Wild Brew Yonder" and "Stout and Give Me 20," you'll be feeling that fighting spirit as you sample the distinctive flavors that Stars & Stripes serves up!
Stars & Stripes doesn't sell food but welcomes their customers to bring in whatever they'd like to munch on as they enjoy their brews, and you'll catch a food truck parked outside from time to time, too. There is seating indoors and out, and games like cornhole to keep everyone entertained; supporting a veteran-owned business has never been so fun!
Shop till you Drop at the Outlets
L.L. Bean gets a lot of attention in Freeport, and deservedly so, but there are so many other great shopping options in town, too! Check out the Freeport Outlets for fabulous stores like Coach, The Kitchen Store, Old Navy, and Talbots. There's also a Polo Ralph Lauren factory store and a North Face outlet.
You'll find great eats in this area of Freeport, too, like Brickyard Hollow Brewing Company, where you can sip on a tasty craft beer while you peruse their full brewpub menu. Heading back out to shop afterward will help burn any extra calories consumed, right?
Spring, summer, winter, or fall, you'll find there's plenty to do in Freeport, Maine. Even if you're just in the area checking out some of the Portland restaurants or lighthouses, make sure to head toward the coast for a little sampling of all the fun that Freeport has to offer!
---
You might also like:
---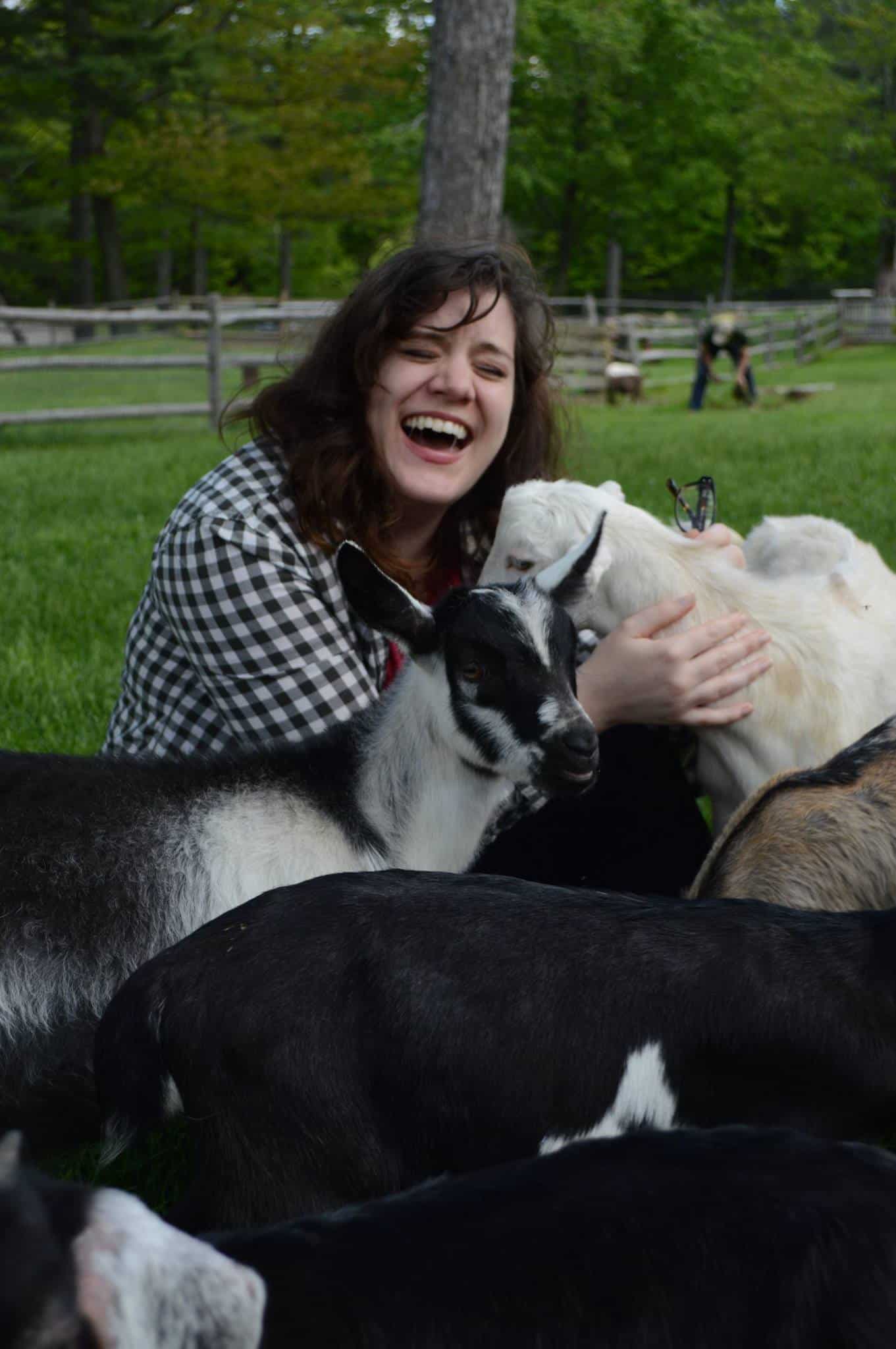 Amy Hartle is the founder and Editor-in-Chief of New England With Love, a comprehensive resource for travel in the New England region. Amy has been exploring New England since 2001. She lived in Vermont for many years and is a graduate of Plymouth State University in New Hampshire. Amy has been writing about travel for over a decade. On this site, Amy aims to share her love of New England and help you to have the best possible adventures!
Amy has been a full time blogger since 2012, and is also the publisher of Two Drifters, where she writes about couples travel and relationships, as well as Let's Adventure Baby, a family travel site. When not traveling the world or creating epic blog content, Amy can be found cuddling with her husband, son, and cats, & drinking a maple latte.