Deerfield, Massachusetts, is a great small town in New England to add to your travel list. With fun shops, great restaurants, and historical museums, there are so many excellent things to do in Deerfield MA.
This list was compiled with you in mind and includes all types of different activities. Even the pickiest of travelers will be able to find something to do during their trip from this list! There are both indoor and outdoor activities, as well as budget-friendly ones.
So, what are you waiting for? Here are all of the top fun things to do in Deerfield MA.
Shop at the Yankee Candle Village
One of the absolute most visited places in Deerfield is none other than the Yankee Candle Village. This village is just what it sounds like; a set of buildings, all a part of Yankee Candle that sells an abundance of different items.
In fact, visitors will find a lot more than just candles inside the village. There are tons of Christmas villages, candy, and more inside. Plus, guests can make their own candles at the candle dipping factory inside, too, which is something that kids will absolutely love to do during their trip to Deerfield.
Because the store is so large, you'll want to get there earlier in the morning. The shops can be super busy in the winter and summer months! Plan on spending at least half a day there. There's also a restaurant/cafe inside where you can grab a bite to eat while you're there!
Enjoy a Meal at Wolfie's Restaurant
Obviously, this list of fun things to do in Deerfield MA wouldn't be complete without mentioning at least one of the town's best restaurants. So, head over to Wolfie's Restaurant for some incredible American food loved by locals.
The inside of the restaurant is very comfortable and cozy, with wooden features and fun art hanging from the walls. There are also tons of unique chandeliers that help to light the interior. Guests can eat both indoors and outdoors, depending on the season.
The menu is super long and includes every type of American food that you could think of. There are salads, pasta, seafood, sandwiches, and more. There are also tons of appetizers like nachos, chicken wings, mozzarella sticks, and potato skins.
Learn at the Memorial Hall Museum
Want to do some learning during your trip to Deerfield? Consider visiting the Memorial Hall Museum. This museum is all about Deerfield's history, so it's the perfect place to get introduced to the area before doing some exploring on your own.
Throughout the museum, there are pieces dating back at least a hundred years ago. There are artifacts, including textiles, old furniture, paintings, and more. What makes it even better is that the museum is also situated inside an old historic building from the eighteenth century.
Depending on the time of year you visit, you may also be able to attend an event hosted at the Memorial Hall Museum. They host tons of different events open to the public so they can share the history of the area.
Take in the View from the Mount Sugarloaf State Reservation
Visiting the Mount Sugarloaf State Reservation is one of the best things to do in Deerfield MA. It's run by the public rec team that also runs all of the Massachusetts state parks, so the area is very well taken care of for the public.
The best view in all of Deerfield can be witnessed from the summit of Mt. Sugarloaf. Up there, you can see all the way out to the Connecticut River Valley, a truly unforgettable view. The park is also filled with tons of other activities, like mountain biking and picnicking.
For a real adventure, consider hiking to the top of Mount Sugarloaf. It's a big elevation gain at around 1400 feet, but it's around five miles long. It's best for those who have experience doing hikes, rather than just beginners, because of the distance and elevation gain.
See the Butterflies at Magic Wings Butterfly Conservatory
While there are many different gardens in Massachusetts, one of the most unique ones is Magic Wings Butterfly Conservatory. This conservatory is home to a few thousand different butterflies that the public can come and see.
What's so fun about this conservatory is that it aims to educate the public about butterflies. Kids in particular absolutely love visiting this location because of how hands-on you can get with the butterflies. How often do you get to stand surrounded by them?
In addition, the conservatory features a food court so visitors can eat during their visit there. There are also outdoor gardens and other fun spots, like a gift store, to buy some butterfly souvenirs.
Check Out the Geodes at the Rock, Fossil, and Dinosaur Shop
The Rock, Fossil, and Dinosaur Shop is one of the most unique places to visit in Deerfield. It's a green building filled with unique rocks! Families visiting the area must stop by this super cool shop for hidden gems of all types (pun intended).
One of the most unique things to do at this shop is to go gemstone panning. With this, visitors can go through mining bags to find special stones and rocks to bring home. It's almost like gold panning, but for other types of gems.
Another fun thing to do at the shop is to head out on a mine shaft tour. With this, kids can put on a hard hat and go into the shaft to find their own items to take home, including fossils, rocks, and even unique gemstones.
Have a Sweet Treat at Bittersweet Bakery & Cafe
For a sweet treat, head over to the Bittersweet Bakery & Cafe. This fun bakery is home to tons of delicious snacks for any sugar craving. The bakery was founded by Laura Newton, who had dreamed of starting her own place to share her sweet treats.
The menu features every type of sugary treat that you could imagine. There are blueberry coffee cakes, cinnamon buns, cider donuts, scones, and even coconut macaroons. They also have traditional ice cream, brownie sundaes, and ice cream sandwiches for those who want a cooler treat in the summer.
While they specialize in baked goods, they also have a cafe portion of their menu. At breakfast, they serve breakfast sandwiches, bagels, avocado toast, and other dishes. Be sure to add a coffee or hot chocolate to top it all off.
Go on a Walking Tour of Historic Deerfield
The best place to go to step back in time in Deerfield is at Historic Deerfield. This is a historical museum that features an abundance of old homes that teaches people about the area's history through tours and artifacts.
Each season, Historic Deerfield offers an abundance of different tours for people to learn more with a guide. These tours usually happen hourly and at certain times of the week. Tour times change throughout the year, though, so be sure to do some quick research before making your plans solidified.
They usually have a tour of different topics and also different houses. These include the Henry Needham Flynt Silver and Metalware Collection tour, the Flynt Center of Earthly New England Life tour, and the Ashley House tour.
Have a Pint at Berkshire Brewing Company
For a fun night out while in Deerfield, stop by the local Berkshire Brewing Company. This small brewery offers tons of local drinks and also offers tours for visitors. On any given evening, this brewery can be found filled with tons of people.
The brewery opened back in 1994 and keeps its drinks in small batches. They have many exciting flavors on their menu, including Coffee House Porter, Green Grown Double IPA, and Lost Sailor IPA, among others.
The beer garden is huge, and there are tons of picnic tables throughout where visitors can sit and enjoy their pints. This is the perfect place to go for a gathering or to just meet with locals!
Visit the Williams Farm Sugarhouse
When visiting New England, travelers must absolutely stop by at least one sugarhouse. Luckily, Deerfield is home to one called the Williams Farm Sugarhouse. They make pure Massachusetts maple syrup that is absolutely delicious. Plus, they're located right near the Yankee Candle.
They have a store right on site where guests can take some of the maple syrup home. They have every size and grade imaginable. Plus, there is also maple sugar candy, maple cream, gift boxes, and more available in their store. There's even a maple cookbook that you can bring home to make maple treats of your own.
The Williams Farm Sugarhouse has different tours available throughout the year as well, though they are seasonal. These tours bring guests behind the scenes so they can learn more about the sugaring process and have any questions they might have answered!
This post was all about the best things to do in Deerfield MA. Enjoy your trip, and don't forget to share this post with other travelers who are visiting the area!
---
You might also like: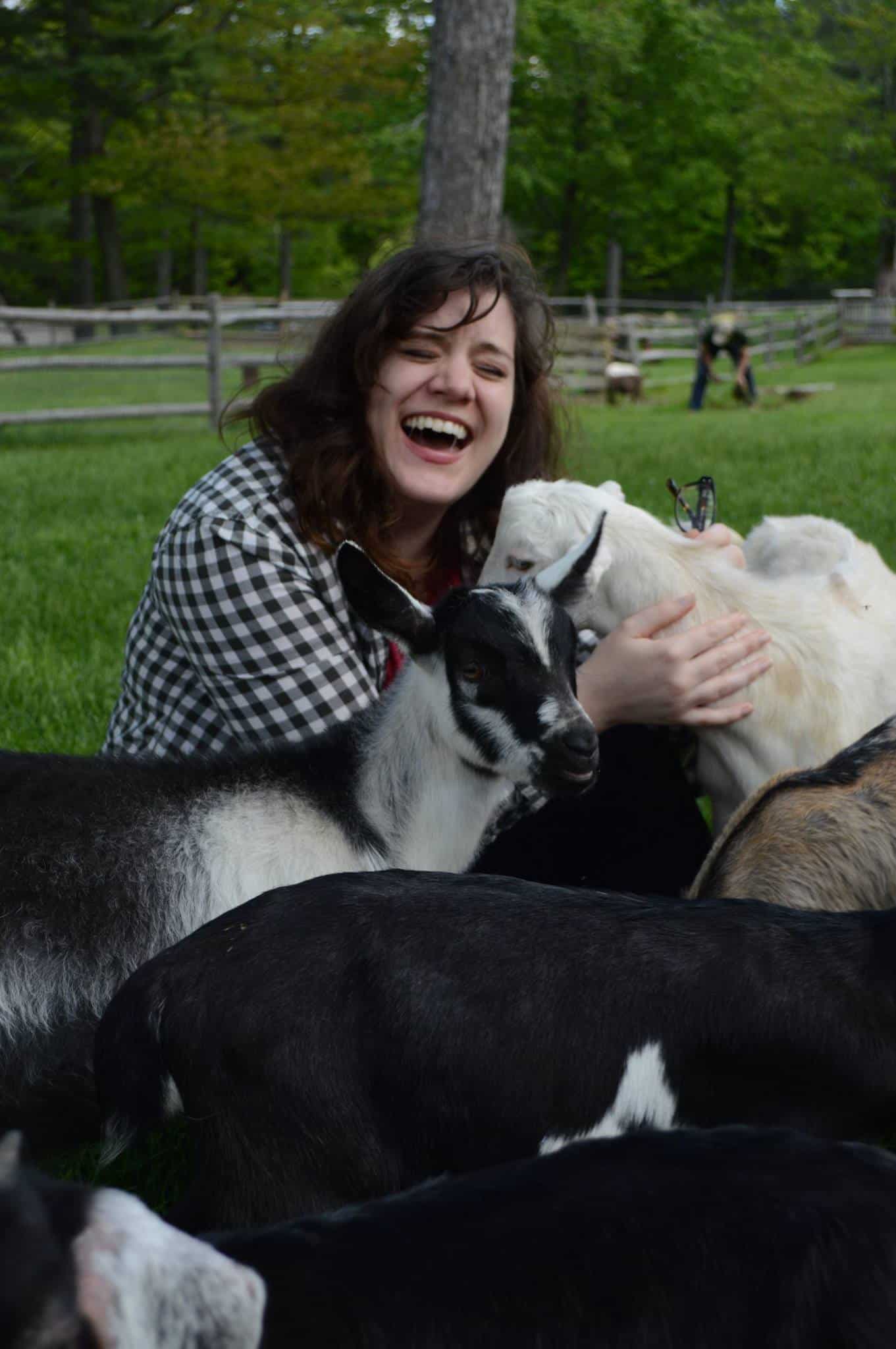 Amy Hartle is the founder and Editor-in-Chief of New England With Love, a comprehensive resource for travel in the New England region. Amy has been exploring New England since 2001. She lived in Vermont for many years and is a graduate of Plymouth State University in New Hampshire. Amy has been writing about travel for over a decade. On this site, Amy aims to share her love of New England and help you to have the best possible adventures!
Amy has been a full time blogger since 2012, and is also the publisher of Two Drifters, where she writes about couples travel and relationships, as well as Let's Adventure Baby, a family travel site. When not traveling the world or creating epic blog content, Amy can be found cuddling with her husband, son, and cats, & drinking a maple latte.