Bridgeport is the largest city in Connecticut, and there is a LOT to see and do in this city on the Sound! Beautiful coastal views combine with a diverse populace to create a fun and welcoming community to visit.
Bridgeport's prime location along Connecticut's coast means visitors will find plenty of things to see and do, and this historic city knows how to leverage its fantastic location to serve up a good time for residents and visitors alike! Below are all of the best things to do in Bridgeport CT!
The Stress Factor Comedy Club
Get your laugh on at Stress Factor Comedy Club, Bridgeport's favorite place to be entertained by comedy's current greats! Some of the big names that have performed on The Stress Factor's stage are Damon Wayans, D.L. Hughley, Jim Breuer, Gary Owens, and so many more of comedy's favorite stand-up artists.
Check the calendar and plan to spend a night out at The Stress Factor laughing all your stress away during your next visit to Bridgeport!
Beardsley Zoo
One of the neatest zoos in New England, Beardsley Zoo focuses on education and conservation, working to ensure that animals are well-cared for and that visits to the zoo are informative and interesting yet still respectful of the animals' space.
You'll find big cats like leopards and tigers, little critters like prairie dogs and chinchillas and everything in between! Informative lectures take place in the evening, covering all kinds of information about wildlife and the conservation efforts being taken at Beardsley Zoo.
Seaside Park
Seaside Park is a 325-acre waterfront park that offers walking trails, picnic areas, a beautiful beach, and fabulous views of the Long Island Sound! This gorgeous park exists in its current glory in part due to the famous P.T. Barnum's interest in developing this space that was once salt marshes and tricky to travel upon rocky paths; his push to clear the area so that all may enjoy the space is what led to Seaside Park's transformation into the beautiful park that it is today.
Housatonic Museum of Art
Located in the Housatonic Community College, the Housatonic Museum of Art is a whopping 300,000 sq feet of space that houses a great collection of artworks that span the range from ancient to modern.
In addition to the exhibits that cycle through the Housatonic Museum of Art, there are also educational lectures, programs, and demonstrations that provide even more cultural and artistic enrichment for the Bridgeport community. Follow the event calendar to see what's coming up next at the Housatonic Museum of Art.
Downtown Cabaret Theatre
The Downtown Cabaret Theatre is a local favorite that provides great live theatre to the Bridgeport community. With a BYOB and picnic-style refreshment framework, Downtown Cabaret Theatre brings the entertainment, you bring the beverages and snacks. Plus, this intimate theatre venue doesn't really have a bad seat in the house. Click here for tickets to upcoming shows!
Black Rock Harbor Light (Fayerweather Island Light)
Initially built in 1808, the Black Rock Harbor Light, also known as Fayerweather Island Light, was destroyed by a hurricane in 1821. The structure of the Black Rock Harbor Light that is seen today was rebuilt in 1823, still standing strong and lighting the way for vessels on the sea!
Technically, this lighthouse is connected to Seaside Park via a mile-long rocky breakwater, so you can walk out to it (with sturdy shoes on!) or you can view it by boat. Either way, this lighthouse is a lovely sight to see.
The Barnum Museum
The Barnum Museum is dedicated to preserving and sharing the history of P.T. Barnum, the local history of Bridgeport, and promoting P.T. Barnum's grand endeavor to inspire through instructive entertainment. Sadly, the main museum was severely damaged by a tornado and as of 2021, is still being renovated.
There is a temporary exhibit gallery that remains open in the People's United Bank Gallery behind the museum, containing personal artifacts of P.T. Barnum and Tom Thumb, as well as some additional items of local interest, and is well worth a peek while visiting Bridgeport!
The Bijou Theatre
The oldest theater in America still operating as a theater, the Bijou Theatre has seen so much grand history in its day: Vaudevillian acts, silent films, live music, dance, theatre, and on and on.
This beautiful theatre continues to entertain Bridgeport with both film and live events; an event list can be found here. Concessions can be bought on-site, and coming to the Bijou for a night out remains one of the best ways to spend a night out in Bridgeport!
Discovery Science Center and Planetarium
The place to go in Bridgeport to have hands-on STEM learning experiences, the Discovery Science Center and Planetarium is geared mostly towards kids, but still offers plenty of fun for the adults in the group, too! The Henry B. duPont III Planetarium is an immersive experience that gives a thrilling peek at the world beyond our planet.
If you'd rather get outside and explore, visit the Adventure Park, where you can partake in a variety of challenging obstacles and activities, like outdoor axe throwing, ziplining, and more!
St. Mary's by the Sea
St. Mary's by the Sea is a lovely little waterfront park that provides stunning views of Long Island Sound and Black Rock Harbor. Sit back and relax in one of the many benches facing the sea or stretch your legs and stroll along the walkway, enjoying the sights and sounds of this darling park. There are picnic tables for picnic lunches by the sea, too!
City Lights
Bridgeport's art gallery City Lights is a community staple, showcasing local art and hosting events, workshops, and classes. City Lights also produces Bridgeport Art Trail, the annual city-wide celebration of art in the community. Whether you happen to be in town for the Bridgeport Art Trail festivities or not, City Lights is a must-visit destination for any lover of art.
The Klein Memorial Auditorium
The Klein Memorial Auditorium is a gorgeous performing arts center that has been offering Bridgeport a beautiful venue for their performing arts needs. Currently, The Klein is home to the Fairfield County Children's Choir, Greater Connecticut Youth Orchestras, the New England Ballet Company, and ConnectUS.
Whether you're coming to see one of the resident groups perform, or one of the many award-winning talents that come to grace the stage, The Klein is always offering something wonderful on its calendar!
Tongue Point
Affectionately referred to as The Bug, Tongue Point stands at a modest 31 feet tall, but that's all this little lighthouse needs to perform its duties as a breakwater guard. Best seen by boat, its dark paint offers a striking juxtaposition as the light here moves from daylight to dusk, so photos of Tongue Point taken at dusk tend to come out beautifully if you can catch the sun setting behind it at just the right time!
Captain's Cove Seaport
Located in the historic Black Rock community, Captain's Cove Seaport offers a lot of fun along the Black Rock Harbor. Walk the boardwalk and do a little shopping, then head over to Captain's Cove Restaurant to sample some tasty Connecticut coast staples like Lobster Rolls while watching the sailboats and other sea vessels travel through the marina. Be sure to check in to see what kind of community events are happening out at Captain's Cove Seaport during your next visit to Bridgeport!
Connecticut has many great places to visit, and Bridgeport is one of them. With so many fun things to see and do, Bridgeport is the kind of coastal Connecticut city that guarantees you won't be bored during your stay; have fun planning your trip to Bridgeport!
---
You might also like:
---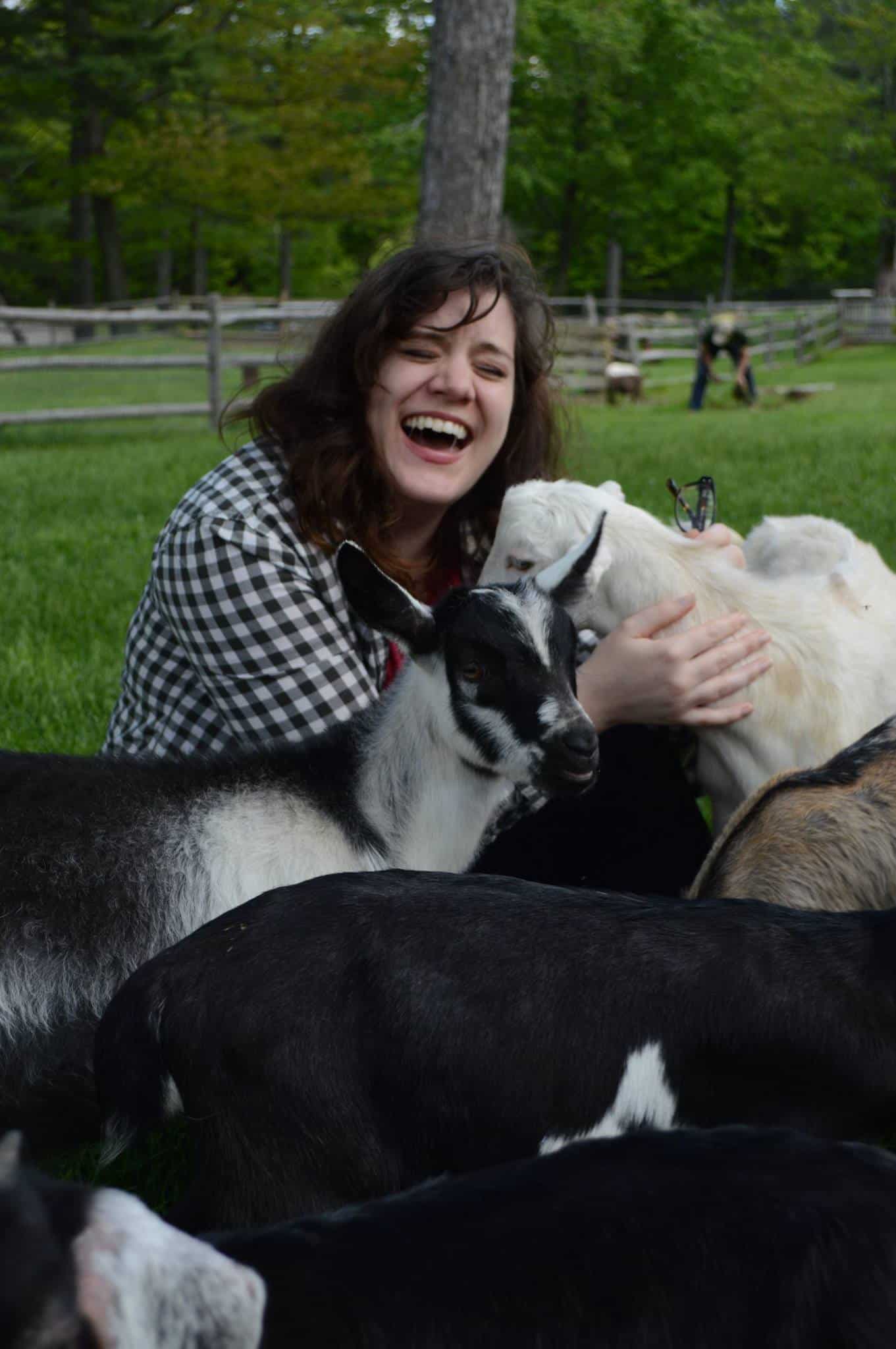 Amy Hartle is the founder and Editor-in-Chief of New England With Love, a comprehensive resource for travel in the New England region. Amy has been exploring New England since 2001. She lived in Vermont for many years and is a graduate of Plymouth State University in New Hampshire. Amy has been writing about travel for over a decade. On this site, Amy aims to share her love of New England and help you to have the best possible adventures!
Amy has been a full time blogger since 2012, and is also the publisher of Two Drifters, where she writes about couples travel and relationships, as well as Let's Adventure Baby, a family travel site. When not traveling the world or creating epic blog content, Amy can be found cuddling with her husband, son, and cats, & drinking a maple latte.