You may not have noticed if you don't live in the area—but Biddeford, Maine is having a moment. As housing costs in Portland and surrounding commuter neighborhoods skyrocket, more folks are heading twenty minutes south to Biddeford for lower rents, less crowds, and a more tight-knit community. The result has been a rapid expansion of hip watering holes, chic eateries, and a downtown shopping district that can't be missed, because there are so many things to do in Biddeford.
The same comparison keeps popping up from residents and visitors alike: Biddeford feels like the Brooklyn of Maine, right now. For your next trip to Maine, it's absolutely worth blocking a day (or two!) to explore Biddeford and see what all the buzz is about. Check out some of our favorite destinations, activities, and tips for enjoying Biddeford like a local.
Biddeford has long been defined by a few important features: the Saco River, a vast complex of mill buildings along the river, and Biddeford Pool—a mile-wide tidal pool surrounded by summer homes, dune grass, and sand beaches.
The textile industry, centered around hydro-powered mill buildings on the Saco River, was once a great driver of Biddeford's economy. When American textile companies began closing due to a number of factors (labor costs, environmental concerns, outsourcing, etc.), Biddeford's prominence slowly but surely deflated, and they are now a part of Maine's history.
Revitalization and reinvestment on the local and state level has helped the mill buildings come roaring back as a thriving campus for small businesses, artisans, restaurants, breweries, and more. That resurgence has helped the downtown, too—some of Maine's hottest restaurants are nestled right next to the Saco River in the shadow of the mill buildings.
Food and Drink
Palace Diner
When the chefs from a 15-seat diner serving breakfast and lunch end up on the short list for a James Beard award, you know something special is happening. Though the line can sometimes stretch for hours on weekends at Palace Diner, you can often snap a spot in mere minutes on a quiet weekday.
Come for the quaint, vintage-diner charm and chill playlist, but stay for the pancakes worthy of poetic praise and the thickest, tastiest tuna melt you'll ever have. There truly isn't a bad option on the small yet might menu—yet the burger, fried chicken sandwich, and crispy Palace Potatoes are without equal.
An absolute must-visit and a true ambassador of Maine's renaissance of hip dining.
Elda
Maine's abundance of high-quality seafood is truly worth celebrating. And Elda does just that: a tasting-menu format built around fresh, local seafood and foraged ingredients cooked in simple, thoughtful ways that never get in the way of showcasing natural flavors.
In an era of dining where farm to table feels more like a marketing term than a reality, Elda stands alone as being truly driven by its relationship with ingredients. Intentional, minimal, and expertly orchestrated, Elda holds its own against the great fine dining giants of New York and San Francisco—and at a fraction of the cost, mind you.
The menu changes daily, but some recent highlights include fresh Maine sea urchin, hay-flamed scallops in seaweed butter, and root vegetables roasted in hay with egg yolk and whiskey. The Elda team also runs a casual café called Jackrabbit with Nordic-inspired breakfast and lunch options downstairs from their main dining room that's also worth checking out.
Lorne Wine
A wine bar and bottle shop that's made a name for itself by turning the traditional wine shop snobbery upside down. A friendly and jovial spot to sip good wine and snack on cheese balls, the usual pretentiousness of the wine industry couldn't be more removed from Lorne Wine.
Think tattoos, punk music, pride flags, laughter, magnums of carefully sourced Riesling, and pimento cheese with saltines and hot sauce all in a gorgeously decorated spot full of playful patterns and bright colors.
The shop has become a quintessential neighborhood hangout for business owners and hospitality workers—so if you're looking to chat up some locals and learn about the community, this is the place.
Banded Brewing
Way back in 2013, Banded Brewing took a chance on the Biddeford Mill Buildings as a future hospitality hub and opened the town's first brewery. The bet paid off and Banded has been a staple of the community ever since.
It's the post-work watering hole for just about every business in the mills and the patio is often abuzz with events and gatherings. They've since expanded to a second location in Portland, but we'd be hard-pressed to not hold a special place in our hearts for the original location.
They've got some year-round crowd-pleasers—the Pepperell Pilsner (named for the mill building, in fact) and Veridian IPA are our favorites—as well as some fun seasonal brews like Greenwarden, a yearly spruce tip pale ale available late spring into early summer. And while you're there, don't sleep on the snacks—the grilled cheese selection and wings are awesome.
Round Turn Distilling
If beer and wine aren't quite doing it for you and you're craving a proper cocktail, Round Turn has you covered. One door over from Banded Brewing, Round Turn Distilling has a beautifully curated cocktail list filled with both classics and playful, modern creations alike.
This small but mighty distillery is home to Bimini Gin—a modern American gin inspired by warm summer days along the Maine Coast. Despite being handcrafted and hand-bottled in sleepy coastal Maine, Bimini Gin is showing up at cocktail bars all over the country from New York to the west coast.
The Bimini Gin lineup now includes Bimini Coconut, Bimini Barrel Reserve, and Bimini Overproof in addition to the original. So pull up a barstool, crack open the cocktail menu, and order a flight of Gin and Tonics (yes, really… it's a thing).
Shopping
Looking to hit some shops downtown and wander around? The storefronts nestled between the mill building campus and Main Street have got you covered. Be sure to check out a few of our favorites…
Elements
Element is the coffee bar and bookshop that every neighborhood deserves. Order up a well-crafted espresso drink to fuel your shopping spree and browse the shelves for your next read. You'll find friendly staff, an excellent book selection, a light and airy space, and plenty of good snacks and local beer.
You'll leave fully caffeinated and with an armful of new books to crack open on the beach just a few miles down the road.
Hills and Trails
A lifestyle clothing and home goods shop on Main Street that somehow feels like much, much more. The owners, Kanya and James, built the shop back in 2016 to sell shirts and other screen-printed items they were meticulously making in their basement studio.
With eco-friendly dyes, a sustainable printing process, and "upta camp" designs that pay homage to Maine's tradition of outdoor recreation, Hills and Trails has become a smash hit. For many locals, the shop represents a perfect marriage of creativity and outdoor adventure—a driving force behind so many urban 30-somethings flocking to the state for a better quality of life.
Hats, sweatshirts, stickers, posters, and curated goods built for a slow weekend in a cabin and some serious mileage on the trails: prepare to leave with one of everything.
Nibblesford
With a long-running push towards big chain grocery stores, neighborhood specialty food shops have certainly become an endangered species of small business. Yet, behold: Nibblesford cheese shop in downtown Biddeford.
You'll find cheeses and provisions from local farms, local beer and wine, and local art—as well as a convincing argument that downtowns are hip, once again. Here's a fun idea: Nibblesford's custom-built charcuterie boards might be designed for entertaining, but a small one is perfect for a date-night-in at your hotel or rental while on the road.
Suger
Originally a brick-and-mortar for a line of locally-produced, bamboo-based sustainable women's clothing called Angelrox, Suger has grown to be much more.
Their newest flagship store in Biddeford has clothing—handmade in the Biddeford mills right across the street, mind you—plus home goods, tea, candles, jewelry, soap, and skincare all sourced from Maine artisans and makers.
If you're visiting Maine and looking for a thoughtful gift to bring back home, this is the place to get it!
Outdoor Recreation
Though mostly known for its downtown along the Saco River, Biddeford has miles of shoreline for beach hangs, hiking, and recreating. Biddeford Pool, Middle Beach, and Fortunes Rocks provide ample access to sandy beaches.
Parking can be tricky and most locals will have town-issued passes, so plan to get there early in the day for a 1-, 3-, or 7-day pass from an automated kiosk in each lot. Biddeford Pool has the biggest lot, so that may be your best bet.
And while you're in the area, be sure to check out Pool Lobster at Goldthewaite's for a lobster and some steamed clams. Pool Street Market, on the drive to the beach from downtown, is an excellent option for an inexpensive, no-thrills, but still delicious lobster roll, too.
At all the local beaches you'll find tons of morning surfers and a few evening bonfires, as well; you can join in the fun, but be sure to get a free, day-of permit at the Biddeford Fire Department and have a metal ring to contain your fire.
If you're up for a nature walk, Biddeford's coastline has some great options. East Point Audubon Sanctuary near Biddeford Pool offers gorgeous views of Wood Island Lighthouse and excellent bird watching.
On the southern side of town near the border with Kennebunkport, Timber Point is a local favorite. An extension of the Rachel Carson Wildlife Refuge, the easy hike has shoreline access for beachcombing and tidal pool shenanigans. If you time your hike properly, you can use a shallow sandbar at low tide to reach Timber Island.
Make sure you check the tide charts to ensure this is a safe option! The trailhead lot is quite small, so be prepared to turn around if needed and come back in an hour or so.
—
You might also like: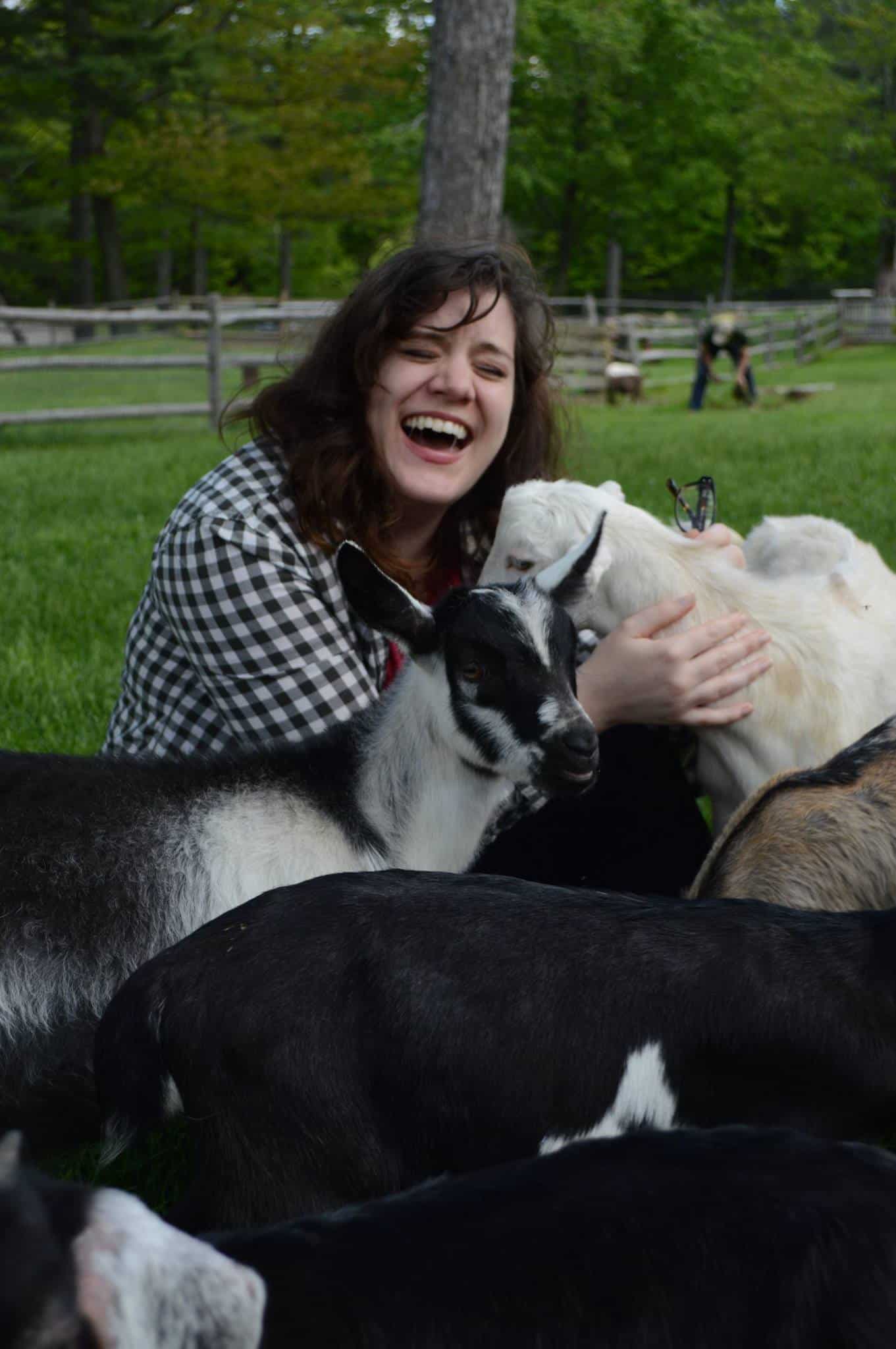 Amy Hartle is the founder and Editor-in-Chief of New England With Love, a comprehensive resource for travel in the New England region. Amy has been exploring New England since 2001. She lived in Vermont for many years and is a graduate of Plymouth State University in New Hampshire. On this site, Amy aims to share her love of New England and help you to have the best possible adventures!
Amy has been writing about travel for over a decade, and is a full time blogger, publishing both Two Drifters and Let's Adventure Baby. When not traveling the world or creating epic blog content, Amy can be found cuddling with her husband, son, and cats, & drinking a maple latte.