Bar Harbor, Maine, is arguably one of the most beautiful places to visit in Maine, if not all of New England. It's most well known for being home to Acadia National Park, which covers almost all of Mount Desert Island. Luckily, if national parks aren't your favorite, there are many other things to do in Bar Harbor.
This is a popular destination for not only families but also those looking for a romantic getaway. It's located right on the ocean, so the views are incredibly almost everywhere. Plus, the seafood is truly delicious!
Below you'll find some of the best things to do in Bar Harbor Maine, but if you're looking for things to do in Bar Harbor Maine this weekend or what to do in Bar Harbor ME today, check out this local calendar to see what Bar Harbor Maine events will be happening during your visit.

Psst! Want a more detailed itinerary? Check out our 3-Day Acadia/Bar Harbor itinerary, which includes most of the activities below!
Adventure through Acadia National Park
Acadia National Park is easily one of the top things to do in Bar Harbor. It's one of the most beautiful national parks in all of the United States! This park covers 47,000 acres and is on Mount Desert Island.
The entire park is filled with walking trails, wildlife, lakes, and more. Bar Harbor is arguably the best place to stay while visiting Acadia National Park, and you could easily explore the park over multiple days because of how big it is. One of the best places in the park is Cadillac Mountain, which is also listed later in this article. Stay tuned!
See the view at Thunder Hole
Thunder Hole is one of the most scenic parts of Acadia National Park. It got its name because the waves' sound against the rocks sounds almost like thunder. There's a distinct walking area here so that visitors can easily experience it.
Thunder Hole is one of the more popular parts of Acadia National Park to visit, so you'll want to try to get there earlier in the day to avoid the crowds. You might also want to visit while wearing a rain jacket or bring an umbrella because you may get hit by one of the waves as it crashes up against the rock; this is one of those very unique things to do in Bar Harbor, Maine!

Take a boat tour on Frenchman Bay
Frenchman Bay is named after the historic explorer Samuel de Champlain. It covers more than 15 miles of land and is best toured by hopping on a boat. Luckily, there are quite a few different boat tours that will bring you around the bay so that you can take in the views!
When booking a Bar harbor boat tour, make sure you book well in advance. You never know how quickly spots will get reserved, and the best boat tours Bar Harbor offers can book up pretty fast.
Catch the sunrise at Cadillac Mountain
Cadillac Mountain is considered the best part of Acadia National Park to catch the sunrise. Plus, you don't even have to hike to get to the top! This is lifesaving because the hike to the top of the summit is 1,529 feet!
Most people will get to the top by driving up Cadillac Summit Road. It can be pretty chilly, especially in the morning, because it's so high up. Dress appropriately, and bring a blanket even if you are visiting in the summer. This can get pretty overcrowded during peak seasons, so try to wake up extra early to get a good spot.
Prefer to hike? Check out our list of the best hikes in Acadia National Park for Cadillac and many other trails.
Get acquainted with Bar Harbor at Hulls Cove Visitor Center
If you've never been to Bar Harbor before, then make your way to Hulls Cove Visitor Center. It's the educational visitor center for Acadia National Park and will introduce you to all of the information you could ever want to know about the state park.
You'll also be able to learn more about events and activities that are run by park rangers here, which can be great if you're traveling with younger kids. While here, be sure to grab a map too so you can outline all the places to visit Bar Harbor Maine has… Acadia National Park is enormous, and it can be easy to get lost if you're not careful!
Ride and tour Oli's Trolley
Oli's Trolley is a fun tour organization in Bar Harbor! Essentially, you get brought on a tour with a local guide while in a trolley. This sort of tour is fun for all ages, but make sure you book your tickets well in advance. This is one of the top-rated tour agencies in Bar Harbor!
The tours are narrated, and they offer a few different ones. Options include tours of Cadillac Mountain, Acadia National Park, or downtown Bar Harbor! Of course, the downtown Bar Harbor tour is the cheapest, with adult tickets only costing $18 a person and child tickets costing $13 per person.
See Egg Rock Lighthouse
The Egg Rock Lighthouse is one of the most picturesque attractions in the area. That's why it deserves a spot on this list of fun things to do in Bar Harbor! It overlooks Frenchman Bay, which was mentioned earlier in this list.
This lighthouse was built in the nineteenth century and is considered one of the most interesting lighthouses in the whole state. It has a square tower, which is incredibly unique and unlike any other lighthouses in the area! It was named because of all of the eggs that were commonly found in the area.
Learn at the Abbe Museum
One of the best educational things to do in Bar Harbor is to visit Abbe Museum. This museum opened in the early twentieth century and is all about the state's heritage and culture of the natives of the state, who are called the Wabanaki.
The museum itself has two locations: one in downtown Bar Harbor and one in Acadia National Park. Exhibits rotate throughout the year and often include art. Sometimes they even feature student art shows which are incredibly unique.
Watch the boats from Agamont Park
Next up is Agamont Park! This is truly one of the most breathtaking parts of Bar Harbor. This park is located right along the water and is near the downtown area, so it's easy to find but often overlooked as one of the top Bar Harbor things to do. It's right next to Bar Harbor's Main Street.
Because it overlooks the water, one of the best activities here is to pack a picnic (or grab lunch from a local Bar Harbor restaurant) and then sit at one of the benches. From there, you can watch all of the great boats on the water. If you're looking for simple Bar Harbor activities, this is also an epic spot to watch the sunrise or the sunset, especially in the summer!
Go whale watching
Because Bar Harbor is right on the water, one of the best things to do here is to go whale watching! A few tour operators offer this, but Bar Harbor Whale Watching is the top-rated and most popular option to choose.
You'll want to book your ticket well in advance. Around one million people have toured with this company, and that number is only growing. Tickets often sell out! The best time to try to go on one of these tours is between May and September if you want to make sure you see a whale during your tour; this is definitely one of the best things to do with kids in Bar Harbor!

Walk along Shore Path
Shore Path is one of the best walking trails in Bar Harbor. It's located right along the coast and offers some of the best views everywhere that you walk. The path is pretty easy, so you could easily walk it with a family. It ends near Main Street too!
The Shore Path is only about one and a half miles long, but it is often used. Because of that, it may be pretty busy if you happen to walk it during peak times to visit Maine, which is usually in the summer. However, the stroll is so pleasant that it's genuinely one of the top things to do in Bar Harbor.
Eat at Jordan Pond House
Jordan Pond House is arguably one of the best restaurants in all of the Bar Harbor area. It's in Acadia National Park and offers some of the best views from the nearby pond to the surrounding mountains that will genuinely take your breath away.
They offer a wide variety of entrees, so even the pickiest eater will be able to find something to satisfy their hunger on this menu. Most of the meals are mid-range to expensive. For a treat, try the boiled lobster!
Editor's Note: Don't miss the popovers; they're incredible! –Amy
Have fun at Diver Ed's Dive-In Theater
Diver Ed's Dive-In Theater is one of the more fun things to do in Bar Harbor! This is essentially a fun boat tour where you watch Diver Ed go underwater after all the kids onboard get to push him off the boat.
Inside the boat, there are screens so you can watch Diver Ed explore the bottom of the bay. One of the other captains narrates the whole experience. In the end, Diver Ed comes back up and shows off some of his findings, most of which are sea creatures. Definitely book in advance as this is one of the most popular things to do in Bar Harbor Maine with kids!

Do some shopping
You'll definitely want to spend some time strolling downtown Bar Harbor and patronizing some of the adorable and unique shops! Have fun shopping for your Bar Harbor and Acadia souvenirs!
Experience Bar Harbor nightlife
While Bar Harbor Maine is not a "party town," it does have some fun nightlife! Visit downtown's Improv Acadia for karaoke nights, trivia nights, live music, standup comedy, and YES, of course, improv. If it's more a classic pub experience you're after, the One Off Pub in downtown Bar Harbor– also the site of Bar Harbor Beer Works— is one of the best places to eat in Bar Harbor and is the perfect spot to relax downtown with some tasty pub grub and small batch craft beer. If you're looking for things to do in Bar Harbor, Maine at night, you've got some options!
Book a room at Bar Harbor Inn and Spa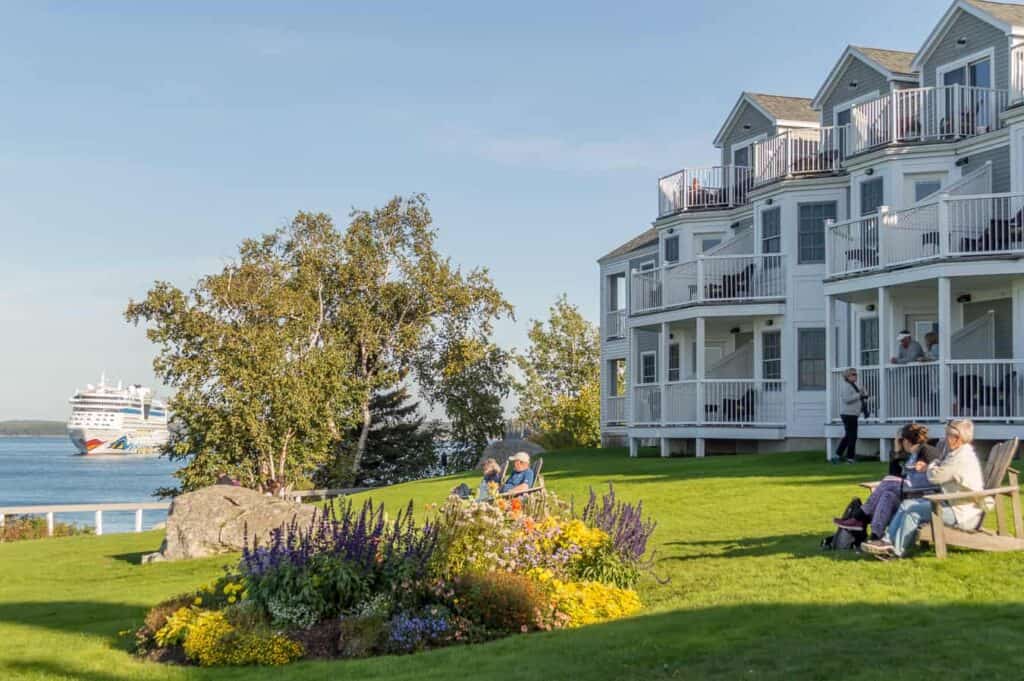 There are plenty of great options for where to stay in Bar Harbor and Acadia, including cool vacation rentals, cabins, and campgrounds, but! If you're looking for a place to stay in Bar Harbor that offers gorgeous coastal views and all the creature comforts a person could want during a Bar Harbor vacation, Bar Harbor Inn and Spa is a perfect choice! With an onsite spa, swimming pool, hot tub, and not one, but TWO of the best places to eat in Bar Harbor, a stay at Bar Harbor Inn and Spa basically checks all the boxes.
Click Here to Check Prices & Book!
—
There are so many fun things to do in Bar Harbor Maine. This post covered a wide range of different Bar Harbor activities, so hopefully, you've found some great Bar Harbor attractions to fill up your itinerary.
---
You might also like:
---
Krystianna is a born and raised Vermonter and lived in the state for 22 years. She is the founder of Volumes & Voyages, a blog devoted to books and travel. After studying abroad in Dublin for a semester, Krystianna got bit by the travel bug and has been chasing her wanderlust ever since.