What better way to enjoy New England than by going to a small town? Amherst, Massachusetts, is a college town filled with quaint cafes, hidden gems, outdoor adventures, and all kinds of activities for everyone.
Whether you're visiting for an entire weekend or just passing through as part of your vacation plans, Amherst has plenty to offer! To help get you started on your trip-planning journey, here is our list of 13 best things to do in Amherst MA.
Best Things to do in Amherst MA
Peruse The Eric Carle Museum of Picture Book Art
If you're visiting Amherst, you can not miss out on a stop by The Eric Carle Museum of Picture Book Art. The museum celebrates the art of picture books (making it perfect for families headed here) and their impact on our lives.
Visitors can explore a wide range of art by many illustrators (including Eric Carle), whose iconic books have delighted children for decades. In addition to permanent collections, the museum frequently hosts special exhibitions featuring emerging talent.
The museum also offers educational programming for people of all ages and backgrounds, encouraging everyone to explore their creativity through stories and illustrations. Don't miss out on this unique experience when coming to Amherst!
Explore Mount Holyoke Range State Park
To get outdoors during your trip to Amherst, be sure to make it to nearby MA state park Mount Holyoke Range State Park. The park offers spectacular views, hiking trails, and a variety of recreational opportunities that make it the perfect place to explore on a day trip.
Mount Holyoke Range State Park is an adventure-seeker's paradise. The best thing to do in the park is to hike the popular Seven Sisters Trail. Additionally, there are plenty of opportunities for birding, nature photography, and wildlife watching as well. No matter what your interests may be, Mount Holyoke Range State Park has something for everyone.
Buy local at Amherst Farmers' Market
One of the best things to do when visiting any small New England town is to shop locally. Luckily, it's easy in Amherst with a visit to the Amherst Farmers' Market. The market is home to a variety of fresh fruits and vegetables, farm-raised meats and eggs, artisanal cheeses, honey, maple syrup, prepared foods, locally-brewed beer and wine, and much more.
By shopping at the Amherst Farmers' Market, you are helping to keep local vendors in business as well as contributing to the local economy. The products found here are also typically fresher than those found in grocery stores due to the shorter journey they take from farm or producer to market.
The Amherst Farmers' Market brings together a unique mix of craftsmen and farmers who produce some of New England's finest food products available anywhere.
Catch a show at Amherst Cinema
If it's rainy during your visit to Amherst, go catch a show at the Amherst Cinema. The theater offers a wide variety of films from independent, foreign, classic, and Hollywood releases alike. This diversity of films in different genres makes it easy to find something that appeals to all tastes.
Furthermore, the theater has comfortable seating and plenty of legroom, ensuring you'll be able to enjoy the film without feeling cramped or uncomfortable. With such an awesome selection of films, comfortable seating, tasty snacks, and great customer service, it's no wonder why people should catch a show at Amherst Cinema when visiting Amherst.
Relax at Elements Hot Tub Spa
Want to truly relax and indulge during your trip to Amherst? Then stop by the locally-owned Elements Hot Tub Spa. It's been a local favorite since 2007. They have a variety of tub rooms like water room, spirit room, fire room, air room, and earth room. Three of them are indoors, while two are outdoors, so you can even choose depending on the weather.
In addition to the spa rooms, though, you can get amazing relaxing sensations from body treatments, skincare, massages, and more. There are even spiritual wellness packages if that's up your alley. Just be sure to book far in advance.
Have a drink at The Moan & Dove
The Moan & Dove in Amherst, Massachusetts, is the perfect place to stop for a drink when visiting the area. It offers an inviting atmosphere and an extensive selection of craft beer and cocktails.
If you're looking for a cozy atmosphere to relax and enjoy some tasty drinks, The Moan & Dove is the place to be! With friendly staff and delicious drinks, this is definitely one spot in Amherst that should not be missed. You'll often find locals here rather than tourists, so who knows who you might meet during your visit.
Wander around the Emily Dickinson Museum
Literary fans should stop by the Emily Dickinson Museum. Not only does the museum house artifacts and memorabilia from Dickinson's life, but it also provides a unique opportunity to experience the poet's literary legacy in a tangible way. The museum is located on the grounds of Dickinson's former home, and visitors can explore many areas of interest.
It's a great place to learn more about her life, as well as ponder over her work while surrounded by a peaceful atmosphere. Visiting the Emily Dickinson Museum will give you a deeper appreciation of this iconic poet and her writings.
Check out the grounds at Amherst College
Don't forget that Amherst is also a college town – stop by the actual Amherst College during your visit. With its rich history, stunning architecture, and beautiful grounds, Amherst College is a must-see landmark.
Visitors can take in the architecture of the classic college buildings while also enjoying the beautiful landscape of the campus grounds. There are plenty of activities to enjoy on campus, like stopping by the library or attending an athletic event. Just be careful if a class is in session; you don't want to be a distraction to students actually going to school.
Do some shopping at Atkins Farms
Atkins Farms is an absolute must-visit in Amherst. This is a classic New England country market filled with everything from fresh dairy to produce and everything in between. There's even a deli here where you can get some quick food for lunch.
However, be sure to not miss out on the baked goods at Atkins Farms. Their apple cider donuts are some of the best you'll ever have. If you visit during the warmer months, stop by their ice cream stand right outside too!
Bike the Norwottuck Rail Trail
If you find yourself in this area of Massachusetts and you love biking, then you can't miss out on the Norwottuck Rail Trail. This 11-mile trail begins in Northampton and goes through Hadley and Amherst before eventually ending in Belchertown. It's the perfect way to experience some of the area while also exercising.
This rail trail opened back in 1992 and is now considered to just be a part of the Mass Central Rail Trail, but it's still worth doing just this part if you love to get outdoors. Plus, there are places throughout this area of MA where you can rent a bike if you aren't traveling with one.
Stand in awe of Puffer's Pond
Puffer's Pond is home to a great waterfall in Massachusetts that will truly take your breath away. Situated right in Amherst, it's also considered to be a swimming spot so that you can cool off during the warmer summer months.
If you don't want to swim though, just go in the off season because you'll be able to enjoy the area and trails just to yourself and maybe a few locals. Plus, the fall foliage in Massachusetts will truly make you love New England even more.
Grab a bite to eat at Bistro 63
Looking for restaurants in Amherst? Stop by Bistro 63, which serves classic New England eats in a sleek environment. This is one of the best places to eat in Amherst and it has a wide variety of food and even local beverages.
Keep in mind that Bistro 63 is a bit more upscale, so it's not as much of a casual eatery. With brunch all day (featuring banana bread french toast and omelets) as well as burgers, salads, sandwiches, bowls, fish, pasta, and more, it's easy to see why everyone loves Bistro 63.
Have an amazing coffee at Amherst Coffee + Bar
Last but certainly not least, if you're looking for a cup of Joe to wake you up in the morning, look no further than Amherst Coffee + Bar. Who doesn't love quaint and local coffee shops? Amherst Coffee + Bar is just what you're looking for.
In addition to being a cafe, it does literally serve as a bar. They have many local and regional drinks available to order.
The town of Amherst is a hub of activity, no matter what season you decide to visit. From perusing Atkins Farms to indulging in the wonderful flavors at Bistro 63 or taking a trip to The Eric Carle Museum of Picture Book Art, you're sure to love your trip!
Whether you're looking for a restful vacation or a weekend filled with adventure, there is something for everyone here. So what are you waiting for? Start working through this list of the best things to do in Amherst MA.
---
You might like: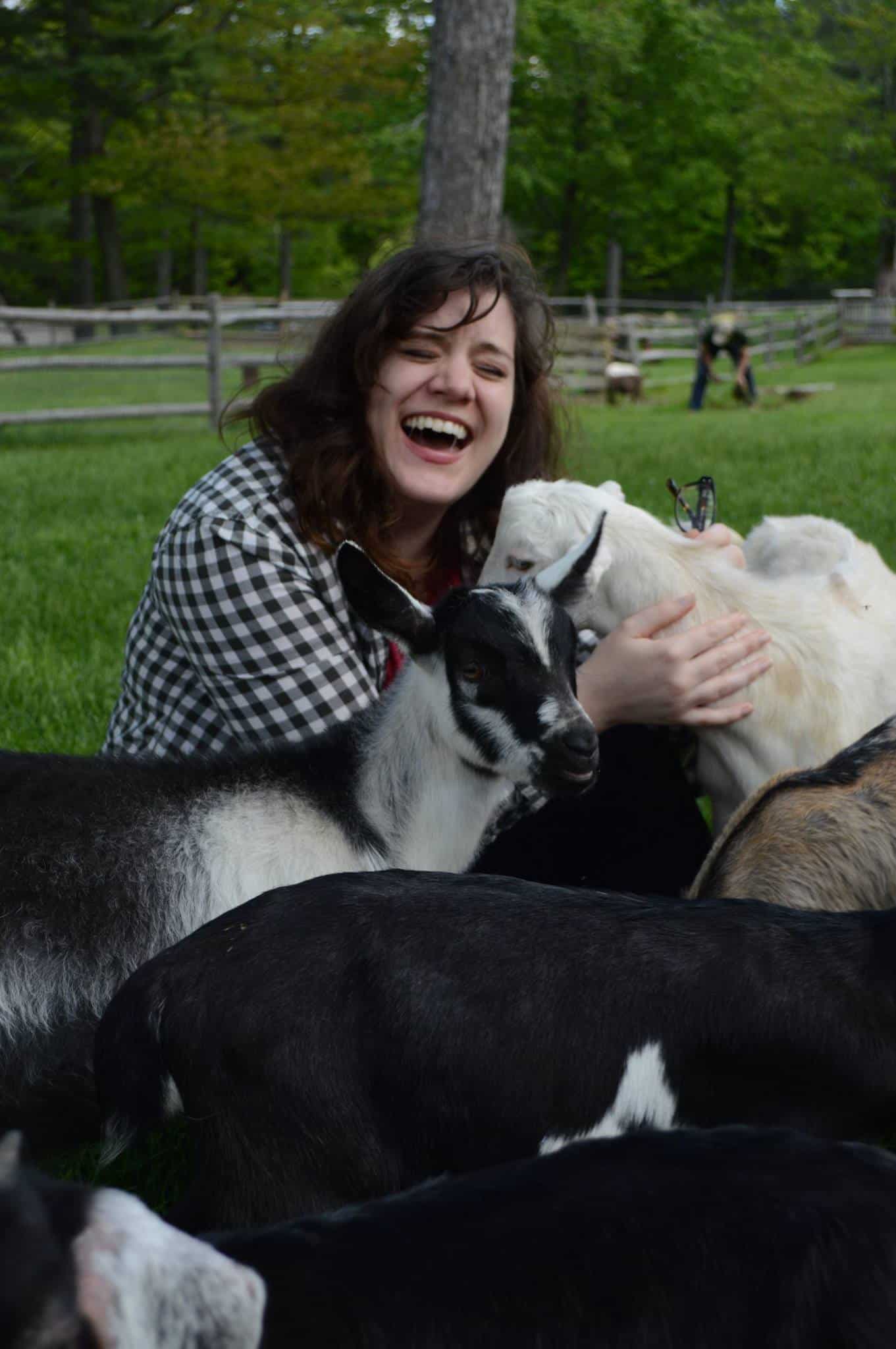 Amy Hartle is the founder and Editor-in-Chief of New England With Love, a comprehensive resource for travel in the New England region. Amy has been exploring New England since 2001. She lived in Vermont for many years and is a graduate of Plymouth State University in New Hampshire. On this site, Amy aims to share her love of New England and help you to have the best possible adventures!
Amy has been writing about travel for over a decade, and is a full time blogger, publishing both Two Drifters and Let's Adventure Baby. When not traveling the world or creating epic blog content, Amy can be found cuddling with her husband, son, and cats, & drinking a maple latte.