What better way to cool off from the New England summer heat than by heading to one of the swimming holes in Vermont? There are so many throughout Vermont, and some are even in state parks, so you can go more than just swim!
From hidden falls to beautiful lakes, the state of Vermont truly has it all when it comes to places to go swimming during the warmer months. Plus, some of them are free, while others do have a small fee. No matter your budget, you're surely going to be able to find a great place on this list of swimming holes in Vermont.
Please keep in mind that many of these swimming holes are rocky and can be very slippery. Some also don't have any lifeguards. Please do your own due diligence and swim at your own risk.
Bristol Falls, Bristol
First up is Bristol Falls, located in Bristol, Vermont. This swimming hole is one that's mostly visited by locals, and it's truly a great place to go and cool off on a warm summer's day! (Keep in mind you may also hear some people refer to Bristol Falls as Bartlett Falls – they're the same thing.)
The best thing about Bristol Falls is the cliff jumping, and there's also a nearby cave that can be explored. Parts of the swimming hole are fairly deep, meaning it's only best for those with strong swimming abilities, while other areas can be more family-friendly.
Parking is available nearby on Lincoln Road. Because this is a popular spot in the summer among locals, it can sometimes be a bit hard to find parking.
Lake Shaftsbury State Park, Shaftsbury
Though it's not necessarily what one would define as a "swimming hole," Lake Shaftsbury in Lake Shaftsbury State Park (one of VT's best state parks and lakes) still deserved a spot on this list. As the name suggests, it's located in the lovely town of Shaftsbury, near both Manchester and Bennington.
The park is open seasonally between May and October, and the lake is never that busy, even during the summer months, because it's mostly locals who visit this park. There's a spot to rent boats (like kayaks, paddle boats, and canoes) right on-site, too, if you want to try to boat out a bit and jump in to avoid crowds.
Middlebury Gorge, Middlebury
This is yet another spot that's locally loved! Middlebury Gorge in Middlebury VT is one of the best VT swimming holes. It's right near the Green Mountain National Forest and is underneath Route 125.
You'll often find locals jumping off the rocky ledges into the water from here. The area is always fairly cooled off thanks to the bridge that goes above it, so it never sees so much sun that you'd be sweltering while swimming.
This is a spot that is family-friendly if you can find a spot with water not as high, which is normally a little bit upstream.
Lareau Swimming Hole, Waitsfield
Located in Waitsfield, Laureau Swimming Hole is a great spot to go and cool off when it's hot outside! It's right near Lareau Farm Inn and has relatively shallow water, making it suitable for those with families looking for a great spot.
Those who love adventure will be happy to know that there is a great jumping-off platform at Lareau Swimming Hole as well, which leads into waters deep enough to jump into. There are amenities on-site, including parking areas and a bathroom.
Here's a pro tip: go along the short trail that goes behind the jump-off platform rock, and you may just get surprised with a sweet treat of a beautiful waterfall.
Benson's Hole, Manchester
Head to Manchester to enjoy Benson's Hole! There's a very short walk to get to the swimming hole, but it's well worth it. The best time to go here is between May and September, when the weather is warm.
The area around Benson's Hole is truly picturesque, with a bridge nearby and beautiful cascading waters. It's the perfect place to relax and chill on a hot summer day, and it's fairly accessible. Be sure to head to Glen Road and park, then follow the path to the swimming area.
Silver Lake State Park, Barnard
Silver Lake State Park in Barnard, Vermont, is a lovely place to go swimming! It gets fairly busy, but it's well worth visiting. The lake is 84 acres, so there's definitely a spot for you to cool off in the warm weather.
In addition to the lake, there are lots of amenities on-site, so you can enjoy your day. There are restrooms, a picnic pavilion, and tons of grassy areas where you can lay out and relax. Plus, there's a play area for the younger children!
To extend your stay at this park, consider camping. There are 39 tent spots here, as well as seven lean-tos for those looking to be a bit more adventurous during their stay.
Jamaica State Park, Jamaica
Jamaica, Vermont also has a great swimming area in Jamaica State Park! It's open seasonally between April and October. West River in the park is the perfect place to dip your toes in and swim.
After your swim, head over to Hamilton Falls for a lovely 3-mile hike one-way following the well-marked trail. Don't swim in the falls though – it's super slippery and the currents are strong there! It just makes for a great excursion after a day of swimming.
Similar to Silver Lake State Park; there are many spots to camp here, too, if you wish. There are 41 tent spots and 18 lean-tos for those who want to stay even more in the outdoors.
No Name Hole, Arlington
I know what you're thinking… is a place called No Name Hole really one of the best Vermont swimming holes?! Well, YES! It's located in Arlington and is often visited by locals in the area.
There's a small waterfall area that feeds into the water, so you can swim while enjoying the refreshing view. There's a larger swimming area right after the first fall here where you can just lay around and dip your toes in to cool off.
One thing to love about No Name Hole is that it's rather family-friendly because the water is fairly low, and there's not much of a current. Because of the water's depth, you can't really fully dip into the water, but it's still worth it.
Bolton Potholes, Bolton
Next is Bolton Potholes, which is a classic type of swimming hole located in Bolton. There are three waterfalls here that have their own swimming areas, and the entire space is truly quite beautiful and is great to relax on a warm day.
The water here is a dark green color, which just adds to its beauty. Keep in mind that the two potholes at the top are better for those who are older and who have great swimming ability. Most families will be found at the third one at the bottom.
In addition to the potholes, there's an area that's a bit more beach-like (minus the sand). There are lots of rocks around the water here where you can just lay out and relax while enjoying your day off in the sun!
Warren Falls, Warren
One of the best natural swimming pools found in the state of Vermont is Warren Falls in Warren! Many locals travel here to go cliff jumping, which you should do only at your own risk. It's located on the Mad River and can get quite busy during the summer months, especially around the holidays.
A parking area can be found nearby. Keep in mind that there aren't really any amenities here (including trashcans) so be sure to watch all of your belongings and don't leave anything behind. The falls itself is easily accessible from the parking area.
Bingham Falls, Stowe
Stowe is one of the prettiest towns in Vermont for a reason, and it also happens to be home to its own swimming hole and waterfall hike at Bingham Falls. The hike to the falls is about a half mile, though most people spend about an hour here.
The area surrounding the falls can be pretty steep and slick, especially with the water, so be careful and make sure your shoes are good for this type of hiking. There are some spots that people choose to dip there toes in, but some areas of the waterfalls are quite deadly, so be sure to do anything here at your own risk.
Well, there you have it! There are many great swimming holes in Vermont, and though this is by no means a complete list, it did include the best of the best. No matter which one you choose next time it's a hot summer's day in Vermont, we know you're gonna love it.
Don't forget to save this post for later and share it with others who may be looking to cool off this summer!
---
Read these next: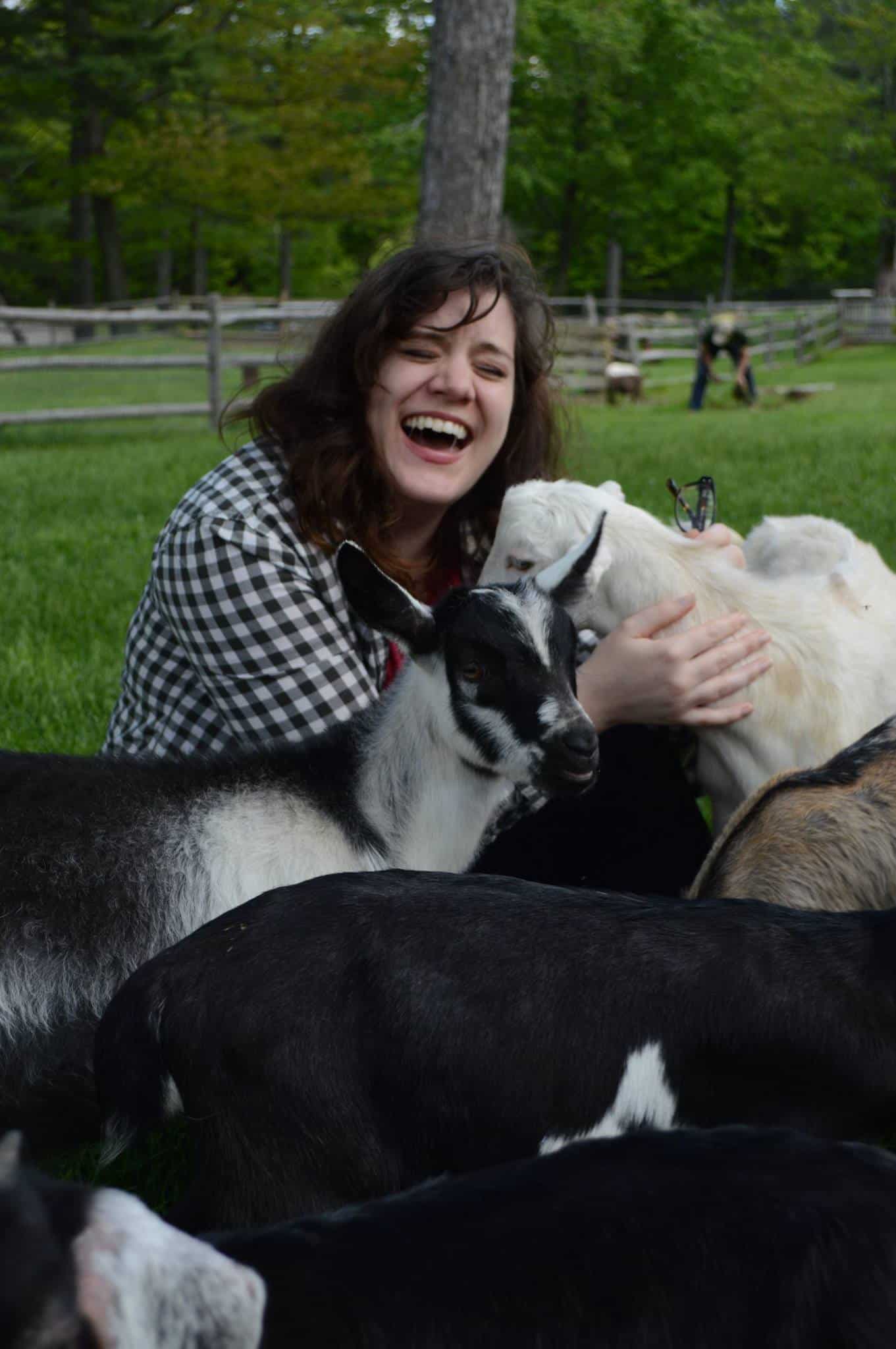 Amy Hartle is the founder and Editor-in-Chief of New England With Love, a comprehensive resource for travel in the New England region. Amy has been exploring New England since 2001. She lived in Vermont for many years and is a graduate of Plymouth State University in New Hampshire. On this site, Amy aims to share her love of New England and help you to have the best possible adventures!
Amy has been writing about travel for over a decade, and is a full time blogger, publishing both Two Drifters and Let's Adventure Baby. When not traveling the world or creating epic blog content, Amy can be found cuddling with her husband, son, and cats, & drinking a maple latte.