So, you're looking for the best swimming holes in Massachusetts? You've found the right article since we've rounded up all the best ones to save you time researching!
This post has everything from waterfalls to lakes and ponds and everything in between in Massachusetts. No matter which one you choose to visit, we know that you'll have the absolute best time cooling off in one of these watering holes.
Keep reading to learn all about the top MA swimming holes!
Benedict Pond, Beartown State Forest
Located in Beartown State Forest, Benedict Pond is a great place to go swimming in Massachusetts. This lovely pond is surrounded by a forested area that will truly take your breath away, and it's a great spot to hop in and cool off after a long day in the heat.
There's a short walk that will get you up to the pond, which is called Benedict Pond Loop. The trail is a bit rocky and is made of gravel, so make sure you wear proper hiking shoes. This is not the type of hike to do in flip-flops because it's about 1.7 miles; make sure you dress appropriately! Because it takes a bit of a hike to get up to the pond, you'll also want to pack some snacks and water, especially if you plan on spending the day here.
Puffers Pond, Amherst
Puffers Pond is a beautiful place to go swimming in Amherst, Massachusetts. This quaint pond is surrounded by a forested area which makes it feel a bit cozy. There's sand up against the pond that's rather sandy, where you can lay out and enjoy the weather. Think of it like a beach, but it's just a small northeastern pond!
Other fun activities at the pond include kayaking, fishing, canoeing, and bird-watching, among others. Be sure to check out the waterfall that's on-site; it's quite large and is truly breathtaking. Plus, the sound of the waterfall is so soothing!
Upper Goose Pond, Lee/Becket
Located not far from Lee, Massachusetts, Upper Goose Pond is another great option to cool off in the warm months. The Berkshires, in general, is absolutely breathtaking (and are truly one of the top places to visit in Massachusetts), and Upper Goose Pond is no exception!
This swimming hole is actually off the Appalachian Trail, but there is about a 3.5-mile hike to get to the swimming hole. Trust us; it's worth it! Just follow the well-marked trail to get to the pond, which is surrounded by a mountain and a forested area.
Umpachene Falls, New Marlborough
Another great spot in the Berkshires is Umpachene Falls. This is one of the best spots to enjoy swimming in MA, with beautiful waterfalls and a pool at the foot of it that the water cascades into. This is where you can hop in and swim!
The main part of the falls area where children will love swimming is Konkapot River, and that's because it's a bit more shallow. Adults are better suited for swimming right at the base of Umpachene Falls. Picnic spots can be found throughout the area, including tables, so you can make an entire day out of it.
Lake Mansfield, Great Barrington
Lake Mansfield in Great Barrington is a perfect spot to cool off in refreshing lake waters. It's one of the best spots in this part of MA to go swimming in the summer months, and similar to other lakes on this area, is surrounded by forest. There's also a little sandy area where you can just relax near the water if you don't want to hop in fully.
Other fun activities here include boating, walking, picnicking, and bird-watching. Keep in mind that pets are not allowed at this lake in particular, though they can go up to the boat launch. While here, be sure to check out the beautiful trails!
Walden Pond, Concord
Concord has its own swimming hole at Walden Pond, which isn't that far from the city of Boston. It's a great place to go and cool off, but because of its proximity to the city, it's often pretty busy in the summer months.
The pond itself is just over 100 feet deep and has an interesting history. The pond was actually created by a glacier that melted here! There are some swimming rules to be obeyed when here, so make sure to follow them during your visit. Lifeguards are often on-duty, as this is the only time that swimming is allowed.
Morses Pond, Wellesley
Another spot to swim not far from Boston is Morses Pond in Wellesley. What makes Morses Pond so great is that it's definitely the type of swimming area that you probably had growing up, surrounded by lake homes, forested areas, and featuring a spot with buoys that you can wade in for safety. This beautiful pond area is well-loved by locals, and is surrounded by a forest. There's also a great playground here with a big blue slide that leads into the water.
There is ample space around the pond where adults can claim a spot as their own to lay out in the sun, in order to watch their children. There are specific hours during the week that it's open, usually opening at around 10 a.m. Get there early in the morning to not only beat the crowds, but also the heat!
Green River Swimming & Recreation Area, Greenfield
For a complete swimming experience, head over to Green River Swimming and Recreation Area located in Greenfield. This is a lovely place to go swimming, and there are tons of spots around the water where you can also just sit out and enjoy the view!
Lifeguards are on duty during certain hours, which makes this a great swimming hole if you have younger children that you'll be visiting with. If you live in the area, consider purchasing a pass for the season to save yourself money. Other great amenities here include picnic tables, a play area for young children, and even athletic courts so you can get your sweat on before hopping into the water to cool off.
Heart Pond, Chelmsford
Chelmsford has a rather popular swimming hole called Heart Pond! This is a favorite in the summer months, surrounded by a forest, just like many others on this list. Under a blue sky in the summer, this is one of the most scenic places that you can be.
The pond has opening hours usually between the months of June and August because it is open seasonally. Once open, it's normally open between dawn and dusk, but lifeguards usually don't start work until around 10 a.m. Get there early to avoid crowds because this one is so popular.
Mystic Lakes State Park, Medford
This post would not have been complete without including at least one state park: Mystic Lakes State Park in Medford. There are great swimming options here, right at Shannon Beach. This is also a lovely spot to go sunbathing.
Of course, another fun thing to do here is to go boating. This can be done on either of the Mystic Lakes, both the upper and lower one. Both are great! There is free parking on-site, but you'll want to get there early in order to ensure that you're able to get a spot. Other great activities here include picnicking, grilling, and attending sailing programs. This is one of the places that can truly be fun for the entire family.
Well, there you have it, all of the best swimming holes in Massachusetts! We hope you enjoyed reading this post and that you have the best time cooling off in one of these places. Don't forget to share this post with others who may be looking for great swimming spots!
---
You might also like: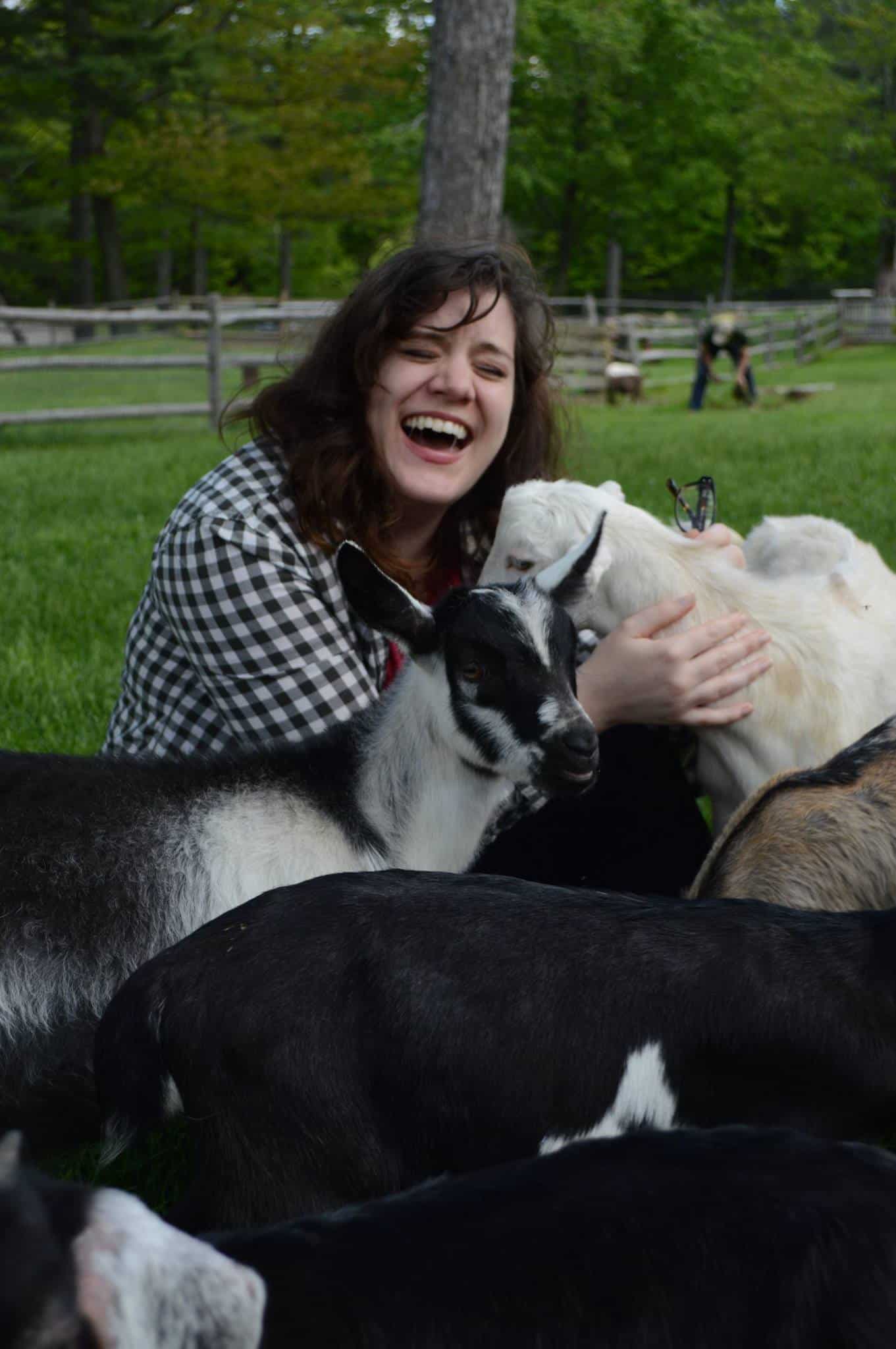 Amy Hartle is the founder and Editor-in-Chief of New England With Love, a comprehensive resource for travel in the New England region. Amy has been exploring New England since 2001. She lived in Vermont for many years and is a graduate of Plymouth State University in New Hampshire. Amy has been writing about travel for over a decade. On this site, Amy aims to share her love of New England and help you to have the best possible adventures!
Amy has been a full time blogger since 2012, and is also the publisher of Two Drifters, where she writes about couples travel and relationships, as well as Let's Adventure Baby, a family travel site. When not traveling the world or creating epic blog content, Amy can be found cuddling with her husband, son, and cats, & drinking a maple latte.