With so many great places to cool off, it can be hard to decide which of the swimming holes in Maine are worth going to! So, we've taken the time to round up the best of the best, so all you have to do is type in the location to your phone and drive.
From little ponds that are only known by the locals to incredible waterfalls with a swimming hole, Maine has got it all. Just remember that a lot of these places get really busy in the summer months, so you'll want to start your day early – that's our only advice!
Keep reading to learn all about the top ME swimming holes.
Please keep in mind that many of these swimming holes are rocky and can be very slippery. Some also don't have any lifeguards. Please do your own due diligence and swim at your own risk.
Rattlesnake Pool, Stow
First up is Rattlesnake Pool, easily one of the top swimming holes in the traditional sense. All it takes is a hike to the pool, and then you're welcomed by an incredible swimming area with turquoise waters surrounded by rocks. In the summer months, it's easy to see why this is such a busy location for visitors.
Once you arrive at the parking area, you'll want to walk Stonehouse Trail but stay towards the right until you see a sign for Rattlesnake Pool. Then, you'll keep going until you hit a sign that directs you to the actual pool area.
Though this is a place many people go swimming, and the water is deep in most spots, you'll want to be careful because the rocks can still get quite slippery. There's a lovely waterfall here that really sets the ambiance.
Indian's Last Leap, Sanford
Make your way to Sanford and visit Indian's Last Leap for another great swimming hole. To get there, you go on a hike right through a cemetery and along a river. It's great because you warm up a bit on the walk and then get to reward yourself by hopping into the water at the end.
Again, this is a location that is surrounded by water, so it can get a bit slippery at times. Be sure to wear proper footwear and watch where you step!
Lake Wood Pond, Acadia National Park
Located right in Acadia National Park, Lake Wood Pond is a lovely swimming hole that is often visited by families in the area. Plus, because it's in the park boundaries, you can even enjoy some morning hiking before hopping in the water to cool off!
This pond is very shallow, which is why it's beloved by families. In fact, the deepest point of the pond is only about 11 feet, and the area surrounding it is rather smooth instead of rocky. There's a short path to get to the pond from the nearby parking area.
The road to get to this pond usually doesn't open until June, so that's something to keep in mind when planning a trip. There are also no lifeguards, so you swim at your own risk.
Gulf Hagas, Monson
Why head out to Arizona to see the Grand Canyon when instead you could visit the Grand Canyon of Maine right in New England by visiting Gulf Hagas? That's what many locals refer to this beautiful swimming hole as.
Though it does feature a large waterfall, there's a swimming area here where you can hop in and cool off. However, keep in mind that there is a 9-mile hike to get to the gulf in the first place. Many people will stop a bit earlier in the hike to cool off. The top spot that people stop at to take photos is Screw Auger Falls!
While it may seem tempting to cliff jump here, do so at your own risk. It may be better to just cool off.
Coos Canyon, Byron
Known for its camping and cabins on site, Coos Canyon is an incredible ME swimming hole. There's a lovely swimming area here right along a river surrounded by rocks, and there are even a few small waterfalls that really help to set the scene in the summer!
One notable feature of the water at Coos Canyon is that it's so incredibly clear, and most of the waters here are fairly shallow. This makes it a lovely spot to go for families with younger children or adults who would rather just float out on the water in a tube.
Many people will also head up the water a bit to the cliffs to go cliff jumping, but again, this is something you should only do at your own risk.
Ledge Falls Pool, Medway
Ledge Falls is another incredible spot to go swimming and even fishing! It's easy to reach and is still a bit of a hidden gem, mostly visited by locals. There's a walk to get to the water, but it's well worth it, and it's usually not that busy.
There is a waterfall here like the name suggests, but you can head down to enjoy some lovely swimming in a more pool-like area directly inside Baxter State Park. Note that the waterfall is more like a small cascade area, but it's still beautiful and provides some great water sounds.
Some parts of the water here can also have quite a strong current, so be sure to stay in safe areas and be aware of your surroundings.
Green Island Quarry, Stonington
Green Island Quarry in Stonington is a great place with clean waters to pop in for a swim! Plus, the water here is rather deep, making it super fun for adults in addition to children. Around the area are also some fun rope swings to make hopping into the water even more thrilling.
Many locals argue that this is the best swimming hole in Maine since it's a bit far out, on an island a half-mile off the coast of Stonington. Most people will kayak out to get to the island, a classic Maine experience.
Luckily, once you get to the island, it's fairly easy to just follow the signs leading to the quarry, where you can hop into the water and cool off after your hot kayak expedition.
Emerald Pool
Next is the Emerald Pool, which is partly in New Hampshire and Maine, so it still deserves a spot on this list. It takes a short easy trail (follow Baldface Trail once parked) to get to it, and the area is fairly well-marked. The trail can be a bit rocky at parts, so wear proper footwear.
Once you get to Emerald Pool, you'll be amazed by its beauty. The area is truly breathtaking, surrounded by tall rocks, a waterfall, and greenery. It's a classic New England swimming hole.
Keep in mind that the water is super clear and has a pretty emerald color, but the swimming hole really isn't that big. You'll want to get there earlier in the day if you want to avoid others at this busy swimming hole.
Babb's Bridge, Gorham
Believe it or not, but one of the best spots to cool off is right by a lovely historic bridge! It's located in Gorham, not far from Portland, and happens to be the oldest covered bridge in the state. It was built in 1840 and goes right over the Presumpscot River (however, the bridge standing today is a replica, unfortunately).
This is a favorite spot to go swimming for those in the area because it's very lowkey. There are usually a few rope swings set up, so children can hop into the water and get some air on the way.
Other fun activities at this swimming spot include kayaking, tubing/floating, or fishing. It's a great spot to go if you find yourself in the area.
Frenchman's Hole, Newry
Last but certainly not least is Frenchman's Hole in Newry! It's not far from nearby Sunday River Ski Resort. There's not that far of a walk from the parking area, and you'll know you made it to the swimming area once you hit a staircase and see picnic tables.
The area is breathtaking here, featuring a waterfall spot that you'll often see kids using like it's a slide into the water. Most adults will be found sitting up on the rocks, taking in the beautiful view. In the summer months, this spot can get pretty busy, because it's one of the few spots to go swimming in the area.
We hope you've enjoyed this post all about swimming holes in Maine! They are all such a lovely place to go and cool off, especially in the sweltering summer heat. No matter where you choose, we know you'll have a great time. Don't forget to share this post with others who may be looking to swim this summer!
---
You might also like: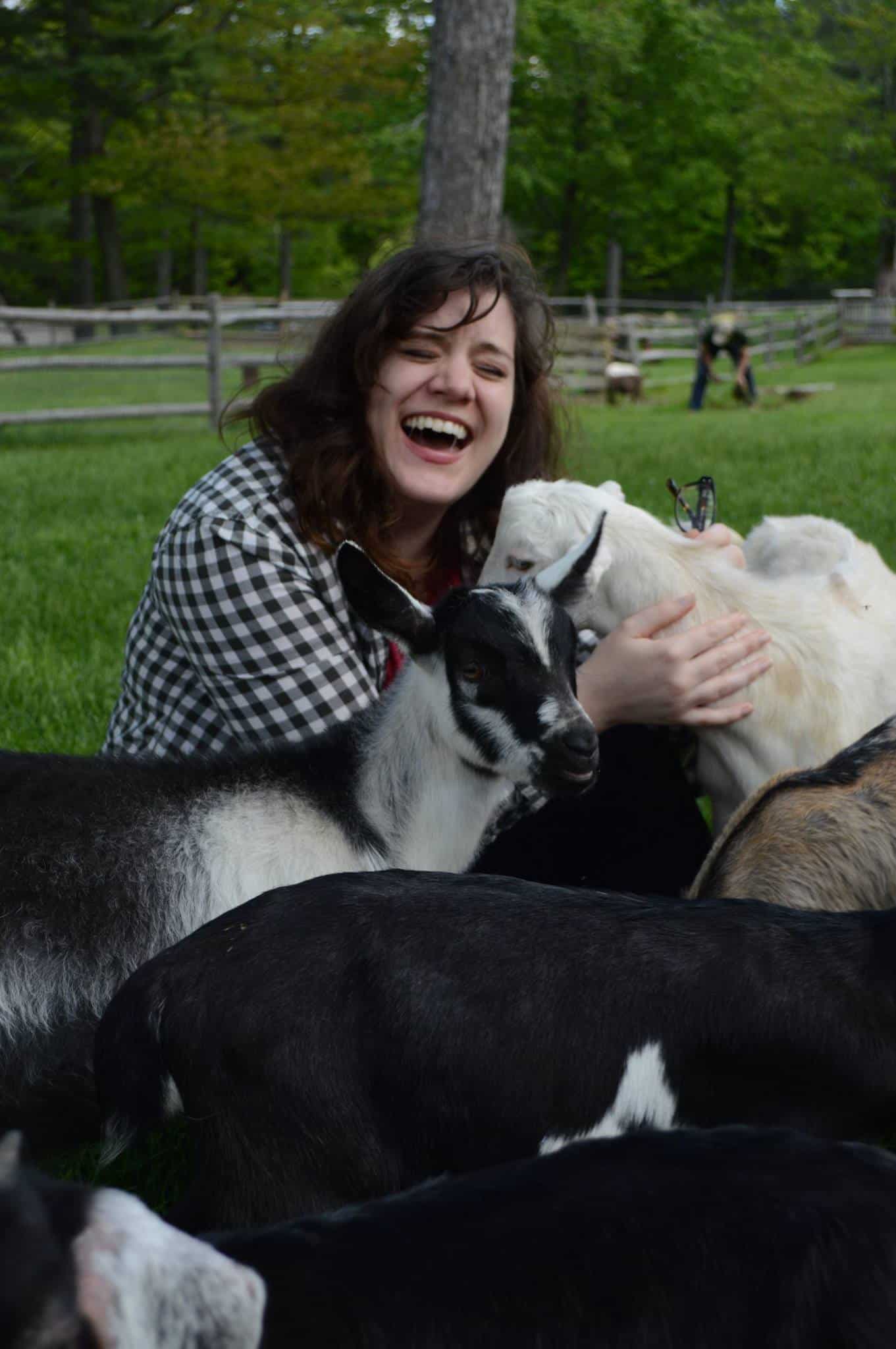 Amy Hartle is the founder and Editor-in-Chief of New England With Love, a comprehensive resource for travel in the New England region. Amy has been exploring New England since 2001. She lived in Vermont for many years and is a graduate of Plymouth State University in New Hampshire. Amy has been writing about travel for over a decade. On this site, Amy aims to share her love of New England and help you to have the best possible adventures!
Amy has been a full time blogger since 2012, and is also the publisher of Two Drifters, where she writes about couples travel and relationships, as well as Let's Adventure Baby, a family travel site. When not traveling the world or creating epic blog content, Amy can be found cuddling with her husband, son, and cats, & drinking a maple latte.