Have you ever experienced a warm New England day? The heat can get up there! Luckily, there are many swimming holes in Connecticut where you can go and cool off.
Throughout this post, we've gathered up all the best spots to swim in the state, ranging from popular state parks to lesser-known watering holes near waterfalls. By the end, you'll already have your swim bag packed and ready to go because you'll be itching to go to these locations.
Here are all the best CT swimming holes!
Please keep in mind that many of these swimming holes are rocky and can be very slippery. Some also don't have any lifeguards. Please do your own due diligence and swim at your own risk.
Squantz Pond State Park, Fairfield
First up is none other than Squantz Pond State Park in Fairfield, which is also one of the best state parks in Connecticut! The water here is a bright blue that will truly take your breath away, especially in the summer.
The main attraction here is the lake, where visitors can go and swim. However, this park gets very busy and crowded in summer, and it can be hard to find parking. Keep in mind that, unfortunately, once parking is full here, they do close the park to visitors for the rest of the day. Get there early to ensure you can enjoy a day in the sun!
There are great facilities on-site at Squantz Pond State Park to make your day even more enjoyable. There's a boat launch area, picnic tables, lots of sand where you can relax, and bathrooms, among others.
Burr Pond State Park, Torrington
Torrington also has its own state park with a lovely space for swimming at Burr Pond State Park. Burr Pond is a lovely swimming area that's great fun for the entire family, especially when used as a spot to cool off during the warm summer months.
Keep in mind that the parking situation here is very similar to Squantz Pond State Park; once parking capacity is reached, they do shut down the park for the rest of the day. Start your day early not only to beat the heat but also to ensure that you get parking and can enjoy a day at the pond.
Many facilities are available at this state park, including concessions, spots for picnics, bathrooms, and a boat launch. Pricing to enter the park changes depending on if you're a CT resident or not, as well as if you visit on a weekend versus a weekday.
Gardner Lake, Salem/Bozrah/Montville
Next is Gardner Lake, which is located right near Bozrah, Salem, and Montville in Connecticut. It's located in Gardner Lake State Park and is a smaller park but still just as beautiful of a place to relax in the water.
Swimming is the most fun activity here, especially if you're looking to cool off in the summer months. However, other fun water activities include boating and also fishing. Just make sure you find a shaded spot if you choose fishing, so you don't burn out in the sun!
Of course, just like other parks in CT, there are some facilities here. They include bathrooms and a paved boat launch if you want to bring your own boat out on the water. There are also some picnic spots in the sand and grassy areas – just make sure you bring a blanket.
Riga Falls, Salisbury
Riga Falls is one of the lesser-known swimming holes in Connecticut that you won't want to miss out on. It's more traditionally a swimming hole, too! It's inside Mount Riga State Park, and it's not that long of a walk to get to the spot.
Once you're there, you'll hear the beautiful sound of a waterfall rushing down rocks, and you'll know you've made it. The water here is fairly shallow, but it's perfect for just dipping in and cooling off from the hot summer weather.
Keep in mind that the rocks here are pretty slick, so make sure you wear good grippy shoes to avoid getting injured. Once you're done cooling off, be sure to explore the rest of this beautiful state park; you won't regret it!
Enders Falls, Granby
Make your way to Granby to enjoy the swimming hole at Enders Falls! It's a short trail to get to Enders Falls, but it's well worth it as it's less than a mile. Plus, once you get there, you'll completely forget you even had to walk at all because of how beautiful it is.
This is one of the best waterfalls in the state but also happens to be a great spot amongst locals for cliff jumping as well as swimming. Keep in mind that the area is fairly rocky, so you will want to be cautious so you don't hurt yourself.
The trails were recently redone in the area in 2020, so you can rest assured that the area is fairly well maintained. There's parking in the area, but the parking lots can fill up during warm summer months.
Bigelow Hollow State Park, Union
Bigelow Hollow State Park in Union is another lovely swimming hole area that you won't want to miss out on. (You're probably starting to catch on that most of the swimming areas in CT happen to be in state parks!)
Many people also group Bigelow Hollow with the nearby Nipmuck State Forest. There are two ponds here, Bigelow Pond (which is 18 acres) and Mashapaug Pond (300 acres). In addition to swimming, other water activities here include boating, scuba diving, and fishing!
There are some great facilities here that will allow you to enjoy your day even more, like picnic tables and bathrooms. There are also boat launches on both lakes, and if you want to elongate your stay, there are lots of campsites.
Wadsworth Falls State Park, Middletown
Wadsworth Falls State Park in Middletown is a lovely swimming spot! Of course, the main attraction here is also a breathtaking waterfall, but there are places to swim throughout the park. Just make sure you stick to the designated swimming spots for your safety – do not try to swim at the Big Falls.
If you enjoy swimming there and want some other activities, you're in luck. There are also spots for picnicking, fishing, hiking, and mountain biking, among other things. On-site facilities include bathrooms and picnic tables, as well as large grassy areas for relaxing or having some fun with family and friends.
Black Rock State Park, Watertown
Watertown has its own great swimming hole at Black Rock State Park. The park itself is beautiful and has lots of forested areas around the water where you can sit in the shade before hopping into the water!
Other fun activities at this park include camping, fishing, hiking, and picnicking. There are lots of great facilities on-site, like bathrooms and picnic tables, among others. This is another park that can get busy in the summer, especially on hot days. Try to visit on weekday mornings in the summer to avoid the crowds for the most part! This is the best time to come and cool off.
Satan's Kingdom, New Hartford
I know what you're thinking… a place called Satan's Kingdom is a great CT swimming hole? Well, the short answer is, yeah, it is! This area is super popular in the summer for tubing, kayaking, swimming, and more along the Farmington River.
It's free to visit here and enjoy the swimming, but it can get pretty busy, so try to get there earlier in the day to find better parking. In addition to swimming, be sure to try out the tubing, which is what Satan's Kingdom State Recreation Area is most well-known for. There are lots of spots nearby where you can rent tubes, and you can even hop out and swim too!
Lake Waramaug State Park, Kent
Next up is Lake Waramaug State Park in Kent, Connecticut! The main attraction here is Lake Waramaug, which is a large and photogenic lake beautiful at all times of the year, but especially in summer when the bright blue skies make the water appear even bluer.
While swimming is the most fun and popular activity here, you can also go boating and jump out into the water a bit further out at your own risk. There's also fishing, picnicking, canoeing, kayaking, and camping here.
You didn't think there'd be no facilities, did you? Visitors can enjoy food concessions, picnic tables, bathrooms, and showers at the campground.
Salmon River, Colchester
Last but certainly not least is Salmon River! There are quite a few places along Salmon River (in Salmon River State Forest) where you can go and swim. Some spots along the river also have a rope swing that you can use to jump into the water. Talk about a fun time!
There's also a great hike that connects Salmon River State Forest to the nearby Day Pond State Park, where there's another amazing swimming hole if you want to cool off in another area. You could even try to check out both in one day if you really wanted too.
Well, there you go – all the best swimming holes in Connecticut! We hope you enjoyed this post and have a blast out in the water. Don't forget to bring comfortable water shoes; some of these swimming holes are rather rocky.
---
Read these next: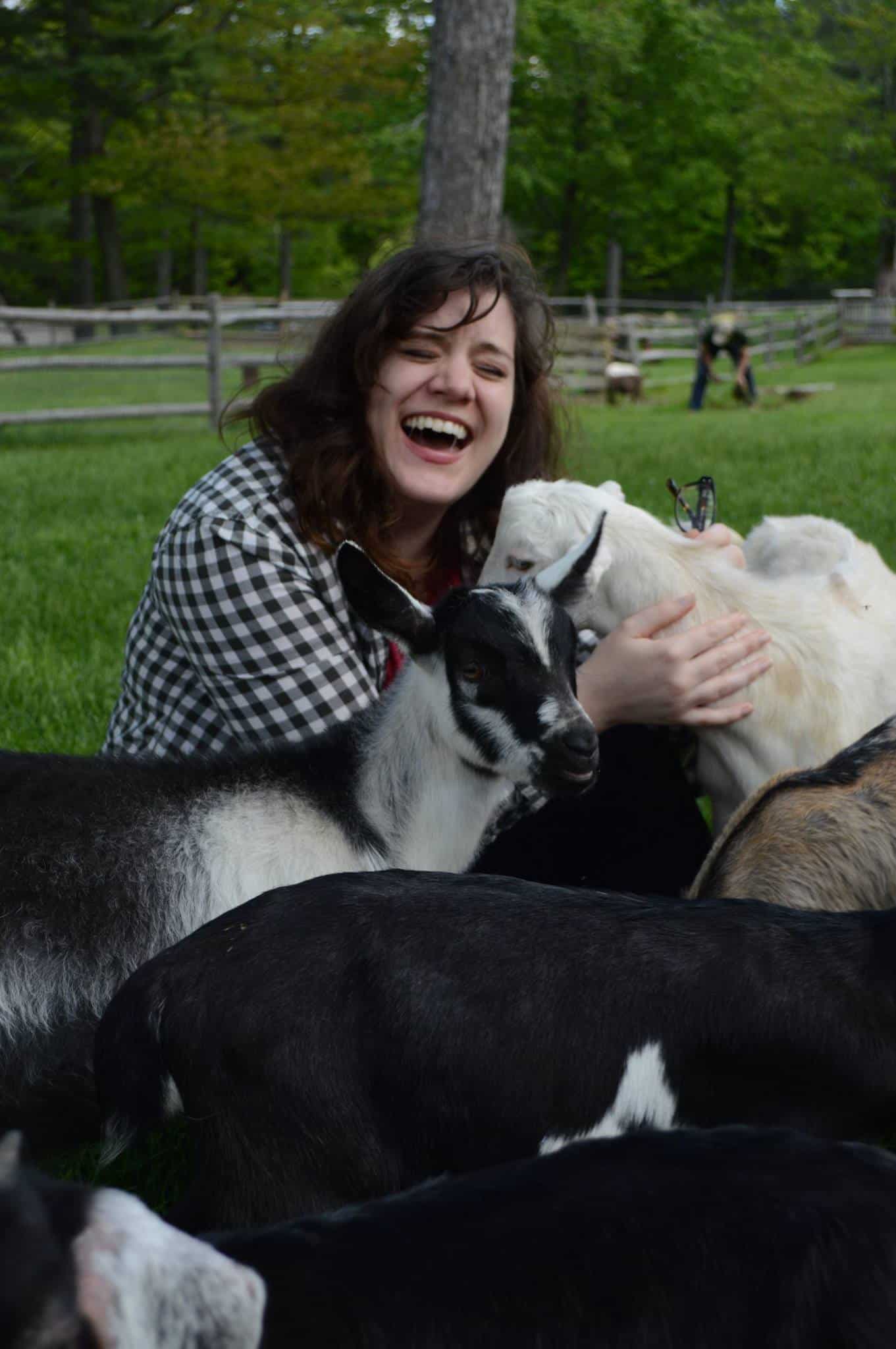 Amy Hartle is the founder and Editor-in-Chief of New England With Love, a comprehensive resource for travel in the New England region. Amy has been exploring New England since 2001. She lived in Vermont for many years and is a graduate of Plymouth State University in New Hampshire. Amy has been writing about travel for over a decade. On this site, Amy aims to share her love of New England and help you to have the best possible adventures!
Amy has been a full time blogger since 2012, and is also the publisher of Two Drifters, where she writes about couples travel and relationships, as well as Let's Adventure Baby, a family travel site. When not traveling the world or creating epic blog content, Amy can be found cuddling with her husband, son, and cats, & drinking a maple latte.