---
*Links in this article may be affiliate links, from which we may earn commission. See our
Privacy Policy
for full details.
---
New England is a gorgeous area to visit throughout the year, but New Hampshire, in particular, has some pretty incredible natural views to admire. From the shores of the Atlantic to the trees of the White Mountain National Forest, New Hampshire has incredible views anyone can enjoy.
One of the best ways to see this state in its glory is to take a drive along one of its many scenic routes. Here are the top six scenic drives in New Hampshire to take, where to stop, and what makes these drives worth taking.
When is the Best Time to Visit New Hampshire?
In my opinion, the Granite State is great to visit year-round. However, New Hampshire is really in its element in the fall. Millions of people flock to the state to see the gorgeous fall foliage and partake in classic fall activities like going apple picking, pumpkin picking, and making your way out of fun corn mazes.
Summer is also a fabulous time to visit New Hampshire. There's a little bit of something for everyone to enjoy during the hotter months; if you like lake living, you can head to the Lakes Region and hit the water. If you're more of a beach person, good news: you'll find beaches in the Seacoast Region. And if you're looking to hike, there are plenty of places to hike in each region of the state.
Scenic Drives to Take in New Hampshire
If you plan on heading to New Hampshire in the summer or fall, something you can do to truly capture its beauty is take a scenic drive (or two). Here are my top recommendations for scenic drives in New Hampshire, from the White Mountains to the Atlantic coast. Happy road tripping!
New Hampshire Route 112 (Kancamagus Highway)
Location: Conway to Bath
Distance: 56.39 miles
If you're heading to New Hampshire in the fall, driving along Route 112 is a must. This highway goes from Conway to Bath and cuts through the White Mountain National Forest, providing incredible views of the White Mountains and its surrounding beauty.
The best portion of the drive is along the Kancamagus Highway (aka "The Kanc" as locals call it). The Kanc, around 34 miles long and stretching from Conway to Lincoln, is where you'll see most of these incredible views. It's also one of the top spots in the states (and arguably all of New England) to see fall foliage.
You'll be in awe of all the vibrant colors and natural beauty the White Mountains Region has to offer. It will be a fall road trip you won't forget! Make sure you grab gas and food before driving, though, as there aren't any places to make pit stops along the Kanc.
Where to stop:
The Lake Winnipesaukee Loop
Location: The Lakes Region
Distance: 97 miles
If you want to drive along one of the best lakes in New Hampshire, take a drive along the Lake Winnipesaukee Loop. This road trip takes you all along New Hampshire's largest lake. You'll go through charming towns like Alton (where you'll likely start), Meredith, Moultonborough, and Wolfeboro during this scenic drive. You can even get a glimpse of the Ossipee Mountain Range as you drive!
Since this loop goes all the way around the lake, there are plenty of places to stop and activities to do. You could stroll through charming towns like Meredith and Center Harbor and stop at local places to eat and shop (Meredith has a charming village area that's a must-see!) If you want to get out of the car and stretch your legs, you can hike to Mt. Major's summit or hike along the Lockes Hill Trailhead in Gilford.
No matter where you go, make sure you bring along a camera to take plenty of pictures!
Where to stop:
The Coastal Byway (Route 1A)
Location: Portsmouth to Seabrook
Distance: 18.5 miles
This is a great drive to take if you want to enjoy New Hampshire's ocean views. The Coastal Byway takes you through the Seacoast area of the state, through the communities of Portsmouth, New Castle, Rye, North Hampton, Hampton, and Seabrook. Drive along the byway to see the wonderful Granite State coastline; you may even see the Atlantic crash along a portion of the rocky coast.
There are plenty of spots to stop along this byway, including Hampton Beach. Stop here to soak in some great beach views and smell the salty air. While it's great to travel to in the summer, there's something serene and calming about the beach in the fall, too.
Another great place to stop along the byway is Portsmouth. This bustling port city seems to have it all: a great downtown scene, plenty of places to dine, and lovely seaside views. A trip along the byway is one you won't soon forget.
Where to stop:
Robert Frost Scenic Byway
Location: Southern New Hampshire, through the towns of Atkinson, Hampstead, Chester, Auburn, and Derry
Distance: 43 miles (The Old Stagecoach Byway and the Robert Frost Byway combined)
This is the perfect drive to take if you're a literary buff (or just really want to take in the calming beauty of this area). This byway is actually two routes that combine to create a great route that soaks in all of southern New Hampshire's rural beauty and rich history.
The Old Stagecoach Byway actually used to be a stagecoach route that ran from the state's capital, Concord, all the way to Boston. The byway goes through the charming towns of Atkinson, Hampstead, Chester, Auburn, and Derry.
The Robert Frost Byway follows local routes, like Route 28, and leads to the Robert Frost Farm State Park in Derry. Robert Frost and his family lived in Derry for 11 years, and he wrote about the Granite State in his early works. You can actually visit the farm he used to live on, now called the Robert Frost Farm State Historic Site on Rockingham Road in Derry.
Where to stop:
The Sunapee Loop
Location: Dartmouth/Lake Sunapee Region in southwestern New Hampshire
Distance: 140 miles
Don't be fooled by New Hampshire's size; there's plenty to see in this gorgeous New England state, and plenty of roads to travel along. Head to the southwestern part of the state to drive along the Sunapee Loop, a gorgeous 140-mile ride that takes you through some incredibly charming towns. Start in the town of Greenfield and head through towns like Antrim, Windsor and Washington to see some remarkable village greens.
There's plenty to do and see along this 140-mile byway. If you're a history buff, stop at the Franklin Pierce Homestead in Hillsboro. It's the childhood home of Franklin Pierce, who served as the 14th President of the United States. It's a National Historic Landmark that's also a museum and state park. Once you're done there, head to Franklin Pierce Lake to take in some gorgeous lake views before hitting the road.
Where to stop:
The Great North Woods Ride
Location: The Great North Woods Region
Distance: 120 miles
The Great North Woods is a portion of New Hampshire that's less populated and full of wildlife and natural beauty. If you're looking for a road (and area) less traveled, the Great North Woods Ride is for you. It takes you through notable northern spots like Berlin, Milan, and Groveton.
Drive along Route 16 to see lots of New Hampshire wilderness and wildlife like black bears, deer, and perhaps even a moose or two. Bring along the camera to snap some unforgettable pictures!
One notable place to stop along this ride is the Thirteen Mile Woods in Errol. There are places you can pull off to canoe or kayak in the Androscoggin River, and if you go in the fall you'll see lovely fall foliage along the river's edge. Once you're done here, hop back on the road and see what else northern New Hampshire has to offer.
Where to stop:
No matter which scenic drive you take in the Granite State, you can hit the road knowing you're embarking on a trip filled with breathtaking beauty. You'll leave a little piece of you at each stop and create lasting memories. Don't forget to gas up and grab plenty of snacks for the road—happy driving!
---
You might also like:
---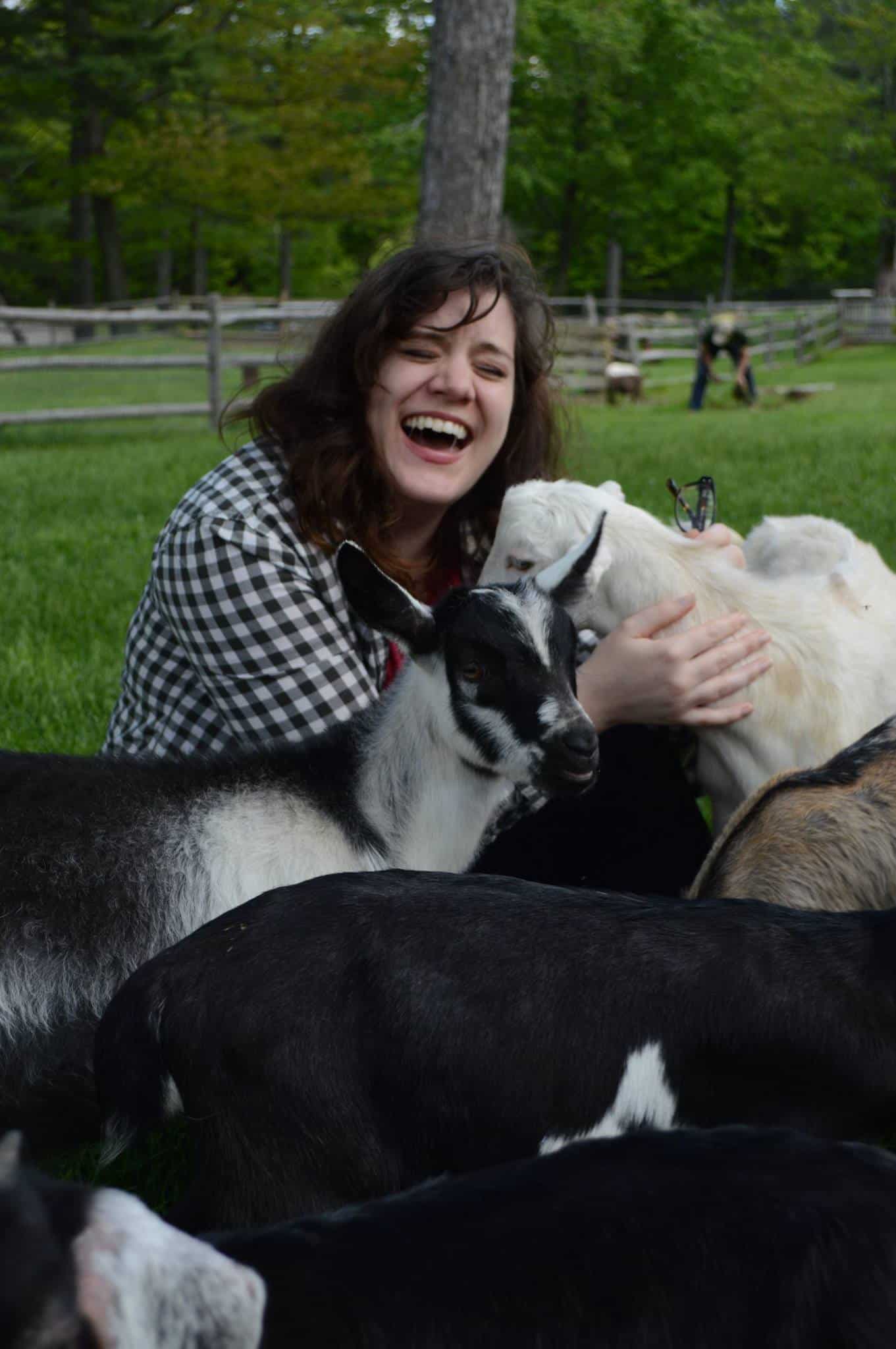 Amy is the founder of New England with love. A proud Vermonter, she hopes to share her love of New England and help you find the best adventures in the region. Amy is also blogger/founder at Two Drifters, where she writes alongside her husband about romantic and couples travel, relationships, honeymoons, and more. When not working on websites, Amy is probably reading, cuddling with her husband, son, and cats, & drinking a maple latte.