Are you planning a trip to Santa's Village NH? This popular New Hampshire amusement park even ranks in the top 10 amusement parks in the US!
Not only is Santa's Village in New Hampshire an absolutely adorable Christmas-themed amusement park, but they have a great variety of rides and attractions, most with far less of a line than you'd find at some of the big name amusement parks in the US because NH's Santa's Village caps ticket sales at a certain number, focusing on creating a world class experience for those who are visiting.
If you're considering a visit to Santa's Village NH, this is everything you need to know!
Santa's Village New Hampshire Essentials
528 Presidential Highway, Jefferson, NH 03583
When to Visit Santa's Village
Santa's Village in New Hampshire is open on specific dates May through December, so it's important to plan your trip in advance using Santa's Village calendar. There is fun to be found in each season, with the waterpark being a major attraction in the summer and a very popular time of year to visit this New Hampshire park. Fall is also popular, with fun fall events like "Merry Trick or Treat" weekends in October.
Of course, you've probably already figured out that the entire month of December is an excellent choice for when to visit Santa's Village! You'll find holiday spirit everywhere you turn with Christmas carols and twinkle lights setting the scene, and yes, most of the rides remain open even while it's snowing.
Santa's Village NH: Everything You Need to Know
How to Get Tickets for Santa's Village
As of this writing, tickets for Santa's Village must be purchased online in advance, with no tickets available at the door. Admission includes access all around the park including the seasonal water park, visits with Santa and his reindeer, an Elfabet scavenger hunt, complimentary strollers, free parking, and of course, rides!
There are premium upgrades that can be added to your ticket to include some additional offerings like motorized mobility scooters, waterpark cabanas, and family suites. The family suite option is an excellent add on for families who would like a private, quiet space to take a break and relax in during their visit to Santa's Village; this would be an excellent add on for families with sensory sensitive kiddos.
Santa's Village Rides and Attractions
Of course everything is holiday themed, so rides at Santa's Village have whimsical names like The Chimney Drop, the Little Elf Flying School, and the Yule Log Flume, and you'll find rides that are fun for kids from 1 to 92! All the classics are present at this NH theme park, including a ferris wheel, carousel, the swings, and kids coasters.
There are several unique attractions at Santa's Village, like the Reindeer Rendezvous, where you can visit and feed these majestic animals some special treats! There's also Santa's Home where you can have your own personal visit with the Big Man himself, Elf University, the Reindeer Shoe Blacksmith Shop, and more.
The water park remains one of the most popular attractions at Santa's Village, with splash pads, water slides, and an activity park. Take note that the waterpark opens a little later than the rest of the park and closes a little earlier, so plan your Santa's Village trip accordingly. If you decide to rent one of Santa's private cabanas for your waterpark trip, you'll be treated to fantastic extras like your own mini fridge stocked with four complimentary juice boxes and water bottles, a ceiling fan, electrical outlets, and your own private safe to lock up your valuables!
Live Entertainment at Santa's Village
As you make your way through this New Hampshire amusement park in the summer season, you'll find live performers like Artie, the artistic elf and Celeste, the snow angel, waiting to interact with you and your family! There are also seasonal 3D movie experiences and light shows throughout the year, so there are plenty of ways to find fun at Santa's Village.
Dining at Santa's Village
There are so many great places to eat at Santa's Village, so finding something for the family to refuel with is never a problem. You've got sweet treats galore like fried dough, mini donuts, and homemade ice cream at spots like Dasher's Delights, the Mini Doe-nut Factory, The Sugar and Spice Bake Shop, and Frosty's Freezer, and more substantial meal options at the Burger Meister Food Court, the Merry Mess Hall, and everyone's favorite, Nick's Pizza Emporium.
Where to Stay Near Santa's Village
If you're looking for hotels near Santa's Village NH, you'll find there are a ton of options, just depending on how close you'd like to be! Santa's Village offers a variety of suggestions grouped by distance from the park, and there are a ton of options to check out. For a place to stay in Jefferson, just a few minutes drive to the park, check out Josselyn's Getaway Log Cabins, perfect for a family stay. If it's more of a luxury stay experience you're looking for, Mountain View Grand Resort and Spa is also just a quick drive away and that gorgeous spa might be just what Mom and Dad are looking for after a long day at Santa's Village!
Click Here to Check Prices & Book!
Santa's Village in New Hampshire is a fantastic destination for a New England family vacation, and while many of its rides and attractions are geared for children between the ages of 2 and 10, kids — and their adults!– of all ages find fun and magic at this adorable Christmas themed park. Santa's Village is committed to providing everyone who visits "Pure Joy. Family Style."
Before you leave Santa's Village, be sure to pick up some unique gifts at the shops onsite at the Snowball Mall, embroider stockings for the family at Fezziwig's, participate in some crafty take home souvenirs at the North Pole Workshop, or find your new favorite book from Full o' The Dickens Book Shoppe. What better place is there to do your Christmas shopping than at Santa's Village, right?
You might also like: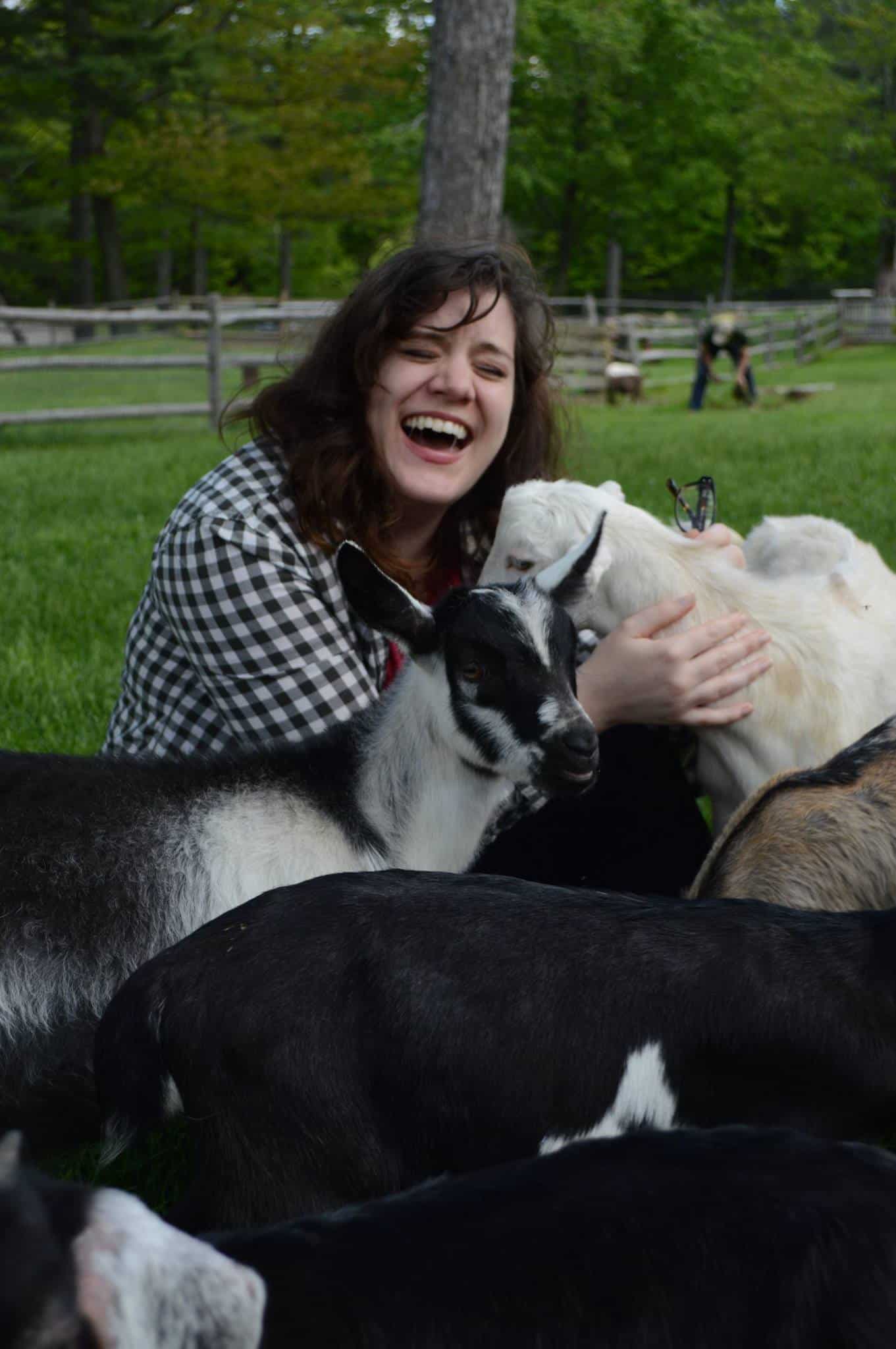 Amy Hartle is the founder and Editor-in-Chief of New England With Love, a comprehensive resource for travel in the New England region. Amy has been exploring New England since 2001. She lived in Vermont for many years and is a graduate of Plymouth State University in New Hampshire. Amy has been writing about travel for over a decade. On this site, Amy aims to share her love of New England and help you to have the best possible adventures!
Amy has been a full time blogger since 2012, and is also the publisher of Two Drifters, where she writes about couples travel and relationships, as well as Let's Adventure Baby, a family travel site. When not traveling the world or creating epic blog content, Amy can be found cuddling with her husband, son, and cats, & drinking a maple latte.