If you want to see some of the best skyline views in the entire city, you can't miss out on rooftop restaurants in Boston, Massachusetts. Sprinkled throughout the city, they also offer some of the best dishes you can find in the city, from regional Italian-American cuisine to fresh seafood (you're on the coast, after all).
Whether you're looking for a romantic evening out or a lunch date with a view, you can find it at one of these amazing Boston restaurants. So, keep reading to start exploring what Boston's rooftop restaurant scene has to offer!
Rooftop Restaurants in Boston
Lookout Rooftop and Bar
The Envoy Hotel, Autograph Collection, 70 Sleeper St, Boston, MA 02210
Located inside The Envoy Hotel, Autograph Collection, the Lookout Rooftop and Bar is one rooftop lounge you won't want to miss out on. Situated in the Innovation District of Boston, you'll get some of the best skyline and harbor views that you can get in the entire city.
What makes the seating here so unique is that you'll find incredibly comfortable navy seats surrounding fire pits, so you can stay warm even when the harbor breeze makes you a bit cold. The menu boasts a variety of craft beer, scotch, and more.
PS this is one of our favorite rooftop bars in Boston, too!
Trillium Brewing Company
50 Thomson Pl, Boston, MA 02210
We know what you're thinking – another brewery? But truly, Trillium Brewing Company one is pretty centrally located near both the Boston Children's Museum and the Institute of Contemporary Art. This casual two-floor brewery has a full-service restaurant in addition to its taproom.
Be sure to head to the top floor to enjoy the outdoor roof deck dining. Reservations aren't required here, but you can make them for parties of up to 10 at least 14 days ahead of time.
There's a variety of draft beer on the menu as well as beer to go. Food menu items include everything from local oysters to mac and cheese with parmesan crumble to roasted broccoli Caesar salads. Most menu items cost between $15 – $30, with dishes like Steak a la Plancha costing a bit more.
Omni Boston Hotel's Lifted Restaurant
Omni Boston Hotel at the Seaport, 450 Summer Street, Boston, MA 02210
Stop by the Lifted Restaurant at Omni Boston Hotel at the Seaport for a lovely rooftop spot to eat. They're open daily between 11 a.m. and 9 p.m. and also won the Diner's Choice Award from OpenTable, so you know the food is great!
You can make reservations online to ensure that you have a spot so you can enjoy Boston skyline views while dining. The menu at this restaurant is great, ranging from "Lob-Stah" Louie salads to crispy fish tacos and even salted caramel lobster rolls (yes, you read that right). Most dishes cost under $35. Be sure to pair it with a local beer or wine!
Dorchester Brewing Company
1250 Massachusetts Ave, Boston, MA 02125
Dorchester Brewing Company has a great rooftop in Boston. This Boston brewery and taproom has a Rooftop Hopservatory, which looks out to the entire Boston skyline. Up here, there's a seasonal patio and lots of spots for events if you want to host a private celebration.
The food here is done by M&M Barbecue, which has tons of snacks and entrees that pair perfectly with all types of drinks. Find items like dumpster fries (located with meat and smoked cheese sauce), sammies on brioche buns, and even platters if you want lots of meats to share with everyone in your party.
Felipe's Taqueria
21 Brattle St, Cambridge, MA 02138
If margaritas and Mexican food are what you're craving, then you can't miss out on the rooftop over at Felipe's Taqueria. This casual restaurant is incredibly friendly and warm, and it's actually a great late-night spot in Cambridge, closing around 2 a.m. most nights.
The menu has everything that you'd think it would, with entrees including burritos, chimichangas, bowls, tortilla salads, tacos, nachos, quesadillas, and more. You also get to choose what type of filling you'd like to add to your dish, with options like wood-grilled steak, carnitas, tinga de pollo, and more on the menu.
Contessa
Rooftop, 3 Newbury St, Boston, MA 02116
Contessa is the place to go if you want Italian food with a view. They currently only have spots in both Boston and Miami, and the view looks right out to the city skyline. The inside of the restaurant is very posh, with pink, green, and blue colors throughout as well as lots of greenery.
You can make reservations online if you want to be sure you can get a spot at this classic restaurant. The menu features dishes like bruschetta ricotta, fusilli Genovese, rigatoni carbonara (YUM), and even classic margherita or truffle pizza. No matter what type of Italian food you're in the mood for, you can truly find it here and enjoy it with a view.
Legal Harborside
270 Northern Ave, Boston, MA 02210
Legal Harborside is located right along the water and has a big rooftop with spots that are both covered and uncovered. The Roof Deck in the Seaport District is actually open year-round thanks to the partial coverage.
The menu is mostly seafood dishes, with options like oysters of the day, classic New England clam chowder, lobster bisque, crab clake sliders, and jumbo naked shrimp on the menu. There are also some unique dishes on the menu, like corn ribs (with chipotle aioli, cilantro, and cotija cheese) as well as stuffies (Cape Cod quahogs with butter, ritz crumbs, and chourico) on the menu.
TopDeck at Cunard Tavern
24 Orleans St, Boston, MA 02128
Stop by Cunard Tavern's TopDeck, which is consistently rated as one of the best rooftop restaurants in Boston by Thrillist, Boston.com, Eater, and Boston Magazine. This is nowhere near as big as some of the other restaurants on the menu, so you'll have a much more immersive and personalized experience while here.
At this casual restaurant, you can find lots of fun dishes. There are options like buttermilk waffle trios, beer-braised carnitas nachos, bacon-wrapped dates, and even Korean-style beef short rib quesadillas. Don't forget to try their whipped sweet potatoe or honey cornbread.
Deck 12
YOTEL Boston, 65 Seaport Blvd, Boston, MA 02210
Another rooftop restaurant located near both the Institute of Contemporary Art and the Boston Children's Museum is Deck 12. This restaurant has some of the best views of both the downtown Boston area and the waterfront. The restaurant is open year-round and has seasonal dishes that rotate throughout the year.
You can often find pizzas, seafood, salads, and more on the menu. The brunch menu is especially tasty, with options like lobster and sweet corn waffles, baked stuffed brie, breakfast sandwiches, french toast sticks, and blueberry pancakes on the menu. Most dishes are under $30.
Blue Owl
907 Main St, Cambridge, MA 02139
Blue Owl is located in Central Square over in Cambridge, just across the water. It's super easy to get there from downtown Boston using public transportation! They have a lovely rooftop terrace and bar area that you won't want to miss.
The menu at Blue Owl is exquisite. They basically take regular dishes but add a unique twist. For instance, there's coconut oil popcorn with green Thai curry powder. There are parmesan rosemary fries with curry mayo, ketchup, and sambal aioli. There are even Korean fried chicken wings with toasted sesame and gochujang glaze.
Sam Adams Boston Taproom
60 State St, Boston, MA 02109
Last but certainly not least is the popular beer hall, Sam Adams Boston Taproom. This casual restaurant and bar has an amazing rooftop terrace and is located right by Government Center and Faneuil Hall Marketplace, making it extremely centrally located compared to other options on this list.
For drinks, they have pretty much everything you could imagine, mostly rotating through their seasonal drinks. They also have classic dishes that you can pair with your drinks, like beer brats, nachos, chicken tenders, and even paninis. If you have a sweet tooth, try their unique Boston lager chocolate chip cookies!
Final Thoughts: Boston Rooftop Restaurants
Boston's rooftop restaurant scene is sure to provide you with an unforgettable experience, whether you're looking for a romantic night out or a casual lunch date. With its amazing views and wide selection of food options (including creative takes on traditional dishes), you can find something to satisfy anyone in your party.
So the next time you're in Boston, don't forget to check out one (or more!) of the amazing rooftop restaurants this city has to offer! The panoramic views of the Boston skyline will make you want to come back.
---
Read these next: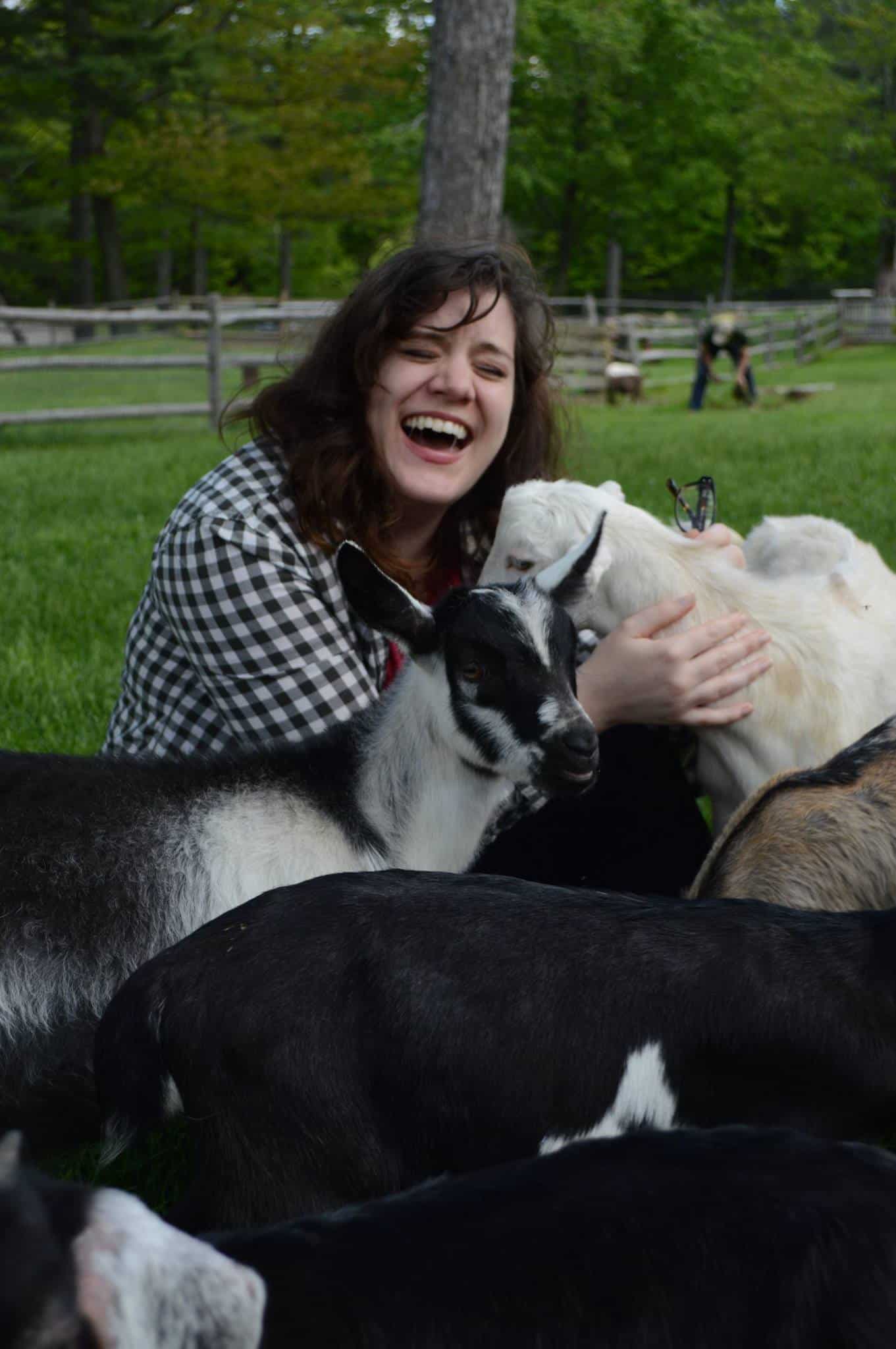 Amy Hartle is the founder and Editor-in-Chief of New England With Love, a comprehensive resource for travel in the New England region. Amy has been exploring New England since 2001. She lived in Vermont for many years and is a graduate of Plymouth State University in New Hampshire. Amy has been writing about travel for over a decade. On this site, Amy aims to share her love of New England and help you to have the best possible adventures!
Amy has been a full time blogger since 2012, and is also the publisher of Two Drifters, where she writes about couples travel and relationships, as well as Let's Adventure Baby, a family travel site. When not traveling the world or creating epic blog content, Amy can be found cuddling with her husband, son, and cats, & drinking a maple latte.