There is something about kicking back on a rooftop with your favorite adult beverage that just feels so… well, cool.
If you're looking for rooftop bars in Boston, we get it. We're right there with you!
Boston has some excellent rooftop restaurants that have spectacular views of the city, and if you're looking for where to go with your friends or that special someone, any one of these Boston rooftop bars could be a great choice.
There are rooftop options galore, so settle in and have a look at some of the best places to enjoy Boston rooftop views, cocktail in hand.
Best Rooftop Bars in Boston (+ Restaurants!)
Sam Adams Boston Taproom
60 State St, Boston, MA 02109
You can't talk about where to drink in Boston without mentioning Sam Adams Boston Taproom!
Casual and laidback, this rooftop Boston bar is located right by Government Center and Faneuil Hall Marketplace, making it very convenient for all kinds of fun Boston things to do!
For drinks, they have pretty much everything a person could want, including Sam Adams, of course. They also have a lot of easy classic dishes that you can pair with your cocktails, like beer brats, nachos, chicken tenders, and sandwiches.
Craving something sweet at this Boston rooftop terrace bar? Try the Boston lager chocolate chip cookies!
Read Next: 10 Best Breweries in Boston You Can't Miss
Lookout Rooftop and Bar
70 Sleeper St, Boston, MA 02210
A part of The Envoy Hotel, Autograph Collection, the Lookout Rooftop and Bar is one rooftop bar in Boston you won't want to miss out on. Beautifully located on the water, you'll get some of the best skyline and Boston Harbor views that you can get in the entire city.
Sleek, modern, and comfy, this is one of those rooftop lounges in Boston that have covered all the bases very well! You've got covered seating areas with built in heaters that are perfect for keeping you cozy on cooler nights, and fire pits to make the entire experience that much more magical.
Add in your favorite craft cocktail or microbrew and you're basically living the dream, #amirite?
Dorchester Brewing Company
1250 Massachusetts Ave, Boston, MA 02125
Dorchester Brewing Company has a great rooftop lounge in Boston. In fact, they have a Rooftop Hopservatory, which is just clever as can be! Plus, it's covered, so it's truly four seasons.
This Boston rooftop offers a great view of the iconic Boston skyline. There's also an actual outdoor roof deck if you're looking for fresh air while enjoying a few.
They also have a game room with classics like skeeball, pinball, and more, and food is provided by M&M Barbecue, so this is one of those great Boston rooftop bars that you can basically spend the entire day at!
Contessa
3 Newbury St, Boston, MA 02116
Contessa is the place to go if you want elevated views of the Back Bay along with incredible Italian cuisine. The interior is very Old World meets contemporary, colorfully sophisticated, and comfortably luxurious. Plus, all of those gorgeous plants make the space feel like an Old Money conservatory, and I am Here. For. It!
This isn't an open air rooftop experience, but rather a glass encased restaurant and lounge that is perfect for either daytime drinks or a lovely dinner with cocktails. Their cocktail menu is absolutely phenomenal, with pretty much everything a person could possibly want!
Read Next: Where to Stay in Boston: The Ultimate Boston Neighborhood Guide
Blue Owl
907 Main St, Cambridge, MA 02139
Blue Owl is located in Cambridge on the rooftop of one of the best boutique hotels in the area, so if you're looking for somewhere to stay…
Blue Owl has a great restaurant area with indoor seating and a lovely rooftop terrace that's perfect for enjoying cocktails with friends as you look over Cambridge Square.
There are many options on their craft cocktail menu, but one interesting feature is that they have non alcoholic craft cocktail offerings featuring the NA distilled spirit brand Seedlip.
This is so nice when you're wanting to connect with a group of friends and some don't drink. Yes, you can order most things virgin, but it's just a nice touch if there's a dedicated list of handcrafted non alcoholic cocktails!
Earls Kitchen + Bar
800 Boylston Ave, 107, Boston, MA 02199
Located in the Prudential Center, Earl's Kitchen + Bar is one of the most popular rooftop bars in Boston because not only does it have a great rooftop patio space, but its menu is top notch, too.
The rooftop terrace has heaters to keep it nice and comfy on chilly days, and it's an excellent spot for a get together with friends. Brunch is very popular at Earl's, so grab a few friends and head to this Boston rooftop for a bite and a beverage on any weekend, you'll be in good company.
Deck 12
65 Seaport Blvd, Boston, MA 02210
Located on the 12th floor rooftop of Yotel, this trendy Boston rooftop bar is open year round with fantastic views of the Seaport nightlife down below.
The indoor space at Deck 12 has floor to ceiling windows so there's plenty of opportunity for great views, whether you're sitting indoors or out on the open air balcony.
Visiting in the summer? Try the house made frozen rosé. Paired with their scrumptious brunch offerings, you'd be off to a great start!
Felipe's Taqueria
21 Brattle St, Cambridge, MA 02138
Looking for a Boston rooftop where you can enjoy Mexican food and margaritas? You're going to love the rooftop over at Felipe's Taqueria!
The vibe here is incredibly friendly and warm, and it's a popular late-night spot in Cambridge, closing around 2 a.m. most nights.
Their emphasis is on quality, so everything from the guacamole to the margarita mix is made in small batches to ensure that everything is served at the peak of freshness, every time. This is a definite must visit Boston rooftop bar and restaurant!
Read Next: 10 Unique and Fun Restaurants in Boston
Cunard Tavern
24 Orleans St, Boston, MA 02128
Cunard Tavern's TopDeck is consistently rated as one of the best rooftop restaurants in Boston by Thrillist, Boston.com, Eater, and Boston Magazine.
This East Boston rooftop is a little more on the intimate side, and they have a killer selection of craft beers and ciders. This is a popular brunch spot in town, so you might have a wait… but it's worth it!
Rooftop@Revere
200 Stuart St, Boston, MA 02116
Rooftop at Revere isn't just one of the best spots for an adult beverage with a view, it's one of the best spots for all kinds of rooftop fun! In addition to having a fantastic menu for appetizers, entrees, and craft cocktails, they also host regular events like rooftop yoga.
Skyline views and fun things to do? Yes, please!
Offering gorgeous views of the Back Bay, there's plenty of space to spread out and take it all in: this is the largest rooftop bar in Boston! You can even rent a private cabana if you want to up the intimacy level a little during your next visit.
Spacious, trendy, and just an all around great vibe, the Rooftop at Revere is one of the most popular rooftop bars in Boston, for sure.
Pier 6
1 8th St, Charlestown, MA 02129
Perfectly situated on the water in Charlestown, Pier 6 has excellent outdoor seating, including their rooftop bar. The views of the water are absolutely phenomenal, and you can even opt to sit indoors and still get a great view from the floor to ceiling windows.
The views of the Boston skyline are spectacular at night, so head to Pier 6 for a late dinner and drinks with friends, because this is a rooftop bar that is the perfect spot to watch the sun set and the city light up for the night!
Legal Harborside
270 Northern Ave, Boston, MA 02210
Legal Harborside is one of the top waterfront roof spots in Boston, with a big rooftop with areas that are both covered and uncovered by a retractable roof. The Roof Deck in the Seaport District is able to be open year-round thanks to the partial coverage.
In fact, the third floor promenade deck is still a great place to take in the views even when its covered, thanks to its glass roof and walls! The seafood is absolutely phenomenal at Legal Sea Foods Restaurant & Oyster Bar, so come hungry.
Read Next: 10 Must-Visit Restaurants for the Best Lobster Rolls in Boston
Lifted
450 Summer Street, Boston, MA 02210
Located on the 5th floor of the lovely Omni Boston Hotel at the Seaport, the Lifted Pool Bar is one of those places that pumps out insta worthy cocktails and dishes… and that great view in the background doesn't hurt, either!
As you've probably already figured out, Lifted is attached to the rooftop pool area, so if you're a guest in the hotel and want to enjoy a cocktail after taking a dip in the pool, it's perfect.
Lifted is open to the public, so anyone can come enjoy this open air bar in Boston!
Over the Charles Rooftop Bar
400 Soldiers Field Rd, Boston, MA 02134
If you're looking for some of the most scenic views from a Boston rooftop bar, you're going to want to check out Over the Charles Rooftop Bar! As you can probably guess, you'll get some of the best views of both the Charles River and the Boston skyline from this popular spot.
Located on the 16th floor of the DoubleTree Suites by Hilton Boston-Cambridge, this is one of those spots where you'll have fun for date night, a night out with the girls, or even just flying solo. They regularly host live music and fun events like trivia. Oh, and the menu is pretty stellar, too!
Daedalus
45 1/2 Mt Auburn St, Cambridge, MA 02138
Daedalus is one of the best restaurant rooftop bars near Harvard, and it's located within easy walking distance of Harvard Yard.
Indoors in the restaurant and outside on the roof deck both have a cozy ambiance, making this a great date night spot. There are patio heaters that keep the rooftop deck comfy even as the weather cools off, and their cocktail, wine, and draft list will help warm you from the inside out!
Six \ West
6 W Broadway, Boston, MA 02127
Perched on top of one of the most popular boutique hotels in South Boston, Six \ West offers incredible views of the Boston city skyline, especially when it's all lit up at night.
There's plenty of room at this rooftop bar, and during the cold weather months, they put igloos around the seating areas that have their own private patio heater, so you can comfortably enjoy those rooftop views any time of year.
The rooftop food menu is limited compared to what they offer on the ground floor, but you've still got plenty of options if you want a quick bite with your cocktail, and there are plenty of options on the cocktail menu!
Whether you're looking for a place to enjoy the glittering city skyline or you just want to get some fresh air with your Happy Hour, there are plenty of beautiful Boston rooftop bars out there!
While this isn't a completely comprehensive list of every rooftop in Boston where you can kick back with your favorite beverage, we think it's a great start. Enjoy!
You might also like: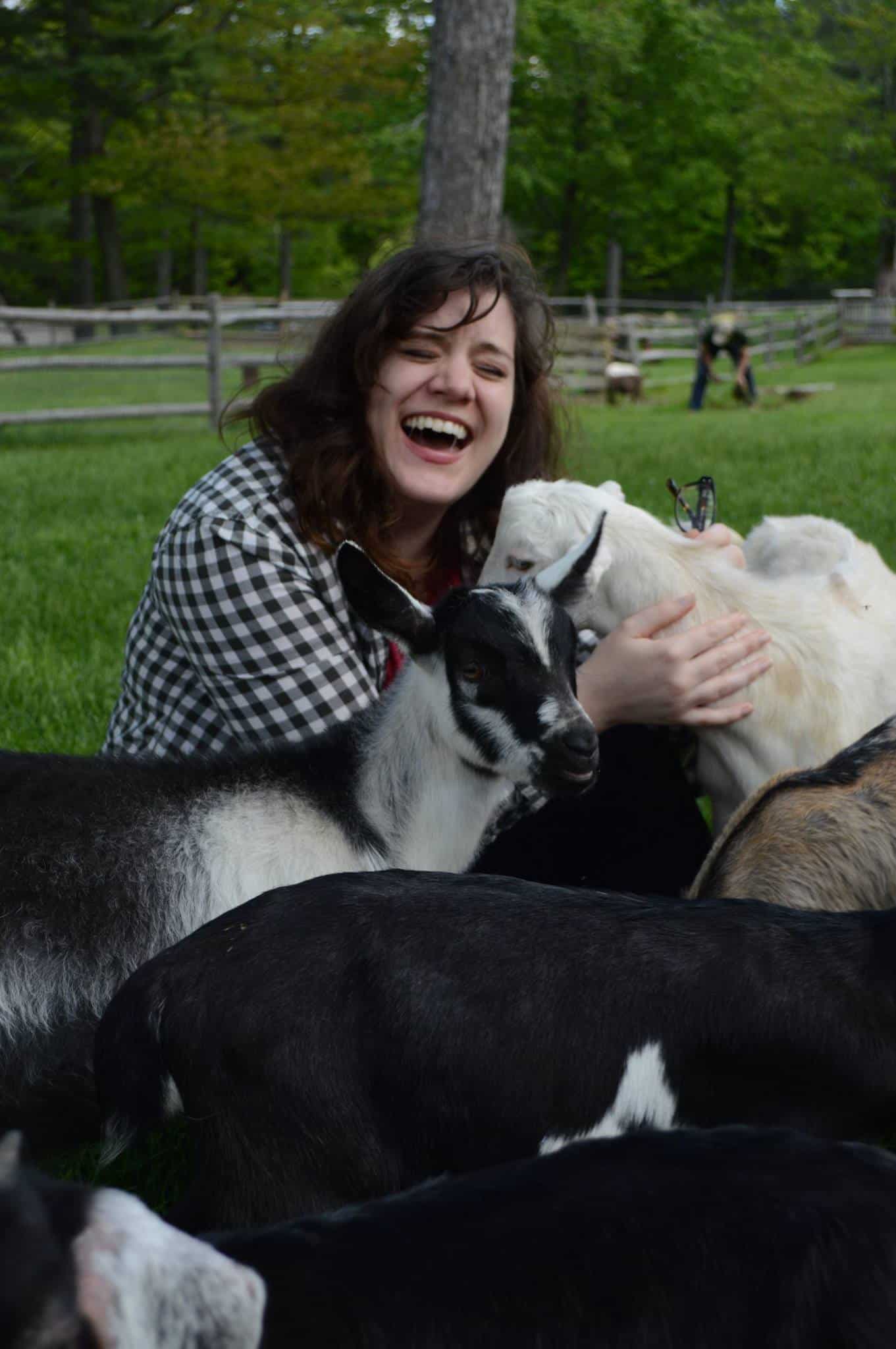 Amy Hartle is the founder and Editor-in-Chief of New England With Love, a comprehensive resource for travel in the New England region. Amy has been exploring New England since 2001. She lived in Vermont for many years and is a graduate of Plymouth State University in New Hampshire. Amy has been writing about travel for over a decade. On this site, Amy aims to share her love of New England and help you to have the best possible adventures!
Amy has been a full time blogger since 2012, and is also the publisher of Two Drifters, where she writes about couples travel and relationships, as well as Let's Adventure Baby, a family travel site. When not traveling the world or creating epic blog content, Amy can be found cuddling with her husband, son, and cats, & drinking a maple latte.