One of the best things to do in summer is to go river tubing in Vermont! Luckily, there are quite a few great spots throughout the state where locals and visitors alike can enjoy the beauty of this state from the comfort of a tube in the river.
No matter where in Vermont you're visiting, you'll most likely be able to find a place to go tubing nearby. Many people will even go tubing in local rivers right through towns, but in this post, you'll learn about five of the most popular places to go tubing.
Below, find all of the best spots to go river tubing in Vermont, including some great businesses to rent tubes from during your visit in case you don't have your own!
Connecticut River
Believe it or not, but the Connecticut River does go all the way up through Vermont! In fact, it's one of the best spots to go river tubing in Vermont because of its true beauty. It's also the longest in New England and even goes through part of New Hampshire.
If you're interested in going tubing on the Connecticut River, find a great option for tubing rentals below.
Are you heading to the Connecticut River for tubing? Then consider stopping at Great River Outfitters, the perfect spot to grab everything you need for your excursion. They offer a variety of daily rentals so that you can rent a tube.
A 4-hour river tube trip costs between $25 to $30 depending on the age of the person who needs the tube. They also offer shuttle times to and from the river for those who rent a tube, so that's included in the price. They have shuttle times at certain times throughout the day, so you can decide on the one that fits best in your schedule.
In addition to tubing, Great River Outfitters offers a variety of different equipment that can be rented. There are boats, paddles, coolers, tents, and even life jackets. Seriously, everything that you could possibly need can be found at Great River Outfitters.
Battenkill River
The Battenkill River is definitely the most popular place for river tubing in Vermont. If a local ever says they're going tubing, this is normally where they're headed! In fact, most Vermonters have probably camped near the Battenkill at least once. It's a 60-mile river between Vermont and New York and is a tributary of the Hudson River.
Here are a few excellent tubing rental options if you're interested in tubing on the Battenkill River.
Vermont River Runners is the perfect option for renting tubes when visiting the Battenkill River! They have regular tube rentals available for just $20, and they have custom trips between one and six hours.
What makes it so great is that when getting a tube through Vermont River Runners, you can also enjoy their shuttle that will bring you to and from the river. This makes it super easy to have an excursion without having to worry about driving and ending near where you began.
They will use their shuttle services in the Manchester, Vermont area, which is a popular place to visit in the state. If you want to try something other than tubing, don't worry; there are also canoe and kayak rentals available as well, though they are a bit more expensive.
With a name like Big Big on the Battenkill, you know that you can't go wrong! This is another of the great places to rent tubes from if you'll be visiting the Battenkill River and need a tube for your fantastic trip.
They have a flat rate of $30 for their tubes in Arlington, Vermont. You can also get a separate cooler float for $10 if you need it, and that's a great option if you'll want to bring some food on your expedition. Water shoes are available, and life jackets are included in every float rental.
If you want something similar to a tube but a bit larger, consider getting a raft. These are closer to $60 per rental but are kind of a mix between a kayak and a tube because they are inflatable, but it will keep you a bit drier.
Mad River
The Mad River is one of the Winooski River's tributaries! It goes between quite a few different towns in Vermont, including Moretown and Waitsfield. There's even an entire area in Vermont called the Mad River Valley, and the area is rather scenic.
Here's an excellent option for renting a tube when visiting the Mad River to make your trip super enjoyable.
Clearwater Sports has a unique approach to its tubes. That's because they are actually covered in cloth, so you don't have to worry about being stuck in a hot tube in the sun all day! They've really thought everything out.
They have a fun event they hold called "tubing down the Mad River," and the cost for the rental is $35. It's for five hours, which makes the price relatively affordable. Some of their tubes even have a spot so that you can bring your drinks with you.
Because they have a variety of tube sizes, kids are more than welcome to come on these trips too. With the ticket, Clearwater Sports will bring you to the starting point and also pick you up at the end to ensure that you have an easy and excellent trip.
The White River
The White River is one of the tributaries of the Connecticut River in Vermont. It's rather long at around 60 miles, so there are many spots along the river where you can enjoy the state's beauty. It goes right through the White River Valley, which is perfectly named!
Here's a great option for renting a tube to explore the White River.
At Vermont River Tubing, guests can rent tubes between June and Labor Day. They recommend that you bring all of the essentials for a great tubing day, like river shoes, snacks, drinks, sunscreen, and a towel.
Their services with their tubing are a bit more unique, as you do have to make a reservation online by giving them a call. Their phone number can be found on their website. By calling ahead, you can make sure that they'll be open during your trip and that they will have tubes available for when you'll be wanting to explore the White River.
They have rather comfortable tubes with fun backs that you can lean against to ensure that you're comfortable on your tubing day. They also have more traditional tubes that just have handles, so there are a variety of options that they offer.
Winooski River
Last but certainly not least is the Winooski River in Vermont. This is actually one of Lake Champlain's tributaries and runs straight across the state! It goes near the Connecticut River Valley and is genuinely tranquil yet scenic at the same time.
If you're interested in exploring the Winooski River, here's a great option for renting a tube for your trip.
Truly, Umiak Outdoor Outfitters has a large list of different types of rentals that they have! No matter what you want to do outdoors, there's an option to do it through this company. Of course, one of their most fun activities is tubing.
An inner tube rental is available at both of their stores, one in Richmond and one in Stowe. They are larger tubes which are super comfortable, and it costs $25 for the full day, so they're rather affordable. You can book your tube online or give them a call ahead of time to make sure they'll have one for you.
What's so great about Umiak Outdoor Outfitters is they give you a long list of places you can go floating. For instance, you can go from Moscow Recreational Park to Cottonbrook Road or even The Lareau Park to Waitsfield Covered Bridge.
To make your trip easy, Umiak Outdoor Outfitters also has a Richmond River tubing shuttle which can make your trip super easy. This is available Thursday through Monday, and they have times between 10 am and 2 pm.
On average, this is for a 2-3 hour trip, and your shuttle driver will be able to help you along the way and explain where you will be picked up. Plus, you'll even get an excellent safety briefing before you start! This is a bit more expensive, between $20 to $35 per person.
If you want to try something besides tubing, Umiak Outdoor Outfitters is the way to go. They have tons of different boat rentals, training, and more.
This post was all about the best places to go river tubing in Vermont. We hope that you have the absolute best trip and enjoy yourself river tubing, one of Vermont's best outdoor activities!
---
You might also like: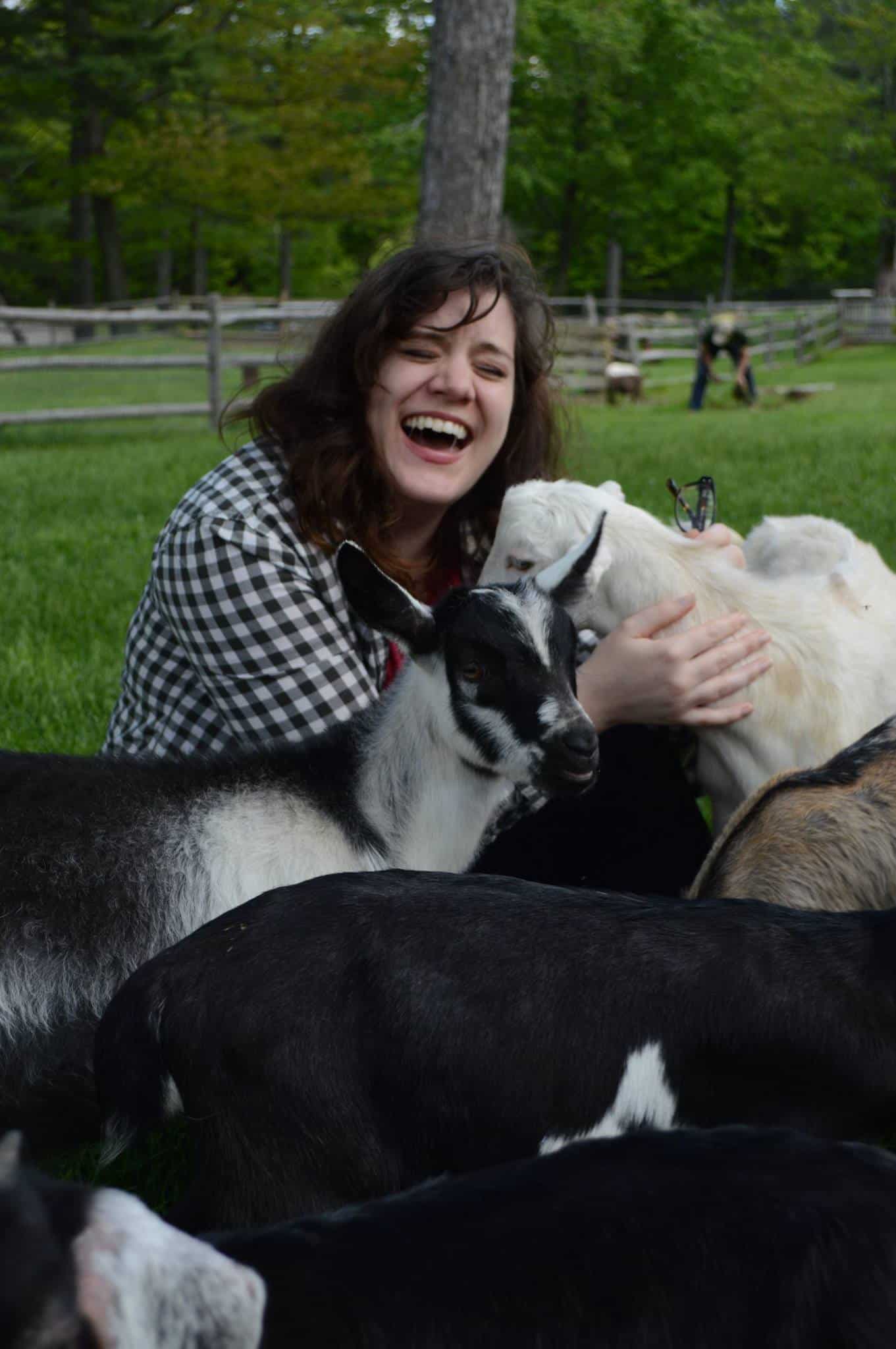 Amy Hartle is the founder and Editor-in-Chief of New England With Love, a comprehensive resource for travel in the New England region. Amy has been exploring New England since 2001. She lived in Vermont for many years and is a graduate of Plymouth State University in New Hampshire. Amy has been writing about travel for over a decade. On this site, Amy aims to share her love of New England and help you to have the best possible adventures!
Amy has been a full time blogger since 2012, and is also the publisher of Two Drifters, where she writes about couples travel and relationships, as well as Let's Adventure Baby, a family travel site. When not traveling the world or creating epic blog content, Amy can be found cuddling with her husband, son, and cats, & drinking a maple latte.