Located on the coast not far from Block Island, Westerly, Rhode Island, is an excellent seafront destination known for its incredible views, local businesses, and above-average public school. However, most people don't know that the restaurants in Westerly RI are excellent!
By reading this article, you'll get a glimpse into some of the top Westerly restaurants that you won't want to miss out on. There are Thai, Mexican, Italian, and even New American restaurants throughout the town that will surely help ease any craving you may have.
Here are all of the best restaurants in Westerly RI!
Casa Della Luce
Location: 105 Franklin St, Westerly, RI 02891
First is Casa Della Luce, a fantastic Italian restaurant well-known for its great pizza and pasta. If Italian has been on your mind, this is the place to go. They offer dine-in and takeout, so you can even eat elsewhere if you'd prefer (such as near the water with a view!).
The restaurant itself is very minimalistic on the inside, with wood flooring and plain walls. However, there are some fun pieces of art hanging up, such as paintings of lighthouses, that help to add to the ambiance.
The menu features entrees and appetizers that are mid-priced. There are fried calamari, arancini, chicken parmesan, fettuccine alfredo, and even more unique dishes like truffled steak with a demi-glace sauce. Don't forget to order wine to pair with your nice Italian meal!
If you love the food so much while eating at Casa Della Luce, you can also order take-home pasta that was freshly made that you can then cook on your own for a delicious meal.
Ella's Food & Drink
Location: 2 Tower St, Westerly, RI 02891
For a romantic evening out in Westerly, head to Ella's Food & Drink. This New American restaurant has an Asian-French twist that you won't be able to find elsewhere in the city. The interior is upscale and elegant, making for a beautiful dinner out on the town.
There is seating both inside and outside, though be aware that the interior is relatively dimly lit to add to the restaurant's overall ambiance. There's even outdoor seating in the evening, and the restaurant turns its outdoor lighting on to create quite the spectacular atmosphere.
Ella's Food & Drink was opened by Chef Jeanie and has quickly become one of the best restaurants in Westerly RI and the surrounding area. The menu includes salads, hors d'oeuvres, and different meats, including fish. Note that because this is an upscale restaurant, pricing is on the higher end, with most meals costing around $30.
Thong Thai Restaurant
Location: 12836 Pacific Hwy SW, Lakewood, WA 98499
Authentic Thai cuisine is the name of the game at Thong Thai Restaurant. Even though the interior feels more like a southern restaurant with its exciting decor and checkered tablecloths, the food here is incredible and will bring you back to Thailand if you've ever been there before.
The business is owned by a family who opened the restaurant back in 2016. They really wanted to bring the most authentic Thai cuisine that they could to this area of Rhode Island, and they surely did. Plus, you'll be served with traditional Thai hospitality!
There's everything you could possibly imagine or even want on the menu. You can find edamame, crispy fried tofu, fried wontons, pad thai, sesame noodles, and more just waiting for you to order. Everything costs around $10, but of course, the price varies greatly depending on what you order.
Amigos Taqueria Y Tequila
Location: 2 Canal St, Westerly, RI 02891
Obviously, this list of restaurants in Westerly RI wouldn't be complete without including at least one Mexican restaurant. Amigos Taqueria Y Tequila is the perfect spot to go no matter what kind of Mexican food you're craving. Plus, their margaritas are excellent.
The interior of the restaurant is precisely what you'd expect! It's super lively, making for a great atmosphere. The chairs are vivid blue, there are brick walls, and fun decor everywhere you look, even in the middle of the tables.
As you'd expect, the menu is filled with tacos, burritos, nachos, chimichangas, and more. There are even some unique dishes like Amigos Corona Battered Fish & Chips, Chipotle BBQ Pulled Pork Huarache and Baked Stuffed Avocado! Most dishes on the menu cost around $15 or under, with the appetizers costing significantly less.
Guytanno's International Restaurant
Location: 62 Franklin St, Westerly, RI 02891
Rhode Island is well-known for its seafood, so to try this local delicacy, make your way to Guytanno's International Restaurant. This seafood restaurant has mid-range pricing and a comfy and cozy interior with hardwood paneling. It's located in Ocean Plaza.
Guytanno's has been a Westerly staple since it first opened back in 2004. It started out in a strip mall and has since changed drastically, becoming a favorite in the area. Plus, they can easily accommodate large parties and even host rehearsal parties for weddings if needed!
The menu has grilled mussels, lobster fettuccine, Guytanno's crab cakes, fried calamari, and more. If you're not a fan of seafood and still want to try this restaurant out, don't worry. They also have mac and cheese, sweet chili teriyaki wings, chipotle chicken nachos, and other non-seafood dishes.
Gansett Wraps
Location: 160 Granite St, Westerly, RI 02891
Gansett Wraps is the place to go in Westerly if you just want a sandwich for lunch or dinner. This local favorite is known for its friendly staff, homemade hummus, and fantastic service. It's just what you'd want out of a local shop!
This restaurant's pride and joy is getting its customers their food quickly without sacrificing service or quality. You can even make your sandwich come out quicker by ordering ahead on your phone if you're in a rush (or if you're hangry – we've all been there). They also utilize fresh ingredients and have outdoor seating.
The menu is pretty extensive, especially for a sandwich shop. There are wraps of every kind: vegetarian, chicken, beef, seafood, and other deli meats. There are also soups, chips, sides, and salads, in addition to a kid's menu.
The Cooked Goose
Location: 92 Watch Hill Rd, Westerly, RI 02891
The Cooked Goose is another of the top restaurants in Westerly RI, especially if you're looking for classic American staples. This restaurant may not seem like much from the outside, but it's almost always busy and is one of the local favorites.
It quickly became popular among locals because of the excellent service, fun atmosphere, and accessibility. The restaurant has been open for more than fifteen years and has everything you could possibly want for a hearty meal.
The Cooked Goose is open for both breakfast and lunch, and they also have some grab-and-go options if you're in a hurry. The menu is relatively extensive too and covers everything from breakfast classics to sandwiches from the grill.
The Malted Barley
Location: 42 High St, Westerly, RI 02891
You may be thinking, how did a bar make it on this list? Well, when it's the liveliest place in town, it deserves a spot among Westerly's best restaurants! This bar is open all day from around 11 am to 1 am, so it's even open for those who want to go out for a late night.
The Malted Barley is known for its live music nights. Plus, there's an outdoor patio where you can enjoy local craft brews that are always on tap along with a quick bite like nachos or their popular soft pretzel.
In fact, they have a whole menu just for their soft pretzels. Choose between flavors like chipotle pepper & smoked gouda stuffed or even mozzarella & tomato stuffed. Then, choose from a list of more than ten different dips ranging from cream cheese frosting to raspberry butter!
B&B Dockside
Location: 19 Margin St, Westerly, RI 02891
Located right on the border of Connecticut and Rhode Island is B&B Dockside, the best place to go in Westerly for either unique burgers or a tasty breakfast to get your day started off right. The interior is very casual and cozy, making you feel like you're right at home.
There are tables of every size, including ones for larger parties. So, if you're visiting Westerly with a larger family or group of friends, you can easily be accommodated at B&B Dockside, which can be hard to do sometimes at other restaurants!
The menu has dishes that are mostly around $5 to $10. For breakfast, be sure to try their classic Eggs Benedicto; you'll want to order another plate the second it's gone. There are also breakfast burritos, egg scramblers, egg sandwiches, and more.
With so many great restaurants in Westerly RI, it can be hard to choose where to eat. Hopefully, this post has helped you find the perfect restaurant for what you're looking for. Don't forget to share this post for later to help out other travelers!
—
You might also like: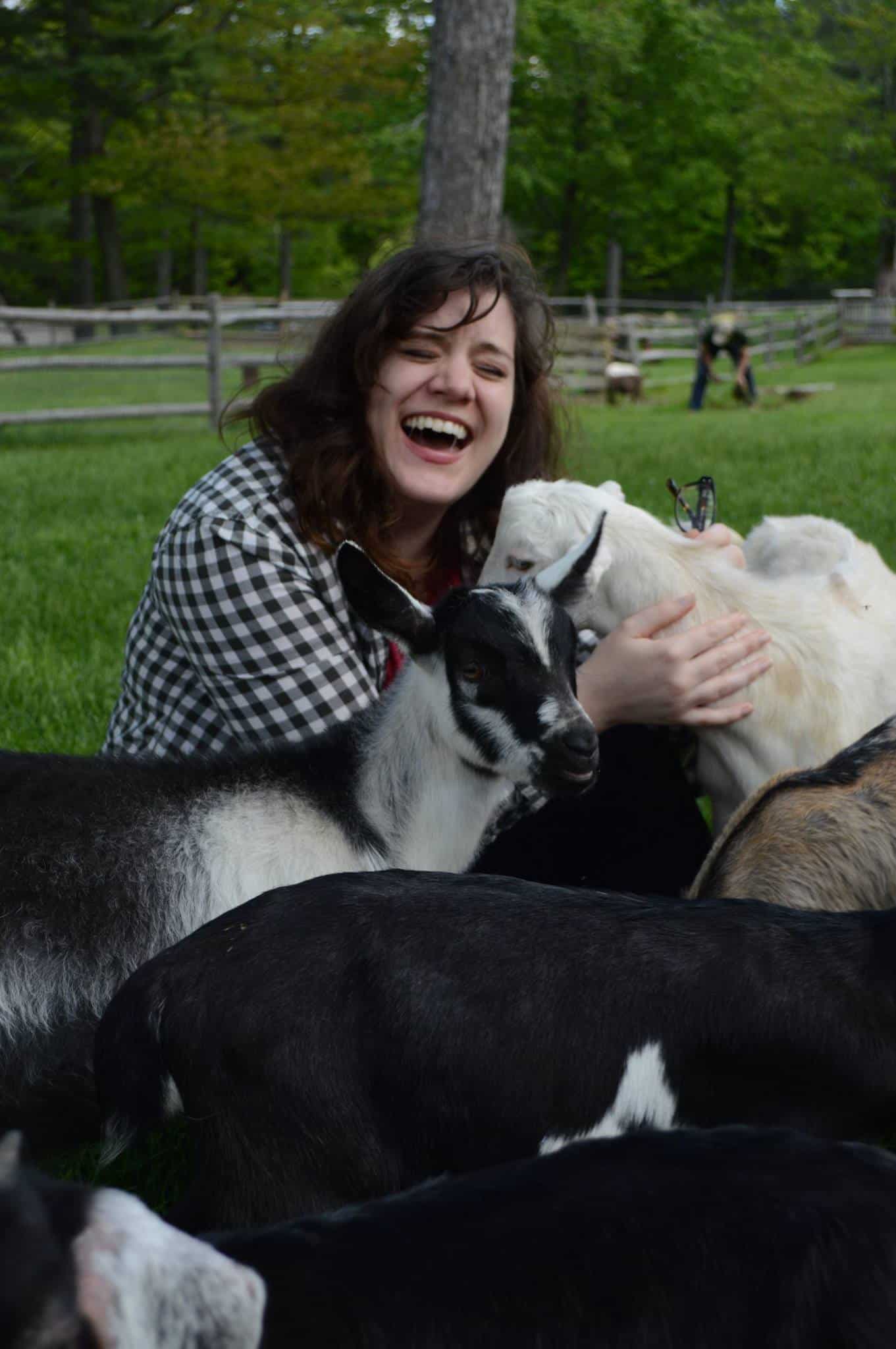 Amy Hartle is the founder and Editor-in-Chief of New England With Love, a comprehensive resource for travel in the New England region. Amy has been exploring New England since 2001. She lived in Vermont for many years and is a graduate of Plymouth State University in New Hampshire. Amy has been writing about travel for over a decade. On this site, Amy aims to share her love of New England and help you to have the best possible adventures!
Amy has been a full time blogger since 2012, and is also the publisher of Two Drifters, where she writes about couples travel and relationships, as well as Let's Adventure Baby, a family travel site. When not traveling the world or creating epic blog content, Amy can be found cuddling with her husband, son, and cats, & drinking a maple latte.