Portsmouth is the New Hampshire Seacoast's shining gem!
While you're walking the cobblestone streets and cruising the pretty Portsmouth Harbor, you're going to work up an appetite! When that happens, you'll be in luck because there are plenty of great restaurants in Portsmouth NH.
Portsmouth also has lots of great bars, breweries, and breakfast places. Who knows, maybe you'll find your next favorite on our list of the best places to eat in Portsmouth, New Hampshire.
In no particular order, these are the best restaurants in Portsmouth!
Restaurants in Portsmouth NH
Black Trumpet
Comfortable elegance, hip sophistication, and creative Farm-to-Table dishes are the hallmarks of Black Trumpet, Portsmouth's gorgeous Ceres Street restaurant.
Inspired by a variety of culinary influences to create a menu that embraces the seasonal flavors of the Seacoast, this is a great spot for a Portsmouth date night.
Dress up or stay casual, either way, you will feel at home in this heady atmosphere of exposed brick and wooden rafters in this oh-so-cozy historical building.

Popovers on the Square
Looking for a great brunch spot in Portsmouth? Well, you've found it!
Popovers on the Square has a fabulous menu that includes breakfast, lunch, and lots of delectable goodies from the bakery, including their signature popovers, of course!
Popover options include the classic flaky popover, a scrumptious breakfast popover sandwich, or even a popover sundae with creamy vanilla ice cream, chocolate and caramel sauces, and sprinkles galore!
Grab a cocktail to enjoy with your meal indoors in the bright bistro and bakery or out on their sweet streetside patio. You'll love that their Market Square location puts you right in the heart of downtown Portsmouth.
The Library Restaurant
Sometimes a person just needs a juicy steak cooked to perfection… if that person is you, then you need to consider a visit to The Library Restaurant on State Street.
This classic steakhouse has a romantic, cozy steakhouse ambiance, and there is a strict, upscale dress code. This is definitely a place to dress your best!

It likely goes without saying that you will find phenomenal cuts of meat that are prepared to perfection at The Library, but there are plenty of other offerings available.
Whether you're visiting in the heart of the humid summer or on a chilly winter's night, you'll find The Library to be a comforting gourmet escape from the world outside.
Green Elephant Vegetarian Bistro + Bar
Yes, Green Elephant is vegetarian, but meat and veggie lovers alike will fall for their Asian-inspired offerings that feature local flavors and ingredients that are skillfully combined with influences from Thailand, India, Malaysia, and China.
Fan favorites include the Tofu Tikka Masala and the Thai Ginger Noodles, both expertly crafted to take your taste buds on a journey they won't soon forget!
The interior of the Green Elephant is sleek, hip, and comfortable, whether you grab a table by the window or decide to sit at the adorable bar where you can watch the talented bartenders create your cocktail right in front of you.
With a full bar, extensive wine selection, and some fabulous local beer on tap, you'll have no problems picking out the perfect drink to compliment your Green Elephant meal.
Lexie's Joint
You'll find Peace, Love, Burgers, and much, much more at Lexie's Joint on Islington! Ultra-adorable and affordable, Lexie's has a menu that embraces the classic American burger and milkshake aesthetic and absolutely hits it out of the park!
Looking for a little spice? Try the Burning Down the House Burger with pepper jack, jalapenos, and chipotle aioli.
Want to try something new with your fries? How about ordering the Truffle Fries that are house-cut, tossed in black truffle salt and sprinkled with a savory parmesan and herb blend.
Thinking of leaving without ordering a milkshake? Why would you even consider that when Lexie's has some of the best milkshakes on the Seacoast!? For a lunch or dinner spot that is sure to be a Home Run every time, Lexie's Joint is the place!
Ristorante Massimo
Food & Wine Magazine's choice for Most Romantic Restaurant in New Hampshire, Ristorante Massimo is the place to go for romantic fine dining in Portsmouth.
Gourmet Italian is served in an atmosphere that is elegant, intimate, and reminiscent of a cozy little restaurant in the Italian countryside, whether you choose to sit Upstairs at Massimo, where the mood is a bit more casual, outdoors on the terrace, or in the heart of the restaurant downstairs for a more formal experience.
Only the finest ingredients are selected to prepare the authentic Italian cuisine you will find at Ristorante Massimo, so whether you end up indulging in a traditional Italian Gnocchi or you end up choosing a Grilled Beef Tenderloin, you can be certain that you will be on the receiving end of some of the finest fare you've ever tasted at this Penhallow Street gem.
Cure
For food so exceptional that the restaurant has every right to be pretentious and snobbish, in a restaurant that is decidedly not pretentious and snobbish, visit Cure on State Street! Perfectly housed in one of Portsmouth's beautiful historic downtown buildings, this comfortably cozy restaurant has an atmosphere that is both contemporary and historic.
The menu offers gourmet goods like local crowd favorite rich and creamy Lobster Mac and Cheese with white truffle oil. Whether you are seated in the contemporary indoor space, the intimate bar, or outdoors in the lovely courtyard, save room for a slice of their famous flourless chocolate cake… you won't regret it!
Earth Eagle Brewings
So maybe it's Friday night (or Saturday, or Sunday, or…) and you're in the mood for some brews, burgers, and live music in Portsmouth, New Hampshire… if this is the case, then you need to head to Earth Eagle Brewings on High Street!
In addition to their generous regional craft beer selection, Earth Eagle Brewings offers excellent cocktail and wine options, too.
Earth Eagle's food menu is full of cleverly named creations like the Winnie the Moo Burger with bacon, goat cheese, jalapenos, and house-made "hot honey," and the Cujo Hot Dog with spicy hot pepper relish & pineapple.
If you're not in the mood for a full meal with your beverage, consider trying the scrumptious Jumbo Soft Pretzel, served warm with a side of the house-made honey mustard and beer cheese sauce.
Whether you sit indoors or out in the beer garden catching that seacoast breeze, Earth Eagle Brewings means great beer, great grub, and a great time!
STREET
Want to take your taste buds on an international journey? Say no more, just get yourself to STREET on Islington to sample the global flavors that make this one of Portsmouth's favorite restaurants!
STREET likes to say their food is all over the map, and it really, really is with favorites like the Middle Eastern Lamb Shawarma, Vietnamese Pho, Mexican Pozole, Korean Bibimbap, Thai Ribs, and oh so much more!
The premise of bringing some of the finest street food from all around the world to Portsmouth, NH has been wildly successful.
Whether you're coming in for brunch, lunch, or dinner, the menu offers beautifully prepared staples from all over the globe, and some incredible beverage options, to boot, like the Bangkok Pink, made with Seacoast Vodka, lime, pomegranate, and Thai basil. How's that sound for tickling the ol' taste buds?
Cava Tapas & Wine Bar
Tucked away in Portsmouth's picturesque Commercial Alley, an evening at Cava is a treat that can't be beat when it comes to trendy ambiance, spectacular service, fantastic cocktail menu, robust wine selection, and of course, delicious food!
Cava masterfully prepares their small plate selections with only the freshest quality ingredients, and the tapas experience turns an evening meal into an evening night out.
The atmosphere at Cava is quaint indoors, and the outdoor seating is as charming as charming can be with gorgeous vertical gardens trailing up the brick exterior.
With so many phenomenal choices on Cava's menu, it's not likely you'll make a poor choice, but do be sure to save room for dessert… the churros at Cava are one of Portsmouth's favorites!
La Maison Navarre
Flaky croissants, paper-thin crepes, melt-in-your-mouth pastries… ooh la la, sounds like La Maison Navarre on Congress! This bakery/bistro/wine bar expertly prepares its goods with traditional French ingredients, providing an experience for guests that rivals any fine French patisserie.
A local brunch favorite, La Maison Navarre has a little something for everyone, whether you enjoy your crepes savory or sweet.
You can sit in the bright and airy interior or dine al fresco with your specialty gourmet coffee or tea, either way, La Maison Navarre is always a sweet choice.
Roundabout Diner & Lounge
Looking for diners in Portsmouth, New Hampshire? Roundabout Diner & Lounge is a definite must visit if you're on the hunt for classic diner food.
Their award winning menu uses locally sourced foods whenever possible, and of course, breakfast is served all day! Some crowd favorites include the Grand Marnier French Toast featuring thick sliced Challah bread from local When Pigs Fly Bakery, and the hearty jumbo buttermilk pancakes.
Vida Cantina
A fusion of locally sourced ingredients and flavors in Mexican cuisine, Vida Cantina offers an adventurous menu that includes things like Blue Corn Fried Shrimp Tacos and house-made chips and salsa.
Camouflaged just a bit in a former Friendly's building on Route 1, the fun, colorful interior will be a welcome surprise as you step through Vida Cantina's doors.
Vida Cantina also has a full bar, so whether you're there for brunch, lunch, or dinner, you'll be sure to find the perfect beverage for the occasion; maybe a Margarita Flight can get you started!
Portsmouth is one of the best places to visit in New Hampshire, hands down, so you're sure to find plenty of options for where to stay and what to do; now you know where to eat in Portsmouth NH, too!
Read these next:
---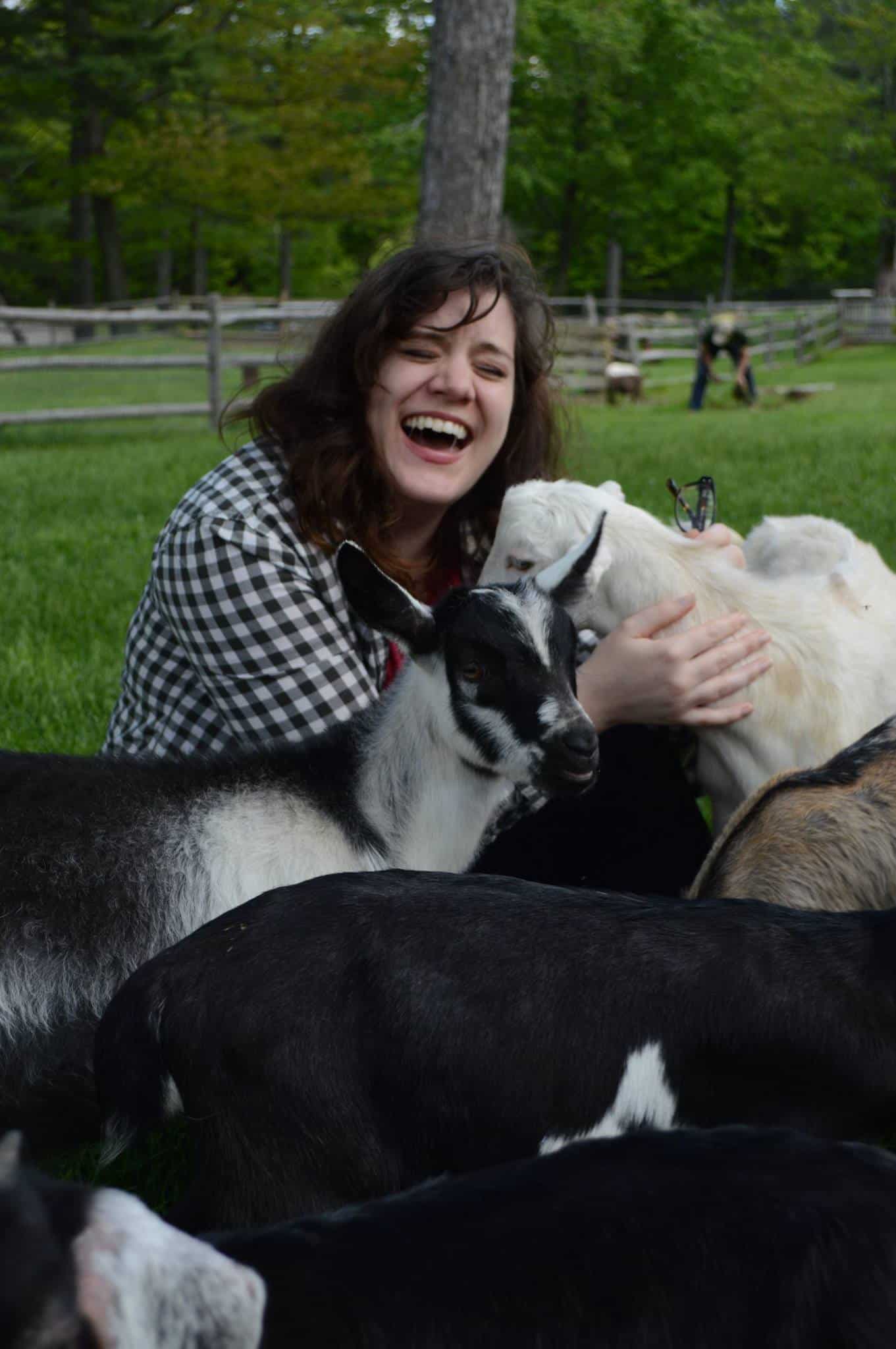 Amy Hartle is the founder and Editor-in-Chief of New England With Love, a comprehensive resource for travel in the New England region. Amy has been exploring New England since 2001. She lived in Vermont for many years and is a graduate of Plymouth State University in New Hampshire. Amy has been writing about travel for over a decade. On this site, Amy aims to share her love of New England and help you to have the best possible adventures!
Amy has been a full time blogger since 2012, and is also the publisher of Two Drifters, where she writes about couples travel and relationships, as well as Let's Adventure Baby, a family travel site. When not traveling the world or creating epic blog content, Amy can be found cuddling with her husband, son, and cats, & drinking a maple latte.