Plymouth is one of the top places to visit in Massachusetts and often referred to as America's Hometown.

You're going to work up quite the appetite exploring all these interesting attractions and historical landmarks and monuments, so you're going to want to know where the best restaurants in Plymouth MA are!
See Plymouth Rock and stroll downtown Plymouth, and when it's time to tickle your taste buds, there are many different Plymouth Massachusetts restaurants to choose from!

Whether you're in the mood for tasty margaritas and Mexican, Italian food, delicious burgers, or the perfect South Shore restaurant for your special night, these are the best restaurants in Plymouth MA.
Best Restaurants in Plymouth MA
Su Casa

Location: 30 Main St, Plymouth, MA 02360

First on the list of best restaurants in Plymouth MA is Su Casa! This Plymouth Mexican restaurant has an incredible list of signature cocktails, so if you're looking for a great place to grab dinner and drinks, Su Casa is a fantastic option.

The restaurant's interior is warm and comfortable, with bold colors and dark woods adding to the overall vibe. It's the perfect spot to enjoy a cocktail like the Su Casa Sex on Fire-ita, with silver tequila, combier, ancho reyes, jalapeño, su casa citrus, and jalapeño salt… ay ay ay!

The menu features classic Mexican staples like tacos, enchiladas, quesadillas, and more, with an elevated twist. Consider their carnitas, made with mojo pork, citrus mustard, cabbage, and pickled veg salsa – yum!

Rio Brazilian Steakhouse
Location: 318 Court St, Plymouth, MA 02360
Rio Brazilian Steakhouse is a fantastic grill restaurant that's perfect for a nice night out in Plymouth. They're well known for their great service, friendly staff, and of course, delicious food that will make your mouth water.
There's minimalistic decor and the aesthetic of this Plymouth steakhouse is bright and crisp. It has an upscale yet accessible family-friendly vibe.
This restaurant brought authentic Brazilian food to the area, and it's since become one of the most popular Plymouth restaurants, especially for special occasions.
Meals are served in the Brazilian Rodizio style as an all you can eat buffet, and the meat selection is particularly sought after, with a variety of options like prime short ribs, filet mignon, lamb, and so much more.

They also have a salad bar, kids options, and a full cocktail list, so there's something for just about everyone at this popular steakhouse in Plymouth, Massachusetts.
Bangkok Thai Cuisine
Location: 10 Court St, Plymouth, MA 02360
For great Thai food in Plymouth, head to Bangkok Thai Cuisine. This Thai restaurant has a great location and excellent service.

This Plymouth Thai restaurant is fairly light and bright with a nice sized interior. It is a popular restaurant, but there seems to always be enough seating to accommodate everyone.

The menu consists of curries, noodles, soups, seafood, and so much more. Crowd favorites include the shrimp tempura and the pad thai, but truly, the consensus on this Plymouth favorite seems to be that ingredients are always fresh and expertly prepared!

Kogi Bar & Grill
Location: 8 Court St, Plymouth, MA 02360
Kogi Bar & Grill is the perfect place to go if you're in the mood for Korean barbecue! This restaurant is popular in Plymouth for its great food, friendly service, and beautiful interior.
The inside of the building has a modern yet warm feel to it, with brick walls and chandeliers hanging from the ceiling. There's tons of seating, including right along the bar area. The interior is spacious with the seating well spaced out.
This is traditional Korean food at its finest, with everything from chicken skewers and fried baby octopus to pork dumplings and scallion pancakes. In addition, there are soups, salads, boxes, ramen, plates, and more.

Word on the street is that the bubble tea is a must try!
Tuscany Tavern
Location: 294 Court St, Plymouth, MA 02360
If you're in the mood for Italian food, then you can't look any further than Tuscany Tavern. This is one of the best Italian restaurants in Plymouth, and you'll soon see why.

The interior is close quarters, with quite a few tables. You'll feel like you're right in Italy! It's charmingly intimate, we'll say.

On the menu, you'll find Italian delicacies like caprese, calamari, mussels, and more. They even have gluten free options available, which isn't always the case for smaller Italian restaurants like this one!

Tuscany Tavern makes for a nice date night restaurant in Plymouth.
Tavern on the Wharf
Location: 6 Town Wharf, Plymouth, MA 02360
Looking for one of the most popular restaurants in Plymouth, Massachusetts?
Pretty much universally beloved in town, Tavern on the Wharf is a definite must visit while in Plymouth. It's a nice restaurant with upscale decor and ample indoor seating, but heads up, it can get pretty busy!

The Tavern on the Wharf specializes in providing solid dishes with fresh caught seafood and a heck of a waterfront view.
On the menu you'll find staples like New England clam chowder, surf and turf, local oysters, and so much more.
If you're not a seafood fan, you'll be happy to hear that there are non seafood tacos, salads, and sandwiches on the menu too.

This is just good, quality New England food at a lovely restaurant on the water.
The Artisan Pig
Location: 66 Court St, Plymouth, MA 02360
Sometimes, pizza is just what you're in the mood for! It's a quick and easy meal, and you can always dress it up a little like the folks over at The Artisan Pig have done so well!
The atmosphere feels laid back and a little industrial, with black and white flooring and minimal decor on the walls. It matches the energy of the handcrafted, woodfire pizzas being so expertly served up!

On the menu, there's all kinds of fantastic pizza options, including seasonal pizzas and other dishes like sandwiches, appetizers, and desserts. You could start off with the wood fired empanadas and follow them up with the Pig Pile pizza featuring their very own handcrafted sausages!

Rock Bottom Seafood
Location: 2234 State Rd, Plymouth, MA 02360
This list of the best restaurants in Plymouth MA would not be complete without including Rock Bottom Seafood! This is a great casual restaurant to eat at if you're looking for tasty seafood in a lowkey atmosphere.

The interior of this local favorite is very laidback; if you're looking for glitz and glam, this ain't it! You order at the counter and then take your seat.

Menu items are fairly affordable for fresh caught seafood and there's a wide variety of options like crab cakes, fish tacos, lobster rolls, chowder fries, and even clam chowder.
Uva Wine Bar
Location: 46 Main St, Plymouth, MA 02360
One of the more unique places to eat in Plymouth, Massachusetts, is Uva Wine Bar. This excellent wine bar on Main Street is perfect for either a date night or a friends night out in Plymouth.

The atmosphere here is very lively, and sometimes you'll even find live music. This isn't a full menu type of place, but rather a nice small bites situation.

What really makes this wine bar so unique is that it is a self pour wine bar! Yes, you read that right. With 48 different varieties of wine to choose from, this is an excellent option for wine lovers.
You also get to build your own charcuterie board at Uva Wine Bar. Essentially, you'll receive a card that you can fill out with all of the different food types. Choose which you'd like by checking it off. Your price will change depending on what you choose.
The different options include goat cheese, truffle cheese, crackers, prosciutto, truffles, margarita pizza, cheesecake pops, and even spinach artichoke dip with chips.
Rye Tavern
Location: 517 Old Sandwich Rd, Plymouth, MA 02360
Without a doubt, one of the best places to eat in Plymouth MA is Rye Tavern! Ask any local for their list of recommendations, and this amazing restaurant is likely to be on the list.
This tavern dates back to the 1700s, and it offers such a cozy, comfy experience. The ambiance is kind of that cool without trying vibe.
The emphasis at Rye Tavern is on locally sourced, farm to table ingredients served in a menu that changes with the seasons.
You'll find items like Rye Tavern chowder, lemon rosemary chicken, scallops, and so much more. You'll find fresh seafood, homegrown herbs, handcrafted cocktails, and more at this delightful farm to fork Plymouth restaurant!
These are just a few of the top restaurants in Plymouth MA! Have fun exploring America's Hometown, and enjoy these great Plymouth places to eat.

—
You might also like: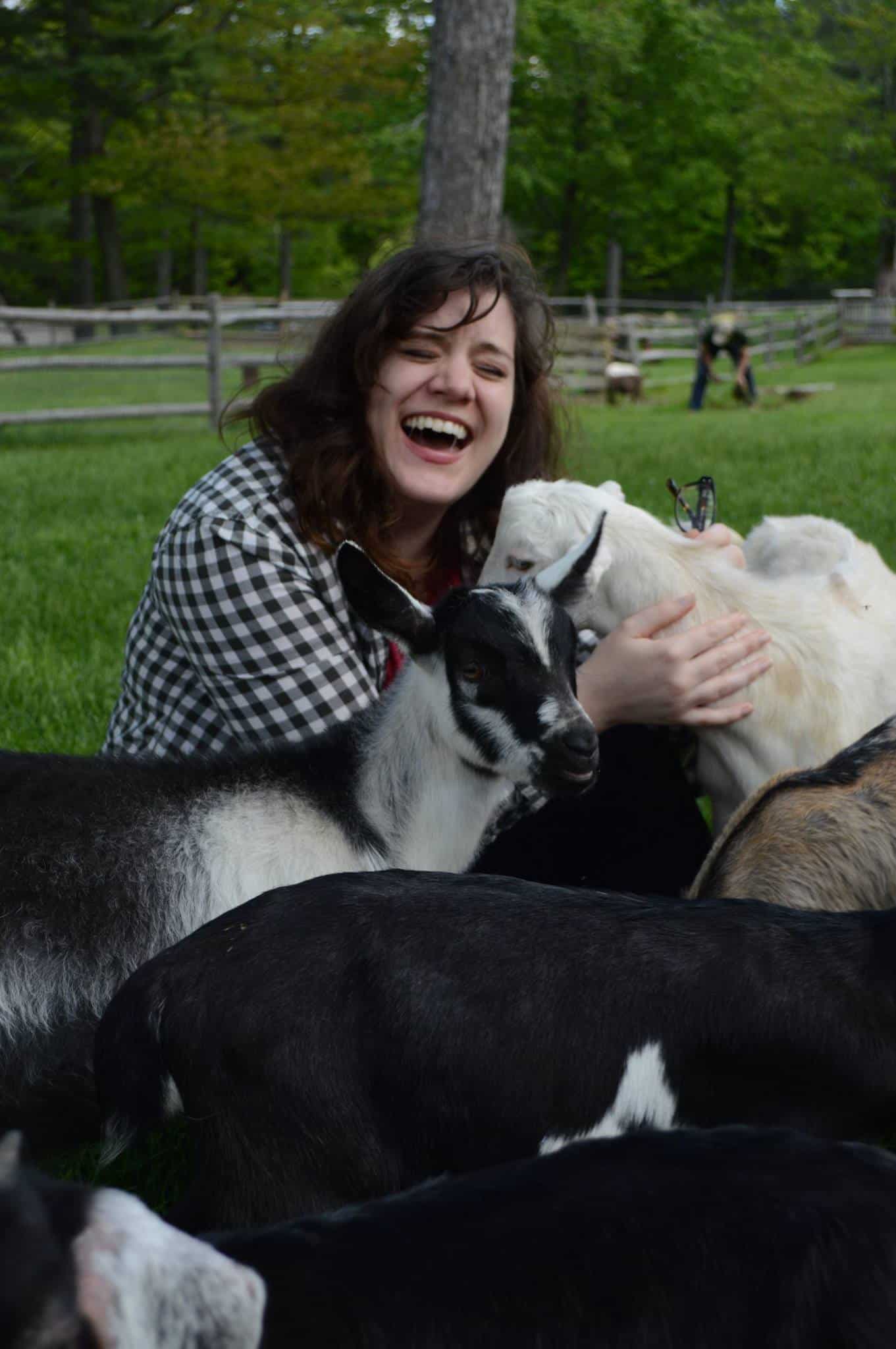 Amy Hartle is the founder and Editor-in-Chief of New England With Love, a comprehensive resource for travel in the New England region. Amy has been exploring New England since 2001. She lived in Vermont for many years and is a graduate of Plymouth State University in New Hampshire. Amy has been writing about travel for over a decade. On this site, Amy aims to share her love of New England and help you to have the best possible adventures!
Amy has been a full time blogger since 2012, and is also the publisher of Two Drifters, where she writes about couples travel and relationships, as well as Let's Adventure Baby, a family travel site. When not traveling the world or creating epic blog content, Amy can be found cuddling with her husband, son, and cats, & drinking a maple latte.