---
*Links in this article may be affiliate links, from which we may earn commission. See our
Privacy Policy
for full details.
---
Plymouth is one of the top places to visit in Massachusetts and is very well known for being home to the Plymouth Rock. It's also where the replica of the Mayflower is, so it's often visited by American history buffs. In addition to all of the historical landmarks, there are also many restaurants in Plymouth MA that are worth visiting!
Plymouth is a reasonably large town with a population of around 60,000 people, so there are many different restaurants to choose from when you're hungry. Luckily, this post includes all of the best Plymouth restaurants, from Brazilian steakhouses to local Mexican fare.
Here are all of the best restaurants in Plymouth MA!
Sam Diego's
Location: 51 Main St, Plymouth, MA 02360
First on the list of best restaurants in Plymouth MA is Sam Diego's! This is a Mexican restaurant known for its big margaritas. It's only open on the afternoons from 4 pm to 9 pm most days, though on weekends it's normally open for a bit longer.
The restaurant's interior is highly eclectic, with funky decor everywhere you look. There are even interesting lights hanging from the ceiling! In addition to indoor seating, there's a great patio space that's even available for use in the evening, thanks to the fairy lighting throughout.
The menu is chock full of every type of Mexican dish that you can think of. There's chimichangas, quesadillas, burritos, enchiladas, and more. Don't forget to try one of their excellent cocktails to pair with whatever dish that you choose.
Rio Brazilian Steakhouse
Location: 318 Court St, Plymouth, MA 02360
Rio Brazilian Steakhouse is a fantastic grill restaurant that's perfect for a nice night out in Plymouth. They're pretty well known for their great service, friendly staff, and of course, delicious food that will make your mouth water.
It has a unique vibe; there's the minimalistic decor, but there are pops of color that make the interior atmosphere very lively. It has an upscale yet elegant feel to it but is casual and family-friendly at the same time.
This restaurant was opened in 2008 by Vagmar Stoffel and Robiano Aguiar, who moved to the area in 2002 from out of the country. They brought authentic Brazilian food to the area, and it's since become a reasonably popular Plymouth restaurant.
The menu has fairly affordable dishes, including rodizio, chicken, and more. There are also specific menu items for kids if you're looking for a great restaurant with children.
Bangkok Thai Cuisine
Location: 10 Court St, Plymouth, MA 02360
For great Thai food in Plymouth, head to Bangkok Thai Cuisine. This Thai restaurant has a great location and excellent service. You'll truly be in for a great treat no matter what you order here because the food is fantastic.
There's tons of seating inside; if you were traveling with a large party, it'd probably be reasonably easy to get accommodated at Bangkok Thai Cuisine. There's excellent decor all along the walls and great lighting throughout. The interior is pretty large, so if you visit during a less busy time, you can easily get seated in a quiet area.
The menu consists of dumplings, tempura, chicken teriyaki, platters, soups, medleys, and more. There are also salads and other entrees if you're in the mood for something else. Be sure to check out their house specials for a real treat or ask about their daily lunch specials, which are relatively affordable.
Kogi Bar & Grill
Location: 8 Court St, Plymouth, MA 02360
Kogi Bar & Grill is the perfect place to go if you're in the mood for Korean barbecue! This restaurant is pretty well known in Plymouth for its great food, friendly service, and beautiful interior.
The inside of the building has a sort of industrial feel to it, with brick walls and gold chandeliers hanging from the ceiling. There's tons of seating, including right along the bar area. The interior is extremely large, and all of the seating is well spaced out.
There's everything from chicken skewers and fried baby octopus to pork dumplings and scallion pancakes. In addition, there are soups, salads, boxes, ramen, plates, and more. Of course, there is even excellent boba tea that you can buy there too!
Tuscany Tavern
Location: 294 Court St, Plymouth, MA 02360
If you're in the mood for Italian food, then you can't look any further than Tuscany Tavern. It's located on Court Street and may be easy to miss because of its small size, but the interior is so cozy, so you'll feel right at home while dining.
The interior is close quarters, with quite a few tables. You'll feel like you're right in Italy! Plus, you'll immediately feel welcomed from the outside when you see the light blue building exterior and the Tuscany Tavern sign that looks historic.
On the menu, you'll find great pasta dishes that will make your mouth water. Other Italian delicacies like Caprese, calamari, mussels, and more. Even picky eaters will be able to find something to eat on the menu since there are lighter meals like plain noodles. Don't forget to get a great drink to go with your tasty Italian meal.
Tavern on the Wharf
Location: 6 Town Wharf, Plymouth, MA 02360
Tavern on the Wharf is a fantastic restaurant with seafood and other dishes that offers impeccable waterfront views. It's a casual restaurant with upscale decor and ample indoor seating, though it can get busy on the weekends.
The restaurant specializes in providing fresh seafood and creating an all-around great time for everyone who walks through the door. They even bring in fun live entertainment from time to time to make your dining experience even better.
The menu is pretty long and changes depending on if you're coming for brunch, lunch, or dinner. There's New England clam chowder, tuna tartar, fried calamari, and more. If you're not a seafood fan, you'll be happy to hear that there are tacos, salads, and sandwiches on the menu too. Everything is mid-range price, around $15 to $20 depending on the dish.
The Artisan Pig
Location: 66 Court St, Plymouth, MA 02360
Sometimes, pizza is just what you're in the mood for! It's a quick and easy meal, and you always know what to expect when you order a pizza. One of the best pizza places in Plymouth is The Artisan Pig.
The atmosphere is very laidback, with checkerboard flooring, booth-style seating, and minimal decor on the walls. Occasionally, The Artisan Pig will also have live music and local singers perform so you can enjoy the sound while eating.
On the menu, there's every type of pizza you could ever want. There are also other dishes like sandwiches, appetizers, and even desserts. Of course, there's a long list of local drinks that you can get as well to add on to make your meal even better.
Rock Bottom Seafood
Location: 2234 State Rd, Plymouth, MA 02360
This list of the best restaurants in Plymouth MA would not be complete without including at least one seafood restaurant. Rock Bottom Seafood is a lowkey and casual restaurant to eat at if you're looking for tasty seafood in the Plymouth area.
It's not a fancy restaurant by any means, but that's what makes it such a local favorite. The interior is very laidback; all you have to do is walk up to the register to order what you'd like, and you can grab any drink from the fridge.
Everything on the menu costs around $10, so it's a reasonably affordable seafood restaurant. Some of the larger plates, like seafood platters, cost a bit more, but that's to be expected. There's also a wide variety of appetizers like crab cakes, fish tacos, chowder fries, and even clam chowder.
Uva Wine Bar
Location: 46 Main St, Plymouth, MA 02360
One of the more unique places to eat in Plymouth, Massachusetts, is Uva Wine Bar. Look no further than visiting this excellent wine bar on Main Street for a fancy night out. Because of its location, it's nearly impossible to miss.
The atmosphere here is very lively, and there's fun decor on the walls. Warm wood accents add a unique yet homey touch to make the interior even more comfortable. You can opt to eat at one of the indoor tables or use the outdoor seating in front of the restaurant.
In addition to drinks, the main thing on the menu is a build your own charcuterie board. Yes, you read that right! Essentially, you'll receive a card that you can fill out with all of the different food types. Choose which you'd like by checking it off. Your price will change depending on what you choose.
The different options include goat cheese, truffle cheese, crackers, prosciutto, truffles, margarita pizza, cheesecake pops, and even spinach artichoke dip with chips.
This article was all about the top restaurants in Plymouth MA! Now you know exactly where to eat when you visit the town. Don't forget to share this post for later to help other people who may be traveling to the area!
—
You might also like: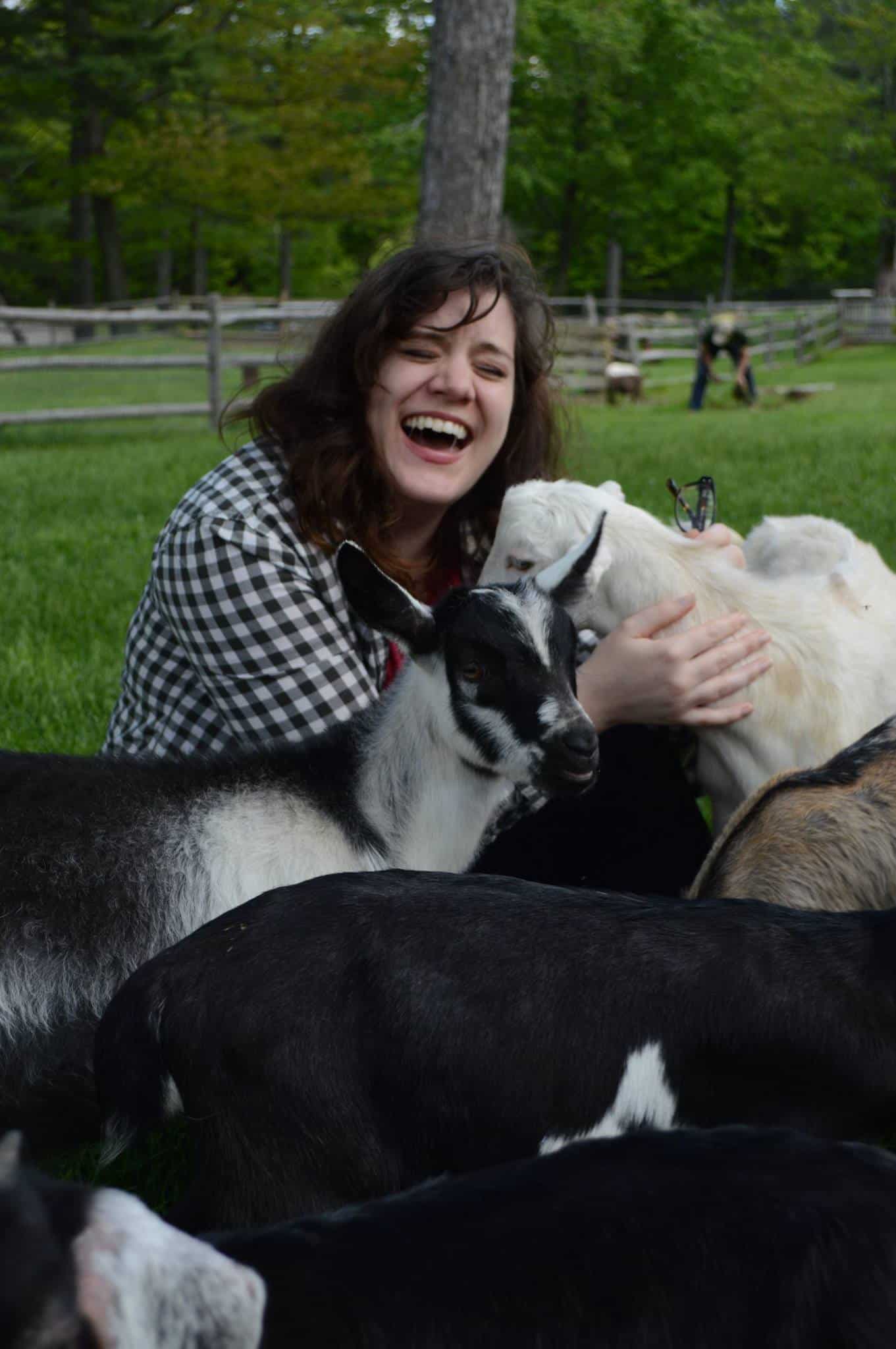 Amy is the founder of New England with love. A proud Vermonter, she hopes to share her love of New England and help you find the best adventures in the region. Amy is also blogger/founder at Two Drifters, where she writes alongside her husband about romantic and couples travel, relationships, honeymoons, and more. When not working on websites, Amy is probably reading, cuddling with her husband, son, and cats, & drinking a maple latte.