With so many incredible restaurants in Newburyport MA, it can be hard to choose where to eat after a full day of exploring! That's why we've gathered up this ultimate list of some of the greatest places to eat there.
Whether you are visiting Newburyport for a weekend, you're a local, or you're just passing through, you're sure to find an incredible place to eat on this list. There are a wide variety of restaurant types to choose from, including classic American and Indian restaurants.
So, what are you waiting for? Keep reading to learn all about the greatest restaurants in Newburyport MA.
Black Cow Tap & Grill
Location: 40 Merrimac St, Newburyport, MA 01950
First up is Black Cow Tap & Grill, a great place to go if you're in the mood for classic American dishes in a trendy yet upscale setting. The restaurant has an incredibly lively atmosphere which is what makes it so fantastic.
The interior of the restaurant is industrial, with exposed brick walls, warm lighting, and even a fireplace in the center. There's ample seating both indoor and outdoor, so you can also enjoy the Connecticut weather (if it's warm, of course)!
Their menu at Black Cow Tap & Grill is fantastic, with everything from handheld burgers and sandwiches to steaks and shops. There's also a wide variety of pasta, soups, and seafood dishes, as well as appetizers like burrata toast and curried mussels.
Hana Japan Restaurant
Location: 45 Storey Ave, Newburyport, MA 01950
If you're in the mood for tasty Japanese food, head over to Hana Japan Restaurant. This family-owned restaurant is open for lunch and dinner with limited dine-in times throughout the week.
They also have a fairly large menu with every type of Japanese food selection you could imagine. There's ramen, sushi plates, udon, tempura, katsu chicken or pork, and even dinner bento boxes. There are also tasty desserts like amazing mochi ice cream.
Hana Japan Restaurant is one of those hole-in-the-wall restaurants that you may originally pass over, but once you eat there, you'll be itching to go back. They're located in one of the plazas next to many other shops.
Port City Sandwich Co.
Location: 40R Merrimac St #102E, Newburyport, MA 01950
Sometimes, all you need is a tasty sandwich with all the fixings for a meal. Luckily, one of the top restaurants in Newburyport MA is Port City Sandwich Co., the perfect palace to go for all of your sandwich cravings.
With a classic brick exterior, you may just pass by this great restaurant if you're not looking for it. The interior is lively though, with an industrial vibe, great seating, and a fun chalkboard menu with all of their sandwich types.
While they are open for both breakfast and lunch, their lunch menu is incredible. They have cold sandwiches with everything from turkey breast to egg salad, and even unique ones like cranberry walnut chicken salad. There are also hot sandwiches, salads, specialty wraps, and grilled sandwiches available, too.
The Grog Restaurant
Location: 13 Middle St, Newburyport, MA 01950
The Grog Restaurant is the place to go if you're in the mood for classic pub food, good chats, and live music. That's right; The Grog is one of the greatest pubs in all of Newburyport, and it's hard to miss with its giant sign and striped awnings.
What makes this such a lively place to go is that they often have live music and events throughout the year. What's better than having some tasty food with a craft beer while listening to live music with your friends?
They have 32 craft beers that rotate daily in addition to tons of other drinks. For food, they have tacos, quesadillas, pasta, seafood, steak, sandwiches, soups, and salads. They also have finger foods like fried pickle chips, artichoke and spinach dip, and lobster rangoons.
Agave Mexican Bistro
Location: 50 State St, Newburyport, MA 01950
For some incredible Mexican food, head to Agave Mexican Bistro, one of the greatest restaurants in Newburyport MA. They also have a location in Portsmouth NH, if you find yourself farther up north!
With classic dishes like taquitos, guacamole and chips, queso, street tacos, and burritos, it's easy to see why this is such a great place to eat. They also have chef specials throughout the week, like a catch of the day.
The restaurant feels rather upscale inside, with wooden walls and brick accents. There's lots of seating at high tables inside as well as at the bar. In addition, there are seats outdoors too with umbrellas, depending on the time of year.
Brown Sugar by the Sea
Location: 75 Water St, Newburyport, MA 01950
This list of great restaurants in Newburyport MA wouldn't be complete without including at least one Thai restaurant! The best Thai food in Newburyport can be found at Brown Sugar by the Sea.
The restaurant's menu is super long and includes everything from salad and soups to noodles and wraps. They also have a specific portion of the menu just for kids as well as tons of sides, ranging from edamame to carrot salad with green chili and cilantro.
Inside, the restaurant is very large. There's tons of indoor seating, including some great spots by the window that looks out to the town of Newburyport. At night, the place completely transforms into more of a dark and exciting vibe, with fun lights to set the mood.
Giuseppe's
Location: 257 Low St, Newburyport, MA 01950
Some of the best Italian food in all of Newburyport can be found at Giuseppe's! This is the perfect place to go for a big family dinner, a romantic evening out with your partner, or even just a big celebration of some type.
They've been open since 1995 and have quickly become well known for their welcoming vibes and large portion sizes. There's ample seating indoors, but the real beautiful spot is outside, where there's fun mood lighting that hangs from the ceilings.
The food menu is filled with soups, salads, wraps, paninis, subs, pasta, and of course, starters. They have pretty much every classic Italian food, including arancini asiago, Caprese salad, and eggplant parmesan.
Loretta
Location: 15 Pleasant St, Newburyport, MA 01950
Loretta is the place to go if you are in the mood for American food. They offer trendy dishes in a fun, elegant environment, which is why it's a great spot to go for a romantic evening out. They also have incredible brunch.
On their menu, they have classic soups, salads, steaks, seafood, burgers, and more. They also have tasty desserts like bread putting, flan, and chocolate mousse. The menu slightly changes between lunch and dinner!
The inside of the restaurant is bigger than it looks from the outside. There are many spots for seating at 4-person tables, and unique decor hangs on the walls. Plus, there's a bar area with stools and fun exposed brick walls which add some texture to the restaurant's interior.
Sea Level Oyster Bar
Location: 1 Market Square, Newburyport, MA 01950
If you're visiting the coast of New England, you absolutely have to try the seafood at least once. Luckily, there's an incredible seafood restaurant in Newburyport MA called Sea Level Oyster Bar with great prices.
The inside of the restaurant has an industrial vibe with brick walls and black accents around the windows. There's a variety of seating inside as well as a bar area with stools. Plus, there's ample outdoor seating with heaters in the cooler months to keep you warm.
No matter what type of seafood you are in the mood for, you can find it on the menu at Sea Level Oyster Bar. There's crispy style calamari, New England clam chowder, and even Baja tacos. If you're not a seafood lover, there are some non-seafood items on the menu like burgers, that are also an option.
Mister India Restaurant
Location: 140 High St, Newburyport, MA 01950
Mister India Restaurant is the best restaurant to go to in Newburyport if you are craving authentic Indian food. The restaurant has a classic homestyle feel from the outside with its welcoming sign. The interior space features a simplistic style with warm wood tables throughout, including larger tables for bigger parties.
Their menu features many dishes with mid-range pricing. They have vegetable, chicken, and lamb entrees, plus many rice and noodle dishes, too. The menu also features all types of bread, including an incredible garlic naan.
The Poynt
Location: 31 Water St, Newburyport, MA 01950
Last but certainly not least on this list of great restaurants in Newburyport MA is The Poynt. This is another American restaurant that has a very chic and trendy atmosphere, along with a fun outdoor patio area.
The restaurant feels very Instagram-worthy with its stylish interior. There are beautiful paintings on the wall, a unique wooden floor, and fun colors brought in through the seating and cabinets. There's also a bar space.
The Poynt is open for both brunch and dinner. At brunch, they have dishes like breakfast nachos, cinnamon toast crunch pancakes, and stuffed french toast. At dinner, the menu changes to feature dishes like shrimp pasta, uramaki sushi, and buttermilk fried chicken sandwiches.
---
You might also like: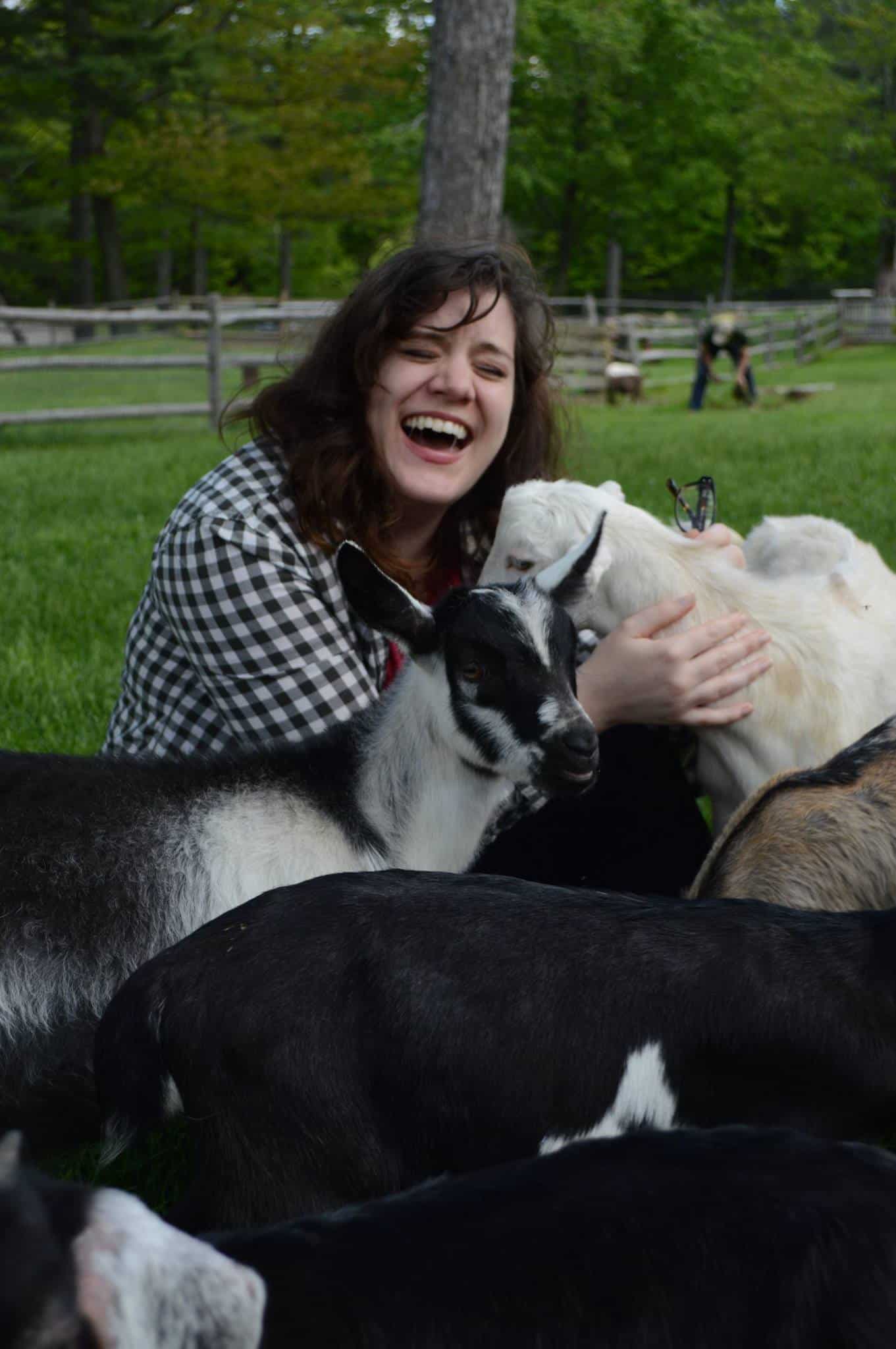 Amy Hartle is the founder and Editor-in-Chief of New England With Love, a comprehensive resource for travel in the New England region. Amy has been exploring New England since 2001. She lived in Vermont for many years and is a graduate of Plymouth State University in New Hampshire. Amy has been writing about travel for over a decade. On this site, Amy aims to share her love of New England and help you to have the best possible adventures!
Amy has been a full time blogger since 2012, and is also the publisher of Two Drifters, where she writes about couples travel and relationships, as well as Let's Adventure Baby, a family travel site. When not traveling the world or creating epic blog content, Amy can be found cuddling with her husband, son, and cats, & drinking a maple latte.