People flock from near and far to visit Gloucester, one of the top coastal destinations in Massachusetts, known for its whale watching. Luckily, there are also so many incredible restaurants in Gloucester MA, too, perfect for all budgets and even picky eaters!
This article will cover all of the best places to eat in the city, in no particular order. Because it's a reasonably large city with a population of around 30,000 people, there are so many great restaurants to choose from. This list in no way includes every place to eat, but it has been carefully curated with a mix of popular restaurants and hidden gems!
Keep reading to learn all about the best restaurants in Gloucester MA!
Taco's Lupita
Location: 63 Washington St, Gloucester, MA 01930
Starting off this list strong is none other than Tacos Lupita! This budget-friendly Mexican restaurant is known for its incredible tacos. Even though it's a smaller restaurant, their food is truly unforgettable.
The inside of the restaurant has bright green and blue walls, and there's ample seating with mosaic details on the table. Even though there's not much decor on the walls, the interior is super lively. Even though this is a popular place to visit during lunch, the crowds really die down around dinner time, so you can easily get a spot inside. You can also always take your order to go now.
Nothing on the menu costs more than $10, even the enchiladas! There's also gorditas, plates, tacos, tortas, nachos, burritos, and quesadillas. In addition, there are many different side orders, including guacamole (for only $2!) and chips with salsa.
Seaport Grille
Location: 6 Rowe Sq, Gloucester, MA 01930
No trip to Gloucester is complete without checking out at least one seafood restaurant. That's why Seaport Grille is one of the best restaurants in Gloucester MA! It's also one of the most visited and most reviewed restaurants in the city.
The inside of the restaurant is super laidback; there are cool, blue walls and ample indoor seating. There's also a bar area with more seating for those who are visiting by themselves or in a smaller group. However, the best spot to sit is definitely outside on the patio, a spot that overlooks the water!
Seaport Grille has very high-quality dishes, so most of their seaport specialties and main entrees cost around $30 or more. There's classic New England baked haddock, lobster mac n' cheese, and even shrimp and pesto pasta with house-made pesto.
Mom's Kitchen
Location: 29 Commercial St, Gloucester, MA 01930
If you're visiting Gloucester and you need a great spot to grab breakfast in the morning, look no further than Mom's Kitchen! This breakfast restaurant opens bright and early at 5 am, so even the early risers can get food when they wake up.
At Mom's Kitchen, you'll feel like you're inside a classic diner but with a New England twist. The walls are white and blue mosaic and are lined with sports memorabilia, including a Rask Bruins jersey in a case. The restaurant is always pretty busy in the mornings, so definitely try to get there early if you can.
Pretty much every type of breakfast food that you can think of is on the menu. There are eggs, eggs benedict, omelets, hash browns, cinnamon buns, and even breakfast burritos that are jam-packed with everything!
Machaca
Location: 14 Rogers St, Gloucester, MA 01930
Another amazing Mexican restaurant in Gloucester is Machaca! This is one of the more underrated places to eat in the city. At Machaca, the chefs always use fresh ingredients and have fantastic service.
Machaca is actually a pretty large restaurant. The inside is pretty festive, and there's a giant bar that serves as the centerpiece in the restaurant. With bright blue walls and ample seating, you really can't go wrong with ordering anything on the menu at Machaca. This restaurant is also open reasonably late at night and closes at midnight.
This is a bit pricier of a Mexican restaurant, but it's definitely worth the price. The most popular thing to order on the menu is the signature tacos, which cost around $15. There are great flavors with meats like shrimp, smoked pork, slow-cooked beef, and more.
Jasmine Garden Restaurant
Location: 226 Washington St, Gloucester, MA 01930
Jasmine Garden Restaurant is one of the most underrated restaurants in Gloucester MA! You can easily order pickup here or dine inside. Their service is excellent, prices are affordable, and it's in a perfect location, sort of near the Salt Water Grille.
The restaurant is very laid back inside, but there's quite a bit of seating for anyone who wants to eat there. The menu is absolutely huge, with almost anything that you could think of on there. There's seafood, chicken dishes, noodles, soups, and more. Plus, there are a wide variety of sides that you can add as well.
Jasmine Garden Restaurant is most popular at dinner time, so try to get there right before five if you want to beat the crowd. They're also open for lunch!
Sugar Magnolias
Location: 112 Main St, Gloucester, MA 01930
Head right to Sugar Magnolias on Main Street if you're looking for an excellent brunch in Gloucester! This small cafe has some of the best breakfast and lunch food that you can find in the city. Plus, they have some fun food combinations that you won't be able to find anywhere else in Gloucester.
Inside Sugar Magnolias, there's a super rustic vibe. Even though it's relatively quaint on the inside, there's a very comforting atmosphere inside. The restaurant gets incredibly lively in the early morning hours.
The menu is fairly small, but that's because the things that are on the menu are dishes that Sugar Magnolias makes super well. There are omelets, crab cakes, eggs benedict, french toast, pancakes, parfaits, and more.
Azorean Restaurant & Bar
Location: 133 Washington St, Gloucester, MA 01930
The Azorean Restaurant & Bar is one of the top Portuguese restaurants in Gloucester MA! This is one of the more popular places to eat in the city, but it's because the food is so good. A lot of the dishes hail from the Azores Islands, hence the restaurant's name.
When you go inside the restaurant, you'll feel like you're right in Portugal. There's classic European-style architecture everywhere you look, including fun arch walkways and decor hanging from the walls featuring mosaics.
The restaurant is open for both lunch and dinner. There are soups, sandwiches, salads, wraps, burgers, and more. There are also pizzas, including the unique Azorean pizza with St. Jorge cheese and pineapple. Don't forget to check out the traditional Spanish paella with seafood and rice!
Lobsta Land Restaurant
Location: 84 Causeway St, Gloucester, MA 01930
When visiting Gloucester, you can't leave without trying seafood at least once, mainly because 99.9% of the time, it's local. If the Seaport Grille isn't your vibe, consider visiting Lobsta Land Restaurant, one of the most popular places to eat in Gloucester MA.
The restaurant is very simplistic, with wooden accents throughout. There are also many great photographs on the wall of sea animals. The best spot to sit is on the patio, which overlooks a huge green space, providing complete serenity while you eat dinner (or lunch)!
From Sicilian-style mussels to buffalo scallops, you can't go wrong with anything on the menu at Lobsta Land. There are also non-seafood dishes like parmesan truffle fries and chicken quesadillas if there is someone in your group who doesn't eat seafood.
Tonno Gloucester
Location: 2 Main St, Gloucester, MA 01930
For a beautiful romantic night out, you absolutely must eat at Tonno Gloucester. It's a seafood restaurant with an Italian twist, which is why it sticks out from the crowd of other restaurants in the city. Plus, some of the tables have great views of the water.
The menu features pasta, fish, pork chops, stew, soups, and more. Everything on the menu costs around $30, but it's well worth it. Don't forget to try one of the fabulous desserts like the cannolis or tiramisu once you're done. Be sure also to ask which wine you should pair with your meal too because their wine list is super extensive.
When you enter the restaurant, you'll see how minimalist yet elegant it is. There are exposed brick walls, classic tan seats with wooden tables, and photos of Italy on the walls to transport you to another country. The main showstopper is the bar, which is centrally located in the restaurant. For a fun time, consider asking to be seated outside, where there are small fire heaters that will keep you warm.
This post was all about the best restaurants in Gloucester MA! Even though there are so many places to choose from, you really can't go wrong with any of the places that were included in this list.
—
You might also like: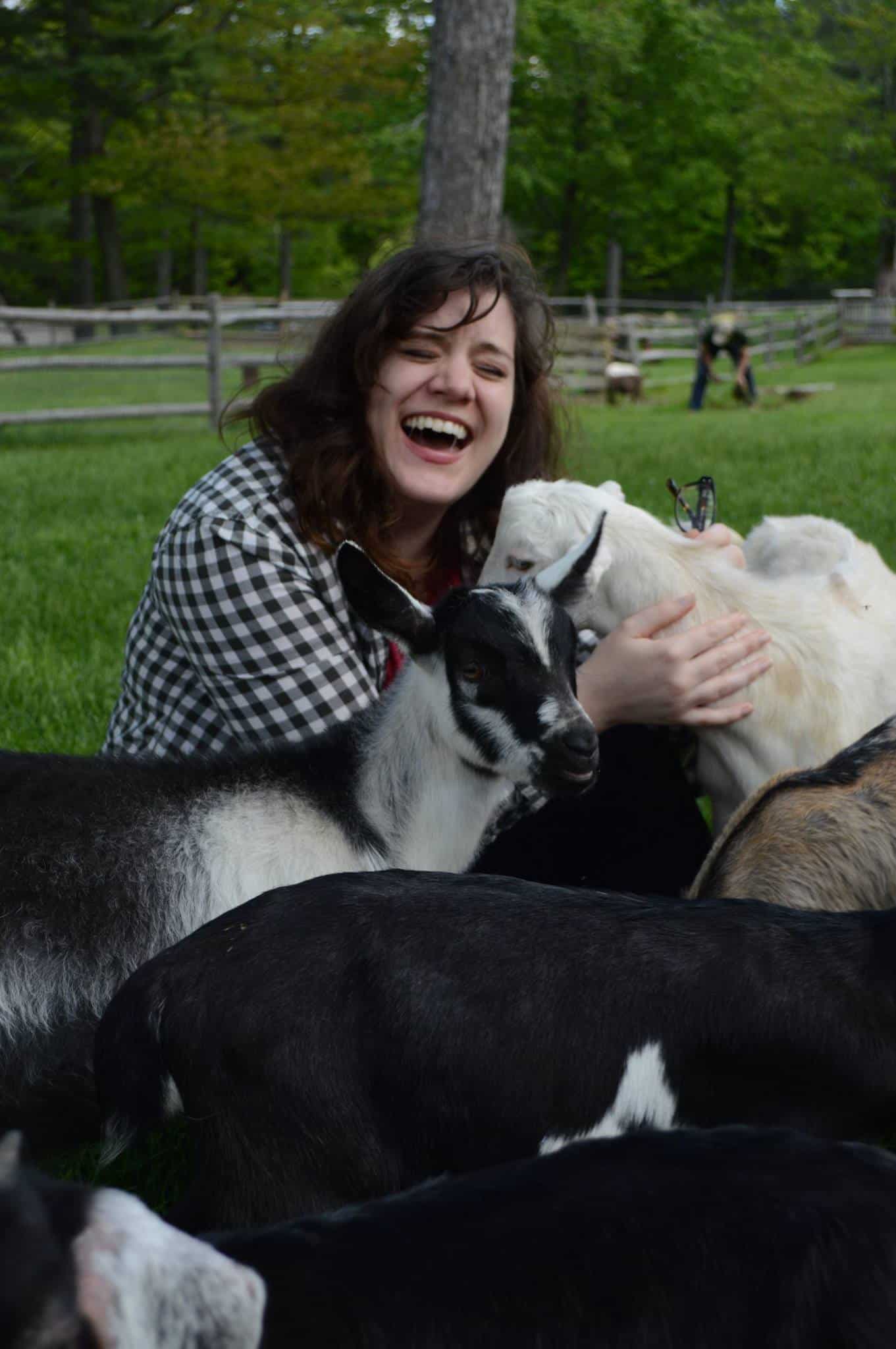 Amy Hartle is the founder and Editor-in-Chief of New England With Love, a comprehensive resource for travel in the New England region. Amy has been exploring New England since 2001. She lived in Vermont for many years and is a graduate of Plymouth State University in New Hampshire. Amy has been writing about travel for over a decade. On this site, Amy aims to share her love of New England and help you to have the best possible adventures!
Amy has been a full time blogger since 2012, and is also the publisher of Two Drifters, where she writes about couples travel and relationships, as well as Let's Adventure Baby, a family travel site. When not traveling the world or creating epic blog content, Amy can be found cuddling with her husband, son, and cats, & drinking a maple latte.