---
*Links in this article may be affiliate links, from which we may earn commission. See our
Privacy Policy
for full details.
---
Whether it's the Capes of the coast or the rolling hills and bucolic beauty of the Berkshires calling to you, Massachusetts is a prime vacation spot for many reasons. All across the state, there is just so much to see and do; Where else can you easily travel from incredible hiking in stunningly scenic locations to historic lighthouses that have survived through the centuries, and so much in between? Fun family vacations, solo trips, or romantic getaways: Massachusetts can host them all.
Don't bother trying to resist, it's practically impossible! If you're planning a trip to the Bay State, use this piece as a guide to finding your perfect vacation spot in one of the very best places to visit in Massachusetts!
Indulge in the Romance of Rockport, MA
Located on lovely Cape Ann's northern tip, Rockport is a historic village that's a delightful fusion of mellow and vibrant, a seacoast town that embraces both the old and the new and has a ton for visitors to see and do! Home to Motif #1, the historic fishing shack that some say is the most painted building in the world, artists flock to Rockport for the pleasure of sketching and painting it. Rockport is quite an artists' haven; explore Bearskin Neck, the heart of Rockport, and peruse the local art galleries and unique shops that line the road. Within walking distance of downtown, you can also reach Front Beach, the lovely little stretch of sand that makes for a perfect spot to sit and enjoy the waters of the Atlantic, whether you decide to take a dip in its bracing waters or not!
While staying in a seaside village like Rockport, there is one thing that you absolutely must do, and I don't know that it's even negotiable: you really have to sample the fresh-caught seafood! There are several amazing restaurants in Rockport (incredible breakfast spots, too!) and Roy Moore Lobster Co is a sure thing for some of the finest, fresh-caught lobster you'll ever have, so put it on the must-visit list! Rockport also has some very cool hotels and inns to choose from, but if you like the sound of an expertly-updated 1850s inn with stunning views of the sea, well, then look no further than the Emerson Inn! You can relax on the porch and enjoy the refreshing sea breeze and delightful views that come standard at this historic inn that once hosted guests like Ralph Waldo Emerson and Henry David Thoreau. A visit to Rockport is a little bit history and a whole lotta-bit of beauty and art, and an absolute must-see-for-yourself kind of place.
Go Big or Go Home in Boston, MA
History, culture, sports, innovation, and just so many incredible things to do make Boston an absolute must-visit Massachusetts destination! Are you into history? Perfect, hop on a trolley tour and check out all of these incredible historic can't miss locations, like the Paul Revere House, which was built in 1680. If it's museums you're looking for, you have plenty to choose from in Boston, like the Museum of Science, the Museum of African-American History, the Museum of Fine Art, and so many more!
If you'd prefer a night out at the theater, that's easy too: head to Boston's Theatre District and pick your poison: Will it be a Broadway show? An opera? Comedy? Whatever tickles your fancy, the Theatre District likely has it. For sports fans, Boston will be an absolute dream; celebrated Fenway Park awaits!
There really are so many ways to get out and explore this town that don't break the bank. Check out the Go Boston Card and the Boston CityPASS to get the most bang out of your buck during your visit, and take advantage of all the incredible FREE stuff there is to do and see in the City on a Hill! There's even plenty to do with the kiddos, but if it's more of a romantic getaway you're shooting for, Boston is the perfect city for that, too!
Boston also has an incredible foodie scene, and some of the coolest, coziest coffee shops for when it's just a quick pit stop you're after. Winter and especially Christmas are fun times to visit the city, but any time of the year you'll find plenty to do and marvelous hotels, inns, and Airbnbs to stay in. Boston's brand of cool will have you ready to go big or go home on your visit to Massachusetts' capital city!
Play in the Beauty of the Berkshires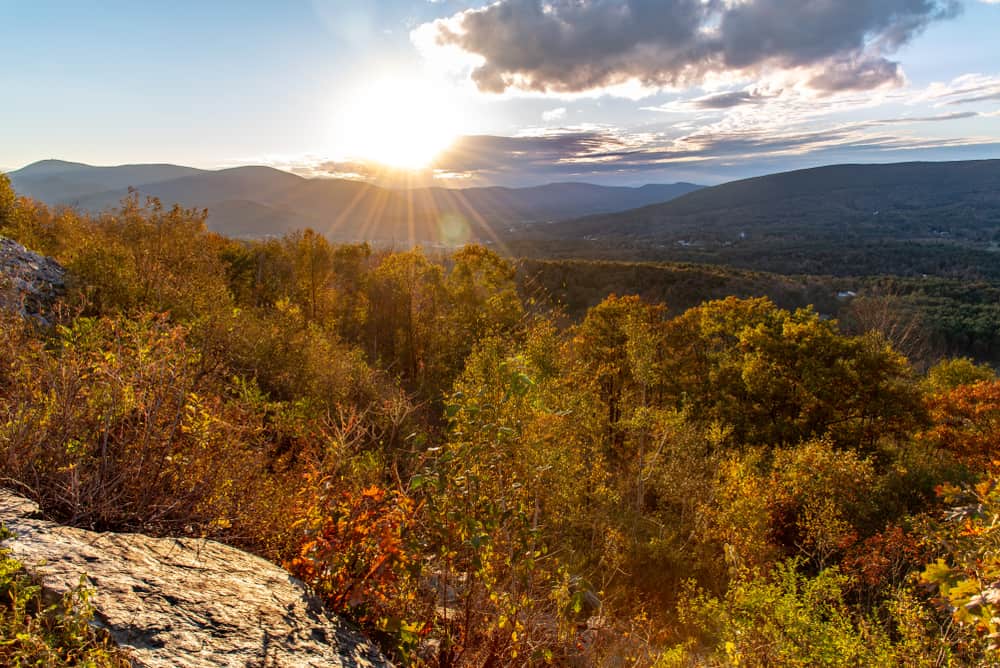 One of the most popular vacation destinations in all of New England, the Berkshires is known as an ideal location you can go to both relax and get out and get going! You can go to a concert at legendary music venue Tanglewood and then return just up the road to an ultra-cozy inn like The Rookwood Inn for a lovely stay. There are museums and art galleries to explore, interesting shops to check out, wineries & breweries to spend the day at, incredible hiking and beautiful waterfalls to find (this is especially a must-do if you visit in fall!), winter sports galore, or you can splurge on your wellness journey by checking in to Miraval Wellness Resort and indulge in all of the mind-body therapies and practices they offer, while also enjoying their ultra-luxurious accommodations and gourmet meals!
This area is also home to some fantastic restaurants and you'll have absolutely no problem finding thoughtfully created meals made with fresh, locally-sourced ingredients all around the Berkshires. If you're looking for a slamming cup of joe and a great brunch menu in a laid-back, creative setting, check out Brewhaha in North Adams. If it's more a full dinner with drinks you're after, try Alta Restaurant & Wine Bar in Lenox, one of the best Lenox restaurants, for exquisite entrees like Braised Pork with apple cider sauce… yum!
As for where to lay your head each night, options are aplenty, but if you're looking for a boutique hotel that seamlessly blends history and modern amenities, check out the library suite at Hotel On North in Pittsfield, where you can literally be tucked in and surrounded by floor-to-ceiling filled bookshelves in this hip hotel. Want a more laidback local stay? Check out our list of the top Airbnbs in the Berkshires.
A trip to the Berkshires might just tick all the boxes for what you're looking for in your Massachusetts visit!
See for Yourself in Salem, MA
So, you've heard of Salem, right? Of course, you have! Most of us only associate it with the Salem Witch Trials of the 1690s, but this little waterfront town has quite a bit more going for it than just infamous witchy history. While Salem is an extra-interesting destination in October when there are awesome spooky-type things to do like ghost tours, there are tons of great spots to explore any time of the year, like the locations where Hocus Pocus was filmed! Okay, but really, there's more to Salem than even that! Walk the pedestrian shopping mall of Essex Street, the sometimes kitschy, always fun mall that has plenty of shops, stops, and restaurants to keep you busy all day long! Visit the Peabody Essex Museum and then head over to see The House of the Seven Gables, as well as the birth home of Nathaniel Hawthorne.
If all of the history and the museums don't appeal to you, all you have to do is look towards the water! A big part of what makes Salem a must-visit Massachusetts destination is its awesome location; not only can you see spectacular lighthouse views in the Salem Harbor, but just 10 minutes up the road is lovely Marblehead, a sweet little seaside town that Vogue once referred to as "New England's Best-Kept Seaside Secret." There are plenty of choices when it comes to where to eat and stay in Salem, including some super cool Airbnb options in both Salem and Marblehead, but if you stay at Salem Waterfront Hotel you'll get incredible harbor views, great amenities, and easy access to the tasty on-site Regatta Pub! Plus, it's one of the few places to stay in Salem that doesn't have a "this inn is haunted" lore behind it, so it has that going for it, too! Salem may be predominantly known for the witch trials, but the town's motto is "Still making history," and a visit to this little waterfront gem will show you it's the good kind!
Catch the Fun on Cape Cod, MA
Cape Cod is a fantastic must-visit destination with distinct areas that each have their signature charms, like the Upper Cape with its quieter, slower pace, where you can go clamming and lounge on an uncrowded beach. Then there's the Mid-Cape, where the famous Kennedy compound and many elegant mansions are located, the Lower Cape with its beautiful forests and The Cape Cod Museum of Natural History, and then there's the Outer Cape with historic lighthouses, freshwater pools (hello Wellfleet kettle ponds!), the Cape Cod Rail Trail Bikeway (found in the Ultimate New England Bucket List) and so much more to do and see, and of course, beautiful beaches and spectacular views come standard all around the Cape! You'll have fun anywhere, but Provincetown is a unique must-visit while on the Outer Cape.
A historic artists' colony that is also well-known for its robust LGBTQ+ community, Provincetown is colorful, creative, and full of fun things to do. Breathtaking beaches and parks, art galleries galore, unique shops, walking and biking trails, and so much more can be found in this funky little slice of heaven. Provincetown has plenty of excellent restaurants to choose from, but if you're looking for a Zagat Rated, beach-views, can't-find-a-bad-thing-on-the-menu kind of place, look no further than The Mews Restaurant & Café, and as for where to stay, there are a plethora of options to choose from, depending on what you're looking for. With such variety, it's a pretty safe bet that Cape Cod could be your perfect Massachusetts vacation destination, and we didn't even mention Martha's Vineyard or Nantucket!
The Bay State has so much to offer its visitors; you really can't go wrong with a getaway to any one of the places on our list. Have fun planning your next trip and enjoy your time in beautiful Massachusetts!
---
Read these next:
---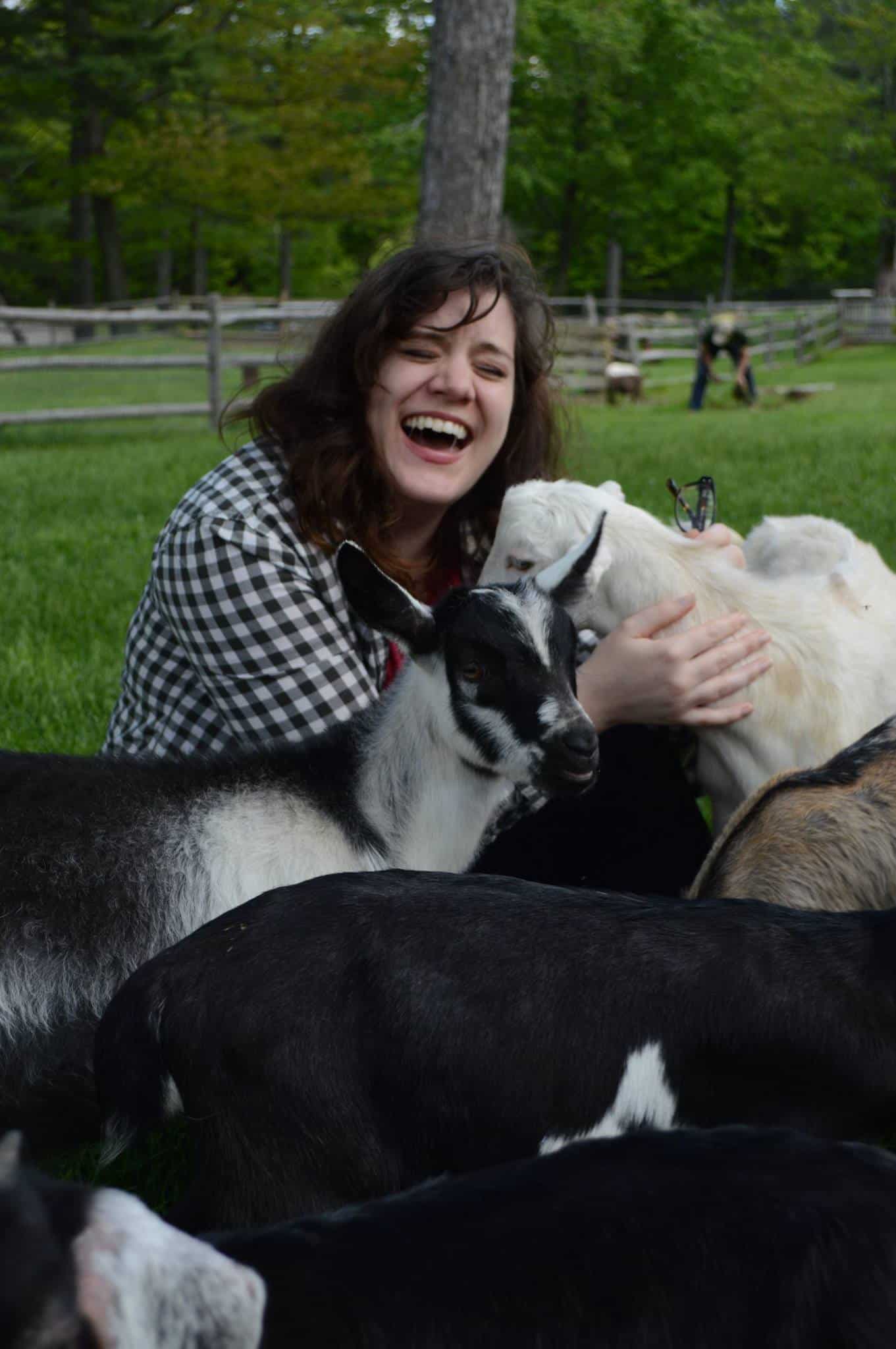 Amy Hartle is the owner and editor of New England With Love, a comprehensive resource for travel in the New England region. Amy lived in Vermont for 15 years, attended Plymouth State University in New Hampshire, and continues to travel regularly around the entire New England region. On this site, Amy aims to share her love of New England and help you to have the best possible adventures!
Amy has been a full time blogger since 2012, and is also the publisher of Two Drifters, where she writes about couples travel and relationships, as well as Let's Adventure Baby, a family travel site. When not traveling the world or creating epic blog content, Amy can be found cuddling with her husband, son, and cats, & drinking a maple latte.