Traveling to fun, new places is always a blast, but nothing can put a damper on the experience quite like realizing you can't bring your four-legged friend.
Planning a visit to Salem, Massachusetts? We can help! There are plenty of great places to stay in town, but we've rounded up the top pet-friendly hotels in Salem MA for you here.
Whether you're coming in October to take part in all the spooky seasonal festivities or you're there to simply explore the history and local culture, you'll need a place to stay. Finding Salem pet-friendly hotels isn't always easy, but we can point you in the right direction.
These are our picks for the top 5 Salem dog-friendly hotels so you and your furry friend can enjoy your adventures together!
My Top 3 Picks: Pet Friendly Hotels in Salem MA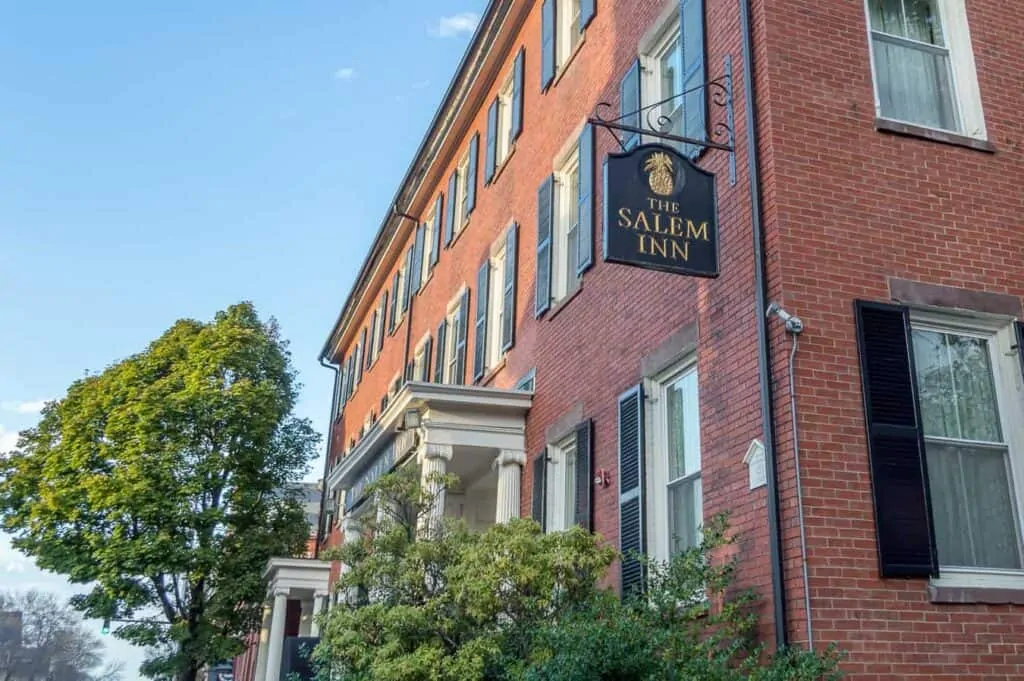 Salem Inn
🍁 Pets of All Sizes Welcome!
🍁 Historic Inn
🍁 Convenient Location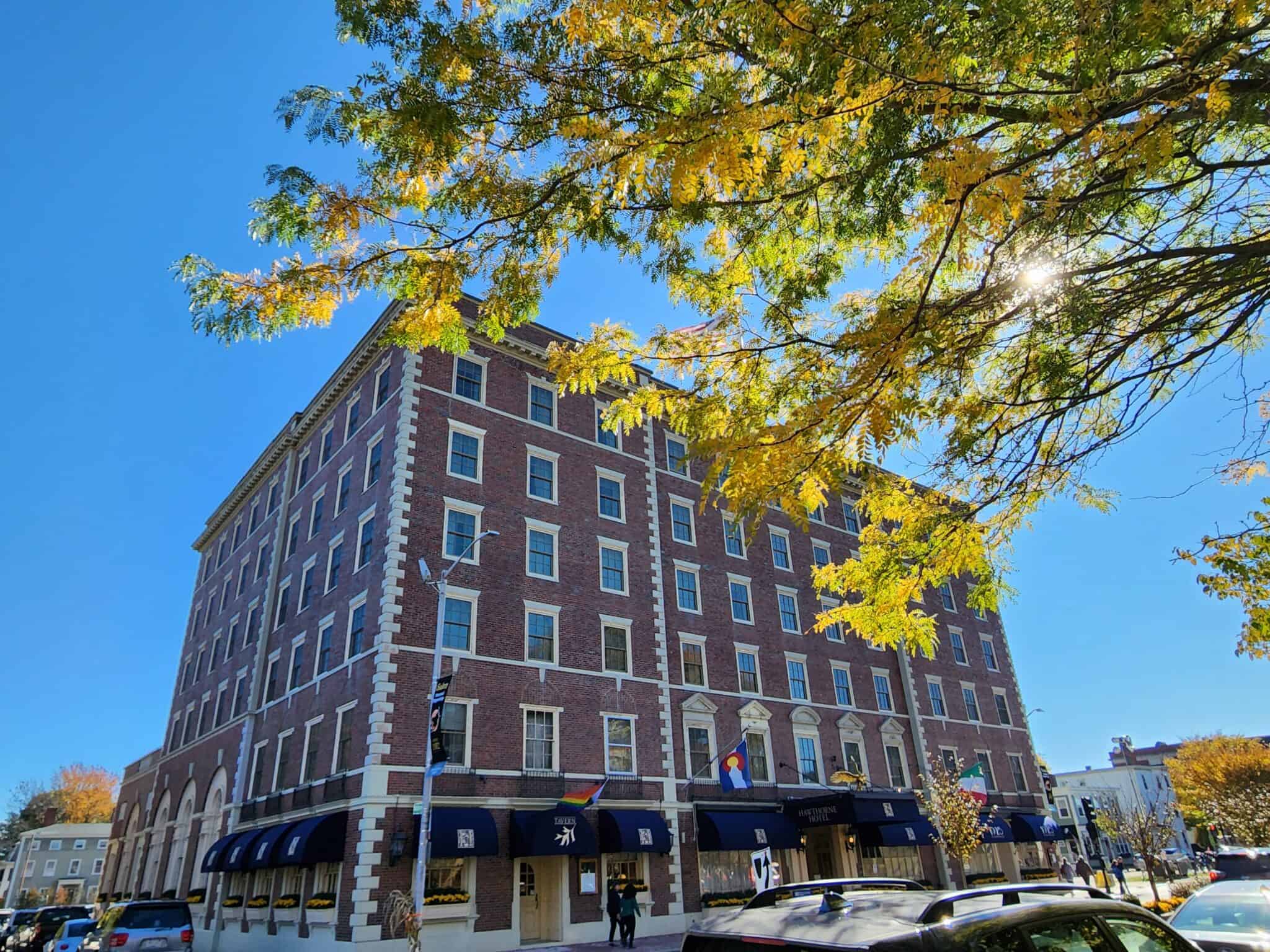 Hawthorne Hotel
🍁 Doggy Room Service Menu
🍁 Historic Hotel
🍁 Located Downtown
Stepping Stone Inn
🍁 Offers Dog Walking Services
🍁 Cozy Inn Vibes
🍁 Literally Next Door to the Salem Witch Museum
5 Best Pet Friendly Hotels in Salem MA
We absolutely love Salem Inn! We did not bring our pets with us, but us humans loved this historic inn and its Old World style charm.
It's beautifully located right where most tourists want to be, within walking distance of popular Salem things to do like the Witch House, the Ropes Mansion, and more.
There are even family suites available at the Salem Inn if you've got the whole family with you, and the number of pets they allow is two per booking.
One of our favorite amenities was the complimentary breakfast – absolutely delish!
To welcome pets into their inn, they offer pet bedding, water bowls, and treats.
"They had a little dog mat and a bowl and treats ready in our room for our dog" -Dale (Read more reviews)
⭐️ RATING: 8.8/10 | 📍 LOCATION: 18 Washington Square West, Salem, MA 01970| ✅ Book it!
If you're looking for a hotel with history, you're going to love the Hawthorne Hotel. This beautiful hotel has quite a story to tell, as it is considered one of the most haunted hotels in America!
It is said that Hawthorne Hotel was built on the site of Bridget Bishop's apple orchard, one of the women hanged during the witch trials. Paranormal activity has been reported in several areas of the hotel, including the phantom scent of apples wafting through the air and catching glimpses of a womanly specter roaming the halls.
However, most guests don't report paranormal activity, so if you'd really rather not be spooked, you'll probably be fine! Haunted happenings are most often reported in Rooms 325 and 612.
Hawthorne Hotel is very pet friendly! Not only will your furry friend receive a welcome toy and treats, but there's also a doggy room service menu. How freakin adorable is that!
For the humans, the onsite restaurant is one of the best in town, especially for breakfast, so order a little something from there during your stay to see what all the fuss is about!
It's also located across the street from walking trails, so getting out for walks is easy.
"Polite staff, excellent facilities, definitely an experience and I love the history of this place." -Jennifer (Read more reviews)
⭐️ RATING: 8.8/10 | 📍 LOCATION: 19 Washington Square North, Salem, 01970 | ✅ Book it!
If you're looking for a quaint inn experience that's pet friendly in Salem, Stepping Stone Inn is an excellent choice! In fact, their two resident cats are very friendly and love to greet guests guests, both of the two and four legged persuasion.
There's something so cute about four legged innkeepers, right?
This popular pet friendly Salem inn is perfectly located for those with a lot on their must see and do list, as it is literally right next door to the Salem Witch Museum, where many popular walking tours begin.
It's also one of the few pet friendly places in Salem that allows you to leave your pet crated in your room (within reason, of course) if you want to go somewhere that doesn't allow dogs.
They also offer crate rentals and dog walking services. This would be super convenient if you wanted to explore a little Salem nightlife during your visit!
Pet amenities include a bed, bowl, and special treats for your furry friend. There is also a park across the street for potty breaks.
" The location is super convenient and in the middle of everything, so it's perfect walking distance everywhere!" -Camilla (Read more reviews)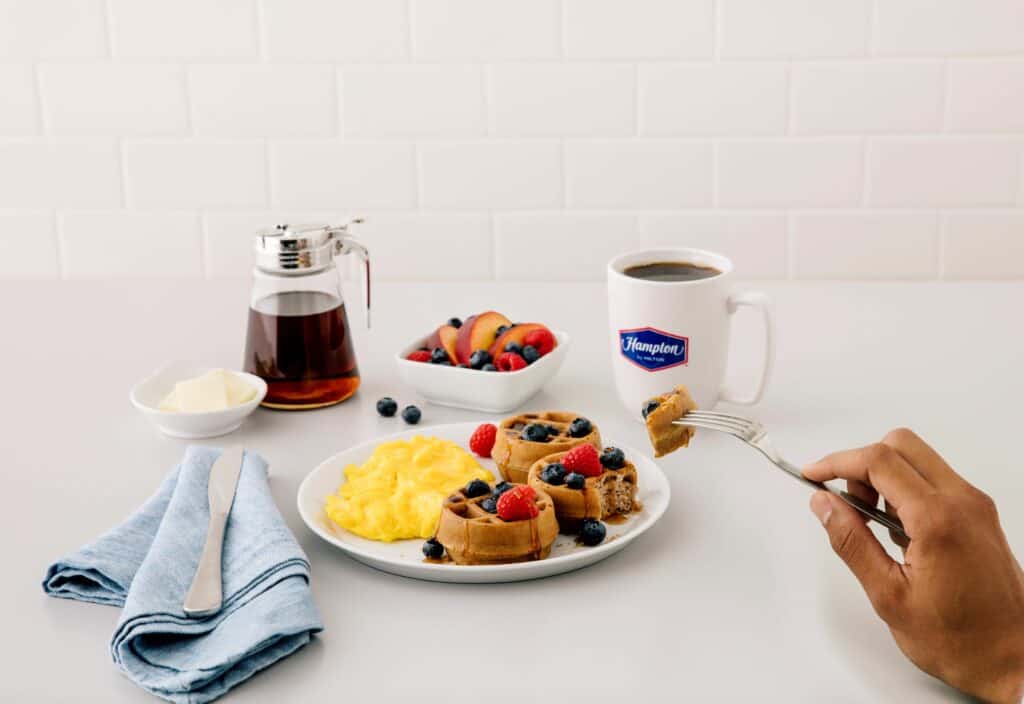 ⭐️ RATING: 9/10 | 📍 LOCATION: 11 Dodge Street, Salem, MA 01970 | ✅ Book it!
You've got to love staying in a Hampton Inn! For one, it's nice to book with a major hotel brand and know what to expect in advance.
This particular Hampton Inn is conveniently located within walking distance of many popular Salem attractions, including the Salem Wax Museum, the Burying Point Cemetery, and the Salem Witch Trials Memorial. It's also near some very popular restaurants, like Howling Wolf Taqueria – yum!
Guests especially love the location and how updated and modern this dog friendly Salem hotel is. And of course, there's the indoor pool, which is always a plus!
It's also just two miles from Salem's Waikiki Beach, where you can walk the shore, swim, and see the lovely lighthouse.
"Great location, clean and spacious rooms, nice heated pool." -Tina (Read more reviews)
⭐️ RATING: 8.2/10 | 📍 LOCATION: 59 Newbury Street – Route 1 North, Peabody, MA 01960 | ✅ Book it!
So this dog friendly hotel is technically right outside of the town of Salem, but it's just about a fifteen minute drive to popular attractions like the Proctor's Ledge Memorial. Plus, sometimes it's nice to book a hotel that's just outside of a very busy tourist town like Salem.
This is a Hampton Inn property, so same as the pet friendly hotel in Salem proper that we highlighted above, you know you can count on a few things, with free hot breakfast being one of them!
You'll also find amenities like a business center, fitness center, EV charging, and an indoor pool. Who doesn't love an indoor pool?
Another bonus of this Salem area pet-friendly hotel is that you can easily travel to other popular local tourist attractions in Boston! It's just a quick jaunt down Route 1 to get to Boston, so if you're interested in exploring both areas, this is a great centrally located hotel.
"Location, breakfast and cleanliness are great" -Susan (Read more reviews)
FAQs About Pet Friendly Accommodations in Salem
How many dog friendly hotels in Salem are there?
Not many, but we've found the top 5 pet friendly hotels and listed them for you here.
Are there any Salem pet friendly hotels without a weight limit?
Hawthorne Hotel & Salem Inn don't have weight restrictions as of this writing.
Which dog friendly Salem accommodations allow more than one dog?
As of this writing, Hawthorne Hotel, Salem Inn, and Hampton Inn (both locations) allow two well behaved pets, for an additional charge.
Is Salem a dog friendly town?
According to our friends over at Bring Fido, yes! There are many local restaurants, attractions, and tours that welcome well-behaved pets, like the patio at Gulu Gulu Cafe (one of our favorites!), the Salem Trolley (on weekdays), and Black Cat Tours.
🤩 Black Cat Tours are a Must While Visiting Salem!
Final Thoughts on Visiting Salem with Pets
Salem is always a fantastic vacation destination, but do be aware that fall is a very busy time to visit. If you have a pup who is a little skittish or easily startled, you might not want to visit September through November, as there are large crowds and a lot of people vying for not a lot of space!
Unless you're specifically coming for the great ghost tours and Haunted Happenings, of course!
Salem has a lot to see and do, including plenty that you can do for free, like touring Hocus Pocus filming locations. Have fun exploring this adorable historic town!
Read Next: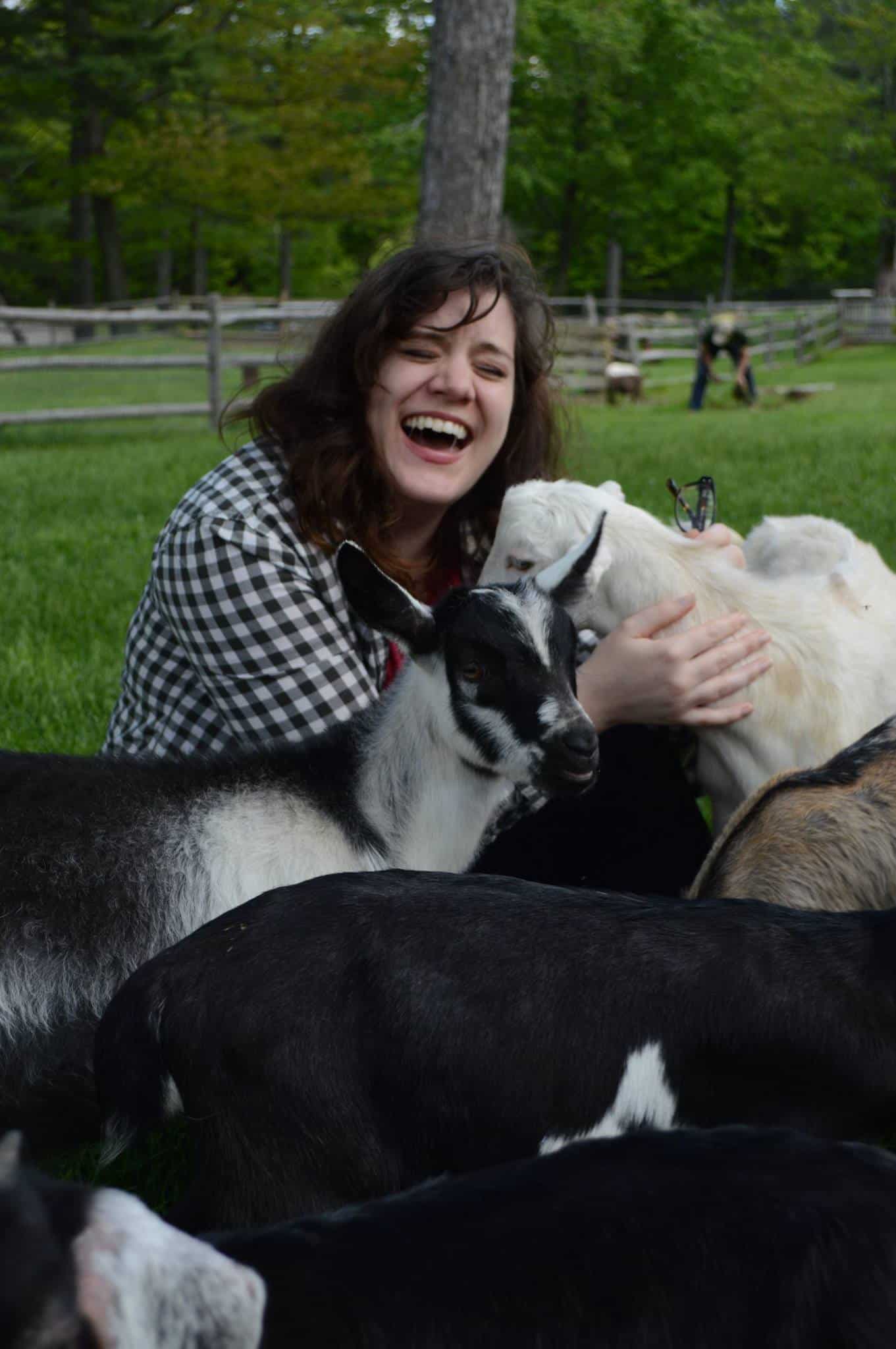 Amy Hartle is the founder and Editor-in-Chief of New England With Love, a comprehensive resource for travel in the New England region. Amy has been exploring New England since 2001. She lived in Vermont for many years and is a graduate of Plymouth State University in New Hampshire. Amy has been writing about travel for over a decade. On this site, Amy aims to share her love of New England and help you to have the best possible adventures!
Amy has been a full time blogger since 2012, and is also the publisher of Two Drifters, where she writes about couples travel and relationships, as well as Let's Adventure Baby, a family travel site. When not traveling the world or creating epic blog content, Amy can be found cuddling with her husband, son, and cats, & drinking a maple latte.