*This site uses affiliate links; if you make a purchase through these, I may receive a small commission at no cost to you.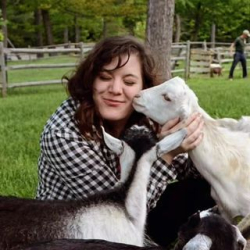 Latest posts by Amy Hartle
(see all)
With so many New England lighthouses to choose from, it can be hard to decide which ones are even worth visiting! Luckily, we've taken the time to round up all of the most picturesque lighthouses in this area of the United States.
Much of New England's dramatic coastline against the Atlantic is scattered with breathtaking lighthouses, from ones you can go into to ones that will make your jaw drop when you see them up close. A visit to New England means you have to try to see at least one lighthouse!
So, what are you waiting for? Continue to learn more about the best lighthouses in New England, in no particular order.
Best New England Lighthouses
Scituate Lighthouse in Scituate, Massachusetts
First up is the Scituate Lighthouse in Scituate, Massachusetts. It's on top of a seawall that allows you to take beautiful photos that will take your breath away for years to come. Sometimes when you visit, there may even be washed-up lobster traps.
The best time to visit this Massachusetts lighthouse is at sunset so that you can see the scenic colors of the sky overhead in your camera lens. However, you can truly take a great picture of this lighthouse any time of day.
Sheffield Island Lighthouse in Norwalk, Connecticut
If you find yourself near Norwalk, Connecticut, stop by Sheffield Island Lighthouse. It's one of the more unique lighthouses you'll stumble across because it's not as traditional, featuring a building with ten historic rooms filled with historic furniture.
Sheffield Island Lighthouse was built in the 1860s but was restored later in the 1900s. The area surrounding the lighthouse has lovely green space, including some picnic tables that are perfect for a picnic on a sunny day.
Boon Island Light in Boon Island, Maine
One of the most unique lighthouses in New England is Boon Island Light! It's super tall and skinny and is New England's (and Maine's, for that matter) tallest lighthouse.
It isn't open to the public, but you can head to the shore of York and see it in the distance. You can also see it by boat, which can be a great way to explore some coastlines. Plus, who wouldn't want to see the tallest lighthouse in New England?
Portland Breakwater Light in Portland, Maine
Portland Breakwater Light, known as Bug Light by locals, is a Maine lighthouse Fore River and Casco Bay. It was built in the 1830s, though the light wasn't added until the 1850s to help warn ships by the harbor entrance.
Bug Light in Portland offers superb coastline views, even if it doesn't have as much history as some of the other lighthouses on this list. Visit for a quick morning stroll to avoid any crowds and take some impeccable photos.
New London Harbor Light in New London, Connecticut
Another of Connecticut's most beautiful lighthouses is in New London, called New London Harbor Light. It's a traditional lighthouse, as it's all white and has a black top section. Standing 90 feet tall and overlooking the Long Island Sound, New London Harbor Light was built in 1760 and is the state's oldest lighthouse.
This isn't the easiest lighthouse to visit because the area surrounding it is privately owned. The best way to see it is to walk around the nearby neighborhood, and you may stumble across a great view of it.
Point Judith Lighthouse in Narragansett, Rhode Island
Narragansett is home to the breathtaking Point Judith Lighthouse. It was built in 1816 in order to replace an old lighthouse made of wood that had been destroyed during the Great Gale of 1815.
It's used today as an active station for the Coast Guard, so it's not easy to get close to it. Instead, enjoy a view at the nearby beach park, which has viewing areas overlooking the lighthouse.
Watch Hill Lighthouse in Westerly, Rhode Island
I'm sure you probably think of Taylor Swift first when thinking of Westerly, Rhode Island, but this town is home to the Watch Hill Lighthouse! It's a must-visit granite lighthouse with incredible views of the surrounding area.
This lighthouse in Rhode Island is made out of granite and does have tours seasonally throughout the year. Times and openings for these tours can greatly vary, but you can click here to learn more and check availability.
Nauset Beach Light in Eastham, Massachusetts
If you find yourself near Cape Cod, then don't miss out on the Nauset Beach Light in Eastham. It's a classic lighthouse style, and is even more picturesque at night under the stars. The red and white colors of the lighthouse create a contrast that your camera will love.
West Quoddy Head Light in Lubec, Maine
The West Quoddy Head Light in Lubec, Maine, is breathtaking with its red and white candy stripe facade. It truly stands out amongst the rest on this entire list because of its iconic exterior.
The drive from Portland to this lighthouse is only about four hours, but it's well worth the trip if you find yourself there. It was built in 1808 when it was first constructed (thanks to President Thomas Jefferson) but the version that stands today was built in 1858.
Fort Pickering Light in Salem, Massachusetts
Most travelers head to Salem, Massachusetts, to learn about the Salem Witch Trials or go Hocus Pocus location hunting. However, it's home to a lighthouse called the Fort Pickering Light on Salem harbor.
It's beautiful any time of day, but especially in the evening when the moon can be seen behind the lighthouse in the distance. During the holidays, you may even find a wreath hanging off the lighthouse.
Saybrook Breakwater Light in Old Saybrook, Connecticut
Old Saybrook is one of the best places to visit in Connecticut for a good reason; it's right near Saybrook Breakwater Light. The lighthouse was built in the 1800s and has a beautiful rocky landscape nearby.
It's also very possible that you will recognize the lighthouse after seeing it in person and maybe even have a case of deja vu. That's because it's on one of the state's license plates, so you may have seen it around.
Cape Elizabeth Light in Portland, Maine
One of the things that make Cape Elizabeth Light so unique is that it is two lighthouses because it has twin beacons. However, one is still in use while the other has actually been purchased and is now a home.
Everyone loves visiting this lighthouse, also known as Two Lights, because of how picturesque it is. While there, don't forget to walk out on Dyer Point and just relish in the area's beauty, and maybe even try some lobster at The Lobster Shack at Two Lights.
Wood Island Lighthouse in Portland, Maine
Portland is home to many lighthouses, including the Wood Island Lighthouse. It's the fifth oldest lighthouse in Maine, built in 1801. The best time to see the lighthouse is over the summer, when you can go on a tour from July to August.
Be sure to spend some time learning about this lighthouse's interesting history, including the story of an old lightkeeper's 2-year-old daughter getting thrown overboard who survived in the 1960s.
Castle Hill Light in Newport, Rhode Island
Newport is one of the most beautiful places in Rhode Island, home to Castle Hill Light. It's closed to the public but is still viewable from nearby footpaths where you can look out and take in the view.
The best place to stay to see the lighthouse is the Castle Hill Inn which is an incredibly romantic place to stay. It's a great luxury accommodation that you won't want to miss out on.
Pemaquid Point Lighthouse in Bristol, Maine
Bristol, Maine, is home to Pemaquid Point Lighthouse, which is truly picture postcard perfect. The lighthouse keeper's house is attached and looks out to the breathtaking Atlantic Ocean.
Many people love visiting this lighthouse and checking out the rocks underneath to climb on. Be sure to check out the on-site gift shop and ice cream shop.
Green's Ledge Light in Norwalk, Connecticut
Green's Ledge Light is a historic lighthouse in Norwalk, CT. The lighthouse is actually what's called a sparkplug lighthouse, which is considered rare. It was built in 1902 and is built out of cast iron and was recently repainted in 2021.
Locals acquired the lighthouse recently and work to keep up its maintenance. The best way to go and visit the lighthouse is to see it from the distance but you could also consider renting a kayak or going out on a boat to see it a bit closer up.
Seguin Island Lighthouse in Georgetown, Maine
Though it's a rather normal-looking lighthouse, Seguin Island Lighthouse is one that deserves a spot on this list because it was built by George Washington. Plus, this is one of the lighthouses that is actually still active today.
Many people will stop by nearby Popham Beach to see the lighthouse in the distance with binoculars but try to go on a tour instead to get up closer. It's not the easiest to tour, though, as it requires a tour boat to a dinghy, where you get up and scramble up some slippery rocks.
Halfway Rock Lighthouse in Portland, Maine
While it's not easy to see (or even visit) Halfway Rock Lighthouse, it still deserves a spot on this list. It's located 11 miles off Maine's coast and was built to help stop the number of tragedies sweeping the area beforehand.
It, unfortunately, sat and deteriorated after the Coast Guard abandoned it in the 1970s, but it was privately purchased in 2017. The new owners have done a lot to restore it to what it once was along Casco Bay.
Minot Ledge Light in Scituate, Massachusetts
Another lighthouse in Scituate is the Minot Ledge Light, and it's just a mile offshore. It's breathtaking standing against the blue Atlantic Ocean. It's one of the most picturesque lighthouses, with the waves always crashing up against it throughout the day.
Portland Head Light in Portland, Maine
One of the most famous lighthouses in this area of the USA is Portland Head Light in Portland, ME. It's in Fort Williams Park and was built in 1791; and also is home to the remains of an old fort by the sea.
Throughout this area, you can find tons of fantastic fun waiting for you, like great views, picnic tables, green spaces, walking paths, and more. Plus, many of Portland's locals will come here and enjoy the food trucks camping in this area during the summer months.
Southeast Light on Block Island, Rhode Island
Situated on the Mohegan Bluffs, Southeast Light on Block Island is truly iconic. It's a brick and granite lighthouse that stands 52 feet tall, with unparalleled views of the Atlantic Ocean.
While it's beautiful any time of year, stop by in the summer to enjoy a tour and check out the on-site gift shop. During a tour, you can learn all about the lighthouse's history as well as the shipwrecks over the years.
Nubble Lighthouse in York, Maine
Another of the best lighthouses in Maine is Nubble Lighthouse in York. It's truly one of the most picturesque and photographed lighthouses in all of the USA, and with one look at it in person, you'll understand why.
The lighthouse is easy to access and has an abundance of parking because of its popularity. Note that its other official name is Cape Neddick Light, though most people just refer to it as Nubble Light.
Fayerweather Island Light in Bridgeport, Connecticut
Bridgeport is home to its own lighthouse called Fayerweather Island Light. Many people call it Black Rock Harbor Light because it overlooks the beautiful Black Rock Harbor. It's a classic little lighthouse that's white with a black top.
It opened in the early 19th century and was constructed with granite, standing 40 feet tall. There is a parking lot right next to the lighthouse, but typically Connecticut locals have a smaller parking fee to pay than those from out of state.
We hope that this post has inspired you to check out some of the top New England lighthouses! Truly, no matter what one you visit, it will be an unforgettable experience. Just don't forget your camera!
---
Learn more about lighthouses with these articles:
11 Fun Maine Lighthouse Tours for All Ages
13 Beautiful Cape Cod Lighthouses