*This site uses affiliate links; if you make a purchase through these, I may receive a small commission at no cost to you.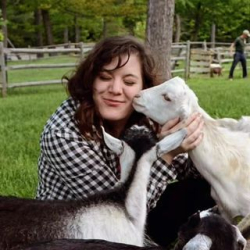 Latest posts by Amy Hartle
(see all)
Are you planning a trip to Mystic CT? The Mystic Aquarium is always a fun place to go (and definitely one of the top things to do in the state)! This guide to the Mystic Aquarium will tell you what to expect during your visit to one of New England's favorite wildlife centers.
If you're looking for interesting marine animal information, incredible animal encounters, and a way to support marine wildlife education and advocacy efforts, then a visit to Mystic Aquarium is perfect for you!
Guide to Mystic Aquarium: The Animals
With over 300 distinct animal species, you'll find quite a lot to see at the Mystic Aquarium, including their beloved Beluga Whales, housed in the largest outdoor Beluga Whale habitat in the country! Not only can you visit them from the underwater viewing stations where the Belugas are known to playfully interact with guests, but you can also watch the care and research team as they conduct training and feeding sessions from several viewing areas above in this spacious outdoor exhibit.
In addition to the beautiful Beluga Whales, Mystic Aquarium is also known for being the only aquarium in the country that houses Stellar Sea Lions, and you can see sea lions and seals in two of the outdoor exhibits. Plus, twice a day during the week and three times a day on the weekend, you can witness live presentations of the California Sea Lion's care and enrichment in the Foxwoods Marine Theater; this is always a hit, so be sure to plan your trip to catch one of these incredible edu-tainment shows!
Another fun favorite for Mystic Aquarium visitors is the Penguin Pavillion, where you can see endangered African Penguins from both an outdoor viewing area and an underwater viewing area; it's always neat to see these aquatic birds glide so gracefully through the water, isn't it?
Then there's the Marsh Trek, the beautiful marshland exhibit with frogs and turtles swimming under and around the lovely lilypads that blanket the water through here, so sometimes it can take a while to get a peek at one of these marsh critters; patience pays off on the Marsh Trek!
Take a look in the Animal Rescue Clinic window to see who the team is caring for currently, as they receive marine animals from all around the country that are in need of a little TLC from the talented team at Mystic Aquarium. Then it's on to the indoor exhibits of the Main Gallery!
The Main Gallery is where you'll find the jellyfish, sharks, eels, tropical fish species and so much more; be sure to check out the Weird & Wonderful exhibit to get a close-up look at interesting critters like the Giant Japanese Spider Crab and the Giant Pacific Octopus!
For those interested in getting a more hands-on experience with marine wildlife, spend some time at the touch tanks! The Shark Touch Exhibit has a variety of shark species like the Whitespotted Bamboo Shark that you can reach out and gently pet as they swim past, and there's a Ray Touch Pool if you'd like to be able to say you've touched a Cownose Ray!
Guide to Mystic Aquarium: The Experiences
In addition to the touch tanks, Mystic Aquarium also offers other interesting ways to interact with the marine life! Sign up for individual or group Penguin, Seal, or Reptile Encounters, or participate in seal enrichment programs during one of the live Foxwoods Marine Theater shows! You can also join in on one of the Paint With a Seal or Paint With a Ray sessions for a very unique art experience!
Keep an eye on the Mystic Aquarium events calendar to see when the next Coastal Cleanup Event or guided nature walk will be, and there are always neat kid-centric events like "Dinos at Dawn" to watch out for, too!
In addition to the fantastic amount of education that visitors receive during a trip to Mystic Aquarium, there are also additional educational programs and camps that occur throughout the year, and Mystic Aquarium even hosts private overnight events and birthday parties, too!
There are a couple of add-on experience options available at Mystic Aquarium; for those with dino-loving kiddos, the Jurassic Giants experience includes animatronic dinosaurs, 4D theaters, and frogs and reptiles. Jurassic Giants is definitely a big hit for most kids under the age of 10!
While the Jurassic Giants exhibit is geared towards kids, the Undersea Explorer Virtual Reality experience is loved by all ages; what's not to love about going on an underwater adventure while safely sitting in one of the "virtual reality pods"?
Guide to Mystic Aquarium: When to Go
Editorial credit: Ritu Manoj Jethani / Shutterstock.com
While Mystic Aquarium is open year-round, keep in mind that the outdoor exhibits are exposed to the elements, so come properly dressed if you choose to visit during coastal Connecticut's cooler weather months. Sometimes access to outdoor exhibits is limited in the winter months and inclement weather will shut them down entirely, so call ahead to double-check before you arrive!
Outside food isn't allowed at Mystic Aquarium, but there is an onsite cafe and gift shop, so plan to snack onsite or eat before you come. A typical visit to Mystic Aquarium is about 2 hours long.
Mystic Aquarium Conservation Efforts
Mystic Aquarium has a team of highly-skilled research scientists, animal rescue specialists, and marine animal experts on staff, and their efforts extend far beyond the zip code of Mystic CT. Mystic Aquarium is a part of international conservation efforts and in addition to the rescue and rehabilitation done at home, they also send staff around the world to partake in conservation efforts with other wildlife groups. You can be sure that when you buy your ticket to Mystic Aquarium, you are supporting an organization that is committed to the sustained care and protection of marine wildlife.
While in Mystic…
Of course, a visit to Mystic Aquarium means a visit to beautiful Mystic CT! There are so many fun things to do and see while in the area, so plan to stay awhile. In addition to all the neat things to do, you'll also find great restaurants and places to stay in this cute coastal town in Connecticut.
Enjoy your visit to Mystic Aquarium!
Read these next:
10 Best Things to Do in Cape Cod With Kids