Many people visit this state for its charming small towns and gorgeous scenery, but there are also many beautiful museums in Vermont, too!
Whether you're visiting for a few days or you have longer in Vermont, one of the best things to do is to head to some of the local museums. You can learn about history, art, culture, and even unique things like fly fishing. Seriously, the Vermont museums are fairly eclectic, and there's truly something for everyone.
Keep reading to learn all about the best museums in Vermont.
Fairbanks Museum & Planetarium
First up on this list is none other than the Fairbanks Museum & Planetarium in St. Johnsbury. It was founded back in the 1800s and mostly features history and natural science. There is also a planetarium that people can visit at this museum.
The planetarium is definitely the most unique thing about this museum. In the planetarium, you can attend presentations, see full-dome movies, and more. There's a small fee to see the presentations and movies, but it's well worth it. It's the only planetarium in Vermont that's opened to the public, too!
Bennington Museum
The Bennington Museum is a charming, small museum in Bennington, Vermont. As the name suggests, this museum features mostly exhibits all about the region surrounding Bennington and Bennington County.
Some of the notable things found in this museum include the historical art pieces and the old schoolhouse exhibits. They also host lots of different events for the public throughout the year, especially around the holiday season.
When visiting the museum, be sure to do some quick research to see if there are any historic reenactments during your trip. There are often reenactments near the museum from Bennington Battle Day and other events.
Montshire Museum of Science
Next on this list of great museums in Vermont is the Montshire Museum of Science, located up north in Norwich. This is a popular science museum that children love visiting, so it's particularly a great place to visit if you're traveling as a family.
It's a very hands-on museum with fun exhibits that kids can go through and play with. This allows them to get educated while having fun! One of the more unique things is their outdoor trail areas, like the Play Grove, which is the perfect place for children to be entertained outdoors.
The American Museum of Fly Fishing
One of the more unique Vermont museums is the American Museum of Fly Fishing in Manchester. It's a smaller museum, but it's perfect for those who love fishing! Throughout the exhibits, guests can learn about angling traditions and history.
The museum is inside of an old farmhouse from the 19 century, and there are around 40,000 artifacts that can be found inside. One of the more fun things about this museum is not only do they have everything from rods to reels, but they also have lots of paintings and other art pieces related to fishing!
Shelburne Museum
One of the most popular museums in Vermont is the Shelburne Museum. It's located further up north in Shelburne, Vermont, and features many artifacts and exhibits between multiple different buildings. The majority of the items in the museum are related to decorative art, but there are some folk art collections, too.
On average, expect to spend between 3-5 hours at the museum because of how much there is to explore. If you get hungry during your trip, don't worry; the 45-acre location also features a cafe where you can grab smaller foods like sandwiches and salads and even satisfy your sweet tooth with ice cream.
Lake Champlain Maritime Museum
If you find yourself in Vergennes, be sure to head to the Lake Champlain Maritime Museum. It's a unique museum that mainly focuses all about Lake Champlain's history through its exhibits and teachings.
The museum is free to visit and also has many fun events, programs, and workshops that you can enjoy. Over the months, they've had weekend sailing, fish processing courses, and even boat tours. You can even learn how to row at this museum if that's something you've ever been interested in.
Hildene
Another of Manchester's museums is Hildene which served as the family home for the Lincolns. The museum mainly focuses on sharing the history of the Lincolns as well as their values through their educational programs.
What makes Hildene more unique than other museums is that it's a lot larger and is filled with trails, old cars, a dairy, and exhibits. You could easily spend an entire day at the Hildene. The best way to explore it is to go on either a guided or a self-guided tour so that you can learn a lot during your trip.
The New England Maple Museum
One thing is for sure: Vermont is known for its maple syrup. So why not learn more about maple and its connection to Vermont at Pittsford's New England Maple Museum? This is a smaller museum but will bring you all the way through the history of the maple syrup industry in Vermont with its displays.
Once you are done, be sure to head to the souvenir shop. The museum's store is filled with absolutely everything maple that you could imagine, from books to candies and other sweet treats. Of course, you can buy regular maple syrup, too!
Fleming Museum of Art
The Fleming Museum of Art is located in Burlington right on the University of Vermont campus. It's an art museum that is open seasonally and includes exhibits on rotation throughout the year. The exhibits often change with the semesters.
Some exhibits that they have hosted before include pieces that were owned by UVM alumni, such as William Pickens III. Of course, they also have a permanent collection that is made up of more than 20,000 different pieces, so there is always something to explore from artifacts to artwork.
The Vermont Ski and Snowboard Museum
Another of the things that Vermont is pretty well known for is its winter sports. So, learn all about it at The Vermont Ski and Snowboard Museum in Stowe. This museum is small and opened in the 1980s.
If you want to know at all about skiing and snowboarding and their history in the state of Vermont, this is the place to go. They have a variety of collections, including snowboarding, nordic skiing, and alpine skiing, among others. They also have quite a few exhibits that are on rotation.
Billings Farm & Museum
If you want to visit a history museum, be sure to stop by Billings Farm & Museum in Woodstock. This museum is dedicated to farming, and it feels very hands-on and interactive because they do demos, too!
The museum also features a dairy farm that is still in use today! When visiting, be sure to check out the animals (the cows are so cute), explore the farm, see the farm life exhibits, tour the gardens, and visit the historic house.
The Ethan Allen Homestead
Burlington is also home to another of the greatest museums in Vermont, the Ethan Allen Homestead. This historic home was built back in the 1700s by none other than Ethan Allen. He used to live there, so it's a unique place to visit that is open seasonally throughout the year.
The best thing to do when visiting the museum is to go on a tour of the hold home. This way, you can learn all about the history of the place! You can also visit the Winooski River, explore the trails in the area, or head over to the garden.
Vermont Historical Society Museum
The Vermont Historical Society Museum is the place to go if you want to learn more about Vermont's history. It's in Montpelier and has a variety of exhibits ranging from history and culture to animals found in the area.
There is also an incredible store that you can visit once you're done exploring the museum. There, you can find souvenirs, books, and other educational items you can take home to continue your learning about the state.
Henry Sheldon Museum of Vermont History
Last but not least is the Henry Sheldon Museum of Vermont History in Middlebury. This is another Vermont history museum, but it's located in Middlebury College. The museum features pieces that belongs to Henry Sheldon, and was founded back in the 1800s.
There are a variety of different exhibits throughout the museum that often change. Past features have included old movie programs, sculptures, pottery, paintings, and more. Truthfully, the museum almost always has something new, so it's different every time that you visit.
As you can see, there are so many incredible museums in Vermont, so no matter your interests, you can have a fun indoor activity in the state. Plus, the museums are located all over Vermont, meaning no matter where you are visiting, you can probably find one nearby! Don't forget to save and share this post, and have the best time visiting these museums.
---
You might also like: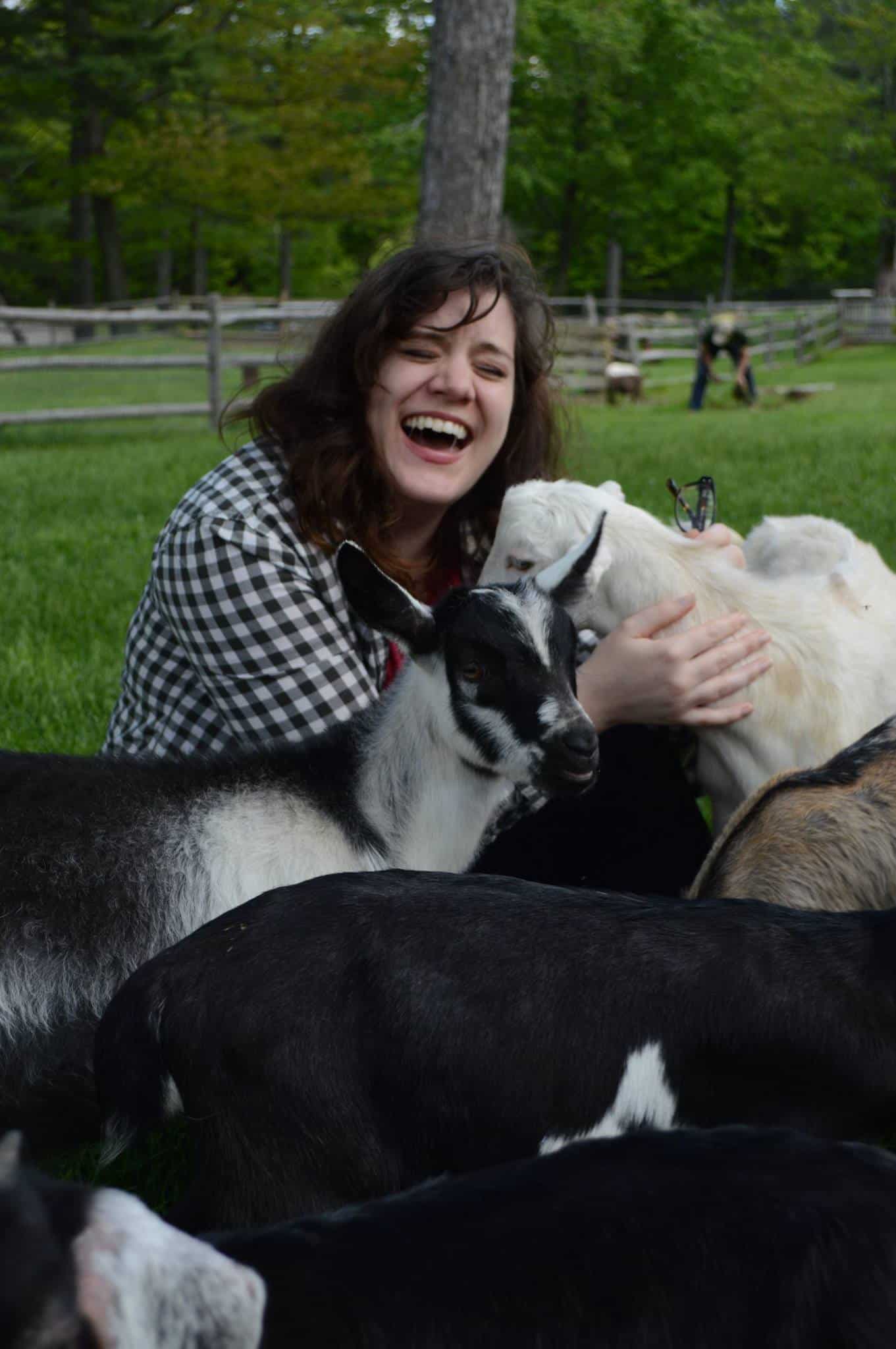 Amy Hartle is the founder and Editor-in-Chief of New England With Love, a comprehensive resource for travel in the New England region. Amy has been exploring New England since 2001. She lived in Vermont for many years and is a graduate of Plymouth State University in New Hampshire. Amy has been writing about travel for over a decade. On this site, Amy aims to share her love of New England and help you to have the best possible adventures!
Amy has been a full time blogger since 2012, and is also the publisher of Two Drifters, where she writes about couples travel and relationships, as well as Let's Adventure Baby, a family travel site. When not traveling the world or creating epic blog content, Amy can be found cuddling with her husband, son, and cats, & drinking a maple latte.