---
*Links in this article may be affiliate links, from which we may earn commission. See our
Privacy Policy
for full details.
---
Are you looking to visit some of the best museums in RI? You're in luck! There are tons of great Rhode Island museums for all types of interest, including natural history, art, and even tennis!
Whether you're visiting Rhode Island for just a few days or you're lucky enough to spend longer in this beautiful state, learning at the local museums is one of the most fun things to do. Plus, it's a great rainy day activity in case the weather takes a turn during your trip.
So, what are you waiting for? Keep reading to learn all about the best museums in RI.
RISD Museum
First up is the RISD Museum, which is right at the Rhode Island School of Design in Providence. It's a popular art museum that was founded back in the 1870s and though it's small, has a wide variety of selected works worth exploring.
The museum is open every day of the week except for Mondays, and they do have a variety of different free tickets throughout the year. In fact, you can visit for free every Sunday between 10 a.m. and 5 p.m. as well as on Thursday and Friday nights between 5 p.m. and 7 p.m. If you're on a budget, that's a great time to visit the museum!
The museum hosts a variety of exhibits throughout the year, many of which cycle out on rotation every year or two. In the past, they've hosted exhibits like Art and Design from 1900 to Now, Inherent Vice, and A Changing Reflection. See works like ceramics, jewelry, metalwork, paintings, photography, and more.
International Tennis Hall of Fame
Another of the best museums in RI is the International Tennis Hall of Fame in Newport. It's a fairly underrated museum to visit and is inside of the old Newport Casino. The museum is dedicated to those who have made major contributions to the spot of tennis.
The museum showcases a variety of different artifacts through 2000+ items that are on display, and that's not even including the other 20,000 items that the museum has. You can even learn a lot about the sport's history and how it has grown to the popular sport that it is today.
One of the unique things about this museum is that it's also home to digital exhibits that you can explore, and in the past, they've even had a fun exhibit called Kicks on Court where you can learn more about the tennis shoes' effect on pop culture over the years.
Herreshoff Marine Museum
One of the quirkier and smaller museums in RI is the Herreshoff Marine Museum. It's located in Bristol and is filled with history and artifacts related to the Herreshoff Manufacturing Company.
Children 10 and under can enter the museum for free, and there's also a discount if you visit in a group of over ten people. For the best experience, go on a self-guided tour throughout the museum, so you can really acquaint yourself with everything in this charming museum. They also have an audio guide, so it feels very personal, even though it's self-guided.
Some of the exhibits throughout the museum include HMM's Model Room where you can check out old artifacts from the workshop and HMM's Hall of Boats which features many different historic boats waiting to be explored, of all shapes, colors, and sizes.
Providence Children's Museum
Obviously, this list wouldn't be complete without including at least one children's museum. Located in Providence, the Providence Children's Museum is an interactive and hands-on museum with fun exhibits that children can play with while they learn.
The museum's schedule changes throughout the year and does have split-day hours (meaning that sometimes they are open from 9:30 a.m. to 12:30 p.m. and then again from 1:30 p.m. to 4:30 p.m.) Be sure to double-check the hours before your visit.
There are many different fun exhibits in the museum, so there truly is something for every type of child. There's an innovation lab, a fun water exhibit, a think space with building blocks, and even a maker studio. Plus, there's an outdoor area called the Children's Garden where children can play and get fresh air.
Museum of Natural History and Planetarium
Next is the Museum of Natural History and Planetarium in Providence. This museum is in Roger Williams Park and has a small collection, but it's very charming. If you love history, it's worth the stop if you find yourself in Providence.
What makes this museum so unique is that the only public planetarium in all of Rhode Island is located in it. The shows at the planetarium are limited though, and only occur on weekends at 2 p.m., so plan your timing wisely. Tickets should also be purchased online on their website.
This small museum also hosts a variety of different events throughout the year. In the past, they've had a Roger Williams Park Plant Walk, as well as moonlight walks over at the North Burial Ground.
The Breakers
One of the more unique Rhode Island museums is The Breakers in Newport. So, these are essentially a set of summer mansions (which were owned by the Vanderbilt family and called "cottages") dating back to the Gilded Age.
These homes are so beautiful and will take your breath away, and they are open to the public for visits. They have tickets where you can visit just one house, or you can purchase a bulk set of five-house tickets so you can visit all of the homes during your trip.
Audio tours are available where you can go through and learn about the architecture and the history of the place, and guests are allowed to stop as many times as they want when doing the audio tour. It's a great way to do something self-paced while still feeling like you have a guide.
Hearthside House Museum
Located in Lincoln, the Hearthside House Museum is a historic home built by Stephen Hopkins Smith. It's a federal-style home dating back to the 1800s filled with historical exhibits that will take you back in time.
The museum focuses on bringing people back in time through its exhibits as many of the people that work there are dressed in period attire! People lived in the home up through 1997, which you can also learn about.
One of the things that makes this museum so great is that it also host a variety of community events and reenactments. History buffs will love attending the Revolution War reenactments and other events that are open to the public.
National Museum of American Illustration
The National Museum of American Illustration is a great unique art museum to visit because it's not your "classic" art museum! It's located in Newport, Rhode Island, and is the first museum of its kind in the whole country that's dedicated to just illustration in America.
The museum has hosted many different exhibits throughout the years which rotate, including pieces from Norman Rockwell and Howard Pyle. The museum also has many multimedia pieces that were illustrated to show America's history, which is incredibly unique, as it's showcased in ways that the painters remember it.
Please note that unfortunately, the museum is currently under construction for renovations but should hopefully be opening back up to the public soon.
New England Wireless & Steam Museum
The New England Wireless & Steam Museum is a super charming museum in East Greenwich. It's dedicated to steam engines, technology, and wireless stations and was founded back in the 1900s.
This museum is still very much a hidden gem, and the best way to experience it is by going on a tour with one of the volunteers. This will allow you to truly understand everything you're looking at while also learning the history as you go through it.
The volunteers really know their stuff and will allow you to get up-close looks at the generators throughout the museum! It's a particularly popular museum among adults visiting the area as well as younger children who are interested in industrial history.
Providence Jewelry Museum
Last but certainly not least is the Providence Jewelry Museum in Cranston. This is another very tiny museum, but it's filled with everything you could want to know about jewelry. It even includes everything about the tools that are used to create jewelry.
They have a variety of exhibits, and many of them rotate throughout the years. In the past, they've had exhibits on tools showcasing how shapes were made for jewelry pieces, which is incredibly unique and interesting to learn about.
For travelers who are very hands-on and love art, be sure to check out the workshops that they offer. Sometimes, they even host 3-day events right in Providence where you can learn all about how to make jewelry through studying 30 different types of metal processes including gadgets, discussions, and more.
Hopefully, this post has helped to show you that there are many unique museums in RI! No matter your interests, there's a museum here for you worth exploring.
---
Read these next: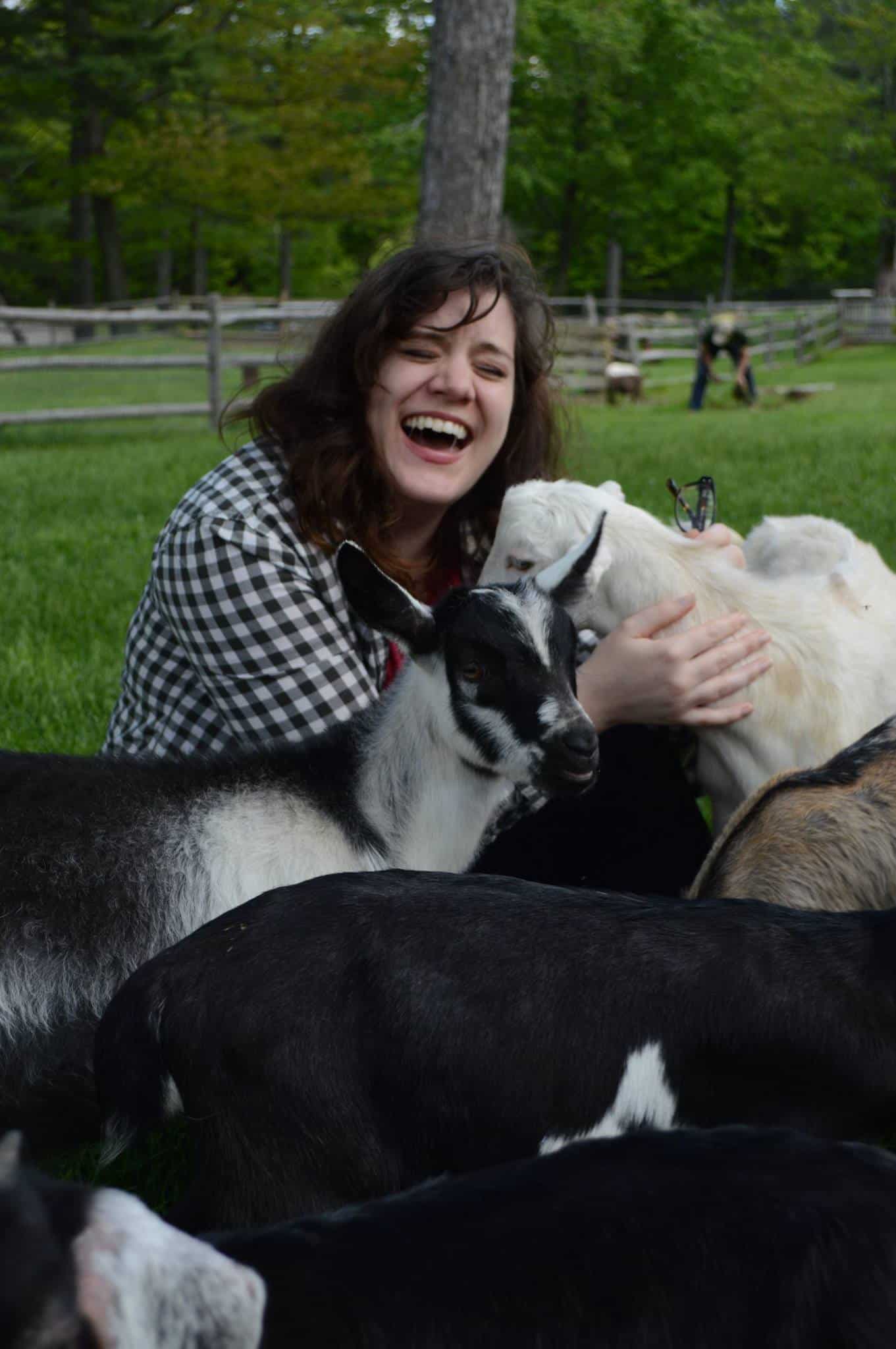 Amy Hartle is the owner and editor of New England With Love, a comprehensive resource for travel in the New England region. Amy lived in Vermont for 15 years, attended Plymouth State University in New Hampshire, and continues to travel regularly around the entire New England region. On this site, Amy aims to share her love of New England and help you to have the best possible adventures!
Amy has been a full time blogger since 2012, and is also the publisher of Two Drifters, where she writes about couples travel and relationships, as well as Let's Adventure Baby, a family travel site. When not traveling the world or creating epic blog content, Amy can be found cuddling with her husband, son, and cats, & drinking a maple latte.