Are you looking for some fun and interesting museums in Connecticut to visit during your time in New England? You're in luck!
This post was put together with you in mind. Whether you want to visit an educational museum to do some learning or you'd rather visit a fun museum on an interesting topic, we've got you covered. These Connecticut museums are scatted all throughout the state, too, so no matter where you'll be, there will be a museum near you.
Here are all of the best museums in CT!
Yale Peabody Museum
Location: ​​170 Whitney Ave, New Haven, CT 06511
First up is the Yale Peabody Museum in New Haven, Connecticut! This museum is a natural history museum that's located right at the Ivy League school Yale University. It was founded by a man named George Peabody, who was a philanthropist in the 19th century.
Today, the museum holds interesting pieces like dinosaur bones, stuffed animal exhibits, old Egyptian tombs, and more. It's truly a mixture of different types of exhibits spanning various cultures, so there's a lot to see during a visit to the museum.
Note that as of 2022, the museum has just started renovations and will be officially opening back up in 2024, so keep an eye open for its official opening dates!
Mystic Seaport Museum
Location: 75 Greenmanville Ave, Mystic, CT 06355
One of the most popular museums in CT is the Mystic Seaport Museum in none other than Mystic! Many people will just call this Mystic Seaport, and it's the largest museum of its kind in the entire country.
Throughout the museum, you can check out old boats and ships while also actually stepping back in time because it feels like a historic sea village. Families in particular love visiting this museum, especially those with young children, because there are so many fun things to visit.
One of the most unique exhibits is the Benjamin F. Packard Cabin. This is an exhibit of an actual ship cabin, which is really fun to see in person.
Niantic Children's Museum
Location: 409 Main St, Niantic, CT 06357
If you're looking for a museum in Connecticut for younger children, then consider visiting the Niantic Children's Museum. This museum is in Niantic and was founded in the 1990s. It covers a variety of topics that kids will want to learn about, like science, health, art, culture, and more.
Though it is a smaller museum, it's perfect for those who love learning via hands-on exhibits. What better way is there to learn than by doing? It's best suited for children under 9 years of age.
One of the most unique areas of the museum is the outdoor playscape. Here, children can play outdoors inside of a tree house or even go on a zipline. Don't worry; they are kid-sized! Plus, there's a fun climbing wall for kids who love to climb.
The Mark Twain House & Museum
Location: 351 Farmington Ave, Hartford, CT 06105
The famous American author Mark Twain's old home has been turned into a museum for people to come and visit to learn more about him and his life. He lived in this home located in Hartford between 1874 and 1891.
The Mark Twain House & Museum has three different floors worth exploring throughout the Gothic-style home. There's also a great gift store that you can stop by at the end to pick up small trinkets or snacks before heading out.
Similar to other museums, this one hosts a variety of fun programs and events throughout the year which are open to the public. Tours are known to sell out quickly, so be sure to reserve your tour time in advance online.
Connecticut River Museum
Location: 67 Main St, Essex, CT 06426
Should you be near Essex, pay a visit to the Connecticut River Museum. This museum is right by the dock and covers everything from heritage to marine environment just in the valley area. The topics of the exhibits in the museum date back to the 1730s.
For a fun and unique time, consider booking a cruise through the museum too. This will allow you to actually get out on the Connecticut River and enjoy it for yourself! Plus, there are usually fun sunset cruise options where you can watch the sun set against the beauty of the river.
New England Carousel Museum
Location: 95 Riverside Ave, Bristol, CT 06010
Located in Bristol, the New England Carousel Museum is one of the more unique museums in CT! As the name suggests, the museum boasts old pieces from historic carousels throughout. How cool is that?
The main part of the museum has the permanent collection with carousel pieces dating back 100 years in the Main Gallery. However, there are also often pieces that are on rotation. For instance, in 2022, they had a quilting exhibit!
At the museum is also the Museum of Fire History where you can learn about firefighting through exhibits and artifacts like old gear and equipment. There are even things kids will love, like old firefighter bells and alarms that will still ring.
New England Air Museum
Location: 36 Perimeter Rd, Windsor Locks, CT 06096
If you love airplanes, then you have to check out the New England Air Museum which is set between a few different hangars in Windsor Locks. Throughout the museum, step back in time with old vintage planes and even helicopters.
While there are many exhibits throughout the museum, the most unique onen is the New England Women in Aviation exhibit. This one covers everything that women have done over the years in the line of air travel.
The hours at the museum are a bit different, so be sure to double-check them online before going. Often, they are only open Tuesday to Sunday and are closed on Mondays. They are also closed on all major holidays like Christmas Eve and Christmas Day.
The Stonington Lighthouse Museum
Location: 7 Water St, Stonington, CT 06378
If you find yourself in Stonington, consider going to the Stonington Lighthouse Museum. This museum is just what it sounds like; it's a museum at one of the Connecticut lighthouses! The lighthouse itself is made of granite and officially opened back in the 1840s.
The lighthouse is a lot more unique than others that you may classically see in this area of the country. That's because the brick/stone facade of it is incredibly unique. At night when the sun sets, it reflects the beautiful purple colors out to the water.
Keep in mind that the lighthouse is opened seasonally throughout the year and normally closes in the middle of October. Admission is normally around $10 for adults, $5 for seniors, and also children.
American Clock & Watch Museum
Location: 100 Maple St, Bristol, CT 06010
Located in Bristol, the American Clock & Watch Museum is perfect for people who love horology! Throughout the museum, guests can learn all about different methods of timekeeping as well as its history.
While the museum is on the smaller side, there are exhibits including everything from wrist watches to grandfather clocks. In fact, one of the rooms is just tons of grandfather clocks everywhere you look. Just be careful if you're a fan of Stranger Things!
For a fun time, consider attending one of the programs or events that they ghost throughout the year. In the past, they have done fun time capsules as well as other telling time activities like making sandglasses or sundials, which are a lot of fun for families.
Connecticut Trolley Museum
Location: 58 N Rd #9606, East Windsor, CT 06088
The Connecticut Trolley Museum in East Windsor was founded back in the 1940s and to this day is still in operation. As you may guess from the name, the museum focuses on railroads and trolleys in Connecticut.
With every admission ticket to the Connecticut Trolley Museum, guests are granted access to a trolley ride! This ride is supposed to be just like the old one on the Hartford and Springfield street railway line and is only about 3 miles round trip, but is a fun way to step back in time and actually ride what you're learning about.
Be sure to also stop by the History and Evolution of the Electric Trolley and its Impact on Society exhibit, where you can learn about how trolleys have changed over time. There's also a short film in a theater at the museum where you can learn about the different types of trolleys.
Danbury Railway Museum
Location: 120 White St, Danbury, CT 06810
Last but not least is the Danbury Railway Museum in Danbury, Connecticut. This museum is in an old train station that has since been restored to feature exhibits about trains, and of course, there are also train rides, here, too!
Of course, while you can take lots of time to learn about trains during your visit, be sure to go on one of the train rides if they are in operation during your tirp. They often run from April through November, though October has a fun Pumpkin Patch train ride instead, which is perfect for kids. These run on the weekends.
Now you know all about the best museums in CT. Whether you will only have time just to visit one museum or you're planning on visiting a bunch during your trip, we hope that you will have the best time possible. Don't forget to share this post and save it for later!
---
You might also like: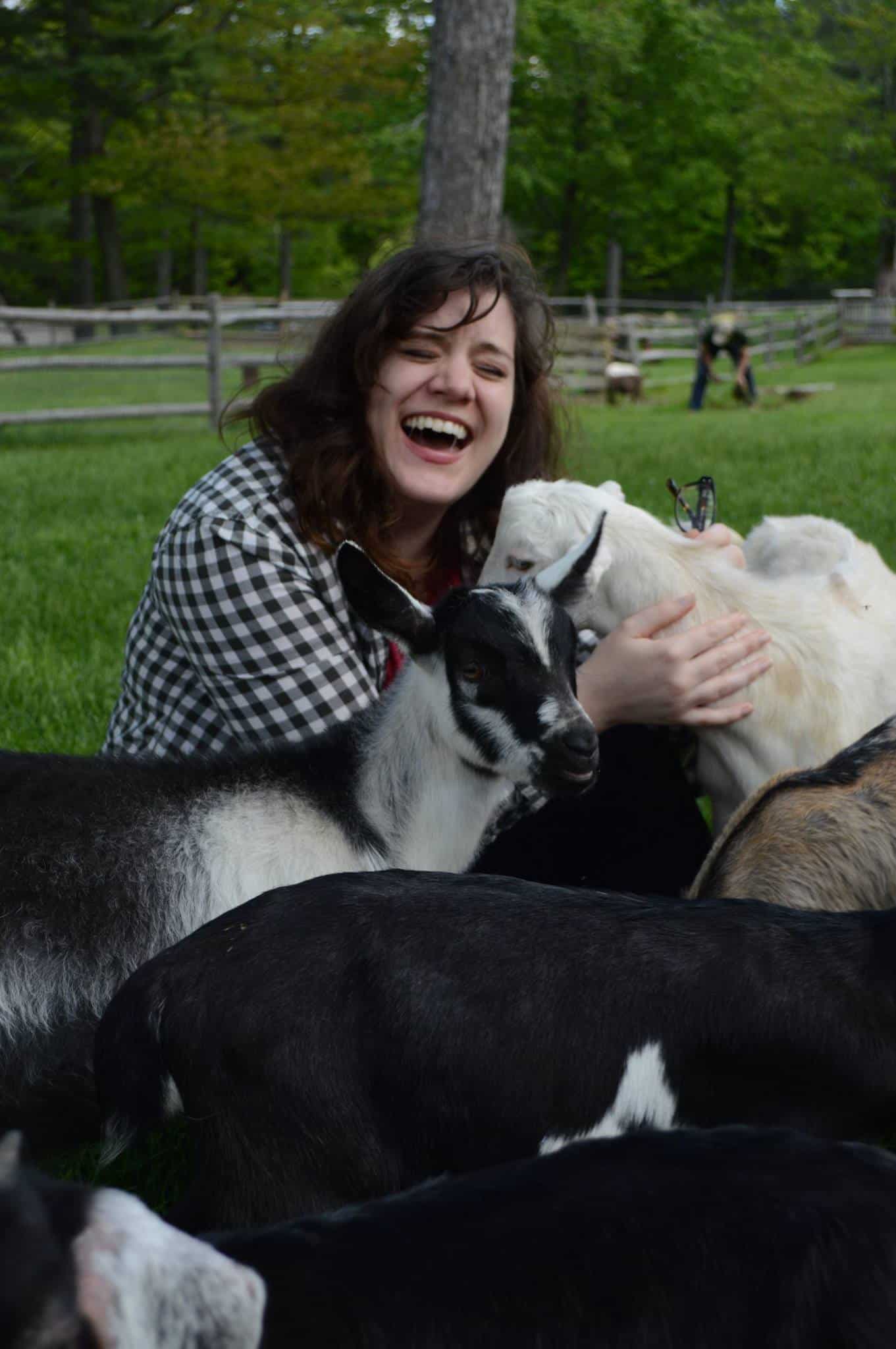 Amy Hartle is the founder and Editor-in-Chief of New England With Love, a comprehensive resource for travel in the New England region. Amy has been exploring New England since 2001. She lived in Vermont for many years and is a graduate of Plymouth State University in New Hampshire. Amy has been writing about travel for over a decade. On this site, Amy aims to share her love of New England and help you to have the best possible adventures!
Amy has been a full time blogger since 2012, and is also the publisher of Two Drifters, where she writes about couples travel and relationships, as well as Let's Adventure Baby, a family travel site. When not traveling the world or creating epic blog content, Amy can be found cuddling with her husband, son, and cats, & drinking a maple latte.