---
*Links in this article may be affiliate links, from which we may earn commission. See our
Privacy Policy
for full details.
---
From epic coastlines to classic New England small towns, the state of Maine truly has it all. Maine has great state parks, but with so many to choose from, it can be hard deciding which ones are worth visiting… this post can help!

This post includes all of the top state parks in Maine, most of which are located right along the coast and offer breathtaking views of the water. These state parks are filled with fun activities like hiking, mountain biking, swimming, boating, and even camping in a lean-to for a night!
Read on to learn more about the top Maine state parks to add to your New England itinerary.
Quoddy Head State Park
Located in Lubec, Maine, Quoddy Head State Park is located at the edge of the United States. In fact, it's as far east as you can get without leaving the country while still being in the continental USA.
The main feature of Quoddy Head State Park is the West Quoddy Head Light, which is a candy cane striped lighthouse overlooking the water. There are picnic tables right around it, where you can picnic while taking in the view. The area is incredibly picturesque.
When visiting Quoddy Head State Park, be sure to do one of the many hikes that the state park is known for. The most popular trail is the Bog Trail, which is only one mile long and is relatively easy. There are signs along the way that inform hikers more about the area's plants.
Camden Hills State Park
Camden Hills State Park is another of the best Maine state parks. It's located in Camden, Maine, and is on the water. The park is relatively large at just shy of 6000 acres of land filled with hiking trails, picnic spots, viewpoints, and more.
If you love hiking, you can't miss out on the Maiden Cliff Trail. It's just shy of 2 miles long and is moderate. The Maiden Cliff Trail is easily the park's most popular trail and has quite a bit of elevation gain. However, the views from the top are incredible, so you won't want to miss it.
Another of the best things to do while visiting Camden Hills State Park is camping. Stargazing is incredible while spending the night here! There's even a campground within the park with showers and bathrooms, which are usually hard to come by when camping in state parks.
Pair visiting this park with Acadia National Park, which is right nearby, for an incredible trip to Maine.
Birch Point State Park
Birch Point State Park is located in Owls Head, Maine, and is a bit of a smaller state park, but it does feature a great beach that you won't want to miss. The beach is shaped like a crescent and has incredible views.
At Birch Point State Park, you can go fishing, birdwatching, swimming, picnicking, hiking, and more. It's open between Memorial Day and Labor Day, along with most other state parks in Maine.
Unlike other state parks, there aren't hiking trails here, but you can easily take a pleasant walk right along the water's edge. For an unforgettable experience, consider staying at the park until sunset to watch the sun go down right over the water!
Two Lights State Park
Next is Two Lights State Park, another of the greatest Maine state parks. This is a favorite park among locals and features not one but two different lighthouses that were built in the 1800s. These lighthouses are the first-ever "twin lighthouses" to be built along the coast of Maine.
The park is filled with great activities that you can do to fill your time there. Go fishing, hike on one of the many trails, go picnicking, or even have fun on the playground if you're visiting the area with children.
If you're up for a scenic hike, consider doing the Two Lights State Park Loop. It's only a mile long and is fairly easy. It's stroller-friendly, kid-friendly, and dogs are allowed on the trail if they are on a leash. Even though the path is short, it offers some of the best views that you can get of the coastline while visiting Two Lights State Park.
Aroostook State Park
Aroostook State Park is located in Presque Isle, Maine, and is one of the few parks that are open year-round! That means you can come and do incredible hikes and picnicking in the summer, or visit in winter and go cross country skiing, snowshoeing, or even winter camping. Plus, this is the first state park in Maine!
The top trail to hike when visiting Aroostook State Park is the North Peak, Ridge, and South Peak Trails Loop. It's just over 2 miles long and has a little less than 1000 feet of elevation gain. The trail takes about an hour and a half to complete, and the views are incredible the entire way, especially if you're up for a bit of a longer hike.
If you're not into hiking, don't worry, there are many other fun things to do when visiting this state park. You can go swimming, picnicking, fishing, and even boating. This is the perfect place to spend a hot summer's day with family in the state of Maine.
Scarborough Beach State Park
One of the most popular Maine state parks to visit is Scarborough Beach State Park. That's because it's right on Scarborough Beach, a beautiful blue and turquoise body of water that will completely take your breath away. Plus, there are lifeguards, giving families with children peace of mind.
As the name suggests, the main thing to do here is enjoying the beach and swim all day. You can also relax by the water, play sports, and even have a picnic if you want. The best time of day to enjoy the beach is at sunrise or sunset when you can witness the gorgeous colors of the sky reflected on the water. It's a time like no other!
There is an admission fee at this state park, and the state park pass is not accepted. Dogs are allowed and multiple parking lots are available, but they do fill up, especially in the summer!
Wolfe's Neck Woods State Park
Wolfe's Neck Woods State Park is located in one of the best places to visit in Maine, Freeport! This public area is quite large at 244 acres and is on a peninsula. The water surrounding it will genuinely take your breath away, as it's located right on both the Harraseeket River and Casco Bay.
Like other Maine state parks, there's so much to do at Wolfe's Neck Woods. You can go birdwatching, picnicking, hiking, and more. If you visit in the off-season in winter, you can also snowshoe and cross country ski at this park.
There are two different popular trails located in Wolfe's Neck Woods State Park. You can hike the 2-mile Harraseeket and White Pines Trail Loop, which takes about an hour, or the Old Woods Road, Harraseeket and White Pines Trail Loop, which is 1.2 miles and takes closer to a half-hour.
Reid State Park
For an even larger state park, head to Reid State Park, which is around 800 acres large. This is one of the more unique state parks, as it is by the water, but it also has a lagoon, tidepools, and even sand dunes, which are hard to come by in Maine.
It's located in Georgetown and officially became a state park back in the 1940s. This is another of the handful of state parks in Maine that is open year-round. Fun activities here include bird watching, swimming at the beach, hiking, fishing, and of course, relaxing by the water.
For an excellent hike (or walk), check out the Mile Beach Walk. It's a mile and a half and is relatively flat. Plus, it's an out and back trail right near the water that offers great views the whole way. It's a trail that's "kind of qualifies as a trail" but is mostly just a beachside stroll.
Baxter State Park
Baxter State Park is arguably the most beautiful state park in Maine that you can visit! It's one that's located inland, which is unlike many of the other state parks on this list. This park is located in Millinocket, Maine, and has tons of wilderness areas waiting to be explored.
At Baxter State Park, there are many things to do. You can go rock climbing, fishing, biking, and even boating. As you might imagine, rock climbing is an activity that's not common at state parks, especially the ones in Maine. The best routes are located from Chimney Pond.
There are so many incredible hiking trails within Baxter State Park; in fact, there are more here combined than all of the other parks on this list! The most beautiful one is the Mount Katahdin and Hamlin Peak Loop, which is 10.9 miles and takes a full day, or about 8 hours or so, to fully complete. This is a challenging trail, but the view from the top of the park from above is well worth it.
There are so many great Maine state parks, both coastal and inland. So many to choose from, that you might just have to plan multiple Maine trips just to get a taste of them all!

Read these next: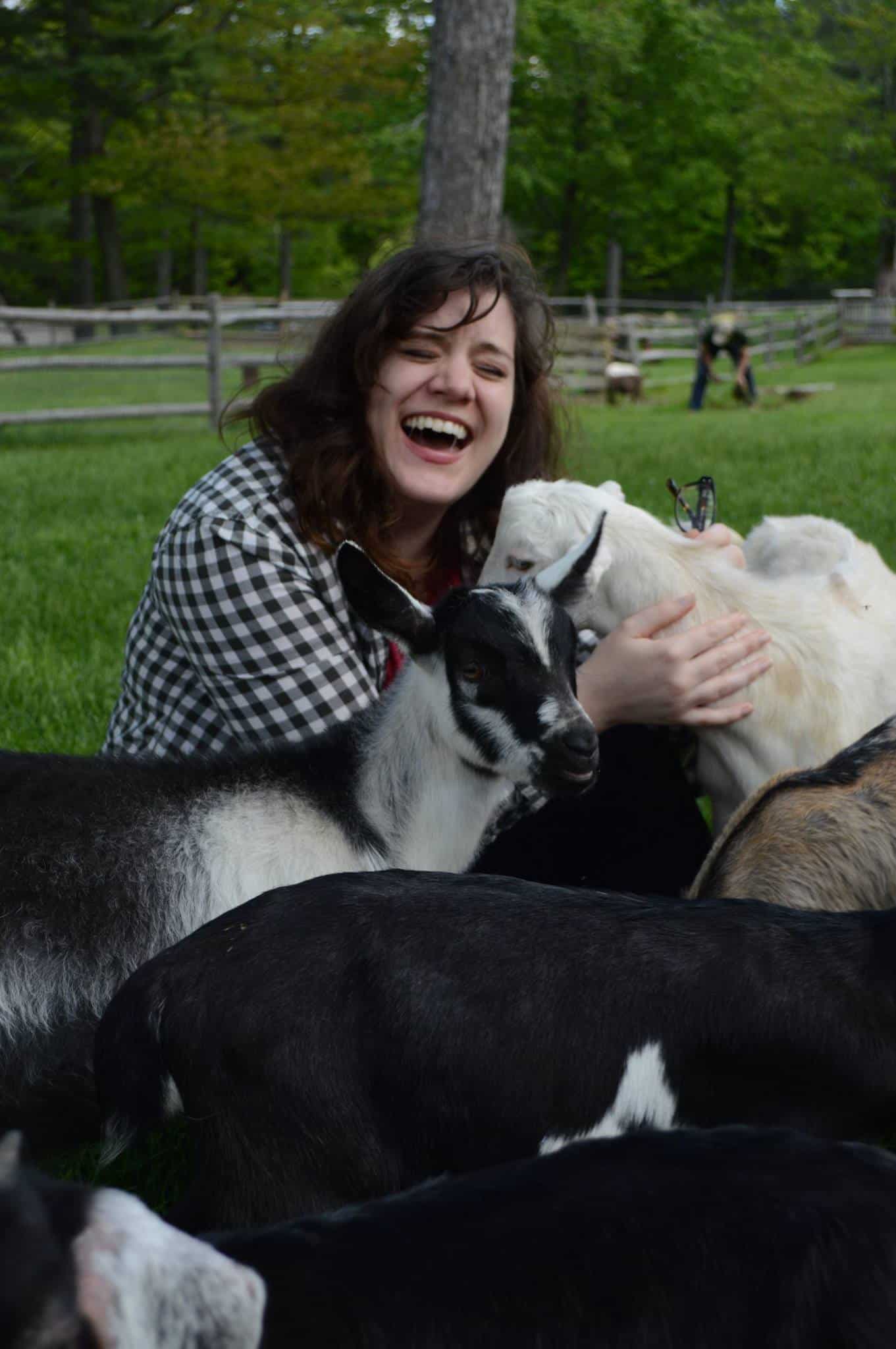 Amy is the founder of New England with love. A proud Vermonter, she hopes to share her love of New England and help you find the best adventures in the region. Amy is also blogger/founder at Two Drifters, where she writes alongside her husband about romantic and couples travel, relationships, honeymoons, and more. When not working on websites, Amy is probably reading, cuddling with her husband, son, and cats, & drinking a maple latte.