Are you planning a Maine road trip? Great choice, because Maine is an incredible road trip destination! With beautiful scenery and natural attractions all around the state, you'll find there's something to enjoy just about everywhere you look, whether you're looking for coastal lighthouses, beaches, and lobster shacks, or you prefer inland Maine and its mountains, lakes, and diverse wildlife.
Maine road trips are a blast because you can get a taste of just a little bit of everything. Head up the coast to discover some of Maine's coastal hidden gems, then spend some time in places like Portland and Augusta, enjoying Maine's eclectic city offerings, before heading over to some of the best natural scenery the USA has in mountains, forests, rivers, lakes, and coastal cliffs.
In short, the Pine Tree State is gorgeous, and any ME road trip you take will show that off, but we've put together a few options for you to take on their own or put together that will show you where to eat, where to stay, and where to go on your next road trip in Maine!
When is the Best Time to Visit Maine?
This is a big question, because it does depend on what kind of a road trip experience you're after! For most people visiting from out of state and looking to plan a fun-filled road trip, you'll want to visit when the weather is best for driving, and that will be summer through fall.
Summer Maine road trips are great if you're looking for water activities on the lakes or at the beach, but if you're looking for the ultimate in scenic sights and pretty views, that's a fall Maine road trip! Not only does the fall foliage changing colors provide an epic visual as you road trip around the state, but there are so many cute autumn things to do that are must adds to any fall Maine road trip itinerary, too.
If you're looking for some seriously scenic Maine drives, start here!
Maine Road Trip Ideas
Moosehead Lake
Location: Kennebec and Moose River Valley
Distance: 59 miles
If you take Route 15 from Jackman to Kokadjo, you'll get to enjoy the Moosehead Lake Scenic Byway, known for some pretty stellar lake views.
A popular vacation destination any time of the year, Moosehead Lake is a fantastic ME road trip destination for outdoors fun, so if you're looking for fishing, hiking, camping, snowmobiling, and scenic Maine drives, you should absolutely add this to your list of Maine road trip ideas.
Enjoy Moosehead Lake fun and the lovely views of the forests, lakes, and rivers along the way. You can even take a seaplane tour for an aerial view of this beautiful area of Maine!
Where to Stop:
Moosehead Lake
Mount Kineo
Where to Stay:
U.S. Coastal Route 1
Location: Kennebunkport to Bar Harbor
Distance: 180 miles
US Coastal Route 1 is the scenic coastal road trip route in Maine. Meandering along the dramatic Maine coast, this road trip route is the perfect way to see some of the most popular Maine lighthouses, beaches, and beautiful coastal towns.
This is a great Maine road trip for summer, with Kennebunkport being one of the most popular summer vacation spots in the state. There's plenty to do in Biddeford, Old Orchard Beach, Portland, Brunswick, Rockland, and beautiful Bar Harbor along the way, and this is a fantastic road trip in Maine to take you to lovely Acadia National Park.
Where to Stop:
Goose Rocks Beach, Kennebunkport
Portland Head Light, Cape Elizabeth
Old Orchard Beach Boardwalk, Old Orchard Beach
The Holy Donut, Portland
Farnsworth Art Museum, Rockland
Jordan's Restaurant, Bar Harbor
Where to Stay in Kennebunkport:
Where to Stay in Portland:
Where to Stay in Bar Harbor:
Coastal Maine Quick Trip
Location: Kittery to Kennebunkport
Distance: 26.1 miles
If you're looking for a quick, yet full coastal Maine road trip, driving from Kittery to Kennebunkport is a great choice with Kittery, York, Ogunquit, and Kennebunkport all having plenty to see and do. This could be a great Maine day trip.
Sights to see in York include the Nubble Lighthouse, Long Sands Beach, and the Old York historic village. If you're looking for where to eat in York, Stonewall Kitchen Cafe serves up delicious breakfast and lunch favorites like their lobster, bacon and avocado breakfast sandwich – yum!
Ogunquit means "Beautiful Place By The Sea," in the Abenaki language, and taking a stroll out on the sandy beaches of Footbridge Beach will show you exactly why. If you're looking for delicious lobster rolls, the Ogunquit Lobster Pound is a great spot for lunch or dinner!
Then, it's on to Kennebunkport with all its fantastic things to see, do, and eat! Go shopping in Dock Square, drive by the Wedding Cake House, and enjoy Goose Rocks Beach, one of Maine's prettiest beaches. This is one of those classic Maine coast towns that should be on everyone's Maine road trip bucket list of destinations.
Where to Stop:
Kittery Outlets, Kittery
Nubble Lighthouse, York
Ogunquit Lobster Pound, Ogunquit
Dock Square, Kennebunkport
Goose Rocks Beach, Kennebunkport
Where to Stay in York:
Where to Stay in Ogunquit:
Where to Stay in Kennbunkport:
Rangely Lakes National Scenic Byway
Location: Rumford to Madrid
Distance: 52 miles
If you're looking for scenic Maine road trips for fall foliage, Rangely Lakes National Scenic Byway is a fantastic option. This beautiful Maine route is always included in national scenic fall drives lists because it is absolutely stunning as the forests and woodlands change into their autumn crimsons and golds.
Following the Swift River along route 17 takes you towards one of the most scenic outlooks in New England: Height of Land. If you're traveling in fall, you'll see this true showstopper view of the autumn colors as they wrap around the lovely Mooselookmeguntic lake.
Continuing on route 17, you'll be treated to more of the gorgeous woodlands, streams, and lake views that the Rangely Lakes region is so popular for, and again, this is one of those fall scenic routes in Maine that does not disappoint if you can time it right for the fall foliage!
Along the way, you'll have lots of opportunities for stops and side trips, like grabbing a bite at the Portage Tap House in Oquossoc or having some fun out at Saddleback Mountain Ski Area, winter, summer, or fall! This is also one of the best areas in Maine for moose spotting, so keep your eyes peeled!
Where to Stop:
Height of Land
Portage Tap House, Oquossoc
Saddleback Mountain, Rangeley
Where to Stay:
Acadia All American Road from Trenton to Acadia
Location: Mount Desert Island
Distance: 40 miles
Route 3 into Bar Harbor is a great choice if you want to enjoy the scenic Acadia Byway and historic Bar Harbor. This is a great fall scenic road trip route in Maine and a good way to see some of the most popular Acadia National Park attractions, including the stunning old-growth forests of Mount Desert Island that are exceptionally lovely in the fall.
Sand Beach and Thunder Hole are both easily accessible and are two of the must-visit places in Acadia. There are great hiking and camping opportunities, cabin rentals, and vacation rentals nearby, as well. You can even download a cool Acadia National Park self guided driving tour, too!
Where to Stop:
Jordan's Restaurant, Bar Harbor
Sand Beach, Acadia
Thunder Hole, Acadia
Where to Stay in Bar Harbor:
Of course, this isn't a complete list of road trips in Maine, but these are the top routes that provide both incredible scenery and cool places to visit, stay, and play in. If you're building an itinerary for the best Maine road trips, these are all fantastic options.
Really, wherever you go on your Maine road trip, you're going to see why this state is nicknamed Vacationland!
You might also like: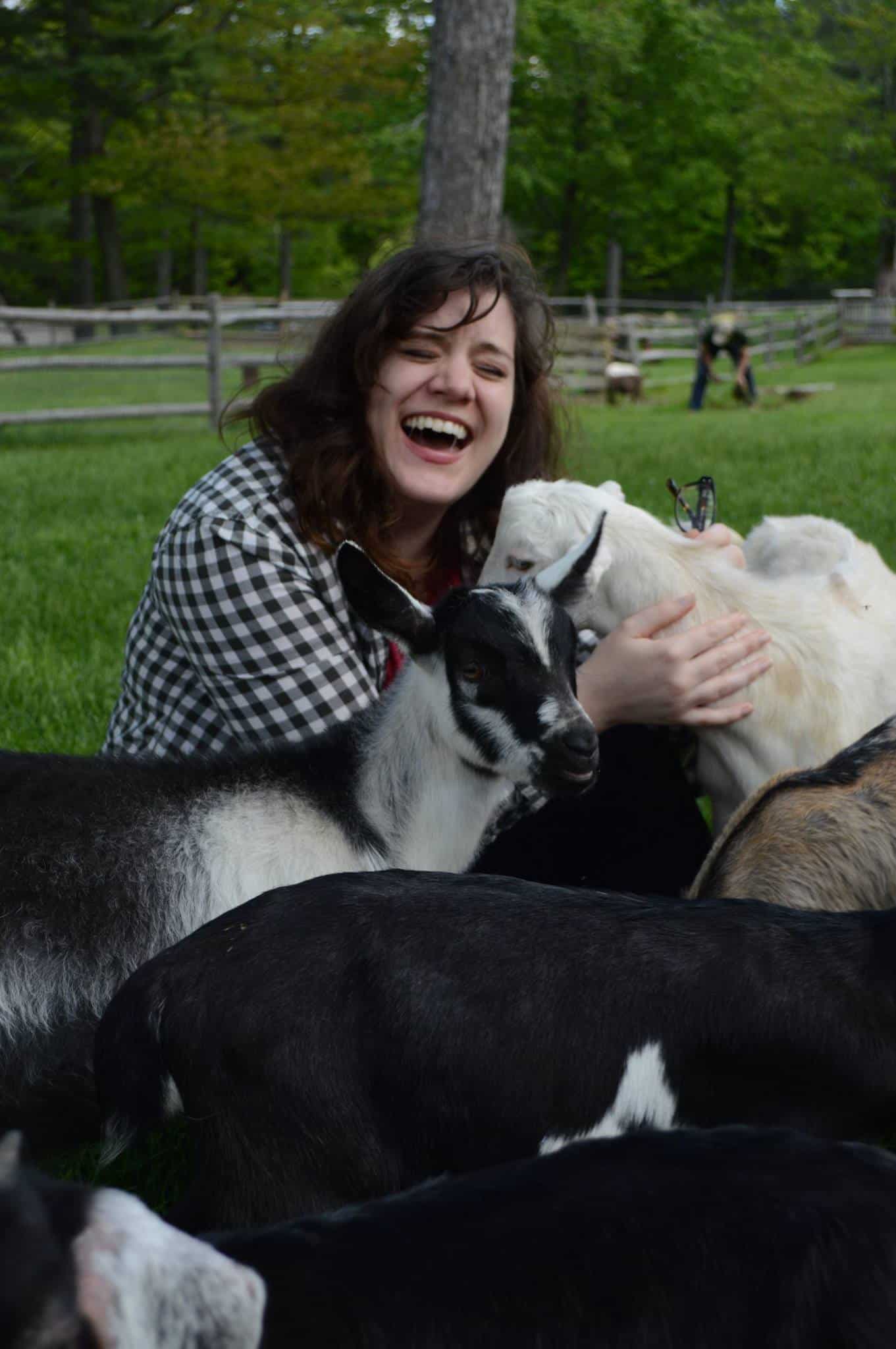 Amy Hartle is the founder and Editor-in-Chief of New England With Love, a comprehensive resource for travel in the New England region. Amy has been exploring New England since 2001. She lived in Vermont for many years and is a graduate of Plymouth State University in New Hampshire. Amy has been writing about travel for over a decade. On this site, Amy aims to share her love of New England and help you to have the best possible adventures!
Amy has been a full time blogger since 2012, and is also the publisher of Two Drifters, where she writes about couples travel and relationships, as well as Let's Adventure Baby, a family travel site. When not traveling the world or creating epic blog content, Amy can be found cuddling with her husband, son, and cats, & drinking a maple latte.