Hello, Maine fall foliage enthusiasts!
As summer's warmth begins to fade and crisp, cool autumn air sets in, our thoughts turn to that kaleidoscope of color Mother Nature gifts us each year. Maine's scenic landscape transforms into vibrant reds, golden yellows, and everything in between during this magical season.
There's no shortage of fantastic fall things to do like apple picking, visiting pumpkin patches and corn mazes, and more, but if it's the best places to see Maine fall foliage you're after, we know a place or two!
Ready to learn the best leaf peeping spots to cross off your Maine bucket list? These are a few of our favorite spots to see fall colors in Maine.
When is the Best Time for Fall Foliage in Maine?
You can count on seeing some kind of color progression in Maine in the month of October, but if you're looking for peak color, you'll want to narrow it down a bit depending on where you're headed.
Color change will begin in the northern part of the state first, then spread downward, with the coastal areas typically seeing peak color the latest. Each year, there will be a slight variation for when you can expect peak color. Weather and rainfall throughout the year will dictate how vibrant the fall colors will be and when they will begin and end.
However, there is a general progression of peak colors, and you can typically expect fall foliage timelines like this:
Northern Maine – late September to the first week of October, typically over by October 6
Western Maine – second and third week of October, typically over by October 13th
Downeast Maine – mid to late October, peak color can last until about October 20th
Central Maine – mid to late October, typically from October 14th – 20th
Southern & Coastal Maine – late October, typically from about the 21st to the 27th of October
As exciting as peak colors are, autumn colors in Maine are beautiful even if it's slightly before or after peak! You can follow along with this Maine fall foliage tracker here.
Maine Fall Foliage: Where to Go & What to Do
Acadia National Park
Acadia National Park is one of our favorite national parks to visit, and autumn is our favorite time of year to visit! Not only is the fall foliage in Acadia is absolutely stunning, but the weather is ideal for getting out and exploring.
There are many great hikes around the park, but we absolutely loved the Beehive Loop Trail! This definitely isn't a hike for anyone afraid of hikes as much of the hike is directly up a steep rock face, and you have to use metal railings and handles to climb up. I, however, found this part to be so fun!
The views at the summit are incredible, with Acadia fall foliage on glorious display. If you're looking for fall foliage hikes in Maine, the Beehive Loop Trail at Acadia is a fantastic choice.
Acadia National Park has so many beautiful areas to explore that are perfect for leaf peeping, like the always scenic Park Loop Road. There are plenty of areas to pull off and admire the scenery, so it's ideal for those looking to take their time and admire the blazing fall colors.
Of course, Bar Harbor (the adorable town the park is located near) is a great autumn destination on its own! We love hanging out in Bar Harbor, shopping, eating, and just enjoying the views downtown. With splashes of fall color here and there in town, this already scenic small town on Mount Desert Island becomes even more picturesque!
You can even download a self-guided driving tour to follow along with to get some more insight on top Bar Harbor and Acadia sights!
Wondering where to stay during your Acadia leaf peeping trip? There are great Acadia hotels, campgrounds, and vacation rentals, but we have a personal recommendation.
We loved our stay at Bar Harbor Inn & Spa! It has a heated outdoor infinity pool, two onsite restaurants, and complimentary breakfast offerings. Oh, and I have to mention the spectacular views from the lawn. Absolutely dreamy!
Click Here to Check Prices & Book!
PS check out our ready made three days in Acadia itinerary here!
Moosehead Lake
Moosehead Lake is an all season vacation destination, but when Maine fall foliage is at its peak, it's absolutely breathtaking! Once the fall colors begin, a boat tour around the lake becomes even more stunning than usual. Companies like Northwoods Outfitters can help you with rentals.
In fact, Northwoods Outfitters offers more than just kayaks and canoes, you can also rent ATVs, mountain bikes, and even sign up for guided tours. In fact, the Northwoods Outfitters Moose Safari is one of the best moose tours in the state! Maine fall foliage AND potential moose sightings? Heck yeah!
If you'd prefer to see the autumn colors from above, consider booking a seaplane tour with Jack's Air Service. What a memory making leaf peeping adventure to get a birds eye view of the blazing colors below!
There's plenty to see on foot too, with several great hikes around Moosehead Lake, like the B52 Crash Site on Elephant Mountain. This is a memorial site, so tread lightly, but it is a very interesting hiking destination.
Spend a little time in Greenville, enjoying a bite and a beverage and perhaps some live music at the Stress Free Moose. When it comes to where to stay during your Maine leaf peeping trip, check out The Lodge at Moosehead Lake.
Not only is it a gorgeous property with great amenities, but they offer great add on packages, too. Their Moosehead Sampler package for two people runs through October with a guided hiking and wildlife tour and sweet extras like champagne.
Click Here to Check Prices & Book!
Bethel
Tucked away at the edge of the White Mountains is the quaint mountain town of Bethel. The perfect place for outdoor enthusiasts to enjoy Maine fall foliage, Bethel is full of great fall fun!
One of the best ways to see fall foliage in Bethel ME is to get out on the Androscoggin River. Check out Bethel Outdoor Adventures for canoe and kayak rentals, and you can even sign up for a guided river tour.
Bethel is also home to a variety of great hiking and walking opportunities, plus quaint covered bridges that are even more picturesque with the fall colors blazing all around them. One of the best places to go for fall fun is Grafton Notch State Park, where you can find waterfalls, gorges, and even the Grafton Notch Scenic Byway.
The Grafton Notch Scenic Byway is one of the most scenic fall foliage drives in Maine, so don't miss it! After your fun out at Grafton Notch, head to Sunday River Brewing Co for a bite and a brew to refuel, then check out Elements Art Gallery for handcrafted souvenirs and Maine art.
If you're looking for great accommodations in Bethel, check out The Elizabeth Guest House & Restaurant! With onsite dining and gorgeous rooms and communal spaces that feature stained glass windows and original woodwork, this is one beautiful place to stay.
Click Here to Check Prices & Book!
Camden
Ahh, Camden! This cute little town is located in a fun region of Maine, and there are plenty of opportunities for fall things to do and scenic sights.
Camden Hills State Park is the perfect spot for a beautiful fall foliage walk in late October. If you're not interested in hiking out to the fall color, drive to it! Mt. Battie Auto Road is one of the most popular fall foliage drives in the state. You'll be treated to expansive views of autumn color as far as the eye can see.
During your fall visit, be sure to visit the Curtis Island Light in Camden Harbor. Camden Harbor is gorgeous during this season and the lighthouse is always a worthy sight to see!
Camden is home to so many incredible restaurants, so you've got an excellent selection! For some of the best views in town, have lunch at Marriner's Restaurant and enjoy their outdoor seating directly over Camden Falls. If the water levels are up, this is an incredible view to enjoy alongside your fresh lobster roll!
If you're visiting Camden in early fall, check out some of the neat Penobscot Bay tours, like this Historic Day Schooner Sailing Trip.
For where to stay, consider this gem located in the Historic District of Camden: Camden Maine Stay Inn. Charming and elegant, this boutique B&B is the perfect place to stay during a Maine fall couples trip!
Click Here to Check Prices & Book!
Presque Isle
Looking for the earliest fall foliage in Maine? Presque Isle fits the bill! If you're traveling to Maine for fall color in the last week of September, this is a great option. The largest city in Aroostook County, and home to the University of Maine at Presque Isle, this is a great place to visit for fall foliage views.
One of the claims to fame here is the incredible solar system model that is part scavenger hunt, part educational exhibit. With most of the locations of this to scale solar system model being in Aroostook County, this is a definite must see while in the area!
For fall foliage, Aroostook County has one place in particular you simply must visit: Aroostook State Park. Maine's first state park, you'll find almost 800 acres of unbridled beauty to explore. Hiking through this beautiful section of North Maine Woods is an amazing way to enjoy fall foliage. This area along the Canadian border is so beautiful.
When it's time to lay down your head in Presque Isle, Northeastland Hotel is a fantastic choice for anyone who wants to stay in the downtown area. With onsite dining and complimentary parking, this efficient hotel could be perfect for your stay in Aroostook County leaf peeping trip!
Click Here to Check Prices & Book!
Rangeley Lakes Region
Okay, we really can't mention Maine fall foliage without mentioning the beautiful Rangely Lakes Region! This gorgeous scenic area of ME is perfect for leaf peeping, with so many scenic vistas and outdoor things to do.
Hike the trails at Rangeley Lake State Park, but heads up, the park is officially closed for the season on October 1st. According to the website, you can still access the park, you just have to park outside the gate and enter on foot. Note that the facilities are closed for the season, but oh wow, those fall foliage views in the park!
If you'd rather drive your way to stellar fall views, you can do that in the Rangeley region, too! Head to the Rangeley Lakes National Scenic Byway, and you'll find some of the best spots to pull off and take in those stunning views.
Height of Land is a very popular leaf peeping scenic byway overlooks in Maine. The views are incredible! This scenic lookout is a bucket list spot for Maine fall foliage.
Rangeley Saddleback Inn is a great option when looking for places to stay in the Rangeley Lakes region. You'll find the indoor pool and hot tub are perfect for relaxing your muscles after a long day exploring the fall views!
Click Here to Check Prices & Book!
Augusta
Did you know Maine's capital city is a great fall destination in Vacationland? It is! With the Kennebek River Rail Trail meandering along the water, you have the opportunity for a nice autumn walk that's fairly accessible, meaning strollers and wheelchairs can be used on the path.
Augusta has a ton of fun things to see and do, including the Viles Arboretum, where you can find even more great walking trails for ME leaf peeping. Many of these are accessible, as well. It's always nice when there are pretty outdoor spaces that most everyone can access!
While in Augusta, don't forget to swing by the Old Post Office, the historic building built in the Romanesque Revival style that was used as a post office until the 1960s. It's just a neat little sight to see while in the area.
Augusta is also home to the oldest wooden fort in the US and a National Historic Landmark. It's called Fort Western and is well worth a visit!
Looking for where to stay in Augusta? The Senator Inn & Spa is a fantastic option, with a gorgeous indoor mineral pool and hot tub, onsite spa, and a great restaurant to satiate your hunger after your day of fall fun.
Click Here to Check Prices & Book!
Freeport
Freeport is home to Wolfe's Neck Woods State Park, one of the best places for fall foliage in Southern Maine. A visit to this 200+ acre state park offers plenty of natural beauty, but there's a trail that's perfect for leaf peeping: North Loop Trail. This leaf peeping trail offers leaves of vibrant yellow that especially pop against the deep blue of an October sky.
Head towards the coast to see the nearby islands blazing with their autumn dress. It is a sight to see during peak fall foliage color!
Of course, Freeport is also home to some interesting tourist attractions, like the giant L.L. Bean Boot and the outlet shops, where you can see what a size 410 boot looks like and shop till you drop!
If you're planning your trip before peak colors, you just might catch the Freeport Fall Festival in the beginning of October. There's live music, art, kids activities, handcrafted goods, and lots of fantastic fall treats.
Looking for where to stay in Freeport? It doesn't get much more conveniently located than Harraseeket Inn. You'll be just steps away from Freeport village fun, and eat at the Broad Arrow Tavern onsite, one of the best restaurants in town!
Click Here to Check Prices & Book!
Lubec
If you're looking for where to see fall colors in Maine, consider a trip to the Bold Coast in the quaint town of Lubec. Located on the border of Canada, it is the easternmost town in the United States!
Make the short trek to Quoddy Head State Park to see the distinctively red and white striped West Quoddy Head Light. It's perfectly photogenic. Quoddy Head State Park has so many great hiking trails that are perfect for leaf peeping, too!
Stop by the Lubec Brewing Company to top yourself off, and then explore some of the local shops and art galleries around town.
As for where to stay in Lubec? Well, The Inn on the Wharf is a renovated and repurposed sardine factory, offering a fascinating glimpse of the marine history of this quaint little town!
Click Here to Check Prices & Book!
Millinocket
The "Biggest Small Town" in Maine, Millinocket is a definite must visit in fall! This little town is a great leaf peeping destination as it has so much gorgeous outdoor space that is bursting with fall colors!
Baxter State Park is one of the main draws of the area, with almost 210,000 acres of wilderness to explore! Katahdin Woods is a popular fall foliage area and is located on the eastern edge of the park. You can find hiking galore in the 215 miles of hiking at Baxter State Park, whether you're looking to climb the mighty Mt Katahdin or not!
Be sure to check out the New England Outdoor Center to see what they've got going on. You can find wildlife tours, guided day hikes, and more!
After you're done hiking and exploring, swing by the Moose Prints Gallery to pick up the perfect souvenir of your Maine leaf peeping trip. Interested in enjoying a meal with views of Mount Katahdin? Then head to The River Drivers Restaurant on Millinocket Lake. You just can't beat those views!
There are several accommodations in and near Millinocket, but Baxter Park Inn is conveniently located near Baxter State Park, and they have a heated indoor pool!
Click Here to Check Prices & Book!
Portland
No fall foliage tour in Maine would be complete without a visit to the vibrant city of Portland! While the cityscape may not be your typical foliage destination, Portland has its own unique charm during the autumn months.
Take a leisurely walk through the city's parks and walking trails such as the Eastern Promenade Trail, the Fore River Trail, and Deering Oaks. Enjoy the blazing colors that can be found in these natural spaces.
One of the reasons Portland is such a great fall place to visit is because the beautiful autumnal hues blend with the urban environment in such a lovely way! You'll love the views as you make your way around the city, exploring the many great restaurants, breweries, coffee shops, and things to do that Portland offers. Don't leave Portland without trying a lobster roll.
Another great fall foliage activity in Portland is to get out on the water with a boat tour. There are several that will offer great fall foliage views from the water, but this one includes the lovely Portland area lighthouses, too!
If you're looking for great places to stay in Portland, you've got a wide array of options. However, there's one hotel that's particularly cool: the Press Hotel. This boutique hotel in Portland is one of the most unique themes for a hotel, you've just got to see it for yourself!
Click Here to Check Prices & Book!
Read Next: 7 Spots for the Best Breakfast in Portland Maine | 11 Irresistible Bakeries in Portland Maine
Kennebunkport
Again, probably not the first place you think of when you think where to go for fall foliage in Maine, right? But hear us out! Kennebunkport has plenty to do and see, and when it comes to fall colors? Well, there's nothing quite like seeing the striking contrast between blazing autumn leaves and the deep blue ocean!
There's plenty of great shopping and restaurants in Kennebunkport to keep you busy, and signing up for a guided walking tour through the Historic District will let you learn about this waterfront town while enjoying the pops of fall foliage along the streets. If you'd like to explore the tree lined streets on wheels, consider a bike rental.
If you'd prefer to tour the area by water, check out this Cape Porpoise half day kayak tour to Goat Island. Another popular thing to do in the fall in this area of Maine is to head out on whale watching excursions.
Whether you're interested in staying on land or heading out to sea, fall is a great time of year to visit spots like K'port that tend to be a bit overrun with tourists in the summer months. The bursting fall foliage found lining the streets of town are just a lovely bonus!
Consider booking a room at The Boathouse. It's right on the water and is also home to one of the best restaurants in town!
Click Here to Check Prices & Book!
Again, there are many factors that come into play when trying to determine when peak fall foliage colors in Maine will appear, but you can check past fall foliage reports to help inform your trip planning.
Maine fall foliage is a definite sight to see, and should be on everyone's Vacationland bucket list! Have fun planning your fall foliage trip to Maine.
Read These Next: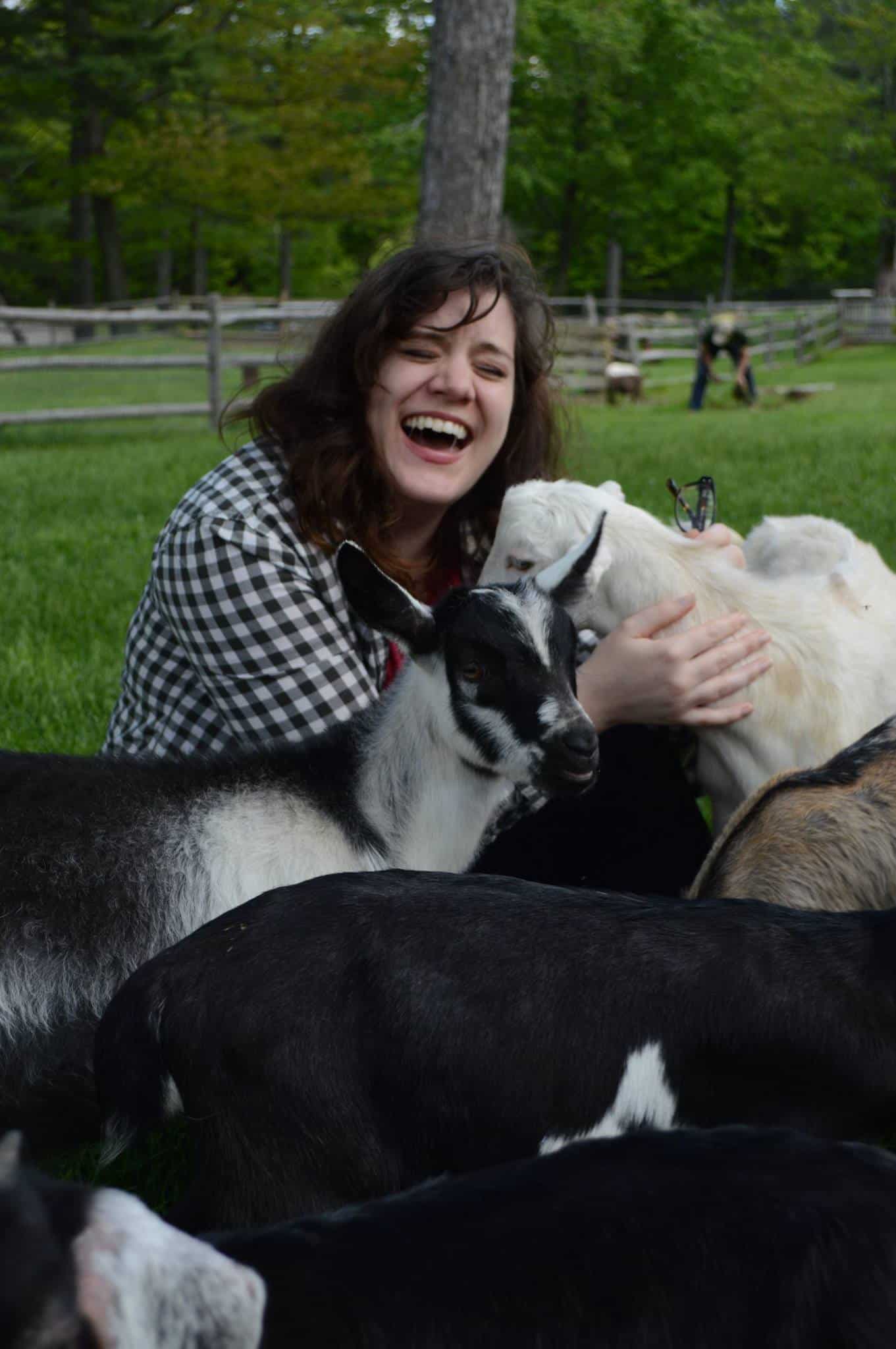 Amy Hartle is the founder and Editor-in-Chief of New England With Love, a comprehensive resource for travel in the New England region. Amy has been exploring New England since 2001. She lived in Vermont for many years and is a graduate of Plymouth State University in New Hampshire. Amy has been writing about travel for over a decade. On this site, Amy aims to share her love of New England and help you to have the best possible adventures!
Amy has been a full time blogger since 2012, and is also the publisher of Two Drifters, where she writes about couples travel and relationships, as well as Let's Adventure Baby, a family travel site. When not traveling the world or creating epic blog content, Amy can be found cuddling with her husband, son, and cats, & drinking a maple latte.