Are you looking for a fun road trip ideas? Consider taking a Maine coast road trip! From Kittery to Bar Harbor, we've got it all mapped out for you so you can see the coolest coastal sights, sample all the tastiest treats, and stay in the cutest Maine coast spots!
While it's true that the trip time total to travel up from Kittery to Bar Harbor is only 3 hours and 33 minutes if you stick to the major highways, in my experience, it's well worth the extra time to take route 1 and enjoy all the cute little coastal towns you'll encounter along the way! Our way only adds another hour or so of drive time on to the trip, but the awesome coastal Maine scenery will be well worth it!
From Kittery to Bar Harbor, this Maine coast road trip will have you feeling the love of coastal Maine with every mile you meet!
PS: Find deals on the best rental cars here!
The Essential Maine Coast Road Trip
Maine Coast Road Trip: Day 1, Part 1: Kittery to York (7.5 miles via US-1N)
Good morning, road trippers! Hope you had a nice night's rest (and maybe had some fun shopping the Kittery outlets?) because one thing York is known for is being one of the best places in Maine to catch the sunrise! If you'd like to start your trip off this way, hooray for gorgeous sunrises! If you'd rather sleep in a little, we don't judge, because there's plenty more to see and do in York than just watching the sun rise!
Plan a visit to the Nubble Lighthouse before finding the perfect place to break your fast; may we suggest Stonewall Kitchen York Company Store, just right off Rt 1? Yes, it's a mouthful, a delicious mouthful! Not only do they have all kinds of delicious breakfast and brunch offerings (hello, Lobster, Bacon & Avocado Breakfast Sandwich!) but the company store is the perfect place to pick up some cool coastal Maine souvenirs. They also have a great patio area for outdoor seating, so enjoy that if you are planning your road trip up the Maine coast in the warmer weather months!
After you've filled your belly, consider swinging by York Village, the historic section of York where you can visit well-preserved historical buildings like the Old Gaol, Maine's very first prison ever built in 1656! After you've had your fill of cool Maine history, head back to the car because we are on to stop #2 of your coastal Maine road trip!
Day 1, Part 2: York to Ogunquit (6.8 miles via US-1N)
This quick little jaunt up route 1 leads to Ogunquit, whose name in the Abenaki language from where it comes means "Beautiful Place By The Sea," and it is quite aptly named! Ogunquit has beautiful soft sand beaches that are perfect for taking a nice barefoot stroll along the sea! One favorite is Footbridge Beach, with a perfectly picturesque footbridge that is an amazing spot for photo ops, so be sure to swing by and get some great shots of this beautiful little slice of Maine coast heaven.
There are lots of fun small-town things to do in Ogunquit, one of them being riding the Ogunquit Trolley! What better way to tour this cute little coastal town than to ride on an open-air trolley? It makes for another great photo op, too! If your tummy is starting to rumble for lunch at this point, that's good timing on your part because the Ogunquit Lobster Pound has been serving up some of the best lobster rolls on the East coast for 90+ years! Definitely have a little nibble before heading back out on the road to your final stop for the first night of your Maine Route 1 road trip!
Day 1, Part 3: Ogunquit to Kennebunkport (11.8 miles via US-1N and State Rte 9 E)
It will take you less than a half-hour to make it up to Kennebunkport, but when you arrive, you'll be glad you made it! Kennebunkport is one of the best places to visit in Maine, and it's known for a few things; one of the things it's known for is being the Summer Home of the elder Bush family for decades. You can still sneak a peek at the "Summer White House," as coined when George HW Bush was in office, but there's more to this cute coastal town than just its famous residents!
Kennebunkport is full of things to see and do, with cute art galleries and boutique shops to explore, great beaches to swim or sunbathe at, lobster tours, sailing, kayaking, and all kinds of fun water-related activities! For dinner, there are plenty of great restaurants in Kennebunkport to choose from, but if you'd like to go for a charming brewpub scene, check out Federal Jacks Restaurant and Brew Pub for a fantastic selection of craft brews and great eats! Kennebunkport will be your place to stay for the night, and if you'd like a unique glamping experience, consider a stay at the Sandy Pines Campground; there's nothing quite like it as far as unique, memory-making experiences goes!
Maine Coast Road Trip: Day 2, Part 1: Kennebunkport to Old Orchard Beach (15.8 miles via US-1N)
Once you've woken up from your glamping slumber in Kennebunkport, consider taking an early morning walk along Gooch Beach, one of the most popular beaches in Maine. After you've stretched your legs a bit, it's time to hop back in the car to continue your Maine coast road trip on route 1! Old Orchard Beach will take you less than half an hour to get there from Kennebunkport, so save your appetite to grab a bite to eat at the delightful Cafe 64, OOB's favorite spot for coffee and fresh-baked goodies! Eat on-site or take your treats to go, because just up the road from this cute little cafe is the 7 miles of soft, sandy beach that OOB is named for!
Take a dip in the Atlantic or just stroll along the beach a while and check out the Old Orchard Beach Pier and its souvenir stands; the view from the end of the pier is always something special! Also right near the pier is Palace Playland, New England's last remaining beachfront amusement park. Even if you're not in the mood to play the classic arcade games and ride the rides yourself, it's still a neat place to stroll and people-watch. After you've spent some time enjoying the beautiful beachfront at Old Orchard Beach, head back to the car for the next leg of your coastal Maine road trip!
Day 2, Part 2: OOB to Cape Elizabeth (17.1 miles via US-1 N)
Another very quick trip to your next destination, you'll pass right by the Scarborough Marsh Audubon Center, so feel free to pull off and explore Maine's largest salt marsh on the way to Cape Elizabeth. The salt marsh is lovely, but if you're a fan of historic lighthouses, Cape Elizabeth is the perfect place to get a few photos with some of the loveliest lighthouses in Maine! In fact, the Portland Head Light is one of the most frequently photographed lighthouses in New England, so you're very likely to recognize it when you see it in person; plan to check out Portland Head Light after seeing the other Cape Elizabeth lighthouses.
Cape Elizabeth's Two Lights State Park has beautiful shoreline trails that offer stellar scenic views of this moody section of coast, and after you've explored a bit there, head up the road to the Lobster Shack at Two Lights to get a much-deserved bite to eat before moving on to the lovely Cape Elizabeth Light; often referred to as "Two Lights" because there are technically two lighthouses, only one remains in public use. Lighthouses and lobster and lovely shoreline trails will give you plenty of memories to take with you as you hop back in your car to continue your road trip up Maine's coast!
Day 2, Part 3: Cape Elizabeth to Portland (8.5 miles via ME-77 N)
On to Portland, one of the coolest cities in Maine! With so much to see and do in Portland, you might find that you need to spend more than just one night in this spot, so this might be a good place to extend your trip up the Maine coast another day. In addition to the lighthouses in the area, you'll also find that Portland offers all kinds other fun and FREE stuff to do, like exploring all the fantastic green space in the city!
Portland also has a fantastic brewery scene, so if you'd like to kick back and enjoy a great craft brew, you've got some pretty stellar options. Portland really is one of those cities that has a great eclectic foodie scene from restaurants to bakeries, so when dinnertime rolls around, hard choices may have to be made! If you decide to turn your one night in Portland into a two-day visit, you'll have more time to check out other Portland staples like coffee shops and breakfast spots! There are also lots of cool hotels and Airbnbs in the area, but for an extra unique stay, check out The Press Hotel, one of the best hotels in New England!
Click Here to Check Prices & Book!
Maine Coast Road Trip: Day 3, Part 1: Portland to Freeport (17.5 miles via US-1 N)
Good morning! On to day 3 of your Maine coast road trip (or day 4, if you extended another day in Portland!) where we head on up to Freeport. Freeport has a few things it's known for, but the biggest one is probably the shopping! Not only will you find lots of cute local boutiques and galleries to peruse, but the national outlets are always a big hit for shoppers in Freeport; fuel up for your shopping excursion by grabbing a bite at The Freeport Cafe. Check out the Giant Cinnamon Rolls, they are giant AND scrumptious!
Shop till you drop at outlets like Levi and Ralph Lauren, then head to the L.L. Bean flagship store to snap a pic with the giant boot; trust us, it's basically the law if you're in Freeport. There are lots of things to do in Freeport, but just one more must-do touristy thing that you should consider doing before you leave town, and that is checking out the Desert of Maine, the 40+acre natural attraction that is both educational and entertaining; plus, now you can say you've been to the desert… in Maine!
Day 3, Part 2: Freeport to Damariscotta (36.4 miles via US-1 N)
Continuing your Maine coast road trip, you will have a choice that must be made as you are driving to the next location in Damariscotta; the little town of Wiscasset is just about 10 minutes shy of Damariscotta, but you might need to stop there to sample the goods at Red's Eats, one of the most popular lobster shacks in all of Maine! If you can manage it (we know, the Giant Cinnamon Roll was very filling!), you will not be sorry!
On to Damariscotta, one of the cutest little towns in all of Maine. Take some time to stroll the delightful downtown of Damariscotta, perhaps popping into Sheepscot River Pottery for a cool souvenir? One of the interesting things this little coastal town is known for is its Whaleback Shell Midden State Historic Site, the site of a giant oyster shell heap known as a midden that is left behind from Native people hundreds of years ago! It is certainly a unique thing to see. Done exploring darling Damariscotta? Time to continue your coastal Maine road trip!
Day 3, Part 3: Damariscotta to Rockland (25.4 miles via US-1 N)
Get excited, because you're starting to really get deep into the midcoast region of Maine, where you can expect to find lots of very quintessential Maine types of things to do! Rockland is one of the cutest little towns in the state, and if you happen to be road-tripping a couple of days before the first weekend of August, you'll be right in time for the Maine Lobster Festival: 5 days of races, arts & crafts, live entertainment, and of course, a whole lotta lobstah!
Missed the Lobster Festival? No worries, there's plenty to see and do in Rockland, including checking out all the great museums in town, like the Farnsworth Art Museum or the Center for Maine Contemporary Art, and heading out to see the Rockland Breakwater Lighthouse. If you'd like to have a very interesting Midcoast Maine experience and don't mind extending your road trip by a couple of days, consider booking a stay on a Maine Windjammer Cruise! If you'd rather just grab a room for the night, check out Rockland Harbor Hotel, perfectly situated within easy walking distance to all kinds of great places to eat in Rockland.
Click Here to Check Prices & Book!
Maine Coast Day Trip: Day 4, Part 1: Rockland to Camden (8 miles via US-1 N)
Hope you're well-rested, because we are on the final day of your Maine coast road trip to Bar Harbor, and we've only got one stop planned for the day. Just a quick hop, skip, and a jump from Rockland, you'll arrive in Camden, where you can jump right into the vibrant downtown scene by heading to Owl & Turtle Bookshop Cafe for a cup of coffee and a tasty treat while you peruse their fantastic book selection. Aren't books kinda the best souvenir from a trip?
After you've fueled up for the morning, consider heading outdoors to check out some of the gorgeous natural scenery Camden has to offer. There's Merryspring Nature Center, the 66-acre nature park and education center that offers trails to walk and gardens to enjoy and is free to the public. The Camden Snow Bowl is another great option to get outdoors in Camden, with the obvious activity here being playing in the snow in the winter, but during the warmer weather months, you can hike the trails, go mountain biking, or even just take a scenic chairlift ride. Camden is a lovely coastal Maine town, and boy do they know how to enjoy it!
Day 4, Part 2: Camden to Bar Harbor (76.7 miles via US-1 N)
The most lengthy portion of the Maine coast road trip by far, the stretch between Camden and Bar Harbor does have plenty of opportunity for side trips if you'd prefer to make more stops, but honestly, with Bar Harbor being so very close, who has the patience? Bar Harbor is an absolutely adorable little town with so much to see and do, it's easy to get antsy to get there already!
Of course, Acadia National Park is the real star of the show here, and with so many gorgeous natural attractions and stunning scenic vistas that even if you're not much of a hiker, you'll still want to get out on the trails at Acadia to see what it's all about. There are also a ton of great options for places to eat and where to stay in the area, whether you're looking for a hotel, campground, cabin, or vacation rental, you'll find it! If you're looking for a great hotel in town, check out Bar Harbor Grand Hotel, perfectly situated for all kinds of great downtown Bar Harbor fun!
Click Here to Check Prices & Book!
Of course, this Maine coast road trip itinerary is just our idea of what makes a great coastal road trip in Maine, so feel free to customize it as much as you'd like! Extend your stay in some spots or skip others altogether, coastal Maine is a beautiful area to experience whether you decide to follow our coastal Maine road trip plan or not!
Whatever route you end up taking, enjoy your Maine coast road trip from Kittery to Bar Harbor!
You might also like: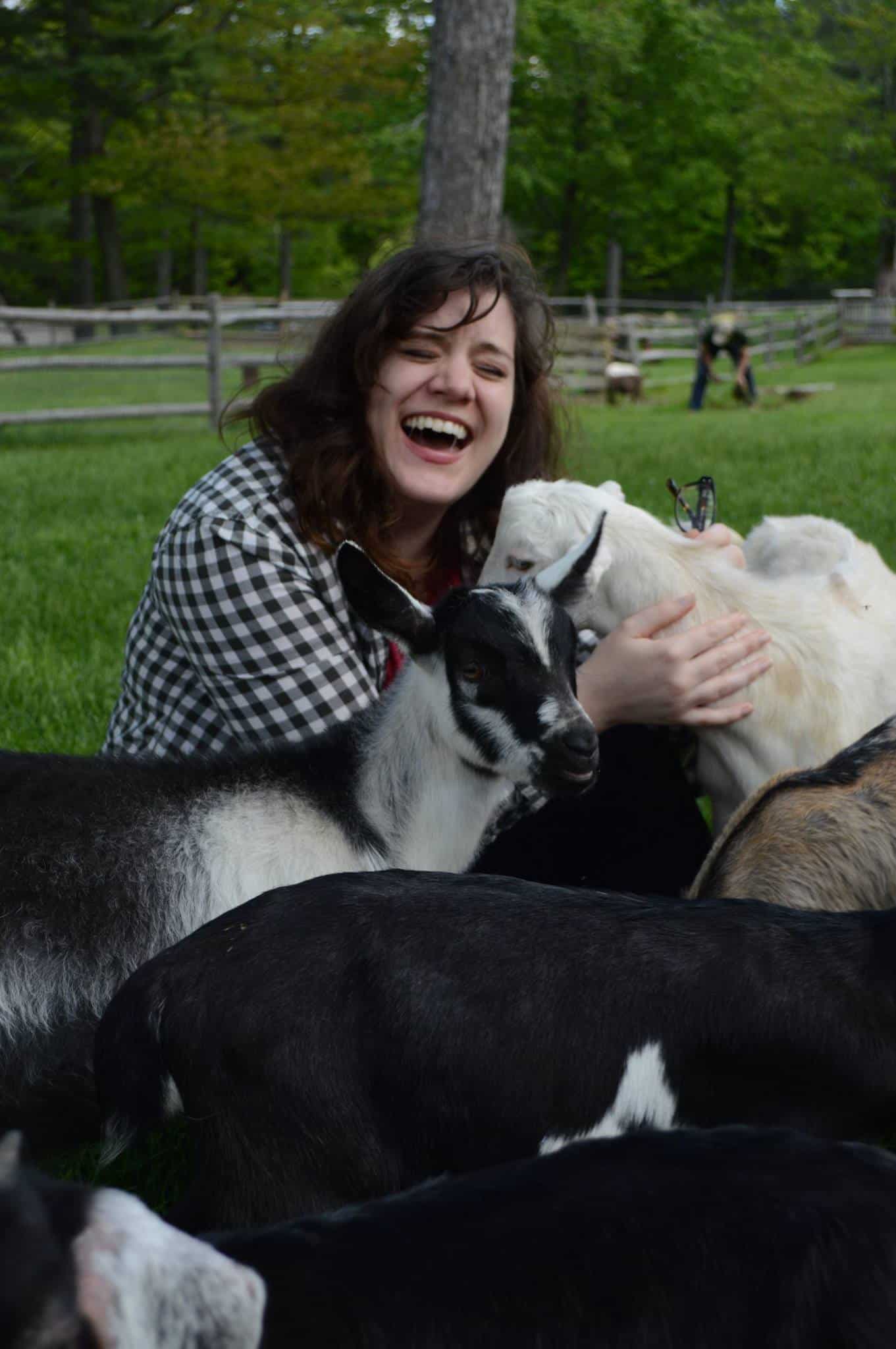 Amy Hartle is the founder and Editor-in-Chief of New England With Love, a comprehensive resource for travel in the New England region. Amy has been exploring New England since 2001. She lived in Vermont for many years and is a graduate of Plymouth State University in New Hampshire. Amy has been writing about travel for over a decade. On this site, Amy aims to share her love of New England and help you to have the best possible adventures!
Amy has been a full time blogger since 2012, and is also the publisher of Two Drifters, where she writes about couples travel and relationships, as well as Let's Adventure Baby, a family travel site. When not traveling the world or creating epic blog content, Amy can be found cuddling with her husband, son, and cats, & drinking a maple latte.