Vermont is a state in New England that's absolutely brimming with history all over the state, even in spots that are less visited. In fact, there are many historic sites in Vermont worth visiting that you'll want to add to your itinerary.
Many past presidents have connections to Vermont, including Abraham Lincoln and Calvin Coolidge. There are also many beautiful outdoor historical sites, like breathtaking covered bridges and monuments.
So, what are you waiting for? Here are the best historic sites in Vermont.
Bennington Battle Day Monument
Location: 15 Monument Cir, Bennington, VT 05201
Located in Bennington, the Bennington Battle Monument is a giant stone tower that commemorates Bennington Battle Day which occurred in 1777. The monument started to be built in the 1800s and now is impossible to miss from anywhere in the town.
They host many events at the monument which is located not far from the Bennington Museum. You can witness battle day reenactments, participate in 5K races, and even take the stairs to the top of the monument to get incredible views of the town.
Vermont State House
Location: 115 State St, Montpelier, VT 05633
The Vermont State House is an obvious one of the historic sites in Vermont that you can't miss. It's located in Montpelier which is Vermont's capital. While the town itself is small, it's a quintessential place in Vermont that you can't miss.
The state house was built in the 1850s and is architecturally beautiful, with a giant golden dome. The public can see it from the outside at any time, but can also go on a self-guided tour on weekdays from 7:45 am to 4:15 pm. Note that it's usually closed to the public on the weekends.
Shelburne Farms
Location: 1611 Harbor Rd, Shelburne, VT 05482
Shelburne Farms is one of the more unique Vermont historic sites, located right in Shelburne. There are tons to do there, including walking on the many trails, meeting the farm animals, and trying their farm-to-table food.
The farms cover around 1400 acres of land, which once belonged to the Winooski. The owners host many events throughout the year to get the community involved, so be on the lookout for events during your visit.
Stellafane Observatory
Location: Breezy Hill Rd, Springfield, VT 05156
The Stellafane Observatory in Springfield dates back to the 1920s and covers three acres of land. It's a museum and observatory located right on a hill in Springfield, so it's very exposed, allowing for great views of the sky.
The best time to visit the observatory is during their annual events, which they call Public Star Parties. They also host other fun events for the public throughout the year, including opportunities to make your own telescope!
Ben & Jerry's Factory
Location: 1281 Waterbury-Stowe Road, Vermont Rte 100, Waterbury Village Historic District, VT 05676
The Ben & Jerry's Factory in Waterbury is a unique Vermont historic site, but you definitely won't want to miss it. Ben & Jerry's was founded back in the 1970s, and the factory is the place to go if you're an ice cream fan and want to learn more about how the ice cream is made.
Throughout the free tour, you'll be able to go through the factory and see how a specific flavor is made. In the end, you'll even get a sample of whatever flavor they are making that day. Don't forget to stop by the Flavor Graveyard before you leave!
Brown Covered Bridge
Location: 5290 Cold River Rd, Shrewsbury, VT 05738
Vermont is known for its covered bridges, and the Brown Covered Bridge in Shrewsbury is no exception! It was built in the 1880s and is one of the most popular bridges to visit in the entire state.
This bridge is one of the most picturesque bridges to take a photo of. It stretches over the Cold River and is even a National Historic Site as of July 2016. Though it was damaged in Hurricane Irene for five years, the renovations went well, and it's just as pretty as ever.
Rockingham Meeting House
Location: 11 Meeting House Rd, Bellows Falls, VT 05101
Stop by the Rockingham Meeting House was built in the 18th century and is one of Vermont's National Historic Landmarks. It's said to be the oldest and last existing meeting house in the country, and it's entirely free to visit.
The building itself is built in the Colonial style of architecture and is one place you can't miss if you're visiting this area of Vermont.
Chimney Point State Historic Site
Location: 8149 VT-17, Addison, VT 05491
For an outdoor dose of history, check out Chimney Point State Historic Site. It was established in 1991 and now serves as a museum right on the edge of Lake Champlain. It features a few important cultures of the area with artifacts that have been found.
The state historic site has lots of outdoor spots to explore and relax near the water. For instance, there's the lake, a picnic area, and tons of green space that children will love playing in.
Robert Frost Stone House Museum
Location: 121 Historic Route 7A Shaftsbury, Vermont 05262
The Robert Frost Stone House Museum is a unique attraction in Shaftsbury, Vermont, that's owned by Bennington College. It's the same location where Frost wrote some of his most well-known poems, including "Stopping by Woods on a Snowy Evening."
The museum is open for limited hours throughout the year as it's a pretty seasonal museum, but it's worth visiting if it's open during your time in southern Vermont.
Billings Farm & Museum
Location: 69 Old River Rd, Woodstock, VT 05091
The Billings Farm & Museum in Woodstock features a historic mansion filled with exhibits about farming history in this area of Vermont. A lot of the exhibits are entirely interactive, which makes it fun to visit with children.
It was built in the 1870s and is a great historical spot to visit in the state. In addition to exploring the exhibits, you can also stop by the Dairy Bar, walk through the gardens, and even stop by the barn to see some farm animals.
Hildene
Location: 1005 Hildene Rd, Manchester, VT 05255
Easily one of the most popular historic sites in Vermont is Hildene, located in Manchester. It served as a family home for Robert Todd Lincoln and Mary Harlan Lincoln. Plus, it was built in the early 1900s. Because it only served as a summer home, it's in excellent condition.
There are lots to do during a visit to Hildene. You can go on one of their group tours, walk one of their trails (which is highly recommended in winter), or even go on a self-guided tour if you prefer.
St. Johnsbury Athenaeum
Location: 1171 Main St, St Johnsbury, VT 05819
Book lovers will love visiting the St. Johnsbury Athenaeum, a public library that was built in the 1870s. It's another of the National Historic Landmarks in the state that also serves as an occasional art gallery.
If you're visiting the St. Johnsbury area, be sure to visit the Athenaeum and go inside. It will make you feel like you're in a movie with all of the books all over the place! Note that the library is always closed on Sundays.
Old Round Church
Location: 29 Round Church Rd, Richmond, VT 05477
The Old Round Church is a one-of-a-kind place to visit in Richmond that dates back to the early 18th century. It's built in the Federal style of architecture and, as you may imagine, is a round building with a tower!
The church hosts live music and also many weddings throughout the year. Even if you don't go inside during your visit, it's incredible to see it from the outside because of its funky shape.
American Precision Museum
Location: 196 Main St, Windsor, VT 05089
One of the most popular historic sites in Vermont to visit is the American Precision Museum which was built in the 1840s. It's right in Windsor on South Main Street and was the first-ever factory to have made parts that led to the precision machine's creation.
Anyone is welcome to visit during their open hours and check out the many exhibits in the museum. There's also a shop where you can purchase souvenirs. Consider going on a group tour to learn more about the museum in depth.
Rudyard Kipling House
Location: Naulakha, 481 Kipling Rd, Dummerston, VT 05301
The Rudyard Kipling House, also called Naulakha, is a 19th-century house near Brattleboro. Kipling is famous for being the author who wrote The Jungle Book, which later became a Disney original animated movie.
The home is now a popular accommodation in the area and the best way to visit is to spend the night there. You can rent the entire house, which features four bedrooms and three bathrooms. Plus, it's situated on more than eight acres of land that you can explore!
Old First Congregational Church of Bennington
Location: 60 Monument Ave, Bennington, VT 05201
Located in Bennington is another of the historic sites in Vermont, the Old First Congregational Church of Bennington. The church was built in the 1800s and is located near the Bennington Battle Monument, so it's easy to visit both in just one day.
The church has been very well maintained, and the staff is known for being incredibly kind. Stop by to learn more about it and even go inside to see the beautiful Georgian architecture that will take you back in time.
Creamery Covered Bridge
Location: 500 Western Ave, Brattleboro, VT 05301
Another of the best historic bridges in Vermont is the Creamery Covered Bridge in Brattleboro. It was built in the 1870s and is one of the oldest bridges in Brattleboro, which is why it's so popularly visited.
It's picturesque any time of year but is best visited in the fall when the trees surrounding it feature beautiful fall colors. If you visit, be careful because it's a two-way bridge with a skinny road!
Once you visit it, be sure to stop by some of the local Brattleboro restaurants for a bite to eat.
Emma Willard House
Location: 131 South Main Street, Middlebury, VT 05753
Emma Willard is somewhat of a local Vermont hero. During her lifetime, she helped to push forward women's education. The house named after her was her home which was built in the early 1800s.
The Emma Willard House is now owned by Middlebury College and is actually where their admissions are located. However, it's still worth seeing it from the outside and perhaps going inside to ask some questions about the building and the college.
Justin Smith Morrill Homestead
Location: Justin Morrill Memorial Hwy, Strafford, VT 05072
Take a visit to the Justin Smith Morrill Homestead, one of the historic sites in Vermont located in Strafford. It served as the home for Justin Smith Morrill, a senator for the United States.
The building was built in the 1850s and is an exciting place to visit, primarily because of the architecture. The garden tours are one of the most popular ways to explore the grounds, which are self-guided. There are signs around the premises that will help to guide you along the way.
Calvin Coolidge Historic Site
Location: 3780 VT-100A, Plymouth, VT 05056
The Calvin Coolidge Historic Site in Plymouth was built in the 1870s and served as the home for the former president. It is also the very place where Calvin Coolidge took his official oath of office, which is why it's an important historical landmark.
There's quite a bit to do there as a visitor, including exploring the home, walking on one of the many nearby trails, and learning more about the president. The site also includes other village houses, including a post office, a schoolhouse, and even a dance hall.
—
You might also like: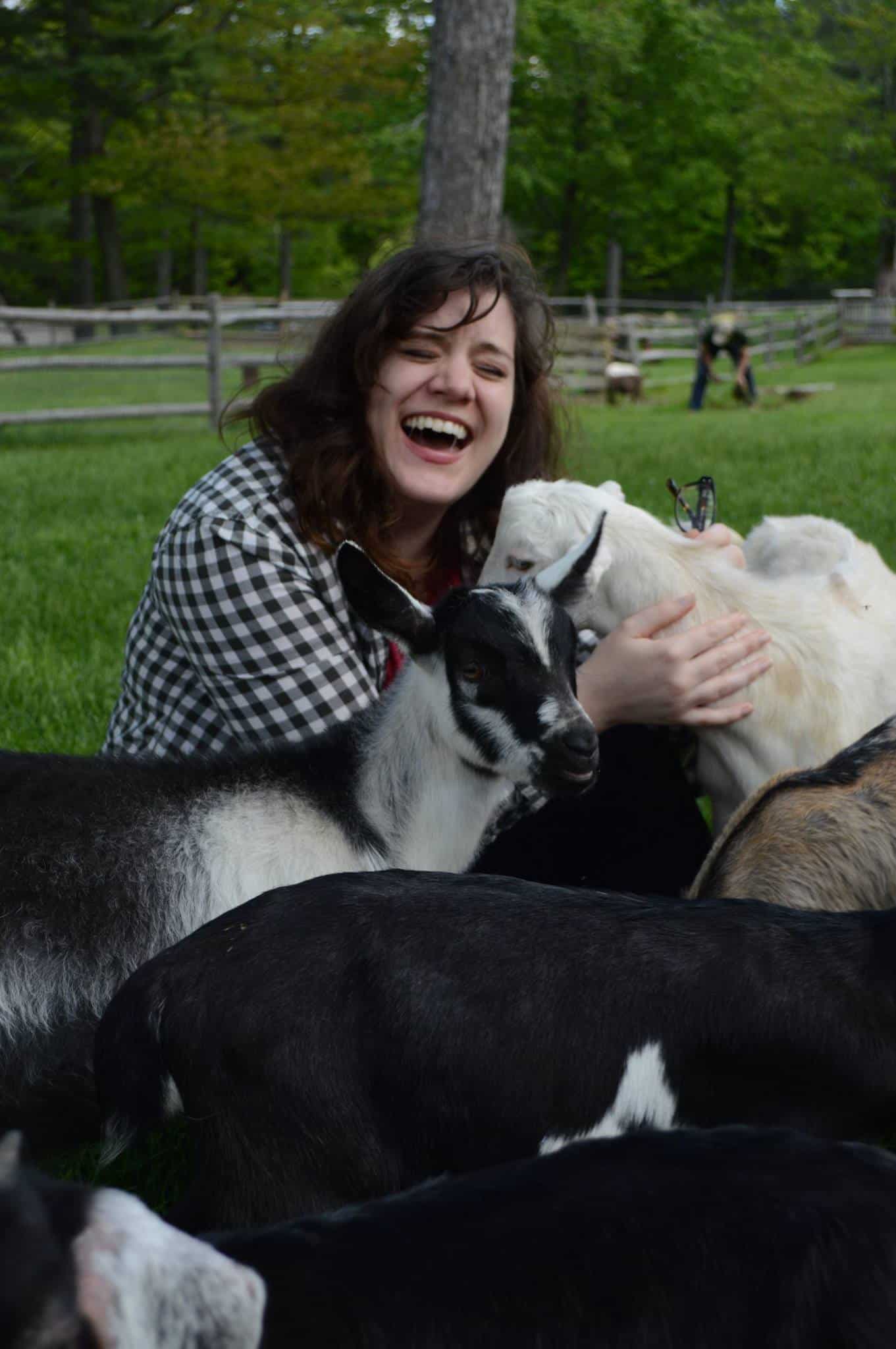 Amy Hartle is the founder and Editor-in-Chief of New England With Love, a comprehensive resource for travel in the New England region. Amy has been exploring New England since 2001. She lived in Vermont for many years and is a graduate of Plymouth State University in New Hampshire. Amy has been writing about travel for over a decade. On this site, Amy aims to share her love of New England and help you to have the best possible adventures!
Amy has been a full time blogger since 2012, and is also the publisher of Two Drifters, where she writes about couples travel and relationships, as well as Let's Adventure Baby, a family travel site. When not traveling the world or creating epic blog content, Amy can be found cuddling with her husband, son, and cats, & drinking a maple latte.