---
*Links in this article may be affiliate links, from which we may earn commission. See our
Privacy Policy
for full details.
---
Rhode Island may be the smallest state in the country, but its vast history is much more interesting than you may expect! Like most of the other New England states, Rhode Island was one of the original thirteen colonies and played an important role in the American Revolution and the Civil War, but there is much more to the history of Rhode Island than just the well-known events. Here are our top 12 historic sites in Rhode Island!
Great Swamp Fight Monument
King Philip's War is considered the deadliest war in American history in proportion to population, wiping out over 10% of New England's Native American population and over 5% of its English population. Led by Wampanoag tribe leader Metacom (nicknamed "King Philip" by early English settlers), the war began as an attempt to drive English colonists off of Native American lands in New England following the execution of three Wampanoag men at Plymouth Plantation.
The Great Swamp Fight took place in December 1675 when English colonists invaded a fort established by Narragansett tribe members and massacred an estimated 600 to 1,000 non-combatants (including women and children) residing at the fort, along with an estimated 97 Narragansett warriors.
A monument at what is believed to be the location of the swamp was erected in 1906. This monument can be found at the end of Great Swamp Monument Road off the South County Trail near West Kingstown, Rhode Island.
The Breakers
The city of Newport, Rhode Island is famous for its beautiful Gilded Age mansions, many of which are located within walking distance of each other. This makes it easier to check out more than one mansion in the area, but if you're looking for a single stop, visit The Breakers, once owned by the Vanderbilt family.
At over 62,000 square feet of living space, The Breakers is one of the largest houses in the United States, with a total of 70 rooms spread out over 5 floors. Virtual tours are available on their website, but this Renaissance-style mansion is really worth a visit in person.
Rhode Island School of Design (RISD) Museum
Located in Rhode Island's capital city of Providence, the Rhode Island School of Design, or RISD, Museum houses over 100,000 artifacts from around the world and ranks among the country's largest art museums. Here you'll find works by famous artists such as Monet, Picasso, Renoir, Matisse, Manet, and Van Gogh.
There are also collections of Ancient Egyptian, Greek, and Roman artifacts dating back thousands of years, as well as Native American, Asian, and European art and a model of American collector Charles Pendleton's house. Some of the museum's highlights include an Egyptian mummy and coffin, an extremely rare bronze figure of Aphrodite, and the largest historic Japanese wooden sculpture in the United States.
White Horse Tavern
Other than its elegant mansions, Newport is notable for its rich history and dedication to preserving centuries of local culture. Some of the oldest buildings in the United States are found in Newport, from the country's oldest synagogue to George Washington's favorite place of worship, but the oldest and most popular is the White Horse Tavern.
Originally constructed in 1652 and in operation since 1673, the White Horse Tavern is the oldest restaurant in the nation and the tenth oldest in the world. Both its interior and exterior maintain the colonial-era design, with oil lamps and candles to light the tavern and a distinctive gambrel roof.
If you decide to visit, be sure to make a reservation in advance– the menu, atmosphere, and history make the White Horse Tavern a popular location, and with only a bar and three tables, the tavern can fill up fast.
Tomaquag Museum
Described as the "only Native American Museum telling the history of Rhode Island's first people from an indigenous point of view," Tomaquag Museum features a variety of tours from nature and storytelling to instructional workshops on traditional craft-making.
This highly acclaimed museum was founded in 1958 as Rhode Island's first and only indigenous museum and has since been upgraded and relocated multiple times. Plans are currently in the works for a larger, four-building facility to open in 2023 on land owned by the University of Rhode Island, but for the time being, Tomaquag Museum is still in operation at their location in Exeter.
Fort Adams
Within Fort Adams State Park lies the eponymous historic fortress built over 200 years ago that played a role in the Civil War and both World Wars. Fort Adams offers both guided and self-guided tours of the restored areas, underground tunnels, and the Eisenhower House (the then-president's "Summer White House").
This National Historic Landmark is also the largest and most complex coastal fortification in the country, making it an interesting spot to spend a few hours learning about and exploring the history, architecture, and technology of its early days. Fort Adams is definitely a place to visit in person– as their website states, "There is more to the story of Fort Adams than could ever be expressed in words alone."
Gilbert Stuart Birthplace and Museum
You may not know the name Gilbert Stuart, but you've definitely seen his work– this famous portrait artist created the image of George Washington found on the American one dollar bill. The Gilbert Stuart Birthplace and Museum is described as "one of Rhode Island's best-kept treasures," with both indoor and outdoor attractions.
Tour the art gallery in the restored 1750 house, check out the first snuff mill in New England, and keep an eye out for one of the 85 species of birds sighted on the property's nature trails.
Newport Tower
Another staple of the city of Newport is the mysterious Newport Tower, located within Touro Park. Some believe the structure to be the remains of a windmill built in the 1700s, while others cite its resemblance to 12th-century Scottish buildings as evidence that it was built much, much earlier.
Four of the tower's supporting pillars face the cardinal directions of a compass, and the windows have astronomical alignments, supporting the theory that Newport Tower could be the remains of an ancient observatory.
Providence Athenaeum
The Providence Athenaeum is a must-see for fans of history and literature alike. This independent library is almost 200 years old, created as a combination of two previous libraries, one of which was established in the 1750s. The Providence Athenaeum is open to the public, but only members can borrow its materials.
Despite boasting a large collection of first editions (including works by Charles Dickens, Louisa May Alcott, Walt Whitman, and Herman Melville), the Athenaeum is known for much more than just literature– collections of historic art, maps, documents, travelers' diaries, photographs, and other artifacts are also housed here. The beauty and elegance of the Providence Athenaeum makes it a popular place for weddings and other events as well!
Varnum Memorial Armory
The Varnum Memorial Armory is a military history museum, featuring artifacts from colonial-era Rhode Island through the 20th century. Relics from wars fought both on American soil and in foreign lands populate the armory's collection, among them uniforms, weapons, flags, banners, and other military memorabilia.
Some of the Varnum Memorial Armory's most notable pieces include a Civil War era cannon and a collection of over 600 propaganda posters from World Wars I and II. And, the Varnum House Museum is located only a few blocks away, housing a wider range of Asian, Persian, and early American artifacts.
The Towers of Narragansett
The town of Narragansett is known for its multitude of history, with a total of 13 locations on the National Register of Historic Places. The most visually recognizable, however, is probably the Towers of Narragansett, arching over Ocean Road. What is now known as the Towers was formerly Narragansett Pier Casino, one of America's most prestigious resorts, which began operation in 1886.
Sadly, when the nearby Rockingham Hotel caught fire on September 12, 1900, the flames spread to the casino, leaving behind only the Towers' granite walls. Today, the "indestructible" Towers of Narragansett continue to stand strong despite enduring other fires, hurricanes, and nor'easters.
Green Animals Topiary Garden
Yet another noteworthy location in Newport is the country's oldest and northernmost topiary garden. Green Animals Topiary Garden was designed by gardener and caretaker Joseph Carreiro, who decided to experiment with privet cuttings by shaping the plants to resemble life-sized animals.
Each was created using a single plant and without use of a frame. The garden also includes geometrically-shaped plants as well as various trees, flowers, and vegetables. A total of more than 80 topiaries are on display, making Green Animals Topiary Garden the most awe-inspiring collection of living sculptures in Rhode Island.
---
You might also like:
---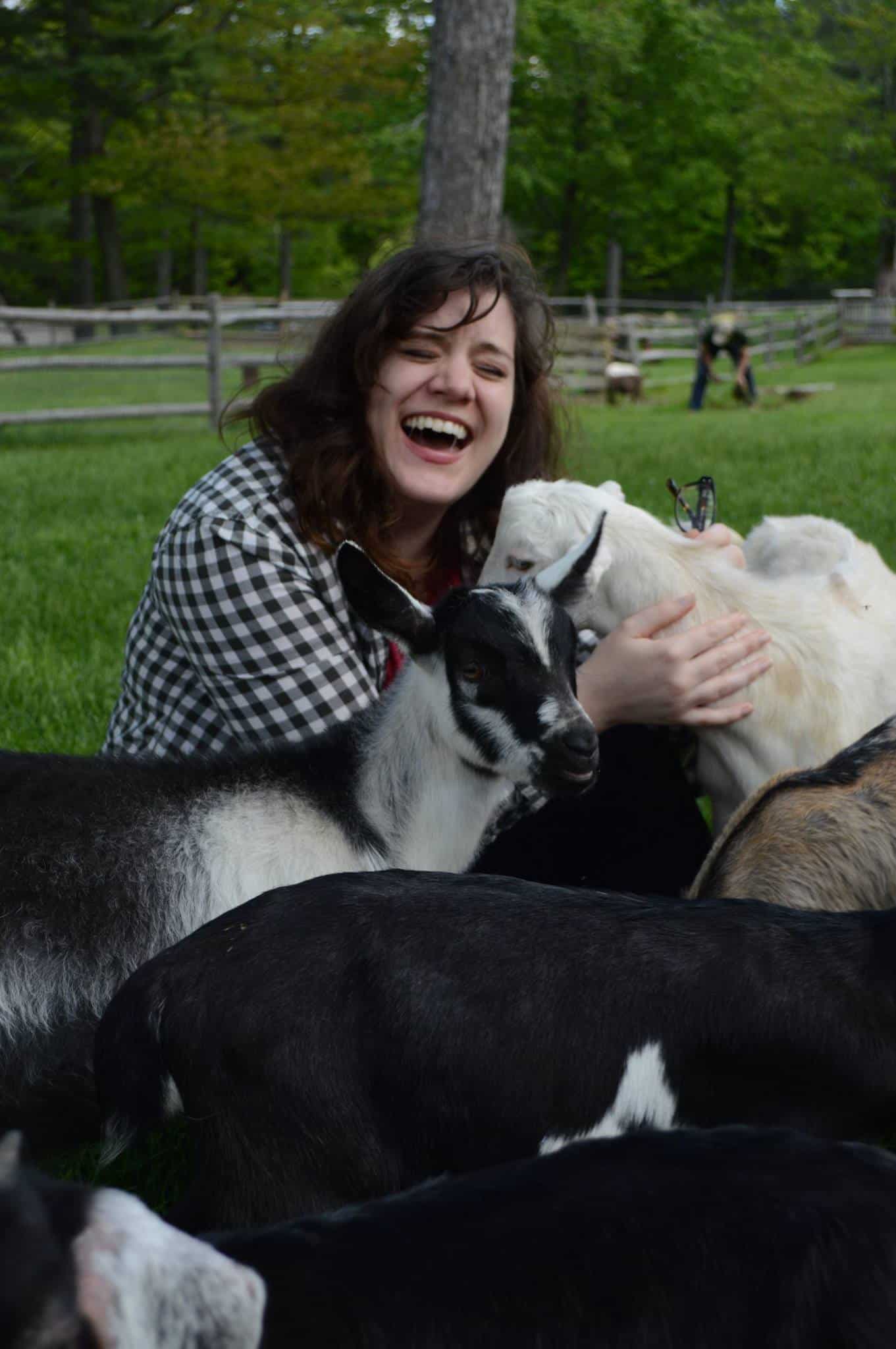 Amy is the founder of New England with love. A proud Vermonter, she hopes to share her love of New England and help you find the best adventures in the region. Amy is also blogger/founder at Two Drifters, where she writes alongside her husband about romantic and couples travel, relationships, honeymoons, and more. When not working on websites, Amy is probably reading, cuddling with her husband, son, and cats, & drinking a maple latte.