New England is full of haunted places, but what is it about the Pine Tree State that seems to be perfectly fitting for diving into the spookier side of history?
Perhaps it's the wild swaths of mostly uninhabited wilderness that lend themselves so well to stories of paranormal encounters and unexplained phenomena.
Or maybe it's generation after generation of people who had to be tough as nails to endure the intensely trying conditions of a Maine winter or a sudden summer squall at sea? These Herculean efforts could be expected to have an energetic impact on a place, maybe contributing to the many supposedly haunted places in Maine.
If you're looking for Maine haunted places, you've come to the right place. We're rounding up the most compelling, popular, and yes, downright scary ghost stories and tales of the paranormal Maine has!
From ghost towns to abandoned places to haunted hotels, we've found some pretty spooky stuff!
Buckle up because away we go.
Haunted Places in Maine
Wood Island Lighthouse, Saco Bay ME
How about a haunted Maine lighthouse to start us off? Wood Island Lighthouse is considered to be one of the most haunted lighthouses in New England, and the tale behind the hauntings is quite tragic.
In the 1890s, local sheriff Frederick Milliken lived on Wood Island with his wife and children, alongside the light keeper, Thomas Orcutt. Milliken was known to be a kind man, and he had rented out his chicken coop to two fishermen nearby, but the rent never came.
When Milliken invited the two men to his home to discuss payment plans, one of them men – Hobbs – came carrying his rifle, waving it around excitedly. Hobbs, who was quite drunk, insisted it was not loaded, but as Milliken tried to disarm him, it went off and shot Milliken in the abdomen, mortally wounding the kind sheriff.
Immediately remorseful for what he'd done, Hobbs used the remaining bullet in the rifle to take his own life, ending with two lives tragically lost that sad day.
Ever since, many strange occurrences have been reported at the Wood Island Lighthouse. Dark shadows have been seen lurking both near the walkway of the lighthouse and at the top of the tower, and strange, unknown voices can be heard. Locked doors unlock themselves, and a paranormal investigation team from the New England Ghost Project even claim to have made contact with both Milliken and Hobbs.
Interestingly, there has also been sightings of a woman apparition tied to this haunted Maine lighthouse, as well, leading some to wonder if Milliken's wife was unable to leave the spirit of her husband who was so unjustly taken from her too soon.
Fort Knox, Prescott ME
Maine's largest historic fort, Fort Knox, is one of the best preserved military forts in New England… and one of the most haunted, too!
Interestingly, Fort Knox never actually saw any military action, but it still had its share of history, leading to resident spirits!
One spirit is believed to be one of the workers at the fort who foolishly took his cigar break while sitting on a powder keg! It was written in the paper at the time that "In a sort of daring bravado," the society reported, "he declared there was no danger and applied the end of his cigar to a few grains of loose powder. The barrel ignited and in an instant he was blown a great distance and instantly killed."
Well, that's one way to show everyone how brave you are, I suppose.
Another resident ghost at this haunted Maine fort is believed to be late 19th century caretaker of the fort, Sgt. Leopold Hegyi. It is thought that perhaps he still makes his rounds at the fort to this day.
There have been many paranormal investigations done at this historic site, in part because they allow overnight tours! Many notable ghost hunting shows have visited this spot.
Ghostly sightings and sounds include the sighting of someone dressed in Civil War era garb, strange lights and orbs, otherwordly voices, and footsteps that seem to have no source.
You can sign up for a Fort Knox Ghost Camp with the 207 Paranormal Ghost Trackers, and stay for an overnight paranormal investigation yourself!
The York Witch, York ME
Also known as the White Witch in her day, Mary Nasson was once a respected herbalist in her town, and was also called to perform exorcisms on those afflicted with such dark and demonic spirits.
A mother of 6, she was said to have loved all children, and her young death in 1774 at the age of 29 was considered a great tragedy. However, the people of York were concerned that this young woman – potentially a witch – might rise from her grave at the Old Burying Yard, so a large, flat rock was placed over the grave to prevent this.
Today, children play at the playground across the street, and sometimes the children seem to be being pushed on the swing by something that their mothers cannot see. When asked, they will say a nice woman named Mary was pushing them!
Some children have even received wildflowers from Mary.
The White Witch of York is not a malevolent spirit, but rather a young woman who was tragically taken from her own children too soon, who still to this day, looks after and loves the children around her… even from the grave.
Mount Hope Cemetery, Bangor ME
Mount Hope Cemetery is actually the second oldest garden cemetery in the United States, and it is said to have offered inspiration for none other than Stephen King, who visited regularly.
He even found inspiration for two of his most popular character's names on the gravestones there: Carrie and Georgie.
For those who go ghost hunting in this Maine cemetery, there have been a variety of ghostly interactions reported, including unexplainable shadows and figures that move around the grounds, ghostly apparitions, and even the voices of children that can be heard calling across the cemetery, even in the dead of night.
Certainly sounds like the kind of place that could offer spooky inspiration to horror writers, even those as prolific as Stephen King himself!
Read Next: Stephen King's Maine: 12 Spots Fans Must See
Fort William Henry, Pemaquid Beach ME
Originally built in 1692, Fort William Henry was attacked just a few short years later by the indigenous people of the area, with whom tensions had always run high.
In 1696, Native American Chief Taukolexis was hung by the forces at the fort, but the fort still fell due to its water supply lying outside of the fort's walls, making it difficult to survive a sustained attack by the indigenous forces.
White orbs and cold spots greet ghost hunters who come to this haunted Maine place. Could this be the Native Chief who was murdered here so many years ago?
The Kennebunk Inn, Kennebunk ME
Built in 1799, the Kennebunk Inn has had a few iterations over its time, including as a private home, a tavern, and of course, an inn.
The resident spirit at this Maine inn is believed to be the ghost of former nightwatchman and auditor, Silas Perkins, who passed away in the mid 1900s.
Luckily for the proprietors and guests of the Kennebunk Inn, Silas' ghostly presence is more mischievous than it is malevolent, only playing "tricks" on those who aren't so well liked.
Some notable experiences that staff and guests have had with this haunted inn's resident ghost include three mugs lifting off of a shelf by themselves and knocking a not so well liked bartender on the back of the head, as the owner of the inn watched in disbelief!
Another time, a housekeeper unplugged a TV in a guestroom, only to have it turn itself on a moment later, despite remaining unplugged from the wall. This happened in Room 17, which is considered the "haunted room" at the inn.
A psychic investigator was called to the inn at one point to see if they could commune with Silas, and not only was the presence of Silas affirmed, but there was another spirit discovered on the premises as well by the name of Sara Emily, who stands on the steps to greet new guests as they arrive.
All in all, the spirits that have remained at the Kennebunk Inn are friendly ghosts, which is a little easier to swallow for many of us when booking a room at a haunted inn!
Click Here to Check Prices & Book!
Nathaniel Lord Mansion, Kennebunkport ME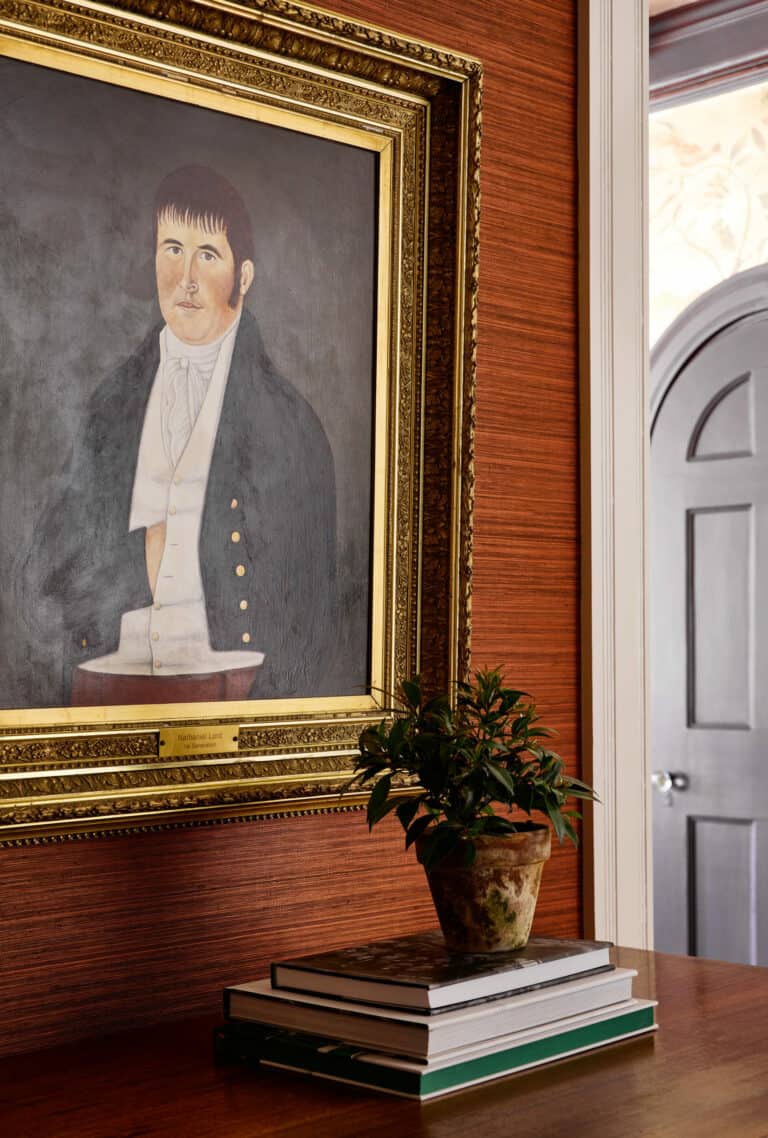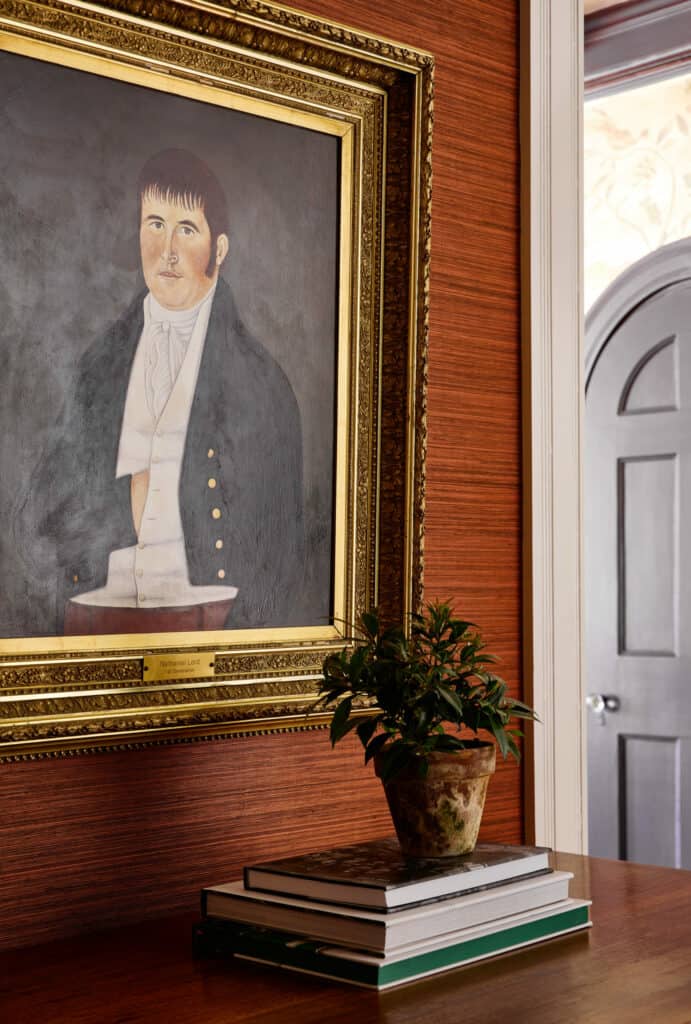 There's no doubt that this historic property in Kennebunkport is one of the most beautiful bed and breakfasts in Maine… but did you know it's also one of the most haunted?
Once known as the Captain Lord Mansion, this stately home was built in 1812 at the direction of Captain Nathaniel Lord, for his family: a wife, Phoebe, and 9 children, the youngest being the result of an affair he had with maid. However, his wife raised this young child as her own.
The Captain didn't get to enjoy his new home for very long, as he died of the flu in 1815, but the family stayed in the home for generations to come, until the 1970s.
Today, it seems as though the paranormal activity in this longtime home of the family of Nathaniel Lord is centered around what was known as the Wisteria Room, and then the Lincoln Room. This was Phoebe's favorite room while living, and might still be as she has been seen in this room in her nightgown!
She has also been spotted around the property, going up and down the staircase, enjoying the view from the cupola, and even admiring the antiques placed around the inn. Her spirit seems to be just as benevolent in the afterlife as it was while she was living, so if you do happen to stay at this gorgeous inn and encounter her, no need to worry!
Click Here to Check Prices & Book!
The Ogunquit Playhouse, Ogunquit ME
The Ogunquit Playhouse is absolutely one of the best theaters on Maine's coast, but did you know it's also one of the most haunted theaters in the Pine Tree State?
It is said that there are players on the stage and in the wings at this beautiful old theater that no longer exist in the land of the living. Apparitions that appear dressed as Revolutionary War soldiers, disembodied voices while the theater is supposed to be empty, and flickering lights are just a few of the reports that have come in over the years.
Is the Ogunquit Playhouse Theater haunted? The Ghost Light shines on!
Read Next: 15 Best Things to Do in Ogunquit Maine
Nelly Butler, America's First Ghost
Did you know that the first documented ghost sighting in the US is said to have happened in Maine? In fact, it's referred to as America's First Ghost.
In August of 1799, a man in Machiasport (or Sullivan, there have been some conflicting reports as to the exact location!) named Abner Blaisdel claimed to hear knocking noises coming from his basement, followed by a woman's voice a few months later.
"I'm the dead wife "of Captain George Butler, born Nelly Hooper," the voice called.
Nelly's father, who only lived a few miles away, was eventually sent for, and he became a believer that the spirit of Nelly Butler, his recently deceased daughter, appeared and talked to him in Blaisdel's basement.
Conflicting reports about what came next ensue, but the general gist is that many witnesses were invited into the basement to hear and even see the apparition as the months went on.
There were even several instances in which the ghost appeared outside of the basement, including one time she appeared before the Reverend who had hoped to put a stop to the nonsense of his congregation and their belief in her ghost!
The marriage of Nelly Butler to George Butler was a happy one, until she died tragically in childbirth, with her baby dying shortly after. Here's where things get even more interesting!
One report states that Nelly appeared to her former husband in full apparition to angrily admonish him for remarrying after he had promised her on on her deathbed that he'd never remarry.
Another report states that Nelly played matchmaker with the youngest daughter of Abner Blaisdel, 15 year old Lydia, with her many appearances in their family home!
It is said that Nelly had a sad prediction for Lydia, however. She told her former husband to be kind to Lydia, because they wouldn't be married long before she would pass as well, and she did, exactly as Nelly had: in childbirth, with her baby passing shortly afterwards.
This is one of those Maine ghost stories that makes the head spin a little! Whether these events were completely true or not, there was an entire town that believed it was. That's quite a ghost story!
The University of Southern Maine, Gorham ME
The University of Southern Maine in Gorham has been said to have not just one young female ghost resident, but two, and the tales are particularly tragic. In Robie-Andrews Hall, it is said that a young pregnant woman was spurned by her lover, leading her to take her own life.
In the Robie-Andrews belfry tower, it is said that another female student grew so homesick after letter after letter home remained unanswered, that she either threw herself out the window – or was pushed.
Whether there is one or two female ghosts in the Robie-Andrews dorm, there have been several documented unexplained phenomena!
Unexplainable cold spots, the sounds of footsteps and furniture being moved in the attic, and an elevator that opens and closes on its own regularly. There was even a student who once attempted to interview a female apparition, only to later learn that the only sound on her tape recorder was her own.
It would certainly be more than a little disappointing if you'd thought you had managed to get the scoop on one of the most haunted locations in Maine, only to learn that you just recorded your own voice.
Eh, ghosts can be pretty fickle sometimes!
Greater Rumford Community Center, Rumford ME
This is one of those haunted locations in Maine that doesn't have a lot of great backstory, but it has been on the receiving end of quite a bit of paranormal investigation!
Over the hundred plus years that this particular structure has served the town of Rumford, there have been whispers of paranormal activity, but over the course of the last decade or so, there has been a lot of focused investigation into what is happening at this site.
In fact, some ghost hunters and paranormal investigation groups have stated that this is perhaps the most haunted place in Maine!
Voices, shadow figures, objects moving by themselves, and a variety of other unexplained happenings have been documented by multiple ghost hunting groups, leading many to speculate that there's more happening at this site than simply a haunting.
In fact, the folks over at Haunt ME believe that after multiple visits and investigations, the entity responsible for all the mischief-making might be a water elemental spirit. I can't pretend to know what the heck that is, but it sure sounds paranormal!
Boon Island Light, York County ME
There are some haunted lighthouses in Maine that have tales that are just tragic as can be, and Boon Island Light is one of them.
It is said that in the 1840s when a young lightkeeper named Luke Bright and his new wife Katherine arrived on the island, they were very much in love. As newlyweds, they loved each other deeply and were quite happy together.
Unfortunately, it wasn't long before a strong December storm blew through to turn their lives upside down.
Tying a rope to his waist for safety, Luke was forced to venture out in the strong winds over the icy rocks to get to the light, but the magnitude of the storm proved too much and washed him into the frigid waters.
Katherine was able to pull him back up and over the rocks with the rope, but it was too late. Her beloved husband was gone, and there was nothing she could do for him.
Nothing, except turn the light on herself.
And so she did, for five more nights until the oil ran out, prompting local fishermen to come and check on the lightkeepers. They found Katherine in the frigid cold, holding her husband's frozen body and barely clinging to sanity. She passed away shortly after being taken from the island.
Today, it is said that her spirit remains, and you can hear her calling for her husband, "Luke!!!" Her apparition can occasionally be seen floating into the tower, and dogs and cats refuse to enter.
The tragedy at Boon Island Light is a heartbreaking tale of the incredible conditions that lightkeepers faced for centuries in order to protect those at sea. Katherine and Luke were heroes who met an end that they did not deserve.
Battery Steele Reserve, Peaks Island ME
Located on the southeastern side of Peaks Island is Battery Steele Military Reserve, the largest gun battery ever built in the United States. Built in 1942 to defend the mainland against attack during WWII, its military fortifications are quite sufficient and give off the feeling of being in a tomb.
This abandoned military fort is said to be haunted by the spirit of former soldiers.
Paranormal activity has been recorded by locals and visitors alike of cell phones freezing and batteries suddenly draining once you step inside Battery Steele. There have even been ghost sightings of soldiers in uniform and screams that seem to come from deep within its walls.
There are so many ghost stories set in Maine, and so many ways to explore haunted Maine history. Enjoy yourself out there, and try not to be too spooked by these haunted places in Maine!
You might also like: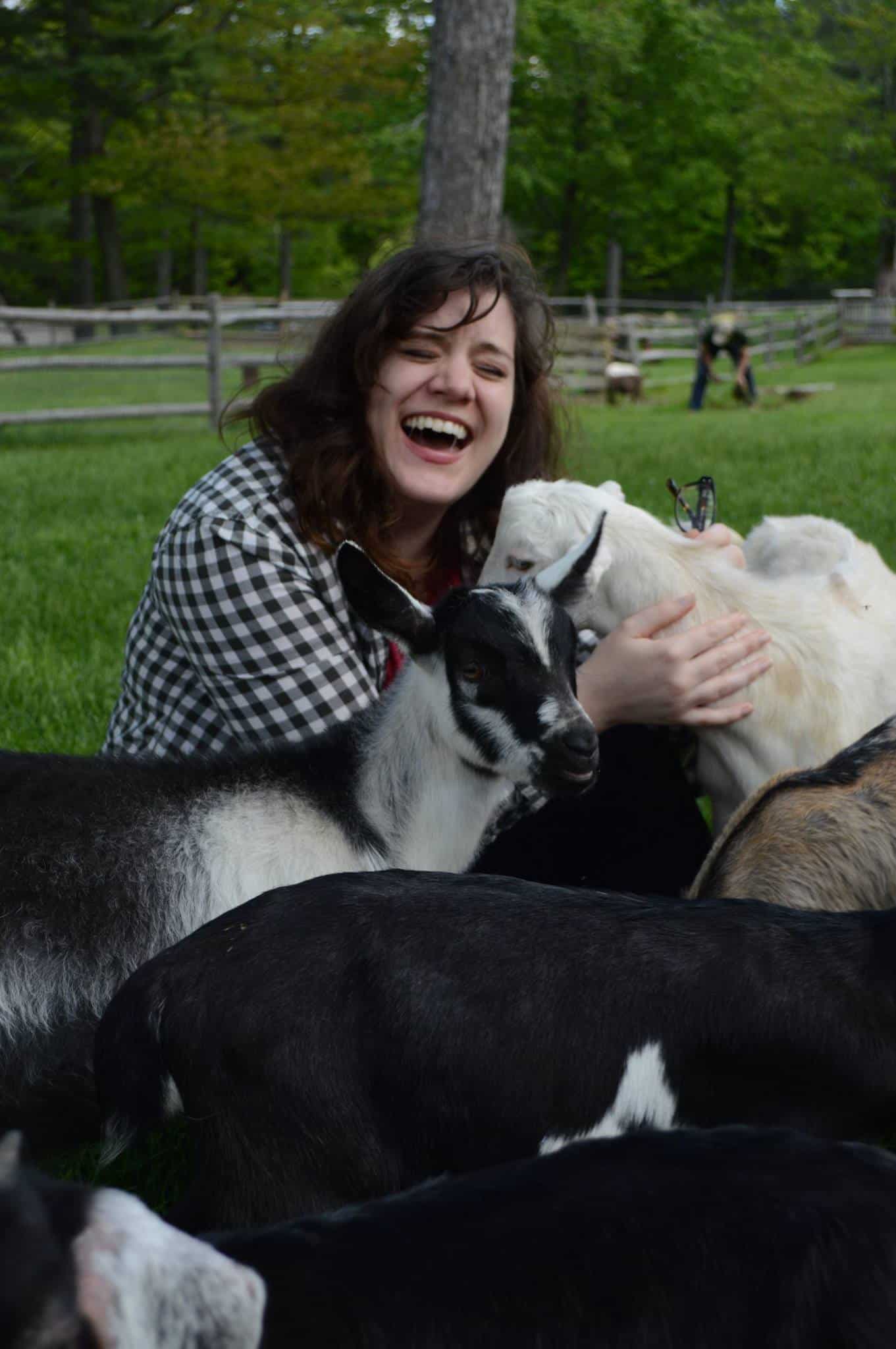 Amy Hartle is the founder and Editor-in-Chief of New England With Love, a comprehensive resource for travel in the New England region. Amy has been exploring New England since 2001. She lived in Vermont for many years and is a graduate of Plymouth State University in New Hampshire. Amy has been writing about travel for over a decade. On this site, Amy aims to share her love of New England and help you to have the best possible adventures!
Amy has been a full time blogger since 2012, and is also the publisher of Two Drifters, where she writes about couples travel and relationships, as well as Let's Adventure Baby, a family travel site. When not traveling the world or creating epic blog content, Amy can be found cuddling with her husband, son, and cats, & drinking a maple latte.