---
*Links in this article may be affiliate links, from which we may earn commission. See our
Privacy Policy
for full details.
---
Boston is considered one of the greatest cities in the nation and, to some, the world. With over 400 years of history as one of the original English settlements in Massachusetts, you can be sure there are tons of interesting things to learn, see, and do in "The Cradle of Liberty". And there are actually many activities that don't cost a dime! We're sharing 18 fun free things to do in Boston.
A Quick Boston Overview
Not surprisingly, Boston is the largest city in the state, and all of New England, with a metro population of 4,309,000. What makes the city even more bustling is the 23 million visitors it sees annually, both domestic and international. So, what makes this New England city so great? The better question here might be, "What isn't great about this city?"
Boston offers something to please just about everyone, young or old. For starters, it goes without saying that it is full of history, including the infamous Boston Tea Party, Boston Massacre, and the beginning of the American Revolution and the Battle of Bunker Hill. There are many historical sites and museums around town, many of which are highlighted on our list below.
Again, with its long history in the relatively short timeline that European settlers have lived here, Boston is overflowing with culture too, with its many immigrants to the city back in the early 1800s, a large majority of which were Irish.
Speaking of culture, Boston is home to such popular icons as Fenway Park, the Boston Marathon, and even Boston baked beans, a popular food dish nation-wide. There are tons of museums of all kinds as well, including ones showcasing the history of the area and fine arts.
"The City on a Hill" is also a "foodies" paradise with a wide diversity of cuisine, from traditional New England seafood dishes, including clams just about any way you can think to eat them, to traditional Irish fare, and everything in-between.
Whether you're a resident or visitor, you might be surprised by how many green and blue spaces this busy city boasts as well. Both are abundant for when you want some time to unwind and connect with nature, even within city limits.
Planning a trip to Boston or new to the area and want to see and do some of the best things the city has to offer? Read on for 18 of the top FREE places to check out on your visit!
The Essential Free Things to Do in Boston
Take a free walking tour
There are quite a few interesting, educational walking tours around town. The Freedom Trail is perhaps the most popular. You'll essentially get a crash course in the early history of Boston, hitting up many (16) of the most iconic sites around the city on this 2.5-mile trail. For more culture-filled experiences, there are the Black Heritage Trail and Irish Heritage Trail as well.

Visit the U.S.S. Constitution
If you decide to forego the Freedom Trail, it is worthwhile to still check out this stop separately. "Old Ironsides" has been well-maintained over the years (first launching in the late 1700s) and is the "oldest commissioned naval vessel still afloat". Currently, the U.S. Navy owns it, but civilians are free to board the ship for a look around, so long as you have a photo I.D. with you. There is a museum as well, which does charge an admission fee, for you history buffs out there wanting to learn more about this amazing ship's history!

Tour the Samuel Adams Brewery
If you're going out with your adult friends or significant other, a tour of the Sam Adams Brewery is a fun place to start. Naturally, you'll need your I.D. with you (must be 21 or older) and, although tours run regularly throughout the day Monday through Friday, it's a good idea to get there early to avoid long lines. Aside from learning how this ale is made, you can get free samples too! Also be sure to check out our list of the best breweries in Boston, which includes 10 more exciting options.
Tour the Boston Public Library
Even just viewing it from the outside, it's no wonder the Central Library holds regular tours featuring the architecture of the building! Making it on the list of National Historic Landmarks in 1986, the library was designed in the Renaissance-Beaux-Arts Classicism style. Speaking of art, you'll also get a look at and learn about the magnificent murals you can find throughout the building as well. Public tours are held once per day Monday through Sunday, but hours vary so be sure to check the library's tour page.

Read Next: 10 Literary Sites in Boston All Book-Lovers Should Visit
Play at the Lawn on D
Whether you're out for an afternoon of fun with the family or an evening with your partner or friends, the Lawn on D is a favorite spot of Bostonians. From lawn games, such as cornhole and bocce ball, to their signature, solar-powered LED swings, people of all ages will have a blast playing here. (And did we mention the swings change color depending on how high and fast you swing them?!) You can also pop open a cold one or grab a bite to eat at the open-air concession stand and enjoy live music and other special events during the summer.

Visit the Bunker Hill Monument
Another must-see stop for any history buff is the Bunker Hill Monument and Museum. Ran by the National Park Service, you're sure to learn just about everything you'd like to know about this important battle, which was one of the first major ones of the Revolutionary War, through tours and interpretive displays. If you're up to it, you can also get an amazing view from the top of the monument…If you don't mind climbing up 294 stairs!
Peruse the Boston Public Market
Who doesn't love a good farmer's market, right? If picking up locally sourced, seasonal produce, seafood, and even pre-made meals are your thing, you've hit the jackpot with the Boston Public Market! Open week-long and year-round, this indoor marketplace offers goodies from 35 New England producers, including crafts and specialty items. And, while free to window shop, of course, more than likely you'll be tempted to purchase some items along the way! Be sure to take a free tour of the facility while you're there too.
Take a Stroll Down the Harborwalk
Looking to spend some time near the water while still in the city? Take a stroll down a section of the 43-mile Harborwalk. This boardwalk spans nearly the entire Boston coastline (only Logan Airport is excluded) as it passes over 40 parks, 12 museums, a handful of beaches, and a plethora of stores.
Visit Castle Island and Fort Independence
If you're looking for a relaxing time along the harbor, some exercise, or even some outdoor time with the kids, Castle Island is a cool place to check out. Take a stroll along the many walkways around the land-bound island or simply watch the airplanes come and go from nearby Logan Airport. There is a playground to keep the kids entertained and a snack bar to keep everyone happy! While you're there, be sure to take a free tour of Fort Independence, the "oldest continually fortified site on British North America", originally built in the 1630s.
Read Next: 10 Awesome Things to Do in Boston with Kids
Visit the Commonwealth Museum
If you haven't noticed by now, there are a lot of museums and a lot of history in The Cradle of Liberty! This site in particular is a great place to explore to see just way Boston has been given this nickname. Full of important historical documents, interactive exhibits, and historical accounts, you'll find out all about the various peoples who have called Boston home over the centuries and how this town has made a difference in the course of history for both its residents and the entire United States.
Hang Out at Boston Common and Public Garden
Not into history? Not a problem! There are plenty of other things to do around this great city. Perhaps some of the most popular outdoor spaces in the city are the Boston Common and Boston Public Garden. The former is the city's largest, and oldest, park, dating back to 1634! No matter what time of year you go, the whole family is sure to have a good time with carousel rides and Frog Pond, which offers a spray pool in the summer and ice-skating in the winter. Located across the park on Charles Street lies the public garden. Described as a lush botanical garden, this is a nice place to take a walk or, for a small fee, take one of the swan boats out on the pond.

Watch an Outdoor Movie in the Park
Several parks around and close to town offer free, outdoor movies each summer the whole family can enjoy. Under normal circumstances, you can find a line-up of movies by parks here, but, due to Covid-19 restrictions, drive-in style movies have been popping up around the city, though their season is winding down.

Faneuil Hall Marketplace
Looking for a unique shopping experience? Search no further than the Faneuil Hill Marketplace! Ranging from clothes to jewelry, lamps to hot sauce, you can find a little bit of everything here. And when you need to take a break, choose from one of the many restaurants located within the Quincy Market Food Colonnade. Pro tip: There's a place (MMMac & Cheese) that sells incredible lobster mac and cheese here. You're welcome.
Enjoy some entertainment before you go too with live music, street performers, and outdoor programs.

Attend a Concert at the Hatch Shell
Another fun summertime favorite of Bostonians is settling in for a relaxing evening of symphonic music at the infamous Hatch Shell. Although this year's events have been canceled or made virtual, you can view last year's schedule to get an idea of what kind of music and orchestras you can expect in the future.

Meander Through Arnold Arboretum
Even in the city, you can experience peace and tranquility in this gorgeous natural landscape. Open every day and free to the public, take a stroll through the beautiful gardens and collections of bonsais, conifers, and more. Virtual tours can be found on their website as well as self-guided family activities and Expeditions mobile app.

Visit an Art Museum
What is a city without a great art museum? Boston actually boasts several and you might be surprised to learn that you can gain free admission to them…If you plan your visit just right. The Institute of Contemporary Art has free entry on Thursdays from 5-9 pm. The only catch, other than the specific day, is that you have to get your tickets the day off, so watch their website closely! Harvard University Art Museums are home to both modern and historical art exhibitions. If you happen to be a Massachusetts resident, you can explore these museums for free on Saturdays from 10 am-12 pm. Finally, the Museum of Fine Arts Boston offers free admission on Wednesdays after 4 pm to view over 450,000 pieces of fine art, though a donation is suggested.

Soak Up Some Sun at Carson Beach
Want to work on your tan or just enjoy the crisp, ocean air? Head down to Carson Beach for an afternoon! Not only does it afford great views of the Boston skyline, but the cool waters of the Atlantic make it a welcome reprieve on hot, summer days. Of course, there are plenty of other beaches around the city to check out if this one doesn't strike your fancy.

Visit a Nearby Reservation
Although perhaps not technically in the city, you can't beat these two nearby nature reservations when you need some fun or relaxation outdoors. Blue Hills is especially popular as it is located only minutes from downtown. If you've fallen short on finding free places to get a good view of the skyline, you won't be disappointed atop Great Blue Hill. Even if you're not hiking here during the warmer months, this natural sanctuary is also a popular spot for skiing. Middlesex Fells Reservation, located just 8 minutes north of downtown, is an outdoor enthusiast's dream. This park is loaded with hiking trails, biking and fishing opportunities, kayaking and canoeing, and even sailing.
Read Next: 10+ Best Day Trips from Boston
---
With so many interesting and fun, free things to do in Boston, there's no excuse to ever be bored here! What is your favorite freebie in the city?
---
Read these next:
---
Pin this post to save for later!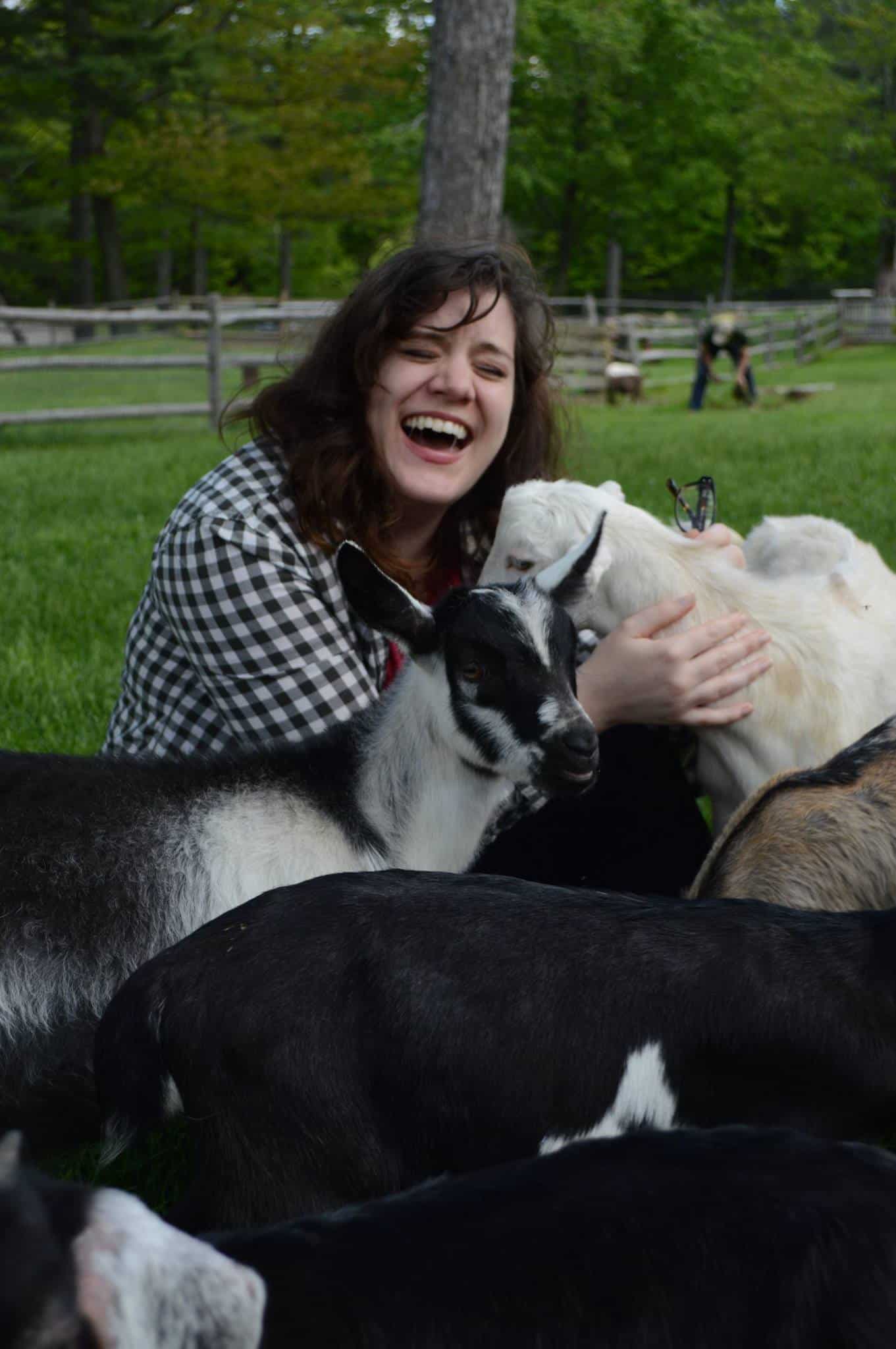 Amy is the founder of New England with love. A proud Vermonter, she hopes to share her love of New England and help you find the best adventures in the region. Amy is also blogger/founder at Two Drifters, where she writes alongside her husband about romantic and couples travel, relationships, honeymoons, and more. When not working on websites, Amy is probably reading, cuddling with her husband, son, and cats, & drinking a maple latte.