---
Traveling in 2021? Please check with each state/destination for its current COVID-19 guidelines, as these are constantly changing and the most accurate, up-to-date information may not be reflected here.

*Links in this article may be affiliate links, from which we may earn commission. See our Privacy Policy for full details.
---
Every year as the last days of summer fade into the cooler days of autumn, lovers of fall foliage everywhere rejoice. There are many places across the United States where leaves change colors and provide a beautiful backdrop to autumn activities, but Vermont remains one of the top fall foliage destinations in the country! Plus, there are many spots to find fall foliage in Vermont.
Autumn is a spectacular season for a Vermont weekend getaway, as the ruddy crimson, burnt orange, and blazing gold of the native Sugar Maple leaves are always a sight to behold. Plus, Vermont has more than its share of quintessential autumn activities, like apple-picking, visiting pumpkin patches, getting lost in a corn maze, and all the fall festivities you could possibly want!
"Peak colors" refers to the period when leaves will be at their most vivid and this changes from year to year based on weather and other natural conditions, but planning a visit to Vermont mid-to-late September to early October is generally a safe bet.
Color begins in the higher, cooler areas first, typically running north to south, down the state. The Weather Channel offers a great fall foliage prediction map, and as the colors begin to change, you'll find real-time updates via this New England peak fall foliage map, too.
Whether it's peak colors or not, you'll enjoy seeing the Green Mountain State as it morphs from its deep and cool forest greens to its bold and bright golds and crimsons of fall.
Take a Hike!
Vermont hiking in the spring can be quite muddy, the summer can be a little muggy, but fall hiking? Absolutely ideal! Not only is the weather nice and temperate, but most hiking trails in the state have excellent leaf-peeping potential.
There are great hikes all across the state, but Stowe Pinnacle is a moderately difficult, steep hike that ends in a summit that offers expansive views of the spectacular fall foliage of the valley below and is one of the best hikes in Stowe!
Stowe is an awesome getaway spot with plenty of fun things to do and great places to stay, but planning a trip during leaf-peeping season puts the experience over the top!
Get Out on the Water
Vermont is home to many gorgeous lakes, most of them surrounded by densely forested shores that blaze with ruddy crimsons and oranges as fall marches on.
Take Burlington, for example; you can hop on a scenic sunset cruise like the Spirit of Ethan Allen and see the fantastic fall foliage from lovely Lake Champlain. Burlington is one of the best places to experience fall in New England, too, with gorgeous hikes, excellent bars, breweries, restaurants, coffee shops, awesome places to stay (including some really cool Airbnb options), and a ton of fun things to do in town.
If you're looking for a stellar breakfast spot, Burlington even has that too!
Take to the Skies
What better way to enjoy the vivid fall colors than to get up in and above them? There are many ways to do this in the Green Mountain State, like taking a scenic gondola ride at Stratton Mountain Resort, one of the best ski resorts in Vermont, where you will have an all-encompassing view of the Adirondacks, Berkshires, White Mountains, and the Green Mountain range as these densely-forested beauties explode in autumn color.
If you're looking for a little more adrenaline-inducing activity, consider zip-lining at Smugglers' Notch, where you can fly through the fabulous fall foliage for yourself! If that birds-eye view is calling to you but you'd prefer a little slower pace, check out Above Reality Hot Air Balloon Rides, where the blazing fall colors will form a carpet below you as you soar through Vermont's skies.
How does a sweeping view of the earth below you ablaze with autumn colors sound?
Take a Scenic Drive
It's no surprise that New England has some spectacular scenic drives that make for fantastic fall foliage road trips, but Vermont delivers big when it comes to fall foliage scenic drives.
In fact, you can go from 4 wheels to 2 with this 6-day bicycle tour that is considered one of the best fall foliage tours in New England! If you'd prefer to drive rather than peddle, there are scenic drives all around the state that take you through some of the most beautiful places in Vermont.
Roll down the windows to breathe in that fresh Vermont air and relax into the stunning visuals of the vivid autumnal colors as they blaze through the trees around you.
Walk to a Waterfall
Vermont is home to some of the most breathtaking waterfalls in New England, and an autumn hike out to see them is basically a twofer—2 must-see Vermont natural wonders for the price of 1!
There are several waterfalls across the state that are of varying difficulty to get out to, but they all offer a lovely walk through fantastic fall foliage to get out to them, and the reward of the sounds, sights, and smells of the clear mountain water as it tumbles and crashes over the rocks into the pools below.
Waterfall hikes are not just a sight to see, they are an experience to have, and an autumn visit while the waterfall is surrounded by ruddy oranges and scarlet reds? Well, that is an event that is impossible to forget.
Get Away Vermont Style
Vermont has so many darling little towns and villages, each with its own charms. Pick a cool hotel, romantic inn, cozy cabin, or neat Airbnb and explore these sweet little towns and all their fun fall festivals for yourself.
There's Woodstock, a quintessentially quaint town that offers so many fun things to do in an absolutely picturesque setting, and their Harvest Festival is a traditional Harvest celebration with a barn dance, cider pressing, and other historic Harvest time activities.
There's Manchester, one of the most charming New England towns to visit in the fall, with plenty to do and plenty of great eats to enjoy, and their Fall Arts and Crafts Festival showcases and promotes local handcrafted goods. Add in the splendor of fall foliage exploding into color all around, and these small-towns in Vermont become everything that people flock to New England in the fall for.
Get out there and enjoy some good, ol' fashioned leaf peeping, already!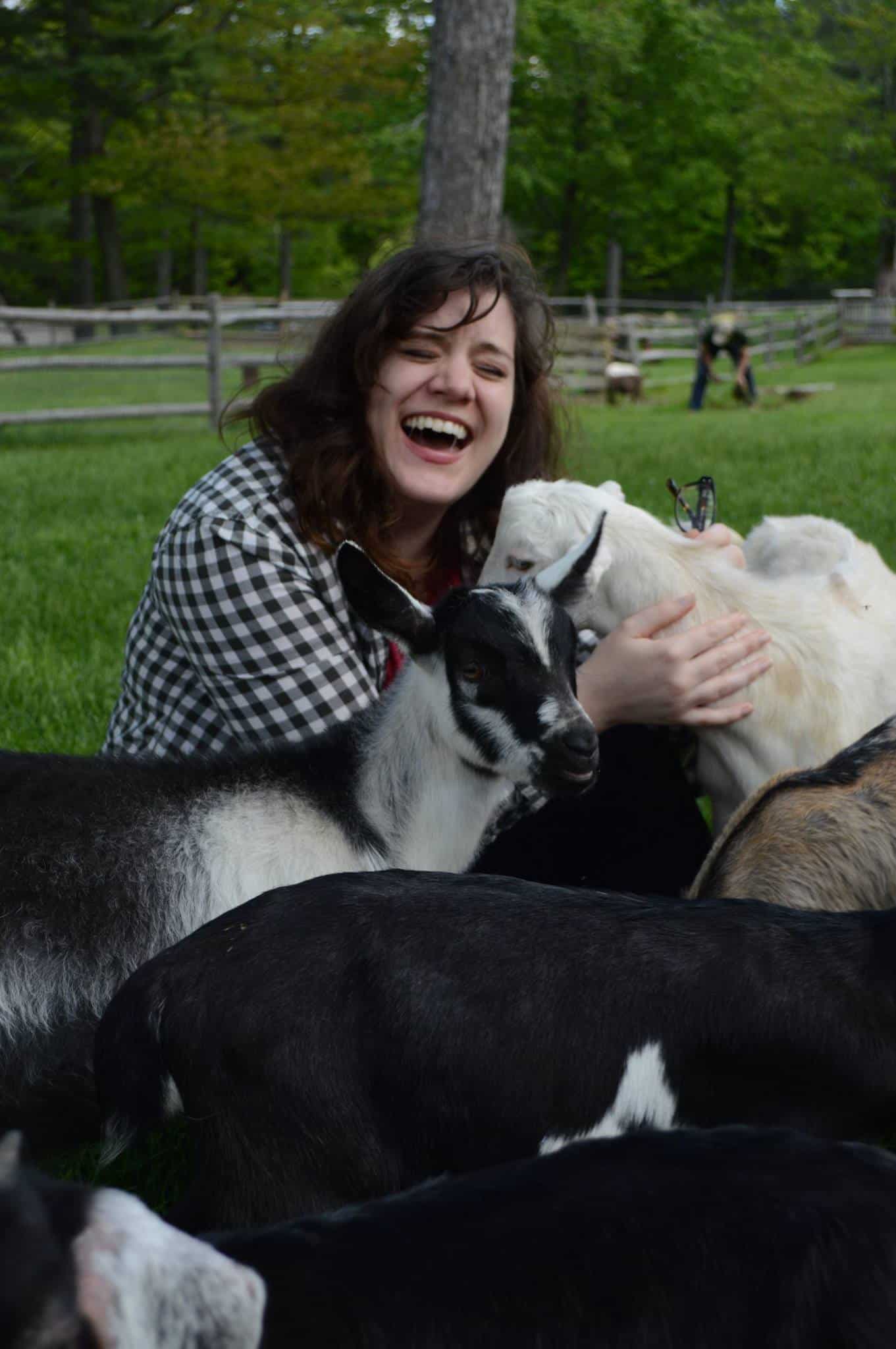 Amy is the founder of New England with love. A proud Vermonter, she hopes to share her love of New England and help you find the best adventures in the region. Amy is also blogger/founder at Two Drifters, where she writes alongside her husband about romantic and couples travel, relationships, honeymoons, and more. When not working on websites, Amy is probably reading, cuddling with her husband and cats, & drinking a maple latte.