---
*Links in this article may be affiliate links, from which we may earn commission. See our
Privacy Policy
for full details.
---
Even if you've been to the Green Mountain State before, we bet you don't know all of these fun facts about Vermont!
Vermont is one of the most underrated states in New England, situated next to New York, Massachusetts, and New Hampshire. Though the population is small, the beauty of the state is big, and after one trip there, you'll be itching to go back. It's a hiker's paradise in the summer and a skier's playground in the winter; what more could you ask for?
Without further ado, here are some VT fun facts!
Interesting Facts About Vermont
Vermont's capital is Montpelier.
Many people think that the capital is Burlington (the state's biggest city), but it's actually Montpelier, a city that was founded in the 1890s. It's named after Montpelier in France; you'll soon see that the state has lots of French connections.
Vermont rocks – literally!
The state of Vermont is pretty well known for its mining with slate, granite, marble, and other rocks. You can even visit quarries, like the Rock of Ages, on a guided tour.
Vermont is nicknamed "The Green Mountain State."
You might have caught onto this in our intro, but Vermont's nickname is "The Green Mountain State." You'll see tons of signs throughout VT that nod to this, including signs for local shops by Vermonters.
It's the 14th state.
Vermont was the 14th state officially added to the union. Many confuse Vermont as one of the 13 colonies, but for a time, New York refused to acknowledge it as a state. So, it claimed the spot of 14th in the 1790s.
President Calvin Coolidge is from Vermont.
One of the famous people from Vermont, Calvin Coolidge, was born in Plymouth. He was the 30th president of the United States in the 1920s and also served for a while in MA state politics.
Billboards are banned.
Billboards are illegal in the state of Vermont, having been banned in the 1960s. This was passed because of the desire to preserve Vermont's landscapes and beauty as much as possible. It'll make a road trip in the state even more unforgettable.
The biggest city is Burlington.
Located in the northern part of the state, Burlington has a population of 45,000 as of 2021. It's a big college town (since it's home to the University of Vermont), so there's always something fun going on, including events, festivals, and concerts.
The founder of John Deere hails from Vermont.
It's true; the man who founded John Deere, the company, is from Rutland. He was born in the 1800s and later moved to the state of Illinois. John Deere & Company is still going strong today!
It's bordered by three states plus another country.
Vermont is bordered by Massachusetts (home to Boston, a must-visit city in New England), New Hampshire, and New York. Plus, it has Canada to the north!
One of Vermont's top products is maple syrup.
No trip to Vermont is complete without trying maple syrup. Even locals tap their trees in their backyard. For a real treat, stop by a small country store to grab a maple syrup delicacy or purchase some from the side of the road from a local.
Vermont ranks almost last for population.
As of 2021, Vermont's population sits at around 645,000. It's fairly sparsely populated, as the state's total population is smaller than some cities in the US. It ranks 49 for population; the only state with fewer people is Wyoming.
Ben & Jerry's is made in Vermont.
The tastiest ice cream in the USA is made in Waterford in northern Vermont. Stop by the factory for a free tour, and enjoy a tasting at the end of whatever flavor they are making that day! (Bonus tip: stop by the Flavor Graveyard to check out ice cream flavors of the past!)
It's the first state to recognize gay couples.
Starting in 2000, Vermont introduced civil unions (the first state to do so) and later legalized same-sex marriage in 2009. The state has been at the forefront of the gay marriage movement.
The state bird is the hermit thrush.
The quaint hermit thrush is a small bird that's brown in color with little spots on it. They natively live in Vermont, though often head south during winter.
It was the first colony to abolish slavery.
Vermont, before it was even a state, was the first colony to officially abolish slavery in its constitution in 1777.
The state tree is sugar maple.
As you might expect, due to its large maple syrup exports, Vermont's own state tree is the sugar maple. Try to visit a VT sugar house to check these out for yourself!
There's a mystical lake monster named Champ in Lake Champlain.
Just like Scotland has Nessie in Loch Ness, Vermont has Champ in Lake Champlain. Be on the lookout on a trip up north!
President Chester A. Arthur was born in Vermont.
Vermont is one of the states to have two presidents hailing from it. The 21st president of the United States was born in Fairfield. He served in the early 1880s.
Vermont's name is French.
You might have thought that the name Vermont sounds a bit French, and that's because it is! The name is a combination of vert (green in French) and mont (mountain in French). Hence the name Green Mountain State, and being home to the Green Mountain Boys!
Vermont's gem is garnet.
Since 1991, the state's official gemstone has been garnet. This is a reddish color gem that can actually be found in Vermont.
Part of the Revolutionary War was fought in Vermont.
Though Vermont wasn't a state at the time, a few fights from the Revolutionary War took place on Vermont soil. These include the battle of Hubbardton and the Battle of Bennington. Bennington even celebrates the battle today with Bennington Battle Day!
It's a camper's paradise with around 100 campgrounds.
Outdoor lovers will have a field day in Vermont. The state is home to around 100 campgrounds, spread between state parks and other publicly-owned lands.
The state flower is the red clover.
As of 1895, the state flower of Vermont is the red clover. It was chosen because local farms have grown clover over the years as cattle food.
Many teddy bears are produced in the state.
Vermont is home to the Vermont Teddy Bear Company, which has made just shy of 7 million teddy bears since the year 1981!
The majority of Vermont is just forest.
Since it has such a low population, Vermont is actually mostly forest! In fact, around 78% of the state is just forest land, which accounts for much of Vermont's revenue.
There are more than 100 covered bridges in the state.
Many visitors flock to Vermont every fall to check out some of the best covered bridges in Vermont. There are currently around 100 bridges, though there were once close to 700 until a tragic flood in the early 20th century destroyed many of them.
Some of the country's best skiers are from Vermont.
There are many famous skiers from Vermont, including Mikaela Shiffrin, who has won the Olympic Gold twice. She's also won the Overall World Cup four times!
Vermont is home to the first through-hiking trail in the United States.
The oldest hiking trail that's long distance in all of the United States is in Vermont! It's called the Long Trail and goes from Massachusetts up to Canada.
Vermont is part of New England.
We bet you did guess this one, since this is a post on our website! But Vermont is one of the states that makes up New England, or the northeast.
The entire state has the same area code.
Vermonters absolutely love being part of the 802. You'll find this area code on local's tattoos, necklaces, t-shirts, and other souvenirs. Plus, many local shops will have 802 in the name!
The famous von Trapp family lived in Vermont.
Yes, that von Trapp family! They moved over to Stowe in the 1940s and now you can even book a stay at the Trapp Family Lodge, which is situated on 2500 acres of Vermont's landscape.
The state fruit is the apple.
Believe it or not, but Vermont's state fruit is an apple! Be sure to try apple picking in the state in the fall for an unforgettable memory.
Vermont's motto is "Freedom and Unity."
This motto became the official one for Vermont in the 18th century. It's from the Vermont idea to always do things for the greater good, while not getting rid of personal independence.
It's the top marble producer.
The top marble producer in North America is Vermont. Vermont's marble history dates back hundreds of years!
It's one of the safest states.
Vermont ranks high when it comes to safe states in Vermont, most likely thanks to its low population. The crime rate is incredibly low, having the total number of violent crimes per year being the lowest of any state.
Montpelier is the smallest state capital.
That's right; the smallest state capital in the United States is Montpelier! That's because it only has a population of just shy of 8,000.
The state insect is a honeybee.
In 1978, Vermont designated the honeybee as the state insect. That's because they've played a huge role in Vermont's agriculture!
Vermont was its own republic for a time.
Before becoming an official state, Vermont was actually often referred to as the Vermont Republic. It was referred to this for around 14 years!
There's a high ratio of cows to people.
The highest cow-to-people ratio is in the state of Vermont in the USA! There's around one cow for every four people.
The most Cadillacs in a parade were in Vermont.
The founder of Cadillac was from Barton, Vermont, so locals put together a parade with 298 of the car in 2011 as part of the Orleans County Fair.
Vermont has no skyscrapers.
Even the cities of Montpelier and Burlington have no skyscrapers at all! Truly, even the big cities feel more like large towns in Vermont.
It was the last state to have a Walmart.
Such a weird fact, but it's true! Vermont didn't have a Walmart within its borders until the 1990s, when one officially was built in Bennington.
Snowflake photography was invented here.
Wilson Bentley (many call him "Snowflake Bentley") invented snowflake photography with details. He was from Jericho, Vermont!
The largest astronomy lesson to take place outdoors took place in Vermont.
In 2018, the Fairbanks Museum and Planetarium up in St. Johnsbury broke a Guinness World Record for largest astronomy lesson. 1,580 people were there!
Rudyard Kipling lived in Vermont.
Author Rudyard Kipling wrote The Jungle Book and lived in Vermont for a few years. Be sure to visit the Rudyard Kipling House – you can even sit at the desk where he wrote the novel.
Vermonters don't pronounce their T's.
This is a weird fun fact about Vermont, but you'll find that locals don't say their T's! For instance, mountain becomes moun-in. Sometimes, the T also becomes a D when spoken!
It's one of the happiest states.
Vermont is ranked just second for happiest states, only behind North Dakota! This could be attributed to the beautiful landscape and high safety rates.
Well, there you have it; some of the best fun facts about Vermont! We hope you enjoyed this post and maybe even learned something new while reading.
---
Read these next: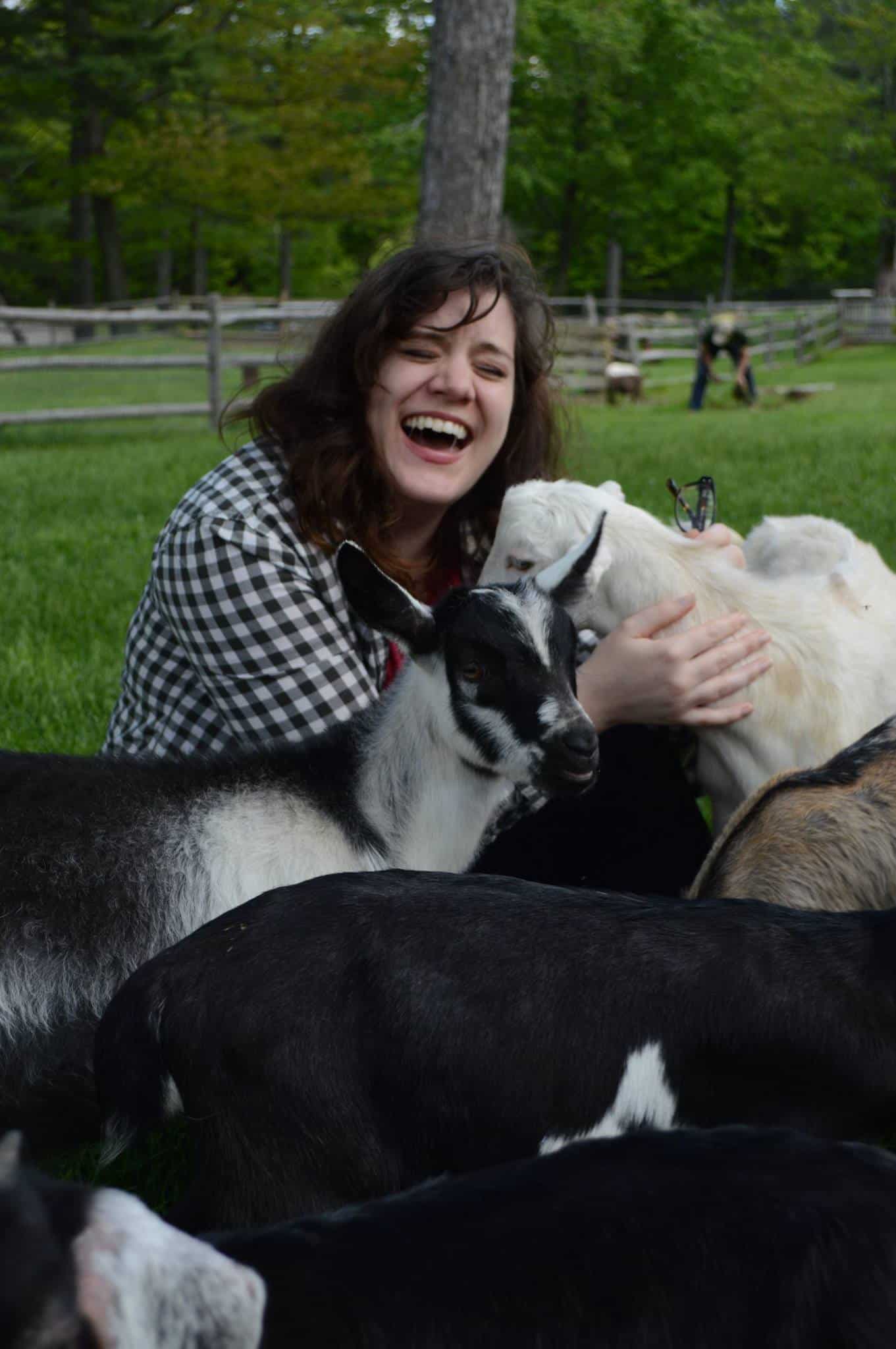 Amy Hartle is the owner and editor of New England With Love, a comprehensive resource for travel in the New England region. Amy lived in Vermont for 15 years, attended Plymouth State University in New Hampshire, and continues to travel regularly around the entire New England region. On this site, Amy aims to share her love of New England and help you to have the best possible adventures!
Amy has been a full time blogger since 2012, and is also the publisher of Two Drifters, where she writes about couples travel and relationships, as well as Let's Adventure Baby, a family travel site. When not traveling the world or creating epic blog content, Amy can be found cuddling with her husband, son, and cats, & drinking a maple latte.