Massachusetts is a state full of culture, history, and amazing attractions! From the beaches of Cape Cod to the Berkshires in the west, there are plenty of fun facts about this beautiful state.
In this blog post, we'll explore some of the most interesting facts about Massachusetts, including its famous landmarks and natural wonders. Whether you're planning a trip to MA for the first time or you're a local, you're sure to learn something new by the end of this post.
Facts about Massachusetts
Boston is the capital.
Boston is the capital of Massachusetts and one of the oldest cities in America! Founded in 1630, it has a rich history and culture, which makes it an attractive destination for visitors on the coast. It's also home to some of the nation's most prestigious universities, such as Harvard University, MIT, and Boston University.
The first Thanksgiving happened in Massachusetts.
One of the more unique Massachusetts facts is that the first Thanksgiving in the USA happened in Massachusetts in 1621! The celebration was with the pilgrims and Wampanoag Indians.
The state bird is a chickadee.
The Massachusetts state bird is a chickadee, also known as the American black-capped Chickadee. It is easily recognizable by its black and white feathers and cheery sounds.
The pilgrims first landed in MA.
The pilgrims were among the first settlers of Massachusetts. When they first arrived, they decided to make the area now known as Plymouth their home. They laid down the foundations which allowed Massachusetts to develop into one of the most influential states in America and a significant part of American history.
More than 100 state parks can be found here.
Massachusetts is home to more than 100 state parks, and many of them are renowned for their natural beauty. Visitors can experience a variety of locations with plenty of opportunities for hiking, camping, cycling, fishing, and wildlife watching.
Many parks also have educational programs that teach kids about our environment and the importance of preserving it. Massachusetts state parks offer up a unique chance to connect with nature while discovering some of the oldest sites in American history.
Deborah Sampson is the state heroine.
Massachusetts is one of the states that actually has its own state heroine: Deborah Sampson! She was born in Plympton and is considered an American Revolution hero because she joined the Patriots while disguised as a male.
MA is home to the Boston Tea Party.
The Boston Tea Party was a pivotal event in American history that happened on December 16th, 1773. It drastically changed the course of the Revolution.
The event occurred in Massachusetts as part of growing discontent with British taxes when 342 chests of tea (from the British East India Company) were thrown overboard by colonists who were protesting against taxation without representation. Today, we remember the Boston Tea Party as one of the most influential moments in American history.
Mayflower is the state flower.
The Mayflower is Massachusetts' state flower! It's also called a trailing arbutus or ground laurel. It's believed that it was made the state's flower in 1918 in honor of the Pilgrim's ship by the same name.
The Fig Newton was invented here.
The Fig Newton was invented in Massachusetts in 1891 at the F.A. Kennedy Steam Bakery. The snack was named after Newton, MA, and quickly rose to national popularity. Now, this tasty treat can be found in grocery stores across the USA.
The United States' first subway was in Boston.
The Boston Subway was opened in September 1897 as the first subway station in the United States. It started at Park Street Station and connected outlying neighborhoods with downtown Boston. It was known as the Tremont Street Subway.
Today, you still go through where this subway was when you're on the Green Line! I bet it makes sense now that the T is so rickety and loud.
Dunkin' Donuts is what MA runs on.
Since its founding in 1950 in Quincy, MA, Dunkin' Donuts has become an institution in Massachusetts, with over 1000 locations across the state. From college students to working professionals, all people from MA have a shared bond regarding Dunkin' Donuts – and that is their love for the classic donut shop.
Whether grabbing a coffee on their way to class or enjoying a snack with friends after work, Dunkin' Donuts provides something for everyone. (Don't even bother bringing up Starbucks in this state.) Ultimately, Dunkin' Donuts has had a significant impact on the culture of Massachusetts and will continue to provide sweet treats for everyone in the Bay State.
It's home to the first public park in America.
Boston Common, located in the heart of Boston, is the oldest public park in America. Established in 1634, Boston Common has been a part of Massachusetts' culture for centuries. Locals come to the park for outdoor activities like walking, running, and picnicking with friends and family.
When visiting Boston, it's impossible to miss this large park, especially if you happen to be visiting the downtown area of the city.
The oldest university in the USA is Harvard.
Harvard is the oldest university in the USA, with its origins dating back to 1636. Today, it's one of the most prestigious universities in the world. Harvard boasts a long list of notable alumni, including Margaret Atwood, Natalie Portman, and John F. Kennedy.
Harvard, though many people think it's located in Boston, is located across the river in Cambridge.
Massachusetts is the 6th state.
Massachusetts was admitted to the United States of America in 1788 as the 6th state. It was added as a state right after Connecticut and before Maryland in February of that year.
The MA state fish is Atlantic cod.
Cod is the official state fish of Massachusetts and has been part of the region's culture for centuries! This deep-sea fish is an important part of the local economy, with fishing boats bringing in thousands of pounds of cod each year.
The fish was designated to be the state fish in 1974. Cod also is a symbol in and of itself, meaning wealth as well as prosperity. It's easy to see why it's been named as Massachusetts state fish.
The state is named after the natives of the Massachuset.
The Massachuset were a Native American tribe that inhabited the region long before British settlers arrived. The name was derived from an Algonquin term meaning "at or about the Great Hill," likely referring to the area near Quincy right below Boston.
President John Adams hailed from MA.
President John Adams, the 2nd President of the United States, hailed from the state of Massachusetts. He was born in 1735 in Quincy, just south of Boston. Adams was one of the Founding Fathers who helped draft the Declaration of Independence along with Thomas Jefferson and Benjamin Franklin.
Adams also played an essential role in developing Massachusetts' constitution, which was adopted in 1780 and is still used today. It was written even before the United States Constitution and is said to have been used as an example when writing it.
MA has the first free American public school.
Massachusetts is unique in having the first free American public school established within its borders. It's Boston Latin School which was opened in 1635. It was a boys-only school, however. Later, the Mather School in Dorchester opened in 1639 and was the first public school supported by taxpayers.
The Boston Light is the USA's oldest lighthouse.
The Boston Light has been shining its beacon of light to protect ships and sailors since 1716. It stands today as a symbol of America's maritime history. As the oldest lighthouse in the USA, it stands tall as an enduring monument to a significant era in American history.
Today, The Boston Light stands proudly atop Little Brewster Island and reminds us of our nation's history of seafaring exploration and discovery. The light beam reaches out 27 miles into the ocean!
It's illegal to put tomatoes in clam chowder.
In Massachusetts, it's illegal to add tomatoes to a classic New England-style clam chowder. Many people believe that it was enacted to help protect tradition.
Although many people might want to switch up their recipes and add new ingredients like tomatoes, they would technically break the law if they did so in Massachusetts!
Lizzie Borden lived in Massachusetts.
Lizzie Borden was born in Fall River, Massachusetts, and was involved in one of America's horrific stories. Just do a quick search about Lizzie Borden, and you'll see what we mean. At the time, her trial was one of the biggest. To this day, you can still visit the Lizzie Borden house.
The Boston Red Sox have a long-standing rivalry with the New York Yankees.
The Red Sox and the Yankees are two of the oldest baseball teams in the USA, and they have a long-standing rivalry. Their rivalry dates back to the early 1920s and is said to have begun when Babe Ruth moved from the Sox to the Yankees for less than a million dollars.
If you ever get a chance to go to a Yankees vs Sox game, make sure you get a seat with your preferred team!
Lexington and Concord were the first battles of the Revolution.
The American Revolutionary War (which was from 1775 to 1783) began with the Battle of Lexington and Concord. This war ultimately led to the UK losing out on the American Colonies, allowing the USA to be free from the UK.
Susan B Anthony was from Massachusetts.
Susan B Anthony was born in Adams, MA in 1820. You can visit her Birthplace Museum today to learn more about her importance in the history of the suffrage movement.
The first public library in the USA is in Massachusetts.
The Franklin Public Library (located in none other than Franklin MA) is the first library in the United States that was open to the public. It opened in 1790 and was actually opened initially with a bunch of books that were donated by none other than Benjamin Franklin.
Fluff was invented in Massachusetts.
Believe it or not, but fluff was invented in MA in Somerville way before World War I. It was invented by a man named Archibald Query. He would make it in his kitchen and actually sell it at people's doors. Imagine that!
MA is known for its cranberries.
When people think of Massachusetts, they think of cranberries. That's because 35% of the world's cranberries actually come from Massachusetts.
Basketball was invented in Springfield.
You didn't think this state only invented volleyball, did you? Massachusetts is also the home of basketball. It was invented by a Springfield College graduate student named James Naismith in 1891.
Johnny Appleseed is from Massachusetts.
Johnny Appleseed is another of the famous people from Massachusetts. He hails from Leominster, where he was born in 1774. By the way, did you know his name was actually Jonathan Chapman?
It's nicknamed The Bay State.
Many people refer to Massachusetts as The Bay State. That's because there are many bays in the state, though the main bay is Cape Cod, where the Pilgrims settled.
Massachusetts is one of the first states to require a driver's license.
This may be one of the weirdest facts about Massachusetts. In 1903, MA, along with Missouri, were the first states that required people to have a driver's license in order to drive.
It's one of the original 13 colonies.
The USA started with 13 original colonies, and Massachusetts was one of them. Other colonies were also mostly New England states, like New Hampshire, Rhode Island, and Connecticut.
Dr. Seuss was born in Massachusetts.
Dr. Seuss was born in Springfield, Massachusetts. This famous children's author is well-known for writing books like Green Eggs and Ham and The Cat in the Hat.
The state dessert is the Boston Cream Pie.
As you might expect, the state dessert for Massachusetts is the Boston Cream Pie. It was invented in the 19th century and later became the state's dessert in 1996.
Massachusetts is the 7th smallest state.
Despite being home to a modest-sized city (Boston), Massachusetts is actually rather small. In fact, it's the 7th smallest state in the United States. But, did you know it's actually the most populated state in New England?
It's the first state to legalize gay marriage.
In 2004, Massachusetts became the first state in the USA to legalize gay marriage. Later on, Vermont would come to be the first state in 2009 to legalize gay marriage through legislature.
MA is home to Lake Chargoggagoggmanchauggagoggchaubunagungamaugg, or Webster Lake for short.
Yes, you read that right. The word also means "fishing place at the boundary."
Volleyball was invented in Holyoke.
Holyoke, Massachusetts, is famous for being the birthplace of volleyball. In 1895, William G. Morgan innovated the game, which was then known as Mintonette. It quickly became a popular sport all over the United States and worldwide.
Today, volleyball is an Olympic sport, with millions of people playing at clubs, schools, parties, and camps worldwide. Holyoke's contribution to this popular sport is remembered deeply, and the town is even home to the International Volleyball Hall of Fame.
About 25% of the population is Irish.
Believe it or not, but 25% of Massachusett's population is Irish! (This explains why St. Patty's Day is one of the best celebrations in Boston every year.) This is more than double the average percentage across the country.
Many of these immigrants brought their culture and traditions with them, which can still be seen today in many parts of Massachusetts. The Irish influence has left its mark on everything from architecture to cuisine, as well as language and religion, making it an integral part of Massachusetts.
Chocolate chip cookies were invented in Whitman.
Whitman, Massachusetts, is home to the invention of the chocolate chip cookie. It was in the 1930s when Ruth Wakefield, who ran the Toll House Restaurant (recognize that name?), created them.
She famously shared the recipe in 1938 in her own cookbook called Tried and True. This recipe quickly became a hit, and people started baking the iconic Toll House Cookie at home, delighting generations ever since!
The first telephone call was made in Boston.
We bet you didn't know this one! Alexander Graham Bell made the first phone call in March 1876 at 5 Exeter Place. Today, a plaque stands where this moment occurred.
Boston is often called "Beantown."
Many locals call Boston "Beantown." Many people say that it dates back to 1890 when there was a convention for Civil War vets. They received small bean pots as gifts and said "Beantown."
The Salem Witch Trials took place in Massachusetts.
The infamous Salem Witch Trials took place just north of Boston in Salem, Massachusetts. These occurred in the early 1690s and unfortunately 20 people were executed.
Massachusetts is a unique and fascinating state, filled with a colorful history and vibrant culture. It's home to incredible inventions like the telephone, volleyball, and chocolate chip cookies! No matter your interests, there's sure to be something to love about Massachusetts.
---
Read these next: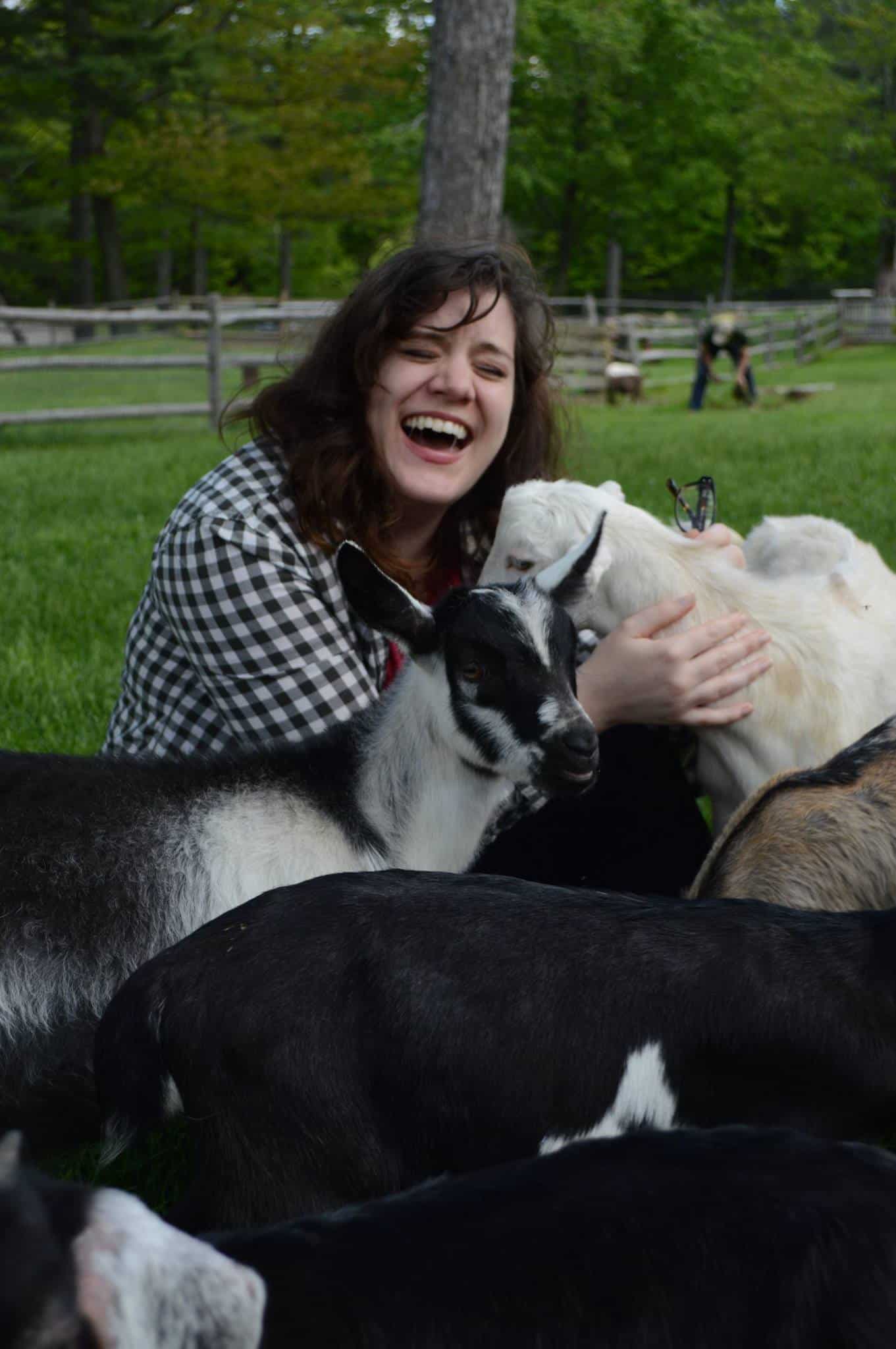 Amy Hartle is the founder and Editor-in-Chief of New England With Love, a comprehensive resource for travel in the New England region. Amy has been exploring New England since 2001. She lived in Vermont for many years and is a graduate of Plymouth State University in New Hampshire. On this site, Amy aims to share her love of New England and help you to have the best possible adventures!
Amy has been writing about travel for over a decade, and is a full time blogger, publishing both Two Drifters and Let's Adventure Baby. When not traveling the world or creating epic blog content, Amy can be found cuddling with her husband, son, and cats, & drinking a maple latte.