Looking for a quick trip that is filled with history but also fun for everyone? A Salem MA day trip may just be what you're looking for. Salem is famous for its history and connection to the witch trials, and there is so much that you can learn about them in just a single day.
Whether you are looking for a day filled with museums and historical sites, a spooky ghost tour, or just a peaceful day in a beautiful coastal town, Salem has it all. Plus, Salem is very accessible from Boston, regardless of if you have a car or not!
Let's take a look at some of the best things you can do during a day trip to Salem!
Is a Day Trip to Salem Worth It?
First, is a Salem day trip even worth it? Absolutely! Salem is less than 30 miles from Boston, making it a quick trip from the city. It is also a relatively small town, so it is easy to get around once you are there.
Once you are in Salem, there is no shortage of things to do during your trip. There are numerous museums and monuments documenting the history of the Salem Witch Trials as well as a beautiful coastline and tons of local shops and restaurants that you won't want to miss out on.
PS: have a couple of extra days in Salem? Check out our 3 day Salem itinerary here!
How to Get to Salem MA
If you are coming from Boston, Salem is just a quick trip away and is an easy trip regardless of if you are taking your car or using public transportation.
Car
A trip to Salem from Boston will only take you about 35 minutes. Once you are there, there are various places around the town that you can park in if you would prefer to explore the city on foot as well!
Train
The MBTA Commuter Rail makes a trip to Salem by train a breeze. You can catch the Commuter Rail from North Station in Boston, and it is a quick 30-minute trip before you arrive in Salem.
Salem station is also very centrally located in the town, so you are just a short walk from some of the stops below that you would want to visit throughout the day.
Bus
While a bus trip is going to take you a bit longer than the Commuter Rail or a car, it is still an easy option for public transportation. You can catch the 450 bus at Congress Street right at Haymarket Station, and it will bring you directly to Salem.
If you are taking the trip on a weekend, you can take the Blue Line from Government Center right downtown to Wonderland, where you can catch the 450 bus to Salem.
The direct bus route can take around an hour, and the weekend subway and bus route will take around 1 hr and 20 minutes.
What to Do During One Day in Salem MA
Hop on the Salem Trolley Tour
The Salem Trolley Tour is a great way to get a feel for the town and see some of the most popular attractions, all with a local tour guide to give you history and information about what you are seeing.
The tour will bring you around sites such as the House of the Seven Gables, the Witch Dungeon Museum, the waterfront, the Salem Witch Museum, and more. While the trolley tour is a hop-on/hop-off tour, space on the trolleys is not guaranteed due to the increased number of visitors to Salem, so keep that in mind.
Visit the Salem Witch Museum
The Salem Witch Museum is a great place to start off your trip. Here, you can learn all about the 1692 Salem witch trials. What's especially interesting about his museum is that it's split into two exhibits focusing on different aspects of the trials and witches.
The first exhibit in the museum focuses on the 1692 trials themselves. You'll see life-size figures and sets of the trials as well as hear audio narration about the events that led to the witch hunts.
The second exhibit focuses more on the meaning behind the word "witch" itself. Aptly named "Witches: Evolving Perceptions," you'll learn about the witch trials in Europe and what led to the trials in Salem. You will also learn more about the stereotypical use of the word witch and why the spectacle of witch-hunting is so popular.
Shop at the local boutiques and stores
While there is a ton of historical aspects to Salem, it is also a beautiful coastal town with tons of local boutiques, stores, and restaurants. Whether you are looking for souvenirs, mystical gifts, local food, or anything in between, there is no shortage of shops for you to explore.
When it comes to restaurants, you'll find plenty of local taverns and seafood restaurants all around the town that are sure to put a smile on everyone's face.
Explore the Salem Maritime National Historic Site
The Salem Maritime National Historic Site was the first ever National Historic Site that was established back in 1938. This is a great place to stop and learn more about New England's maritime history.
The site includes various historical structures as well as a replica of Friendship. This was a trading vessel that made numerous trips to the East Indies during the late 1790s and early 1800s.
The original vessel was captured by the British during the War of 1812 and was sold at an auction in London shortly after. In the late 1990s, the replica, the Friendship of Salem, was built and, today, is docked at Derby Wharf in Salem.
Walk around Pickering Wharf
After spending some time at the Salem Maritime National Historic Site, you can head over to Pickering Wharf for some local shopping and restaurants. The wharf is right by the historic site, so it's a great place to stop and grab some food or do some shopping before heading out to the next site on your list!
Take a Tour of the House of the Seven Gables
Most famous for being the setting for Nathaniel Hawthorne's novel, The House of the Seven Gables, the mansion and grounds here are full of history. Originally built in 1668, you can take a guided tour of the inside of the mansion, where you can learn all about the history of the building.
A full mansion tour pass will also give you access to explore Nathaniel Hawthorne's birthplace, as well as an audio guide that will give your more information about the grounds and the gardens!
Read Next: Top 25 Things to Do in Salem MA with Kids
Visit the Salem Witch Memorial
The Salem Witch Memorial is a hauntingly beautiful memorial for the 20 victims of the Salem Witch Trials. At the memorial, you will see a stone wall with benches jutting out for each victim of the trials.
Here, you can also find some of the words spoken by the victims during their trials etched into the stone at the front of the memorial. While it can be a little heavy reading their words and seeing their names, this is definitely something you don't want to skip out on during your Salem MA day trip.
Stop by the Witch History Museum
The Witch History Museum tells the stories of the 1692 Salem Witch Trials through life-sized scenes throughout the museum. The museum is more historical and educational based on its exhibits but walks you through many different parts of the trials that were happening at the time.
Head over to the Witch Dungeon Museum
The Witch Dungeon Museum is similar to the Witch History Museum in the stories it tells. However, it is a much more interactive museum. There are performances and re-enactments of the trials themselves. Just as the name suggests, you also get to tour a replica of a dungeon after the performances!
Visit the Hocus Pocus House
If you're a fan of Hocus Pocus, you will definitely want to stop by the house they used as Max and Dani's house in the film! While there are many spots around Salem that were featured in the movie, this might be one of the most popular ones.
The house can be found at 4 Ocean Ave. This isn't in the touristy/downtown area, so we do suggest driving there. You can park along the seawall like we did to snap a photo of the house. Please be aware that this is a private residence, so be respectful!
Take a Ghost Tour
Finally, what is a trip to Salem without a ghost tour? There are a ton of different walking tours that you can choose from, and some are definitely spookier than others. If you are taking a day trip to Salem from Boston, you can still do a tour and get back to the city on the same night.
While most of the tours do start around 8 pm or so, there are trains and buses that go back to the city between 10-11 pm, so you can still enjoy the classic ghost tour experience!
There you have it, our top picks for what to do in Salem in a day. This is a great New England town to visit on a short trip, especially if you are coming from Boston, and there is sure to be something for everyone during your trip!
---
Keep exploring Salem: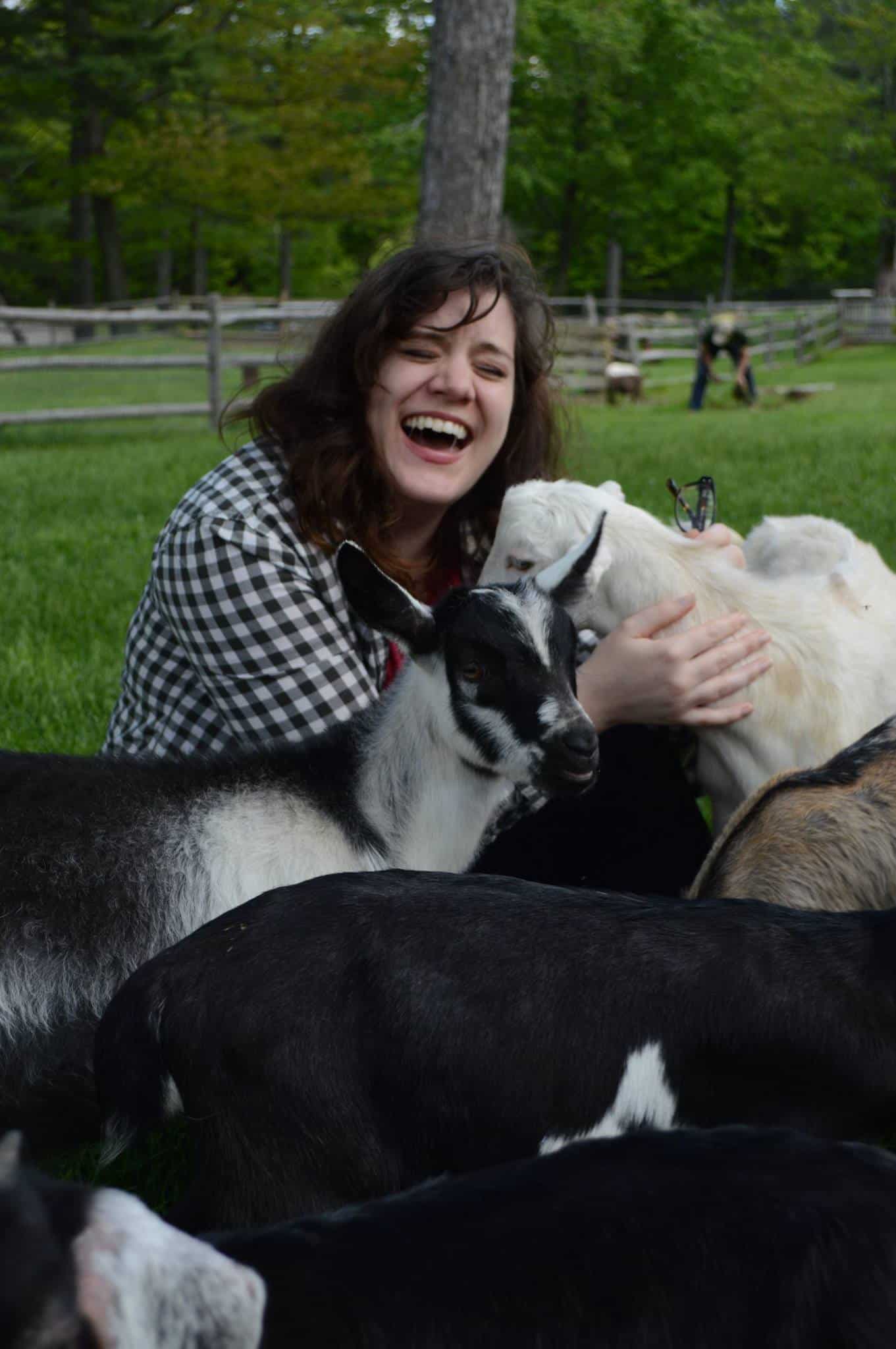 Amy Hartle is the founder and Editor-in-Chief of New England With Love, a comprehensive resource for travel in the New England region. Amy has been exploring New England since 2001. She lived in Vermont for many years and is a graduate of Plymouth State University in New Hampshire. On this site, Amy aims to share her love of New England and help you to have the best possible adventures!
Amy has been writing about travel for over a decade, and is a full time blogger, publishing both Two Drifters and Let's Adventure Baby. When not traveling the world or creating epic blog content, Amy can be found cuddling with her husband, son, and cats, & drinking a maple latte.