---
*Links in this article may be affiliate links, from which we may earn commission. See our
Privacy Policy
for full details.
---
From ice skating to snowshoeing, there are so many fun, outdoor activities to enjoy during winter in Massachusetts. However, one of the best-hidden activities is cross country skiing in Massachusetts; not only is it a great workout, but it's also a beginner-friendly activity that can be fun for the whole family.
Even though many people may think to head a bit further north to places like Vermont or New Hampshire to enjoy Nordic skiing, there are also many great locations to enjoy it throughout Massachusetts. Plus, these locations may even get you to visit a place you've never been before.
Here's all you'll need to know about cross country skiing in MA, from when the season is to where to go!
When is Massachusetts' cross country ski season?
Similar to most other winter sports seasons, cross country ski season in Massachusetts normally starts around mid-Decemberish. That's because it tends to depend on exactly when the weather changes and when it starts to snow.
Sometimes, this can be as early as mid-November before the Thanksgiving holiday. In other years, this won't be until right before Christmas or even in the new year. It really depends!
Then, it will last until around early to mid-March, again, depending on the weather that year. So, be sure to watch the weather if you do want to go cross country skiing this year. It tends to change from year to year, especially with global warming.
Best Spots for Cross Country Skiing in Massachusetts
There are so many great spots for Massachusetts nordic skiing throughout the state. Find some top picks below to help you prepare for the outdoor adventure of your life!
Weston Ski Track, Weston
First up is the Weston Ski Track in Weston, MA. This is one of the more well-known Nordic skiing spots in the state, and that's because they offer everything from night skiing to cross country skiing lessons and even rentals.
There are around 9 miles of trails throughout the ski track, and some of them are lit up at night for night skiing. Lessons are available for both adults and children who want to learn more about how to cross country ski. These are usually in a bulk two-lesson package, with each lesson lasting around 1.5 hours. You can also package the lessons with a trail pass and ski rental if needed.
In the winter, there are also fun XC ski racing events that visitors can go to. It's fun to attend these races and see who wins, and also just see people who really know how to cross country ski in action.
Tuesday night races are often held as well, which are open to the public. You're allowed to start racing at any time during the race using a chip timer that allows you to see your final time at the end. These freestyle races are usually held from January through March, and you have to register ahead of time. Choose between either 5k or 1k, whatever you're feeling up to!
Canterbury Farm, Becket
Another great spot to go cross country skiing is Canterbury Farm in Becket. Located in the beautiful Berkshires, this is one of the most beautiful places to enjoy the outdoors during the winter months.
Canterbury Farm completely transforms in the winter, and they become a sort of winter chalet! Spend the day cross country skiing, and feel free to rent here as well with their equipment. Then, in the evening, warm up by the campfire and mingle with others. How fun is that?
Throughout the rest of the year, Canterbury Farm also operates as a bed and breakfast with charming rooms that are perfect for a romantic getaway. Plus, there are always great breakfast foods served in the morning.
Great Brook Ski Touring Center, Carlisle
Head to Carlisle to enjoy skiing at the Great Brook Ski Touring Center in Great Brook Farm State Park, one of the fun state parks in Massachusetts. Being located inside a state park, the trails here are extremely well groomed and maintained throughout the season, and normally open in the middle of December.
In total, there are about ten miles of trails at this park. Both regular tickets and season passes are available, which are great to take advantage of if you live nearby. Depending on the year, the snack bar may also be open.
What's great about this trail area is that there are ones for all levels. They have more difficult ones as well as easy ones that beginners will love. One of the most popular trails is the Lantern Loop, an easy trail that goes past a dairy farm that is still being used today!
Maple Corner Farm, Granville
Yes, another farm location! There are great cross country opportunities at Maple Corner Farm in Granville. The farm was established in the early 1800s and as the name suggests, has tons of amazing maple products up for offer.
Located in the Berkshires, the beauty that surrounds the farm is best explored cross country skiing. There's a nice warm up area, too, where beginners can get used to the feeling before heading out to the trails, which range from beginner to advanced.
In total, there are around 12.5 miles of trails to enjoy for cross country skiing. However, there are also another 6 miles of trails that can be explored for those who want to enjoy snowshoeing instead.
There are, of course, rentals available right at the farm as well! Keep in mind that the farm is at about 1400 feet of elevation, so it can be a bit cooler here if you are coming from town.
Dunn State Park, Gardner
Next up is another state park, Dunn State Park located in Gardner. While this state park is open all year and has a rotation of activities like hiking, kayaking, fishing, canoeing, and more, it transforms into a winter wonderland under a blanket of snow.
There are a variety of trails that can be enjoyed throughout the park that are fairly well maintained for you to go cross country skiing. After you spend a day bundled up in the cold, many people will also hop over to the Visitors Center to warm up, mingle, then head back home (or back out)!
Another fun winter activity that they offer sometimes at Dunn State Park is ice skating. There's also often fat tire biking (basically mountain biking but in the snow) and snowshoeing.
Borderland State Park, North Easton
Located in North Easton, Borderland State Park also offers cross country skiing in the winter months. This state park is known for its beautiful historic mansion that serves as the main centerpiece of attention, but there are also some great trails here, too.
There are quite a lot of trails here, so they do range in difficulty. Whether you're a beginner or expert, you'll be able to find a trail here that suits you perfectly. Most people will opt to just go cross country skiing on the carriage roads, but you could also go around the nearby pond, as well.
When visiting the park, don't forget to also take a tour of the mansion if they are still running tours during your visit. You could also just pop by the welcome center to learn more before you begin your adventure.
Blue Hills Reservation, Milton
The Blue Hills Reservation in Milton is a lovely place to visit for cross country skiing. There are a multitude of trails throughout the park that are open for winter use, starting in mid-December (usually). There are also downhill skiing trails throughout the park.
In total, there are around 100 miles of trails to be enjoyed. What's great is that guests are allowed to ski on all of the reservation's trails; that's right, you can enjoy any of them in winter. However, there aren't trails here that are super well maintained, so it may be safer to just do the trails that it looks like others have cross country skied on.
This is also a completely free place to go cross country skiing, however, those who are first on the trail do have to make their own trails. Some of the trails are also kind of rocky, but usually, there's enough snow that provides a buffer between skis and the rocks.
The reservation is open in winter between sun up to sun down, and many of the trails are extremely peaceful. Be sure to check weather ahead of time, wear proper clothing, and be sure to bring ample water and snacks. Also watch out for any rocky areas and use caution if going on a trail that doesn't look like it's used as often.
Now you know all about the best spots to go cross country skiing in Massachusetts. Whether you choose to go to one of the places on our list or not, we know that you'll truly have the best time!
---
You might also like: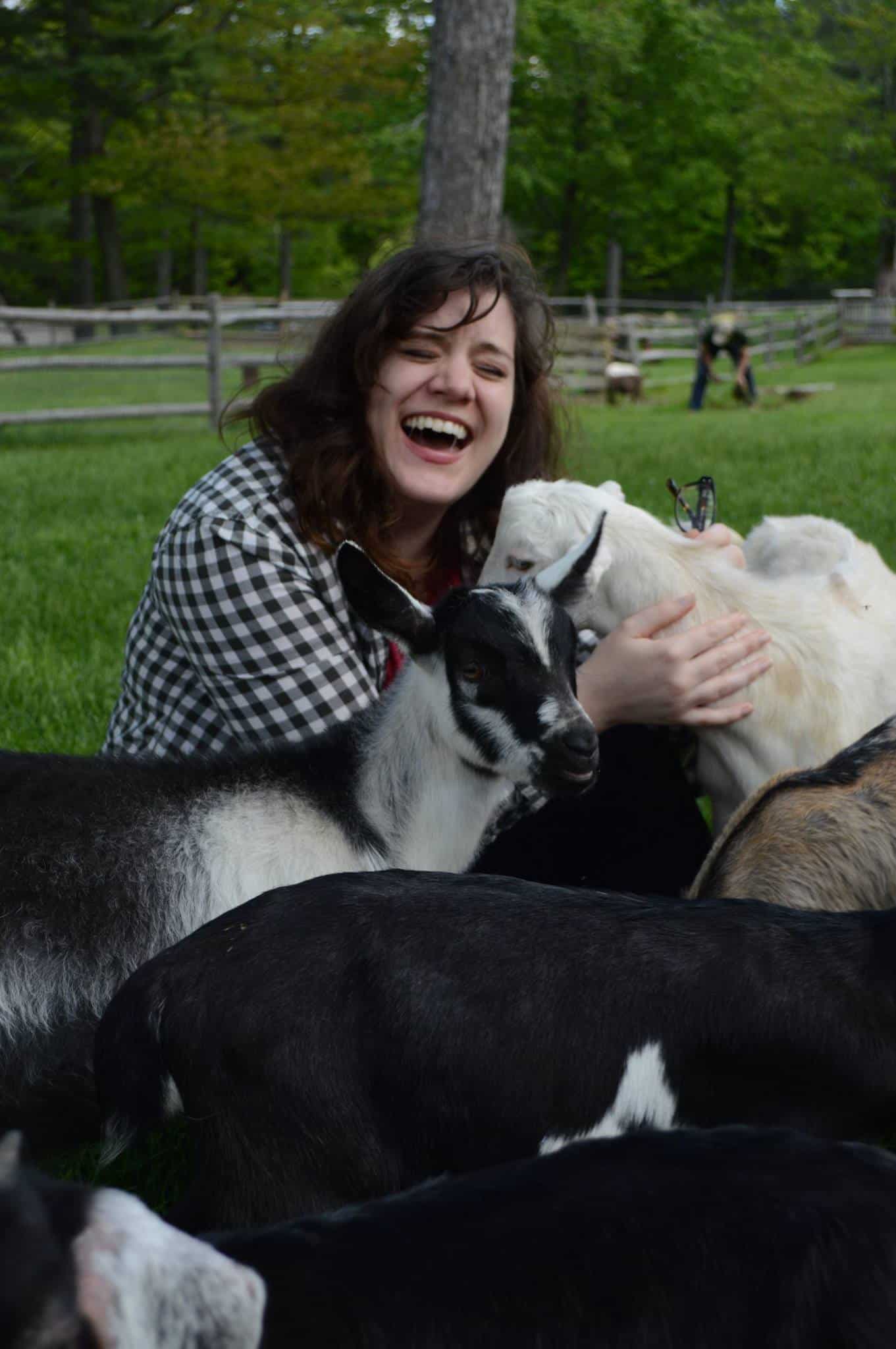 Amy is the founder of New England with love. A proud Vermonter, she hopes to share her love of New England and help you find the best adventures in the region. Amy is also blogger/founder at Two Drifters, where she writes alongside her husband about romantic and couples travel, relationships, honeymoons, and more. When not working on websites, Amy is probably reading, cuddling with her husband, son, and cats, & drinking a maple latte.