Sure, there are many fun winter activities in New England, but cross country skiing in Maine is one that you for sure have to add to your bucket list. With beautiful locations across the state (including in a national park), this is truly one of the most unforgettable outdoor activities.
Compared to downhill skiing, cross country is relatively easier to learn as a beginner, making it a perfect activity for new and experienced skiers alike. Though it's very popular abroad in Europe, there's a large group of avid sports enthusiasts who love it in New England, as well.
Here's everything you ought to know about cross country skiing in Maine.
When is Maine's cross country ski season?
So, before we dive into where to go cross country skiing, it's important to know when the season actually is in Maine. As you may have guessed, it takes place in the winter, but the exact timing may differ slightly depending on the weather and if there's any snow.
Normally, it starts by mid-December at the latest, but it can start as early as late November. It normally lasts until early March, sometimes slightly earlier or later. You'll want to pay attention to the weather each year to see when it will start exactly!
Best Spots for Cross Country Skiing in Maine
Now that you know when the season is, here are some of the best places to enjoy Maine's nordic skiing sport. These are luckily all over the state!
Sugarloaf, Carrabassett Valley
First is Sugarloaf in Carrabassett Valley, which is one of the most well-known winter sports spots in all of Maine. Here, there are just over 30 miles of well-groomed trails that are perfect for cross-country skiing, whether it's classic or even skate skiing.
What's great about Sugarloaf is that they do have their own outdoor center with every type of rental available. So, if you're traveling, you don't have to worry about bringing your own gear unless you really want to. Rentals are readily available for you!
Sugarloaf's outdoor center is the biggest spot for cross-country skiing in the state, and the trails are patrolled, so if you're a beginner and you're worried about anything happening, rest assured that you won't be alone. Normally, patrol hours are between 8 am and 4 p.m.
While nordic skiing, enjoy great Sugarloaf views. If you live in the area, be sure just to purchase a nordic season pass to save yourself money.
Lost Valley Ski Area, Auburn
Another great nordic skiing location is Lost Valley in Auburn. Similar to Sugarloaf, there are many great trails here, averaging out to around 6 miles of trails in total. They are very well maintained. There are ten different trails, some of which are loops while others are out and back.
One of the things that are so great about Lost Valley Ski Area is that they do have ski rentals as well as a snack bar. So, it's very much a place where you could easily spend the whole day and comfortably do so.
In addition to Nordic skiing, there are many other fun activities here, too, including snowshoeing, fat biking, and of course, downhill as well, in the area. Plus, you can do all of these activities while enjoying the beauty of winter in Maine, with the snow sitting atop the forest trees.
Nordic Heritage Center, Presque Isle
Next is the Nordic Heritage Center, which is located in Presque Isle. There are around 12.5 miles of trails here to be enjoyed, along with more than 20 miles of mountain bike trails, as well.
The center does have a welcome center as well where trail passes can be purchased, and ski rentals can be picked up. They do also take reservations for their rentals if you want to be sure that you or someone in your party has a specific size that they need.
Nordic Heritage Center stands out amongst other spots for cross country skiing because they have fun family-friendly adventures in the winter months. They are usually set up early Saturday morning and then are up throughout the weekend so visitors can come and partake in them!
Penobscot River Trails, Stacyville
One of the more under-the-radar places for Maine Nordic skiing is the Penobscot River Trails in Stacyville. In the winter months, these trails are often open from the time the sun rises to the time it sets, so you can enjoy a decent amount of time outdoors.
Just head to the visitor's center and sign in on the sheet, then enjoy around 16 miles of amazing trails. Plus, there are "warming huts," spots where you can warm up after being in the cold for so long, along the trails as well.
Of course, they do also have ski rentals, but it's first come first serve and what they have is by donation. These are only on offer on the weekends, but the staff is there to help you find the perfect fit before you go out and enjoy the trails.
Quarry Road Trails, Waterville
The Quarry Road Trails in Waterville are also a great spot to go for some outdoor winter fun. There are around 8 miles of trails here, which are very well-maintained and groomed for the ultimate nordic ski experience.
The trails are great for all experience levels, and because they are located in Waterville, they aren't that far from nearby Augusta. The trails were actually set up by an Olympic champion named John Morton!
Similar to many other places on this list, daily equipment rentals are also available for guests who need ski equipment. They have everything from skis to boots to poles and everything in between. Children under six can receive rentals free of charge, and there are family packages (for two adults and two students between ages 7 to 18) available.
Titcomb Mountain, Farmington
Titcomb Mountain in Farmington also has great ski trails and dates back to the 1930s. There are about ten miles of trails here in total, with varying difficulties: easy, moderate, and advanced. The trails are very well-groomed.
Just pick up a day pass and then enjoy! Equipment rentals are available, and hours vary depending on the season. In the winter, if you want to try another activity besides cross country skiing, there are also some fat biking trails throughout.
Because of its location, there are also many great places to visit and enjoy in Farmington once you're done. Head downtown to have some brews at Tumbledown Brewing or grab a tasty slice of pizza at Calzolaio Pasta Company!
Jackson XC, Jackson
When you think of those storybook towns from holiday movies on Lifetime or Hallmark, you're probably thinking of a town like Jackson. Luckily, this town does have Jackson XC, a local ski tour company that has many options for cross country skiing.
Their trail network consists of around 93 miles of trails, with more than 50 trails in total. They have a grooming team as well that keeps the trails fairly well maintained, making them great for all skill levels.
Most people will start right at the lodge and then go off to one of the trails. Some of the spaces may require a pass (like Black Mountain Cabin), so be sure to do some research ahead of time.
For those completely new to the sport, be sure to book one of their more in-depth packages, which includes a trail pass, equipment rental, and an hour of lessons. This will allow you to fully get a grasp on how everything works before you hit the trails on your own, and then you have the rest of the day to enjoy the winter trails!
Acadia National Park, Bar Harbor
Obviously, this list wouldn't be complete without mentioning Maine's Acadia National Park. Many people know this park as the greatest spot in Maine to watch the sunrise or even hike, but it's absolutely beautiful in winter and has 45 miles of trail roads that are allowed to be nordic skied on in the winter months.
One of the more popular trails in Acadia for Nordic skiing is the Witch Hole Pond loop, which can easily be extended with other trails in the area for something longer. There is a mix of trails both by the visitor center and by Brown Mountain.
While skiing on the hiking trails isn't an option (many of the trails in Acadia are fairly steep), visitors can cross country ski on any of the park roads that are unplowed. However, snowmobilers are also allowed on these roads, so you'll want to stay alert.
Because of Acadia's location, there are quite a few spots in the area where equipment can be rented. Many people will also snowshoe in the park, which is another fun winter activity.
Hopefully this post has helped you figure out where exactly to go cross country skiing in Maine. Truthfully, no matter where you choose to go, you'll have a blast. Maine is absolutely beautiful in the winter months.
---
You might also like: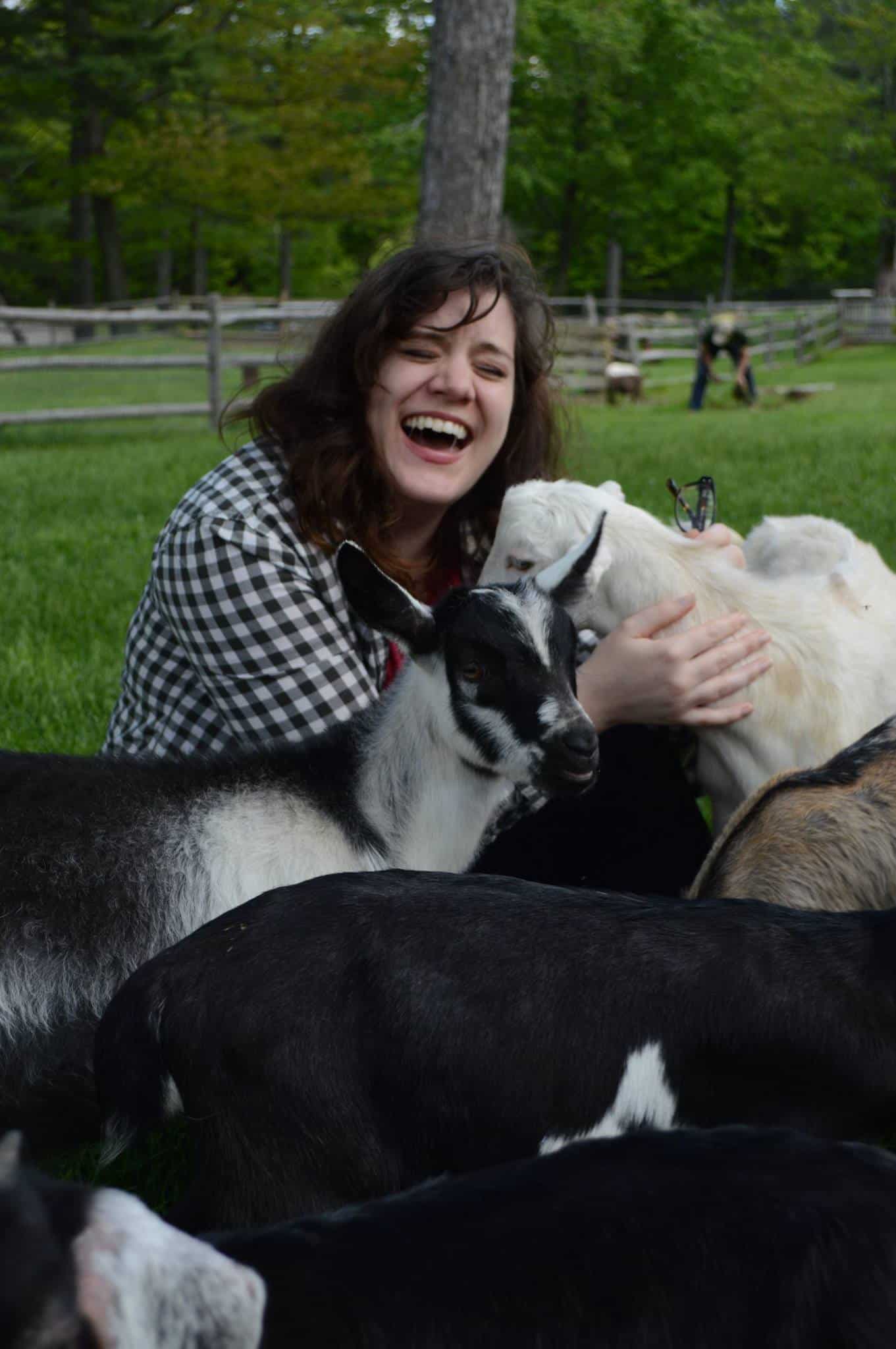 Amy Hartle is the founder and Editor-in-Chief of New England With Love, a comprehensive resource for travel in the New England region. Amy has been exploring New England since 2001. She lived in Vermont for many years and is a graduate of Plymouth State University in New Hampshire. Amy has been writing about travel for over a decade. On this site, Amy aims to share her love of New England and help you to have the best possible adventures!
Amy has been a full time blogger since 2012, and is also the publisher of Two Drifters, where she writes about couples travel and relationships, as well as Let's Adventure Baby, a family travel site. When not traveling the world or creating epic blog content, Amy can be found cuddling with her husband, son, and cats, & drinking a maple latte.