---
*Links in this article may be affiliate links, from which we may earn commission. See our
Privacy Policy
for full details.
---
What is it about covered bridges in New Hampshire that inspire admiration? Is it the nod to simpler times or the incredibly durable construction that allows so many to remain 100+ years after they were erected? The idyllic placement over rushing rivers that cross into quaint towns? The perfect fit into some of the most beautiful places in the Granite State?
It's likely a little of all of the above that drives us to seek out the best covered bridges in New Hampshire!
So, just how many covered bridges are there in New Hampshire? Today, there are less than 60 remaining, but this list of covered bridges in New Hampshire are some of the absolute must visit bridges in the state.
Note that New Hampshire covered bridges are numbered by the state, so their numbers as well as their name are included to make crossing the numbers off your bridges of New Hampshire bucket list easier!
Covered Bridges in New Hampshire
Flume Covered Bridge
Located in Franconia Notch State Park, one of the most stunning state parks in NH, Flume Covered Bridge is a darling of a bridge. This lovely covered bridge is painted cherry red and crosses the Pemigewasset River, and there is a footbridge on the side.
This is a very well kept covered bridge in New Hampshire and it is bridge #39. Definitely add this one to your must-see list if you're on a White Mountains cabin getaway!
Bath Bridge
Pettyboro Road, Bath, NH, 03740
Constructed in 1832, the Bath Bridge crosses the mighty Ammonoosuc River, and it is one of the oldest covered bridges in New Hampshire. The sign affixed on the entrance to this bridge states "One dollar fine to drive any team faster than a walk on this bridge," so if you're a fan of old-timey signs and historic sites, this is a good one!
It's also one of the longest covered bridges in New Hampshire, and below it is a popular ATV trail that many walk along to view the bridge from below. This is bridge #28 in NH.
Bartlett Covered Bridge
Glen, NH 03838
The Bartlett Bridge is one of the most unique of the bridges on this list because not only is it a historic NH bridge built in the 1850s, it's also a gift shop! You'll find all kinds of cute New Hampshire souvenirs inside, so this is a definite must visit on your tour of bridges in the state.
This is bridge #50.
Honeymoon Bridge
Main Street at Pinkham Notch Road Jackson, NH, 03846
Covered bridges in the White Mountains are especially picturesque if you can visit them in the cold winter months, when the red face really pops against the white snow. This fully functional bridge is also referred to as Covered Bridge No. 51, and there's a nice pedestrian walkway as well, with lattice work on the sides for peeking out at the river below!
Denman Thompson Bridge
Swanzey, NH 03446
Also known as the West Swanzey Bridge, this historic covered bridge was built in 1832 and is one of New Hampshire's oldest covered bridges. The Thompson Bridge is one of those picture perfect covered bridges New Hampshire has where it's historic, yet beautifully kept.
It is no longer open to vehicles, but there is a pedestrian bridge alongside the regular bridge, and a lovely little park with a gazebo off to one side. Talk about charm!
It is listed on the National Register of Historic Places and is NH bridge #5.
Albany Bridge
Passaconaway Road, Albany, NH, 03818
One of the most picturesque bridges in New Hampshire, Albany Bridge is an especially popular attraction in the fall. Its location just north of the Kancamagus Highway means this is a common stop for the many leaf peepers who come from far and wide to enjoy the blazing fall colors along this scenic NH drive; there are some beautiful trees tucked around this lovely wooden covered bridge!
Albany Bridge is New Hampshire bridge #49, and if you take this self-paced audio driving tour of the Kanc, you'll get to learn a little more about this adorable NH bridge!
Saco River Covered Bridge
East Side Street, Conway, NH, 03818
One of the most scenic covered bridges in Conway, New Hampshire and beyond, the Saco River Covered Bridge is a must visit in the Granite State! With open lattice style sides, this is one of those New Hampshire bridges that's light and bright inside, so you can get a good peek at the construction that has kept it strong all these years.
Built in 1890, New Hampshire bridge #48 is also home to a very popular spot for tubing and swimming in the lovely Saco River.
Sentinel Pine Bridge
Lincoln, NH 03251
Located in Franconia Notch State Park in Lincoln, the Sentinel Pine Bridge is a popular attraction for hikers! Built in 1939 on top of a felled giant pine, this walking-only covered bridge provides spectacular views of the pool and falls below. Plus, it's just cute as a button!
This is New Hampshire bridge #38.
Groveton Covered Bridge
Groveton, NH 03582
Quaint Groveton Covered Bridge is showing its age with paint chipping and visible wearing, but this only adds to its charm as it was built in the 1850s… it's been around! Today it is closed to traffic, but there is parking on both sides and an old train engine and caboose sits nearby ready to pose for photos right alongside New Hampshire bridge #32.
Henniker Bridge
Henniker Village, NH 03242
When it comes to absolutely darling bridges in New Hampshire, Henniker Bridge is up near the top of the list! Constructed in the 1970s, this isn't one of the oldest covered bridges in NH, but it is about as lovely as lovely can be!
New Hampshire bridge #63, the lattice truss design on the sides of this pedestrian bridge is the perfect place to enjoy river views from above.
Cornish-Windsor Bridge
NH Route 12A, Cornish, NH
New Hampshire covered bridge #22 is one of the coolest covered bridges, connecting New Hampshire and Vermont! Spanning the lovely Connecticut River, this is not just the longest wooden bridge in New Hampshire, but the country, as well. Built in 1886, this NH bridge is on the National Register of Historic Places.
Swift River Bridge
West Side Rd, North Conway, NH 03860
This quaint bridge in Conway is a must see if you happen to be in the area. With open lattice work sides, the views from this adorable bridge are fantastic, and since it's closed to vehicles, you can get a great look at the interiors of this bridge that was built in 1870.
This is NH bridge #47.
Cresson Bridge
Swanzey, NH 03446
Also known as the Sawyers Crossing Covered Bridge, Cresson Bridge is located in Swanzey, New Hampshire and crosses over the Ashuelot River. Sawyers Crossing Bridge is #6 on the NH covered bridges list and was built in the 1850s, then added to the National Register of Historic Places in the 1970s.
Stark Covered Bridge
Groveton, NH 03582
When it comes to beautiful bridges in New Hampshire, Stark Covered Bridge is always sitting high on that list! Built in 1862, this gorgeous bridge crosses the Ammonoosuc River with a single lane for traffic but pedestrian walkways on each side, and it is lovely but made even lovelier by its surroundings: a white-steepled church sits just beside it on one side, giving off all the small town Hallmark movie vibes!
Stark Covered Bridge is New Hampshire bridge #37.
Corbin Covered Bridge
Newport, NH 03773
Corbin Covered Bridge is a replica of the original 1800s bridge that was destroyed by fire, and it is oh, so picturesque! Not only is the bridge the classic Town lattice truss that is so aesthetically pleasing, but the entire surrounding area is lovely. There is a tiny park and the water is calm beneath the bridge, making this a very peaceful area to enjoy New Hampshire beauty!
This is NH bridge #17.
These New Hampshire gems are all around the state, but these are some of the most popular, most charming, and most picturesque bridges in New Hampshire!
You can also check out a map of covered bridges of New Hampshire to plot out your trip visually, but however you plan your trip, be sure to take lots of pics of these stunning bridges in NH!
You might also like: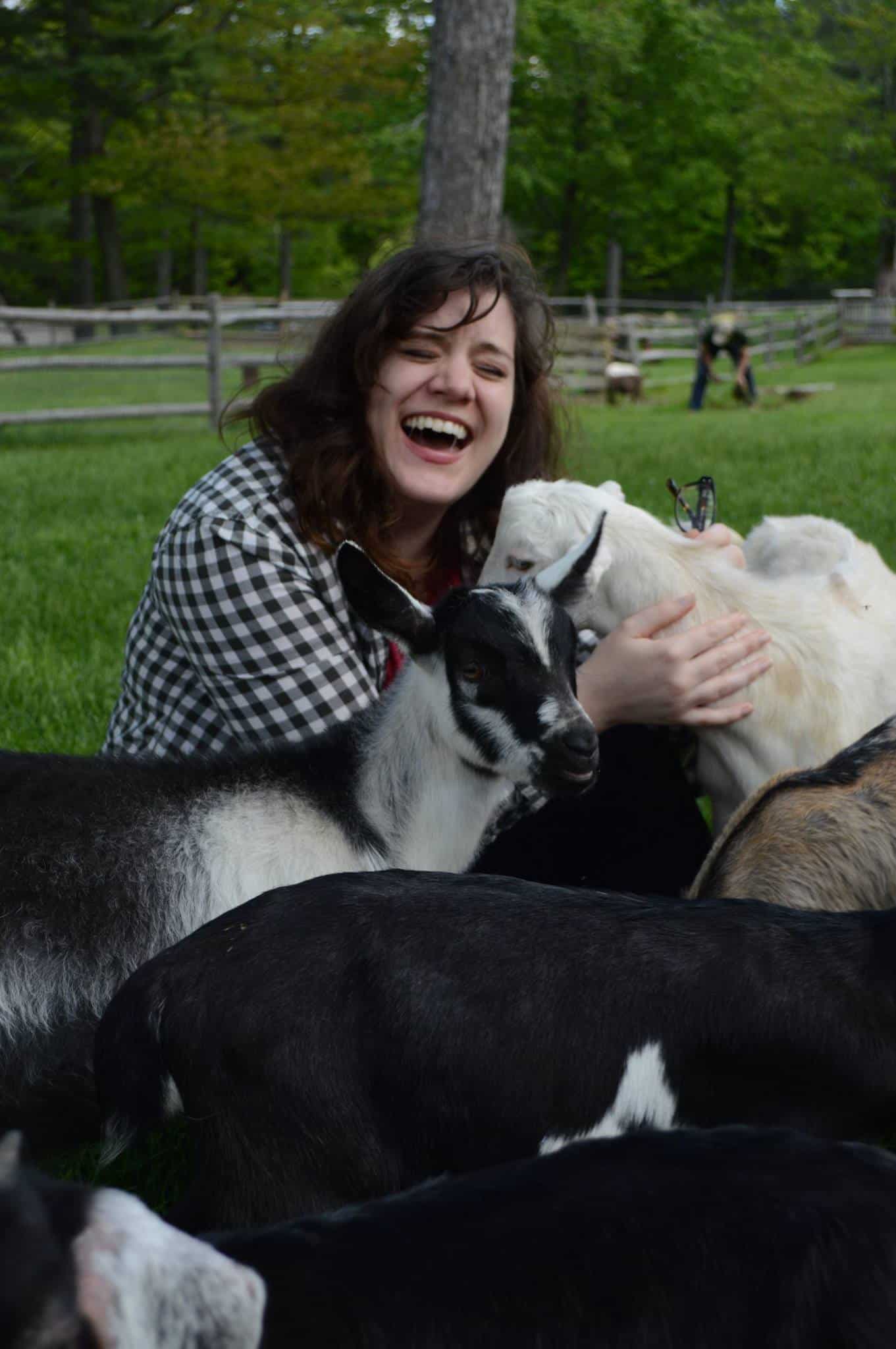 Amy Hartle is the owner and editor of New England With Love, a comprehensive resource for travel in the New England region. Amy lived in Vermont for 15 years, attended Plymouth State University in New Hampshire, and continues to travel regularly around the entire New England region. On this site, Amy aims to share her love of New England and help you to have the best possible adventures!
Amy has been a full time blogger since 2012, and is also the publisher of Two Drifters, where she writes about couples travel and relationships, as well as Let's Adventure Baby, a family travel site. When not traveling the world or creating epic blog content, Amy can be found cuddling with her husband, son, and cats, & drinking a maple latte.