If you're visiting the northeast, you can't miss out on seeing the covered bridges in Massachusetts. They happen to be all over the state and are pretty easy to come by!
Massachusetts is home to several beautiful covered bridges, each with its own unique story and charm. There are plenty of hidden gem bridges, as well as more popular ones, for all types of travelers and sightseers alike.
Whether you're trying to visit as many bridges as possible or just looking for a peaceful place to relax, you can count on these bridges having something special for everyone.
So pack your bags and get ready to explore Massachusetts's covered bridges!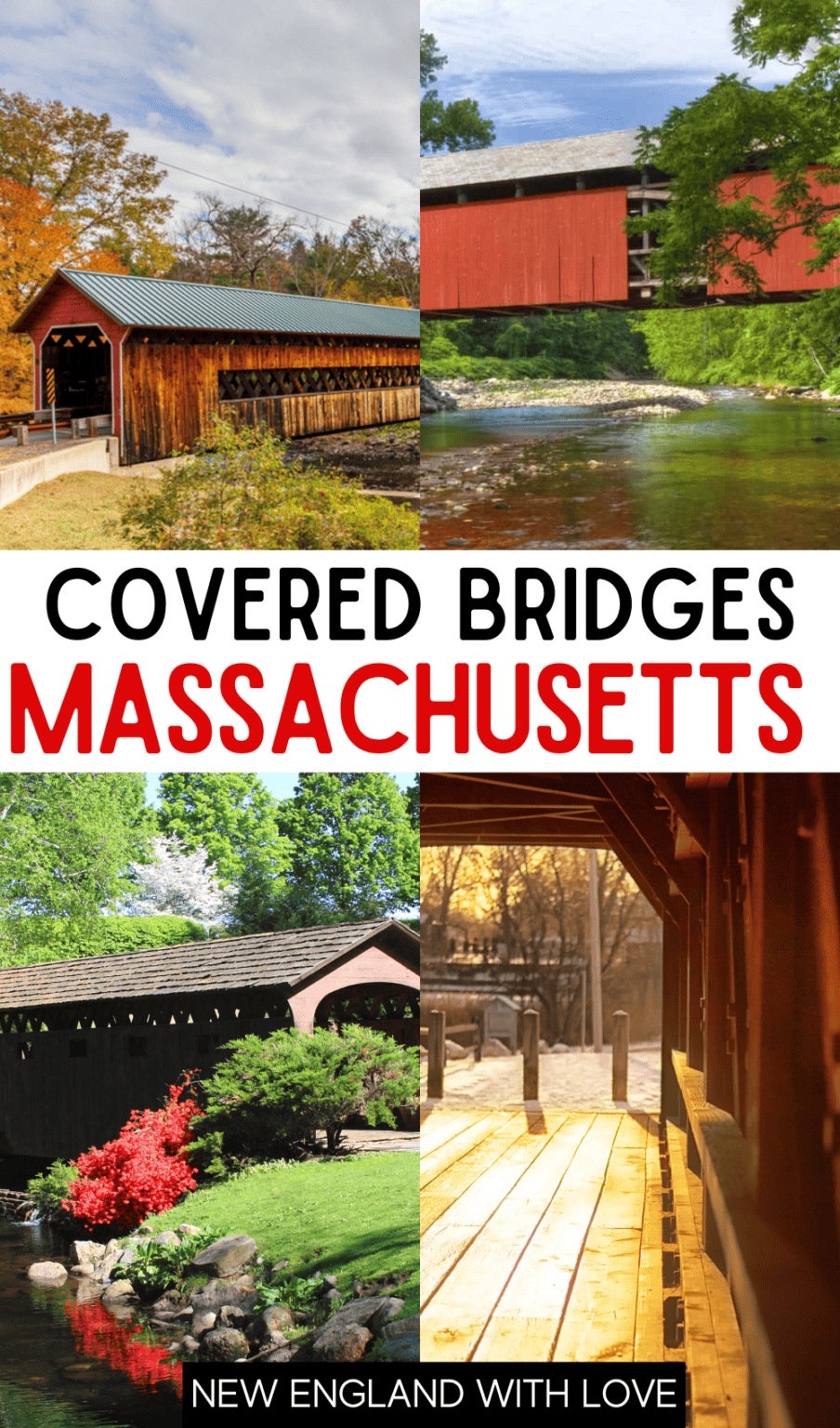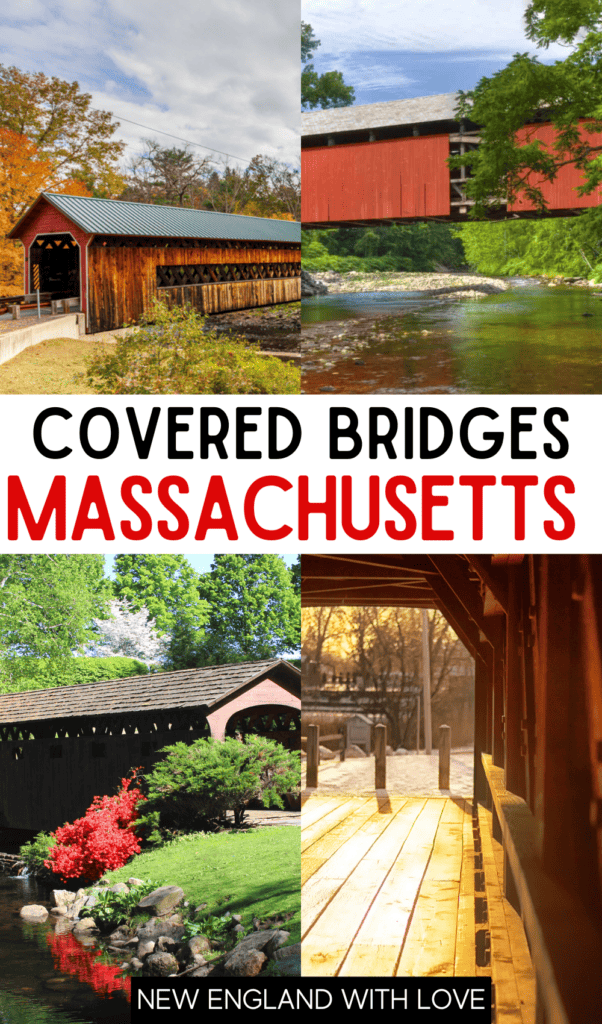 Why visit MA covered bridges?
New England is pretty well-known for its covered bridges. Many of the bridges were built in the 19th century and were placed strategically to help protect certain areas of the state from all types of weather (ahem, mostly snow because this is New England).
Many people travel far and wide to Massachusetts to see how many of the covered bridges they can check off their list. It becomes a fun game to go around the state and take photos at as many covered bridges as you can! And once you finish up with MA, you can then hop over to other nearby states to see even more.
Massachusetts is home to some of New England's most beautiful covered bridges. While you can visit them any time of year, we especially recommend stopping by in the fall to see them surrounded by breathtaking fall foliage. You won't regret it!
Now that you know why you should visit these bridges, let's get into some of the most beautiful covered bridges that you can find throughout the state of Massachusetts.
Covered Bridges in Massachusetts
Upper Sheffield Covered Bridge
Covered Bridge Ln, Sheffield, MA 01257
Sheffield is home to its own covered bridge called simply Upper Sheffield Covered Bridge. You may also hear it referred to as just "Old Covered Bridge." (While there are many old covered bridges in this state, if you hear someone say this, they're most likely referring to this very one.)
The 93-foot bridge that stands today was built more recently to replace one that was built in 1837. The old lattice truss bridge, unfortunately, got completely destroyed in a 1994 fire and was the oldest MA covered bridge at the time of its burning.
This bridge, in particular, was built right along the Housatonic and was built to protect all of those who passed on it, as well as to protect the actual bridge from regular wear and tear.
Burkeville Covered Bridge
Main Poland Road, Conway, MA 01341
Located in Conway, the Burkeville Covered Bridge brings Main Poland Road over top of the South River. It was opened in 1870 and officially was added to the NRHP in 1988. This bridge is a classic wooden bridge surrounded by greenery, so it's even more beautiful in the fall with foliage.
One special aspect of the Burkeville Covered Bridge, in particular, is that it's one of the oldest covered bridges that's still standing in the USA! The 99-foot bridge isn't open for cars, but you can ride your bike or walk. There's a parking lot nearby, so you can cross it off your covered bridge list.
Bissell Covered Bridge
39 N Heath Rd, Charlemont, MA 01339
You can find the Bissell Covered Bridge in Charlemont, Massachusetts, crossing Mill Brook. It's only 92 feet long but is a wooden bridge with open windows along the way, allowing in lots of extra natural lighting.
The original bridge was built in 1880 but was starting to fall apart, causing a new bridge to be built in 1951, which is the one that still stands today. It was actually the first covered bridge to be built in MA during that century.
Unfortunately, the current bridge has also had lots of issues but was refurbished a bit in the early 2000s, eventually leading it to be listed on the National Register of Historic Places in 2004.
Eunice Williams Covered Bridge (aka Pumping Station Bridge)
26 Eunice Williams Dr, Greenfield, MA 01301
Situated in Greenfield, Massachusetts, Eunice Covered Bridge is a 94-foot bridge that you won't want to miss if you enjoy history. In fact, many say that the ghost of Eunice Williams actually haunts the bridge, a young woman who died after the Deerfield Massacre right in the very spot of the bridge back in the 1700s. There's a marker by the river where she passed.
Pepperell Covered Bridge
Groton St, Pepperell, MA 01463
The Pepperell Covered Bridge crosses over the Nashua River, and there's been a bridge in that spot since 1740. The original bridge (Jewett's Bridge) was built in 1740 and has some history with Lexington and Concord. A new bridge was built in 1845, but the one that stands today is from 2010 and is about 95 feet long. The bridge had to go through lots of work over the years, being refortified as needed.
If you find yourself in Boston, be sure to stop by this bridge, as it's the closest covered bridge to the city. Quite a few of the old bridges in Massachusetts are also closed to vehicles, but this is one of a small handful that is open to cars, so you won't want to miss out on it.
Creamery Bridge
Creamery Road, Ashfield, MA 01330
Built in 1985, this small bridge is opened by a man who runs a construction company in the area of Ashfield. It's small and has Queenpost through truss. It's about 40 feet long and crosses over the Creamery Brook.
Because it's privately owned, you can't get up close to this bridge, but it's still worth mentioning if you want to see photos of cool covered bridges online from the state of Massachusetts.
Arthur A. Smith Covered Bridge
Lyonsville Rd, Colrain, MA 01340
The 100-foot Arthur A. Smith Covered Bridge in Colrain is a classic bright red bridge built in 1868 that's breathtakingly picturesque. It stretches across Colrain's North River and is a Burr truss bridge. It's also one of the few covered bridges still standing in MA from the 19th century, so it's definitely worth stopping by.
This is one of the bridges in the state as well that pedestrians and cyclists can actually go across. Head to Lyonsville Road in Colrain to experience it for yourself! For a really fun trip, consider doing the beautiful Route 112 Scenic Byway, which includes a stop at this bridge, among other landmarks like the Bridge of Flowers and Glendale Falls.
Goodrich Covered Bridge
​​400 Western Ave, Westfield, MA 01086
Last but certainly not least is the Goodrich Covered Bridge in Westfield. This 40-foot bridge is actually located in Stanley Park and was built in 1954. This lattice truss bridge crosses over Duck Pond and is a bit different from other covered bridges because it's actually pedestrian-only.
If you find yourself near this park on a walk, don't miss out on it, because it's very picturesque. You can often snap a photo of yourself there alone!
Ware-Hardwick Covered Bridge
Bridge Street, Ware, MA 01082
If you like seeing record-breaking bridges, don't skip out on the Ware-Hardwick Covered Bridge, which is 137 feet long, making it the longest covered bridge in MA! The bridge was built in 1889 and crosses over the Ware River.
This bridge has the classic red covered-bridge look and features lattice siding. So, when you peek inside it, you'll see lots of natural lighting. There's been lots of bad weather in this area, but the bridge has stood tall thanks to its reinforcements.
Final Thoughts: Massachusetts Covered Bridges
Exploring Massachusetts' covered bridges is a unique experience. With these incredible displays of craftsmanship, photographs of the bridges make for great keepsakes to take home or share with friends and family. So don't hesitate to embark on your journey and discover the beauty of MA's covered bridges today!
Read these next: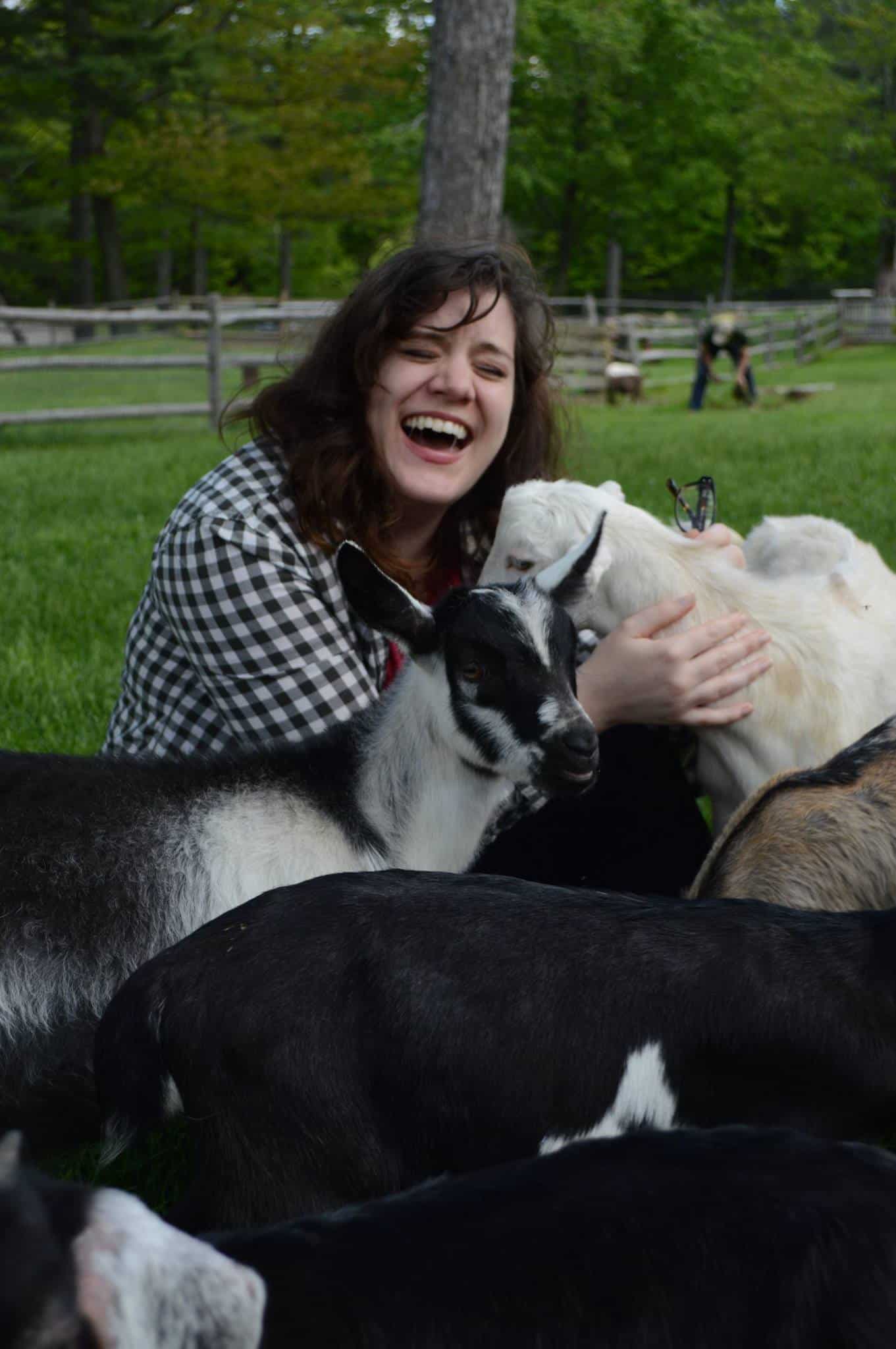 Amy Hartle is the founder and Editor-in-Chief of New England With Love, a comprehensive resource for travel in the New England region. Amy has been exploring New England since 2001. She lived in Vermont for many years and is a graduate of Plymouth State University in New Hampshire. Amy has been writing about travel for over a decade. On this site, Amy aims to share her love of New England and help you to have the best possible adventures!
Amy has been a full time blogger since 2012, and is also the publisher of Two Drifters, where she writes about couples travel and relationships, as well as Let's Adventure Baby, a family travel site. When not traveling the world or creating epic blog content, Amy can be found cuddling with her husband, son, and cats, & drinking a maple latte.