Connecticut is home to some of the oldest and most beautiful covered bridges in New England. Luckily, we've rounded up some of the can't-miss covered bridges in Connecticut just for you in this blog post.
If you're into history, too, you're in luck. Some of these bridges have quite a unique backstory. Whether you're trying to check off visiting many of the bridges around New England or you just want a fun landmark to visit during your trip, you'll learn something new by the end of this post. Here are all of the can't-miss Connecticut covered bridges!
Why visit CT covered bridges?
Before we get started, it's important to know that people travel from all over the USA to check out the covered bridges of New England. Connecticut is no exception to that! A lot of the bridges were built in the 19th century to protect parts of roads from weather, namely snow and other types of storms.
If you plan on visiting many covered bridges throughout this area, consider making a checklist so you can see how many you're able to visit. Lots of locals will try to visit all the covered bridges in their state as part of their bucket list.
There also really is no bad time to see the covered bridges. Obviously, they will look like a snowy wonderland in winter and the complete opposite in summer, but they're beautiful year-round. However, for a truly magical experience, we recommend trying to see many of the bridges during the fall when you can experience the foliage.
Since you now know why you should even bother visiting covered bridges in CT, let's get into some of the top bridges you won't want to miss throughout the state.
Covered Bridges in Connecticut
West Cornwall Covered Bridge
Housatonic River, Connecticut, West Cornwall, CT 06796
Head to West Cornwall to check out the West Cornwall Covered Bridge. It's a lattice truss bridge (which rose to fame in the 1800s when it was built) covered in bright red painted wood that crosses over the Housatonic River. This specific bridge didn't open until 1841. However, there's been a bridge in this very spot since the 1760s. Unfortunately, many past weather issues (like the Flood of 1837) made it difficult to have a structure that could stand tall.
The West Cornwall Covered Bridge is 172 feet long and 15 feet wide. It's on Connecticut Route 128 and is one of many landmarks listed on the National Register of Historic Places.
Comstock Covered Bridge
1-9 Comstock Bridge Rd, East Hampton, CT 06424
Comstock Covered Bridge (which many also refer to as Comstock's Bridge) is located in East Hampton, CT. It crosses over the Salmon River and was built in the 1840s. Unlike many other covered bridges in New England, this one is actually pedestrian-only, so you can have the joy of walking through it!
This landmark is approximately 172 feet long and is part of Connecticut Route 128, just like the West Cornwall Covered Bridge. In addition, it's on the National Register of Historic Places.
As you might imagine, the bridge was first built to serve a purpose but soon became a popular landmark for visitors far and wide. The bridge is rather innovative in its design and absolutely should not be missed if you're in the area.
Bull's Bridge
248 Bulls Bridge Rd, South Kent, CT 06785
Bull's Bridge, also known as Bull's Covered Bridge, is found in Kent Connecticut near New York's border. It's a bridge that crosses over the Housatonic River and is surrounded by bright greenery. One thing to note is that this is one of the more traditional bridge styles that you'll often find throughout the New England area, as it's actually available just for single lane traffic. Be careful driving!
The bridge opened in 1842 but there was historically a bridge in this very spot built in the 1760s by Jacob and Isaac Bull, which is where the name of the current bridge comes from. It's a lattice truss covered bridge, like many others in the area. It's approximately 109 feet long, and it's closest to US Route 7.
Twin Brooks Bridge
Brock St, Trumbull, CT 06611
The Twin Brooks Bridge can be found inside Twin Brooks Park in Trumbull, Connecticut. This bridge crosses Brock Street over Pequonnock River, thus connecting both Route 127 and Twins Brok Park. It's unique and its style, built of wood, with a spot for cars to go through as well as a separate spot for pedestrians.
The bridge is a lot shorter than other bridges throughout the state, but it's still worth seeing if you happen to find yourself in this area of the state.
Devil's Hopyard Covered Bridge
Devil's Hopyard State Park, East Haddam, CT 06423
There are many Connecticut state parks, but Devil's Hopyard State Park actually has its own covered bridge within the park. It's an old covered bridge that crosses over a really tiny creek, though it's beautiful in fall, surrounded by beautiful colors.
The bridge is for pedestrians, and there's a parking lot nearby, so it's easy to walk to. Once you get to the bridge, you can follow signs to continue on to see a beautiful waterfall with about a 2-mile walk. If you love getting outdoors, you won't want to miss out on the Devil's Hopyard Covered Bridge.
Huckleberry Hill Bridge
Huckleberry Hill Road, Avon, CT
Built in 1968 inside Avon's Countryside Park, the Huckleberry Hill Bridge is a small pedestrian bridge that crosses over a tiny pond made by humans. It also crosses over a waterfall. It's not the most well-known bridge, but it's extremely picturesque, especially if you can snap a photo from the side with the waterfall trickling down below.
Blackwell Brook Covered Bridge
17/012, Brooklyn, CT 06234
The Blackwell Brook Covered Bridge is a truly beautiful bright red bridge that's unique in its design, as you can directly see through the sides despite it being covered. It's a vehicle bridge crossing over Blackwell Brook, where it got its name.
The bridge is approximately 35 feet long and was built more recently in 2010 using what was left of a bridge from the 1980s. There aren't many bridges in northeastern Connecticut, but this is one of them. You may also hear locals refer to the bridge as Levi's Mill Bridge.
Final Thoughts: Connecticut Covered Bridges
Visiting Connecticut's covered bridges is a wonderful way to take in the state's unique landmarks and fascinating history. Whether you're an architecture enthusiast or simply looking for a day trip with friends, these historic attractions are a must-see during any visit to CT. Happy travels!
---
Check out these next: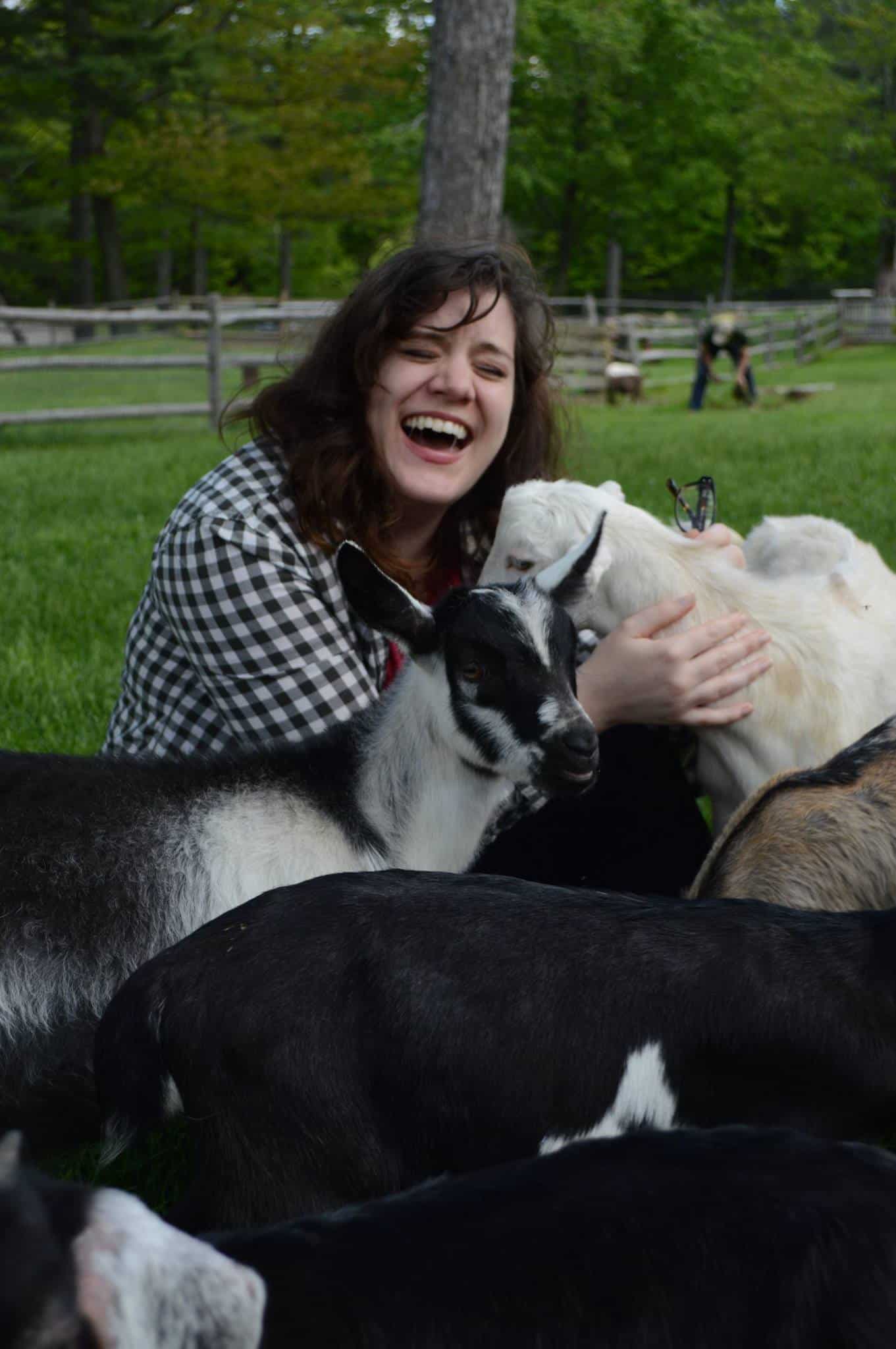 Amy Hartle is the founder and Editor-in-Chief of New England With Love, a comprehensive resource for travel in the New England region. Amy has been exploring New England since 2001. She lived in Vermont for many years and is a graduate of Plymouth State University in New Hampshire. Amy has been writing about travel for over a decade. On this site, Amy aims to share her love of New England and help you to have the best possible adventures!
Amy has been a full time blogger since 2012, and is also the publisher of Two Drifters, where she writes about couples travel and relationships, as well as Let's Adventure Baby, a family travel site. When not traveling the world or creating epic blog content, Amy can be found cuddling with her husband, son, and cats, & drinking a maple latte.